The MDT ESS chassis and the BAT VR action went together beautifully and I couldn't wait to shoot it but first – load development.
Let's start off with the usual WARNING – THESE LOADS WERE SAFE IN MY RIFLE. THEY MAY NOT BE SAFE IN YOUR RIFLE. START LOW AND WORK UP LOADS IN SMALL INCREMENTS. TARGET SHOOTER DOES NOT ACCEPT ANY LIABILITY FOR ANY INCIDENT ARISING FROM THE USE OF THIS INFORMATION.
Where do we start with load development when shooting a cartridge that is fairly new and not yet popular with fellow shooters? If you are shooting say the 308 Win, then load data is easy to come by for a wide choice of powders and bullets. With the 6mm Creedmoor, data is a little scarce.
The cartridge is too new for most reloading manuals but, we always have the internet. Unfortunately, most sites offering data for the 6mm Creedmoor are American and the popular powder seems to be the Hodgdon 4350 – a versatile powder that suits a wide range of smaller cartridges – I previously used it in my 22 Dasher. However the European REACH regulations mean that this, and many other Hodgdon powders, are no longer imported into the UK and although I do have the best part of a full tub, there seems little point in using it, knowing that I'll have to repeat my load development with another powder.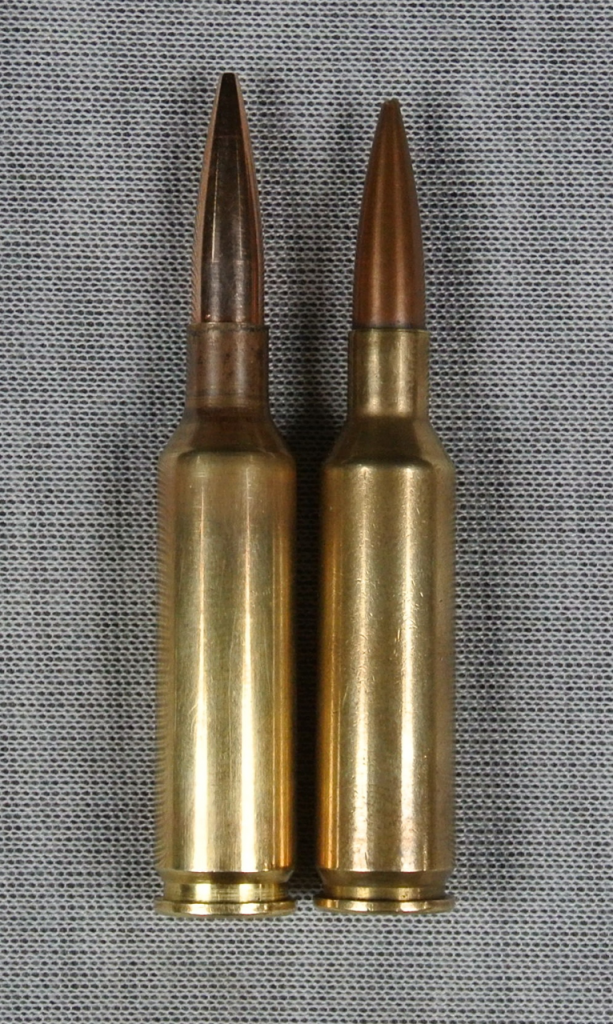 I do have a starting point however – the 6XC. This potent little 6mm Tubb cartridge is one I've used previously and is almost identical (but NOT identical) to the 6mm Creedmoor. My favourite powder for the 6XC was the old Elcho 17 (similar to Reloder 17) and now replaced by the Swiss RS 60 powder (and recommended for the 6XC in the Swiss reloading booklet). Moreover, I already have experience of this powder in my 6mm Creedmoor 1000 yard benchgun and I can confirm that it gives excellent velocities and accuracy with a 30 inch barrel! But, with my 22 inch barrel………?
What works in one rifle, doesn't necessarily work in another accuracy-wise, so I'm keen to explore other readily available powders. Hodgdon's H 3450 is very close on the burning rate chart to Vhitavuori's N150 powder so maybe worth a shot. However, it proved way too fast for the 6mm Creedmoor case, with my modest starting load exhibiting serious pressure signs in the form of a well-flattened primer and that tell-tale shiny circle on the case-head. Maybe we'll try Vit N160.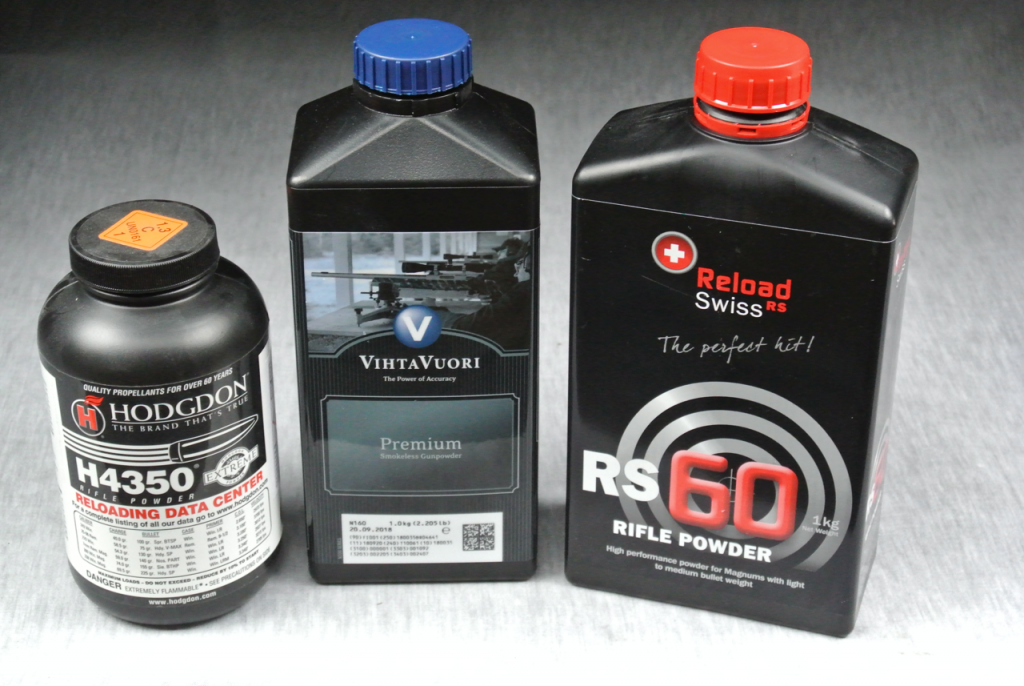 Unfortunately, I didn't have any 160 on the shelf but I did have some Vit N165. Would it be too slow? Again, I started with a modest load working up to a full case in 0.3 grain increments but, even with a full case, velocities were a couple of hundred fps down on the RS60 – at around 2850fps. It did however produce decent groups – circa half MOA at 100 yards.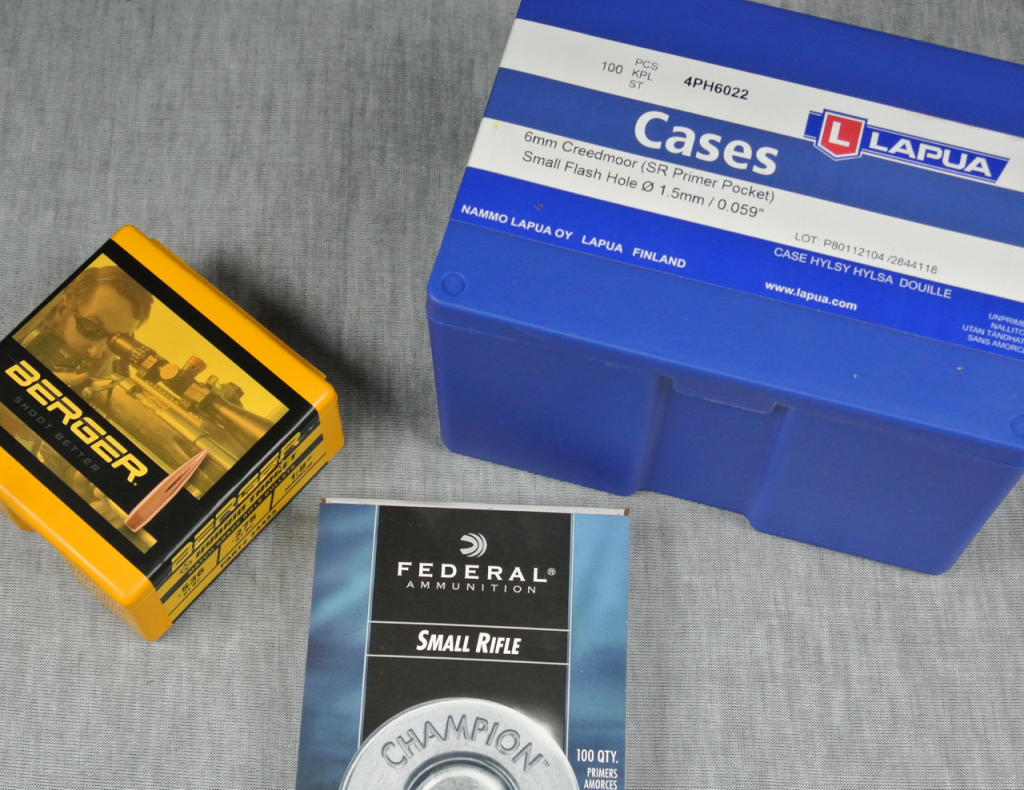 I managed to blag a bit of N160 for my next test. Remember, at this stage, we are looking for a powder which will give us a decent case-fill, give good velocity and accuracy. Yes, we may find an accurate load but – as with the Vit N165 but velocities were little better than we might achieve with the much smaller 6BR case.
Dies
At this stage, it might be appropriate to say a little about the other essential component in reloading – dies. Owing to the popularity of the 6mm Creedmoor in America, most major manufacturers offer reloading dies. However, that's America. Over here it's a different story. Although it's fair to say that all die manufacturers make a good product, I do favour some makes above others and, where possible, I will choose Forster. However, I already have a 6.5 Creedmoor die set by Hornady. I quite like their 'Custom Grade' dies and, rather than lash out £100 plus on a new Forster die set, I can make use of the Hornady.
With my 6mm Creedmoor 1000 yard benchgun, I use the full-length 6.5 body-sizer with the expander/decapper removed to bump the shoulder on the 6mm case but obviously it won't touch the neck so, I use my Wilson 6XC hand dies to size the neck, de-cap and seat the bullet. I actually over-size the neck using a 268 bush and then up-size it using a 0.242in. mandrel to give the desired neck-tension from the INSIDE – as I am not neck-turning the excellent Lapua brass. If I simply neck-sized using the Wilson bushing, the inside neck diameter – and thus neck tension – would depend on the thickness/accuracy of the brass – which although damn good with Lapua – is not perfect. With the benchgun, a couple of thou. neck-tension is fine but may need to be increased a little when loading from the magazine and slamming the bullet tip against the feed-ramp.
Let's be honest, this is a tactical rifle, not a benchgun – brass will get lost, end up in the mud, trod on etc. so not worth the trouble of running a tight-neck and neck-turning. Although many tactical comps simply rely on a hit on a steel, some tactical comps – like the McQueen – do demand half MOA accuracy to be competitive.
Vhitavuori N160 or Swiss RS60?
I know that the RS60 will give me a stunning 3100fps muzzle velocity from the 22 inch barrel but, at this stage, I've not done any serious 'group' testing. Let's see what velocity the N160 will give.
I've loaded up 8 rounds – starting with a full case of 45 grains of Vit N160 and working back to 42 grains in half grain increments. Here are my velocities using a Berger 105 grain Target Hybrid bullet, Lapua brass and Federal small rifle primers.
42.0 gn 2875 fps
42.5 2910
43.0 2917
43.5 2955
44.0 3015
44.5 3030
45.0 3075
AGAIN, I MUST EMPHASISE – BE CAREFUL – MY 22 INCH BARREL WILL NOT EXHIBIT THE SAME PRESSURE AS A LONGER BARREL. THESE LOADS MAY WELL BE OVER PRESSURE IN A LONGER BARREL. If you attempt a similar test, don't expect to fire all the loads – pressure may be too high at the top end of the powder-charge.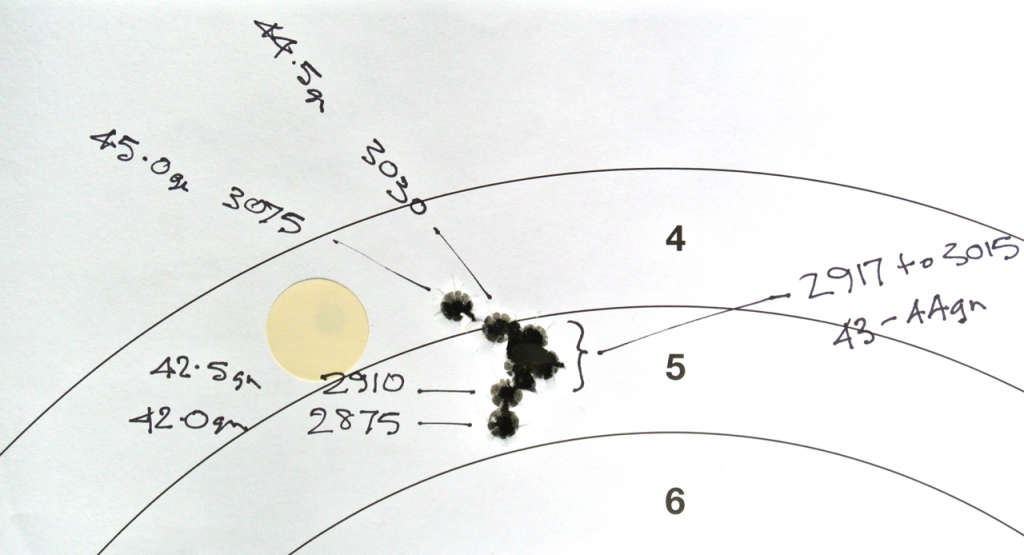 In spite of the wide range of powder load – from 42 to 45 grains, the 7-shot group covering muzzle velocities from 2875 to 3075fps (see pic) was satisfyingly close at around an inch. Bolt-lift was normal and primers, though flattened, not unduly so. There was no marking of the brass on the case-head. Note that cluster of 3 shots in the 43 to 44gn range – a possible indicator of the accuracy node.
3000 fps was my velocity target – but will it group? Next job is to load five rounds each of 44.0, 44.5, and 45 grains.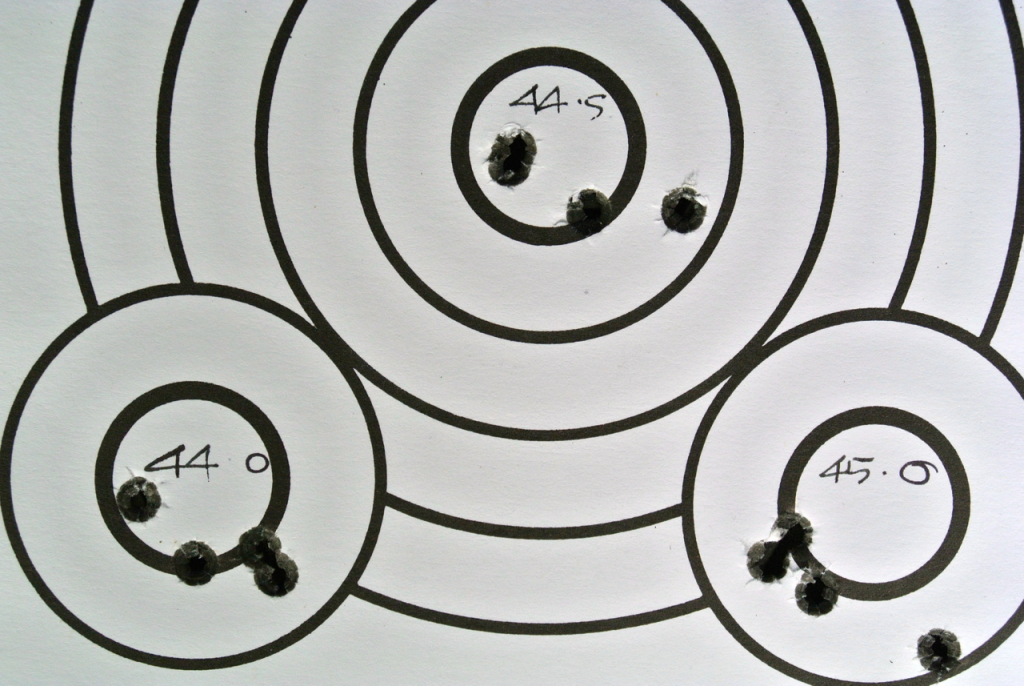 The groups are hardly 'groups' – not what I was hoping for so I've dropped the powder to 43.0gn and 43.5gn for another two 5-shot groups. The groups improved – to the half MOA mark in the case of the 43.5gn load(below) which, to be honest, off a bi-pod, squashy back-bag and no windflags is perhaps as good as it gets.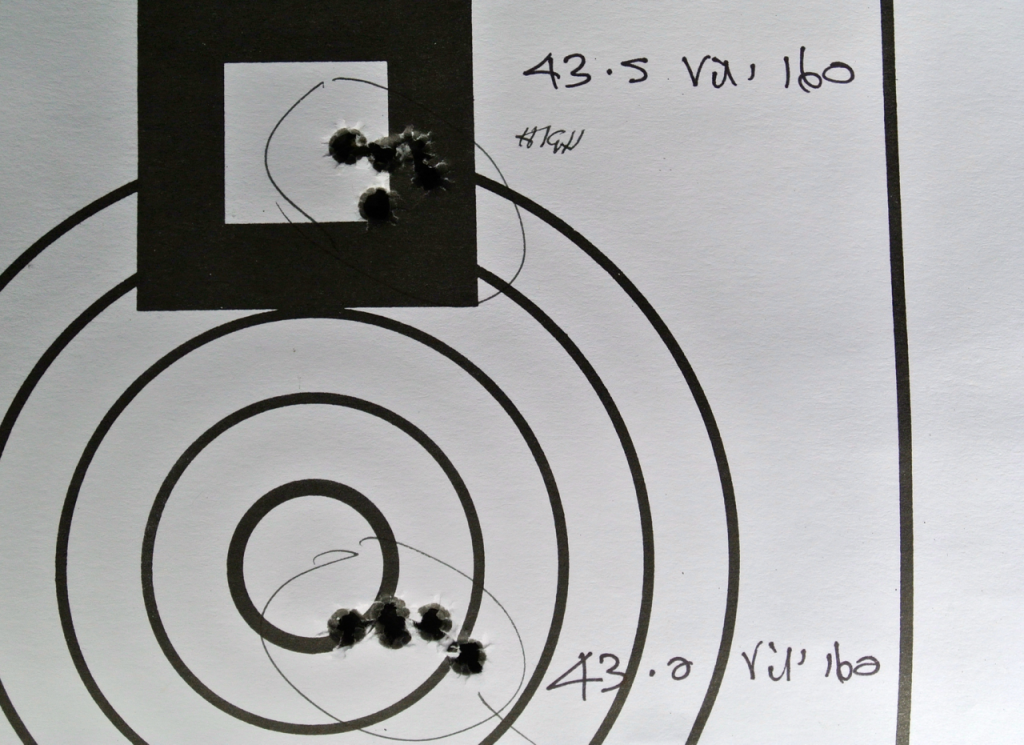 Finally, I tried two last groups with the RS60 but I couldn't equal the Vit 160 performance so for now, my load will be 43.5gn of Vit 160 running at around 2950fps. I now have 50 rounds down the barrel so, competition-wise, we can consider it ready but not completely run in. However, in another 100 or so rounds we may experience some speed-up of the barrel and if so, we may need to drop the charge a little to maintain accuracy and carry out another grouping check.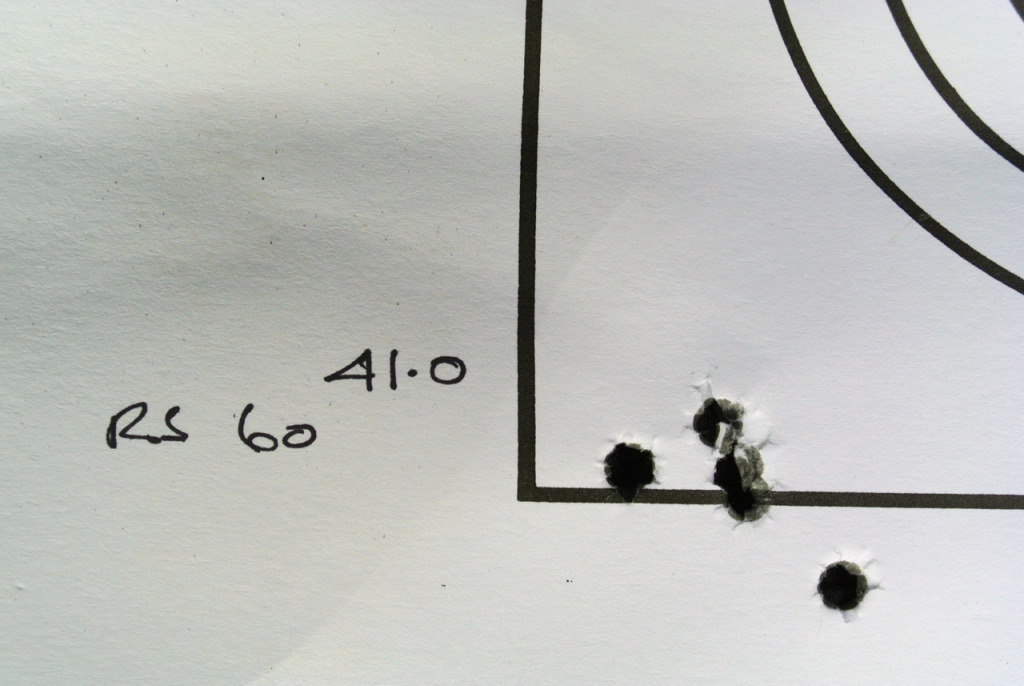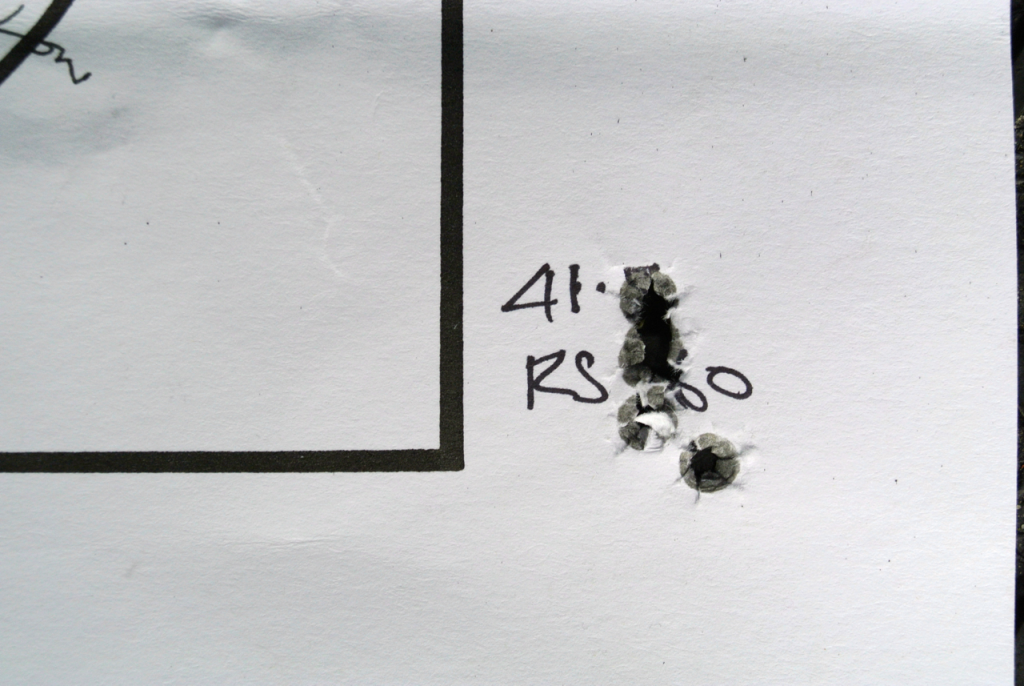 ONCE AGAIN – THESE LOADS WERE SAFE IN MY RIFLE BUT MAY NOT BE SAFE IN YOURS – START LOW AND WORK UP IN SMALL INCREMENTS
Conveniently, there is a McQueen shoot at my Club this weekend – the perfect proving ground for the MDT. Thankfully, the MDT rig performed to all my expectations – though this was the first time I'd shot it prone off the grass and I may need to increase the 'pull' an inch or so – easy enough to do with the Magpul stock. I came away with a perfect 50 so – job done!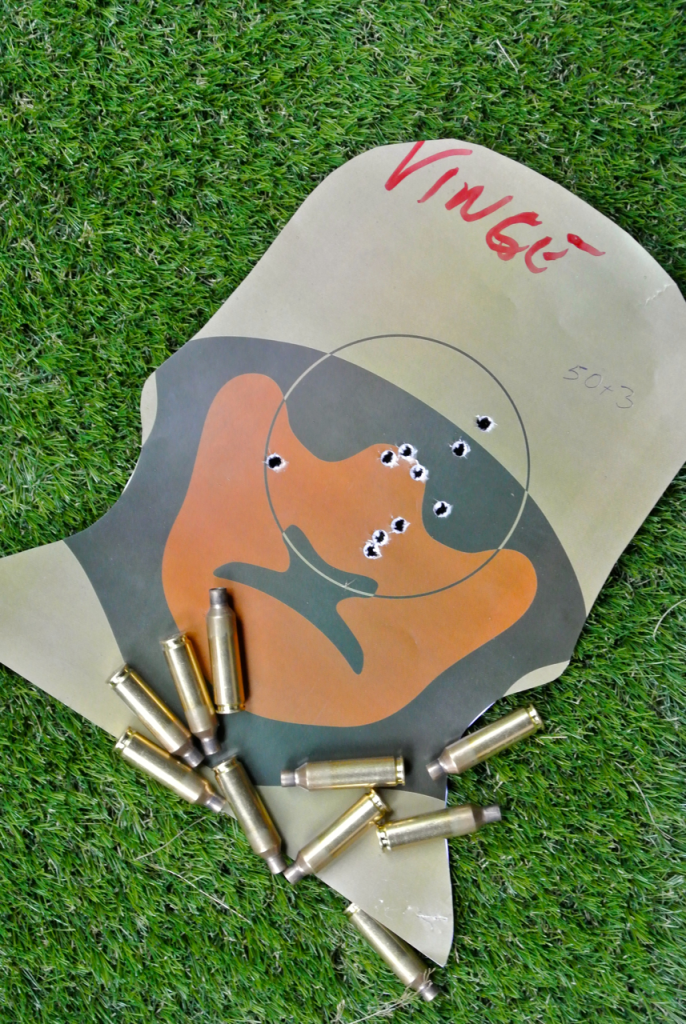 The MDT has proved to be an excellent chassis for the BAT VR action whilst offering a useful weight (and cost) saving over my previous Accuracy International AX chassis.
Finally, a big thanks to MDT for their help with this project. Please visit their website at http://mdttac.com
Of course, MDT is a Canadian company and we now have another MDT project on the go, this time using one of the Canadian Ultimatum Precision Deadline actions which we featured earlier in Target Shooter http://www.targetshooter.co.uk/?p=2912 so watch this space.