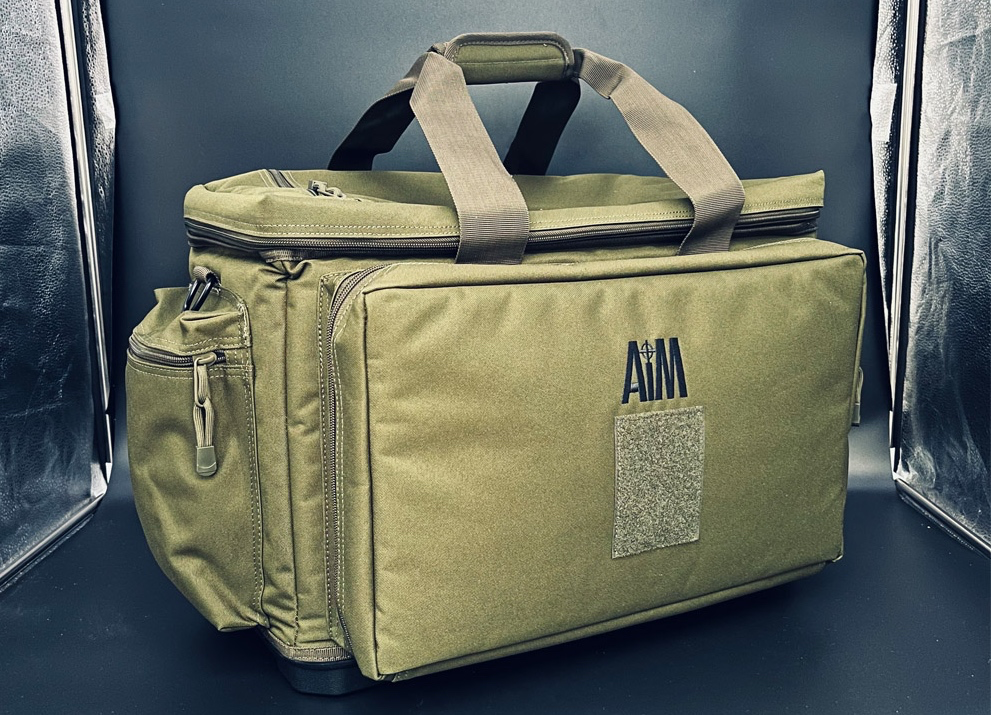 There are hundreds of shooting products on the market but only a few are designed by shooters – and it shows.
We are fortunate that John Dean – CEO of Aim Field Sports – is a keen target shooter and a regular F Class competitor. When he introduced his drag-bag 17 years ago, it was exactly what we had been waiting for – even though we didn't know it and, when I say 'we' – John's bags are now in service worldwide by not just target shooters but military and police forces as well.  It's simply the best – a few have tried to copy it but none have bettered it – thanks to John's constant updates which keep it the market leader.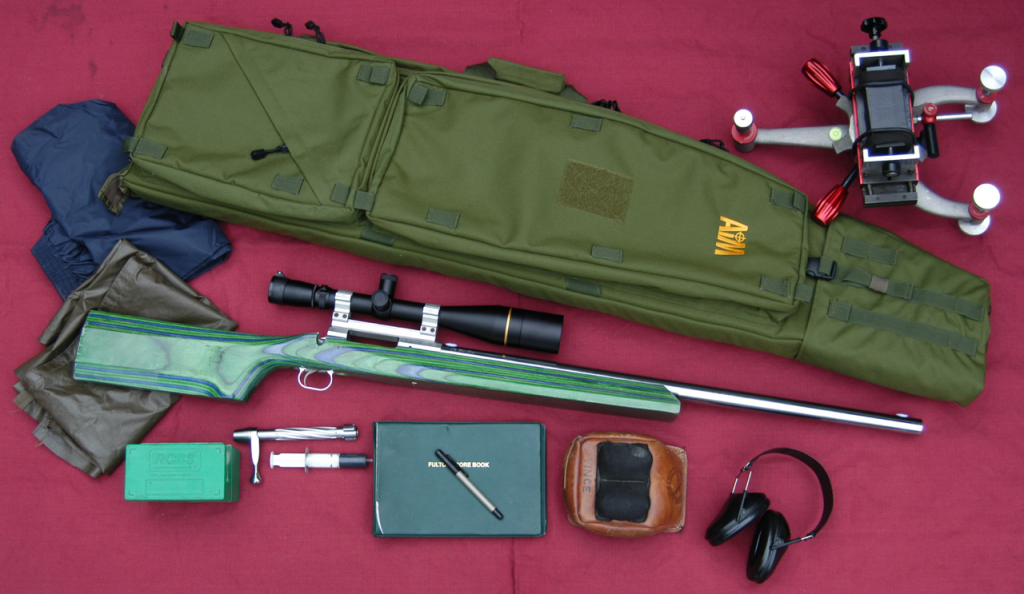 I first reviewed the AIM drag bag way back in 2006 and my article contained this pic showing that the whole of my F Class gear – bar the front rest – would fit into the bag, which could then be carried rucksack-style, revolutionising the way we carted our ever-increasing array of gear around the ranges.
In the intervening years, we've all got older and my drag-bag appears to have gained weight as I've aged (and it's aged better than I have!). Some of Diggle's mountainous firing-points were in danger of becoming out of bounds………I needed to re-jig my kit. Although rucksack style was still the best way to carry everything – if I'd fallen over, I'd struggle to get up!
Following a shoot, I took my 18lb FTR rifle out of the bag and weighed the bag. I was shocked – 22lbs empty. When I say 'empty', it was empty of the rifle but still contained ammo, muffs, waterproof trousers, ipad, weather-writer, towel, cleaning-rod, pens, mirage band, sun-shade, bolt-stripping tool, Allen keys, bolt-grease, etc. etc.
The all-up weight with rifle was around 40lbs! I was a bit stunned and decided to split my kit into two more or less equal parts with the rifle in an empty AIM bag and the rest into one of those large plastic MTM boxes. The all-up weight was the same but, If need be, I could now make two journeys – one carrying the rifle and the other, box, mat and Joypod.
Of course, the rigid plastic box isn't ideal – it restricts what you can cram into it and I did dig out my old pistol bag from decades ago but it was tatty, had too many small compartments and it ended up down the tip.
Of course I'm not the only one lugging half a hundredweight of gear round the ranges and clearly, the innovative Mr Dean had once again spotted a 'need' and come to our aid with his latest product – a splendid Cordura range bag and better still, I have one to evaluate.
Like all John's products the range bag is bursting with quality, innovation and clever touches. When I took it out of its cardboard box it looked almost too good to be a range bag – I could take this on a shooting holiday!  How good would that be – a suitcase that doubles as a range bag!
OK, let's take a closer look. The 600D Cordura material is in that 'military' green used in the early drag-bags (but other colours will follow) and there are heavy duty double-stitched zips everywhere. One of my first thoughts was having to plonk the bag down on wet grass – we have a lot of that at Diggle – but John's also a Diggle shooter and he was ahead of me. The base is a tough plastic, moulded to the underside of the bag, taking care of any moisture problems and helping the bag to keep its shape. As AIM drag-bag owners will know, their Cordura is also very water resistant.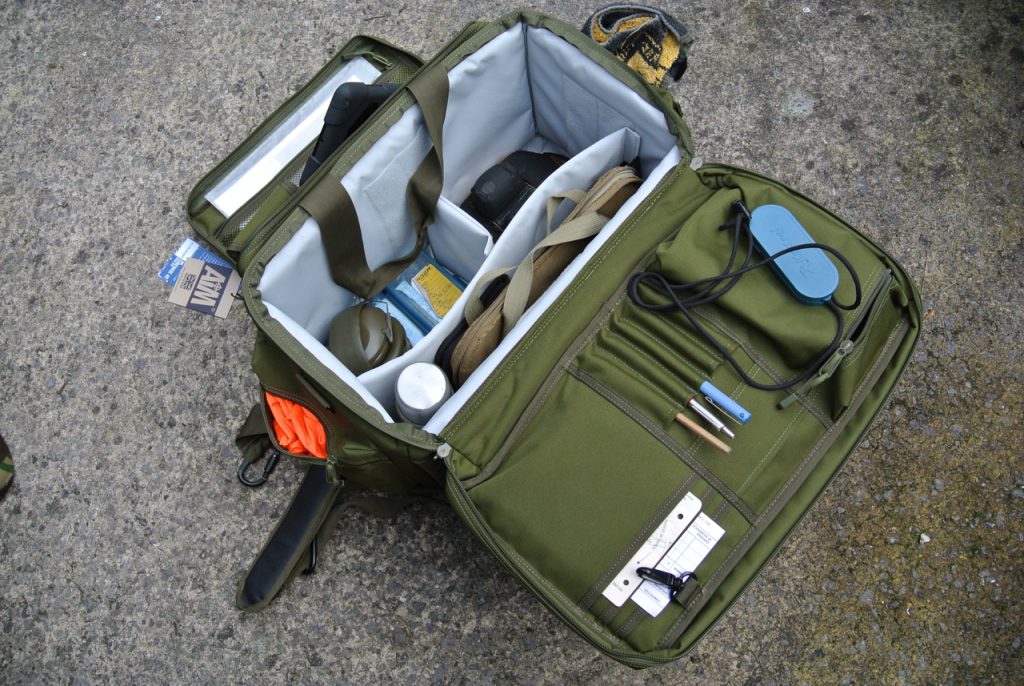 Unzipping the top, which is shaped like a shallow lid (again helping to keep out the rain) reveals a cavernous space, lined with off-white Cordura and padded to offer further protection. The space can be divided as required by moving – or removing – the padded Velcro'd dividers. The 'lid' also contains a separate outer pocket – to slip in your score card etc or any stuff you need easy access to. On lid's underside (or inside if you like) is more storage – for pens, spare cards, and even a large zipped pocket – dead handy for your wallet (which I always end up lying on or misplacing) and there's even a clip for your car keys.
On the what we might call the front-face of the bag is another large drop-down pocket with mesh cover – perfect for plot-sheets and forming a useful surface for plotting, scoring and iPad (if you use electronic targets). Unzipping this cover also reveals three more substantial pockets – perfect for your smart-phone, ipad storage and maybe your bi-pod.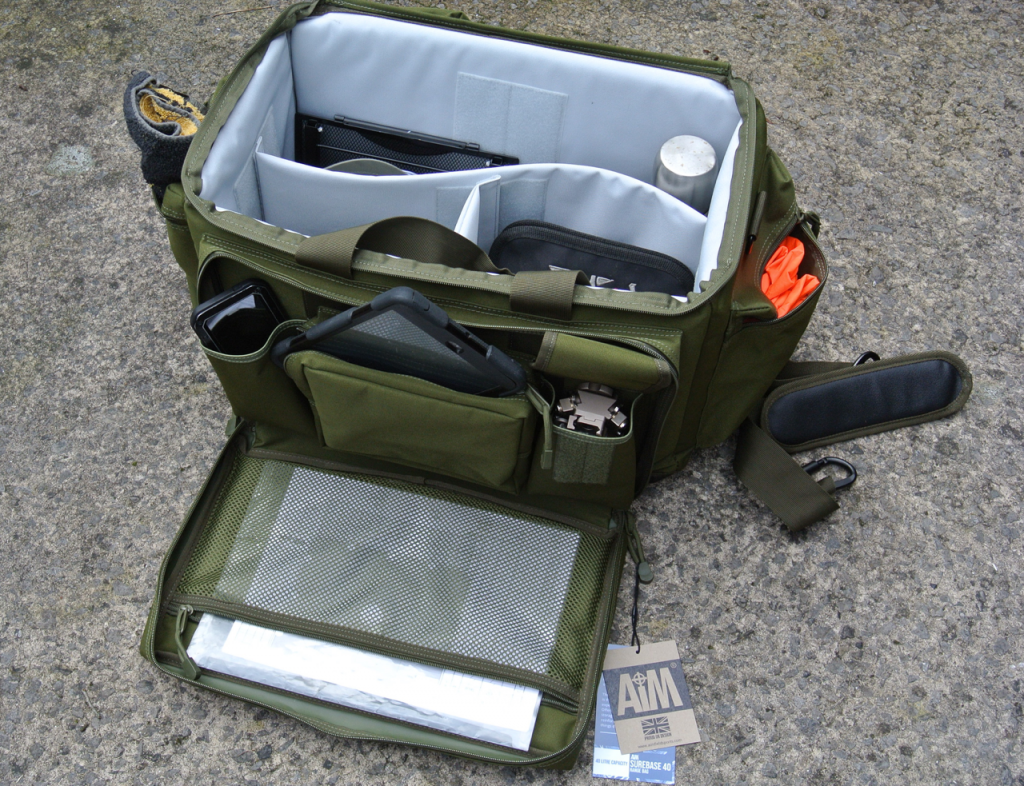 At either end are more large zipped pockets – useful for gloves and cap, a small towel and the like. But we haven't even started on the massive main compartment with its Velcro dividers. This will will contain your muffs, ammo, back-bag maybe, a flask or water bottle and those essential waterproofs and whatever else you might need. Small tools like Allen keys, bolt-stripping tool etc can be stuffed into one of the many pockets. Each to his own!
There are conventional carry-handles (like the drag-bag) or a detachable shoulder-strap which can be easily stored in one of the many pockets.
If you are shooting within sprinting distance of your car then you don't need to cart around so much gear but on some ranges you've got to take the lot.
There are lots more photos on the Aim Field website at https://www.aim-fieldsports.com/shop/aim-surebase-40-range-bag/
The bag retails at £128
Specs
Overall external dimensions (length x width x depth):
50 x 28 x 36 centimetres (20 x 11 x 14 inches) approximately
Please note, depth measurement excludes pockets
Main compartment internal dimensions (length x width x depth):
45 x 25 x 30 centimetres (17 ¾ x 9 ¾ x 11 ¾ inches) approximately
Large pocket internal dimensions:
40 x 25 x 6 centimetres (15 ¾ x 9 ¾ x 2 ½inches) approximately
Weight:
3.15 kilograms or 7 pounds approximately