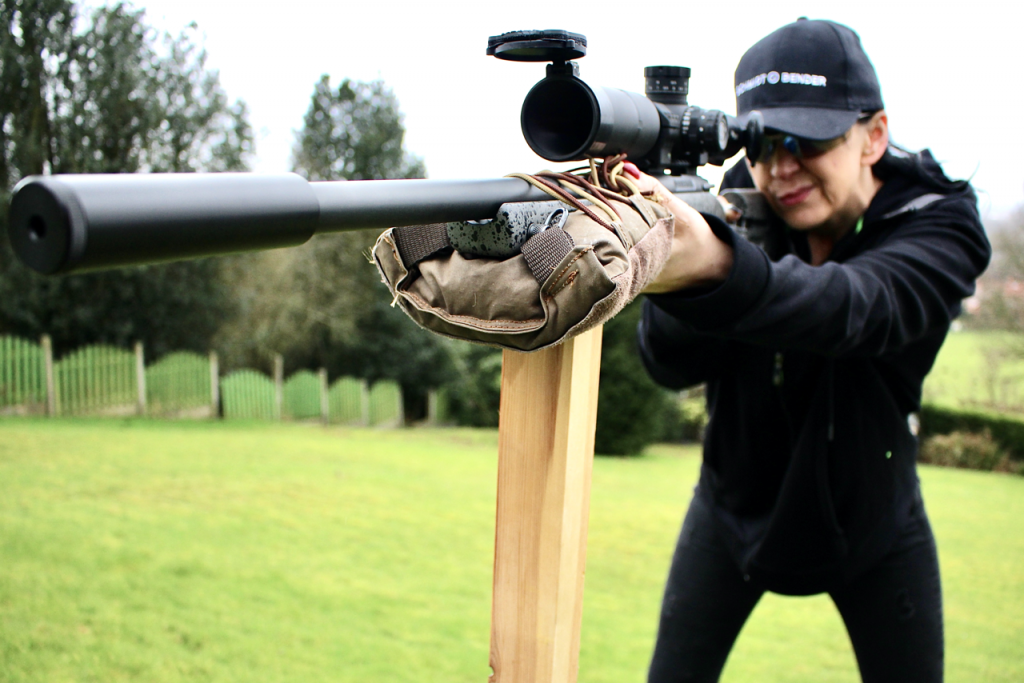 The 22 rimfire, in shooting terms, is something you will have almost certainly come across at one time or another – often as a starting point were we learn the basics and fundamentals of shooting before progressing on to more niche or favourite disciplines. That progression usually means the poor old 22 then becomes a forgotten item relegated to the back of the gun cabinet.
That was pretty much the same for me – until a growing early teenage daughter wanted to try the sport but was definitely not a fan of loud full-bore rifles. The 22 was clearly the place to start and this got me re-examining this little gem again after many years.
Following a visit to my local dealer I soon had a mint condition Anschutz singe-shot target rifle, ideal for teaching the basics and of course is insanely accurate for under £100. Shooting this rifle is so much fun that I spend as much time behind it a she does!
Fast forward to the present time and my 'niche' in our sport – namely Practical Rifle and Sniper/Tactical competitions which I have competed in both in the UK and abroad for many years. This type of dynamic competition seeks to find a balance between movement, speed and precision, engaging targets at both known and unknown distances on both paper and reactive steel targets. Shooting distances can typically vary from between 15 to 1000 yards and, this discipline has expanded and recently started to offer extreme long range competitions for larger calibre magnum rifles over 1-2 miles. This sport is slowly morphing towards the next step in its natural evolution from Practical Rifle (PR) through Sniper/Tactical and it is now rebranding itself as 'PRS' (Precision Rifle Shooting)
The UK is in the early stages of trying to organise the sport under the umbrella organisation of UKPRA in order to offer a standard format for competitions across the world, so if you travel to other countries to compete, as I do, you know more or less what to expect and, the comp format (range commands, target sizes, scoring etc) is familiar wherever you compete. This is not unusual as F-Class, TR and Benchrest and other shooting disciplines work along the same standardized competition rules/guidelines.
For me, one of the big attractions for this type of event is that it is 'dynamic' and by that I mean you are expected to move from firing-point to firing-point. Sometimes this can be a short distance, sometimes not and often climbing over or under demanding obstacles. You start the day carrying everything you are likely to need for the day and of course, finish with it – no 20kg front rests here!
Shooting positions can be standing, squatting, kneeling and sitting as well as prone and at least 80% involves shooting through, over, under and at angled and moving targets, often under time limits.
The target size is usually between 0.3-0.9 mil (3-9 cm at 100 m – approximately 1/3 MOA. This adds a whole extra dimension of difficulty and increases the chances to screw things up. Whilst anyone can register to shoot these comps and just rock up and give it a go, if you are serious about competing in this sport you need to practice, practice, practice and, when you've had enough, practice some more!
So in order to practice getting in and out of positions, mag-changes and moving transitions, our cousins from the US have started to practice the sport using 22 rimfire rifles specially constructed to duplicate their competition rifles. This is a great idea as you could easily burn out a full-bore barrel in practice without even entering a comp so, a duplicate rifle in 22 rimfire for practice makes perfect sense.
The shooting industry has been quick to see this new opening for a rimfire 'cross trainer' and the growth of a whole new market has appeared to meet the needs of the shooter who wishes to add a practice rifle to their training program. This new market has been so successful there are now PRS 22-only competitions. Enter the Bergara B14R, (available in 22LR, 22WMR, and 17HMR and both right and left-handed)
Bergara have been producing rifle and rifle barrels for many years and have naturally progressed into rifle production and offer the Bergara Match Precision rifles (in various popular calibres). In order to match their line of centrefire rifles, they have used the same a synthetic stock for the new 22 rimfire. It has an inner alloy spine, is fully adjustable for length of pull and comb height and a look and feel very much like a McMillan tactical stock.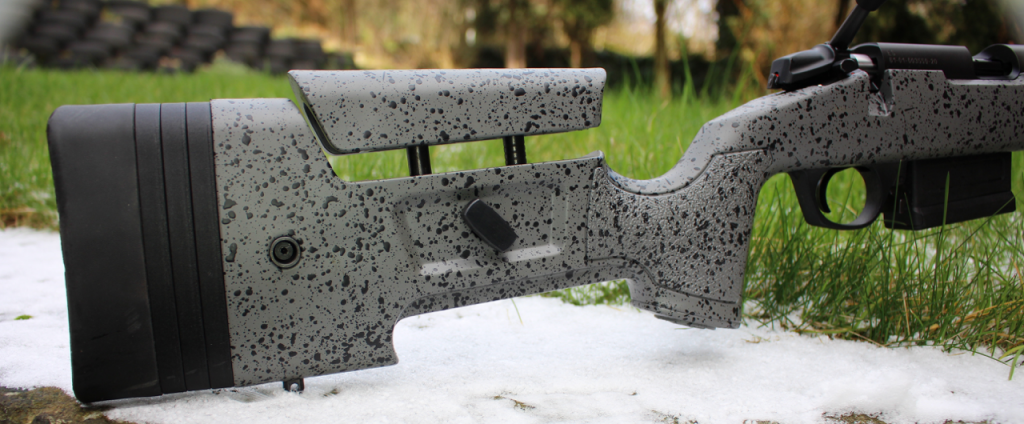 One of the biggest selling points is that Bergara rifle actions – centrefire and rimfire are built on a Remington 700 footprint which of course means it is compatible with a huge range of aftermarket stocks and accessories.
This year they added the B14R (rimfire) Trainer in a choice of carbon fibre wrapped or standard steel barrels, in their HMR stock. But don't be fooled – this does not look or feel like a 22 rimfire even though the barrels are 18" and not the 20, 24 and 26" of the full-bore versions.
So what you have is a full-sized HMR with all its features, but chambered in 22LR. The rifle is fitted with Bergara's #6 (heavy) profile 18-inch, 4140 chrome-moly steel barrel with a SAAMI spec match chamber, a nicely recessed crown and threaded ½-28 for a suppressor or muzzle device.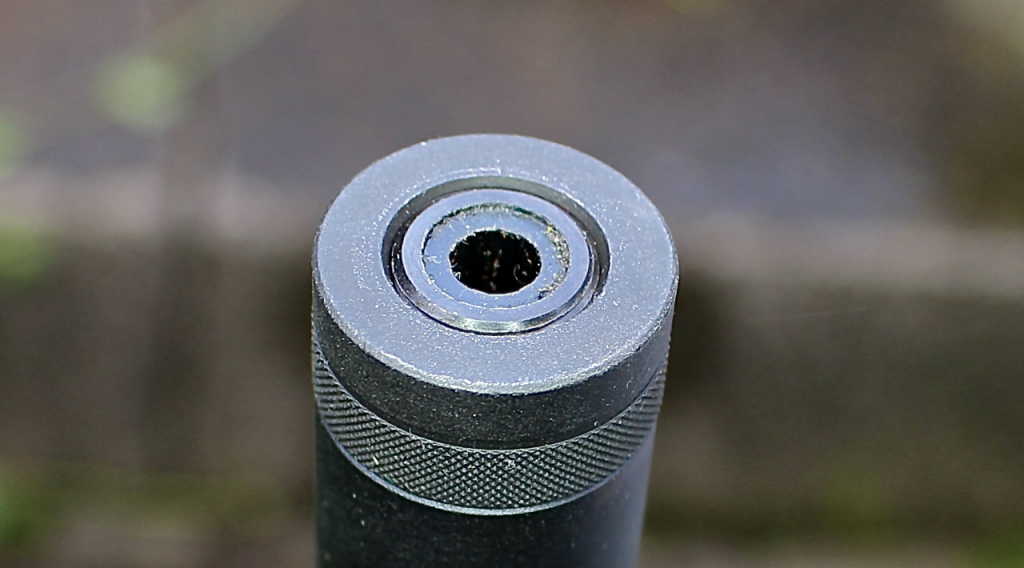 The standard steel barrel version comes in at 9.2 pounds and the carbon at 8.1 pounds. All my competition rifles use a suppressor and although not necessary for a rimfire, I have added one to give it a little more length and balance to the rifle
STOCK
The stock is dark grey with a black random splatter pattern over the top that also gives more grip. Bergara describe it as a graphite/black Cerakote finish. There are also cast-in textured panels on the grip and forend. This gives the look and feel of the McMillan A5 which luckily for me is my go-to stock for any rifle build.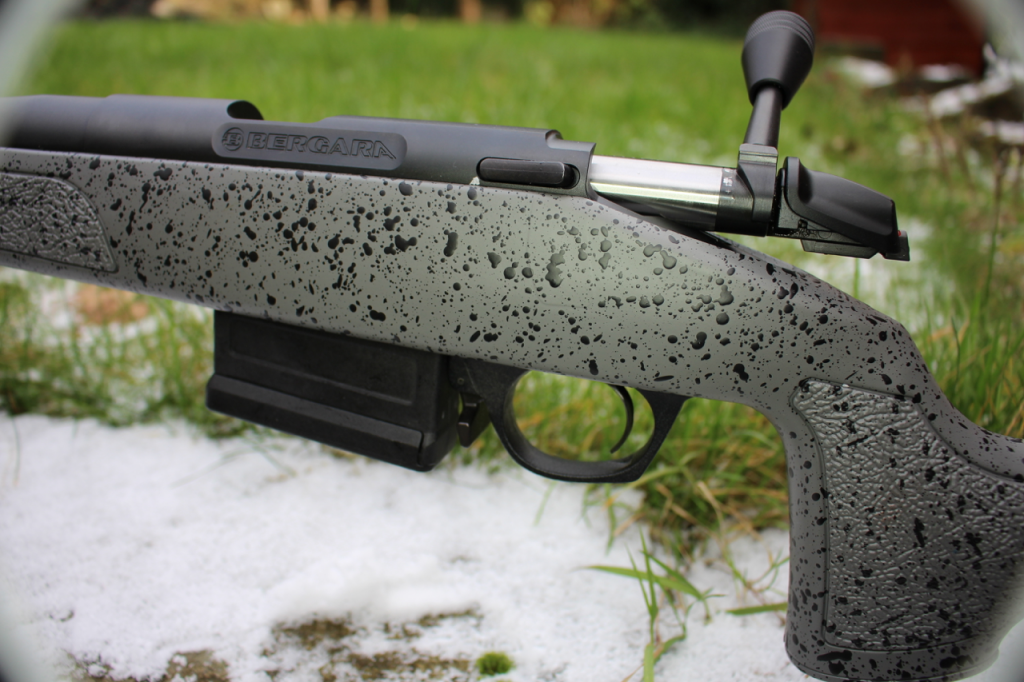 The angle of the grip is near vertical and fits the hand well in a very natural 'hand shake' position and sets up the finger for proper trigger control. The stock also has a small thumb rest under the bolt, and a cut-away hook under the stock for off-hand support, as well as the all-important adjustable LOP and cheekpiece, making custom fitting the rifle to the shooter quick and easy.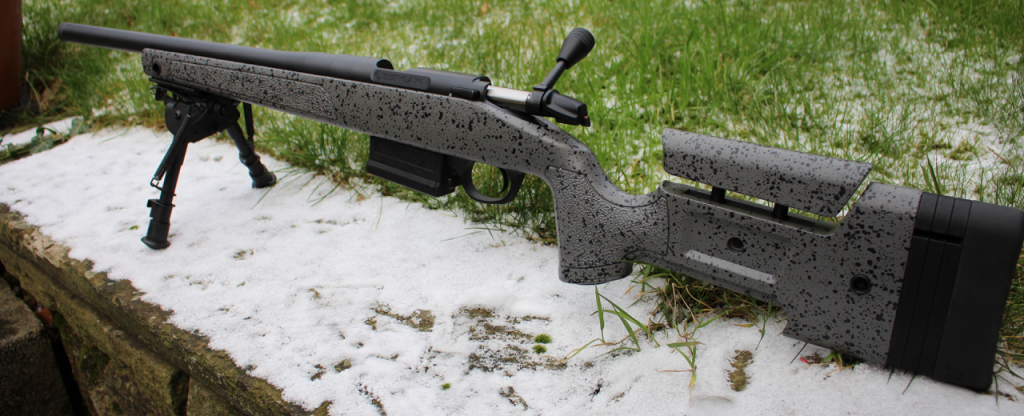 The stock feels completely rigid thanks to the internal aluminium skeleton and therefore needs no extra bedding – although I still might do this just as a comfort factor. The barrel channel is central to the line of the stock and more than adequate to take the heavy profile barrel. Bergara have clearly done their research well, in creating this competition stock, and have installed four flush cup sockets (two on either side front and back), and two bipod mounting studs, which is just how I set my comp rifles up. The reason for these 'quick release' points is that with the range of front and rear bags and slings required to be carried for a course of fire, it means the less kit to carry in your hands, the better, which can definitely help with the fumble factor.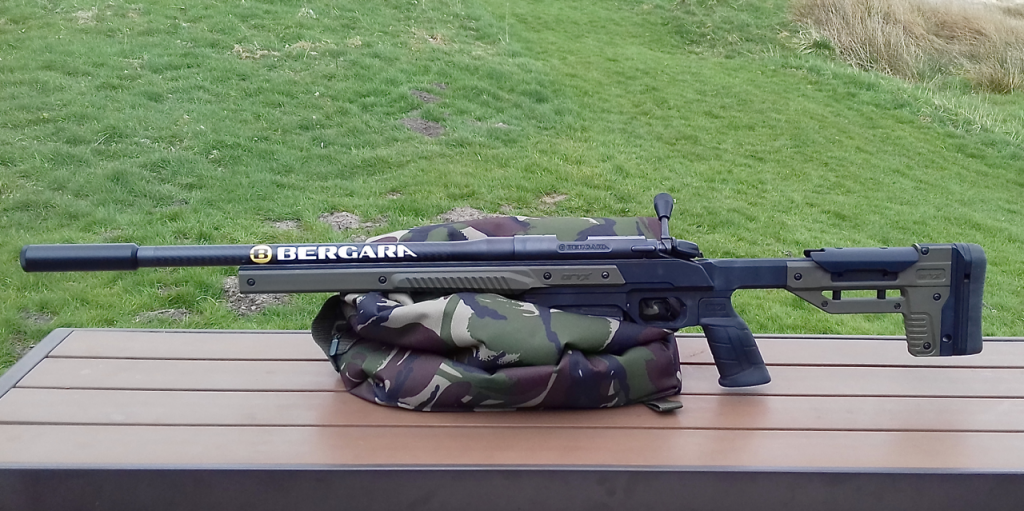 Good as the stock may be, there will always be those wanting just that bit more individualism and, for them, the B14 is readily available as a barrelled-action – just waiting to be dropped into an Accuracy International, or other exotic stock.
ACTION
the B14R action has a 90-degree bolt throw, and 'push-feed', which is important as the bolt strips the round from the top of the elevated 10 round magazine stack and pushes it directly forward, in line, with the chamber without the need of a feed ramp as that could deform a soft lead round and lead to accuracy issues. This great idea should not impede the shooter if shooting at speed. To match your competition rifles, the bolt sports a large teardrop handle for ease of operation.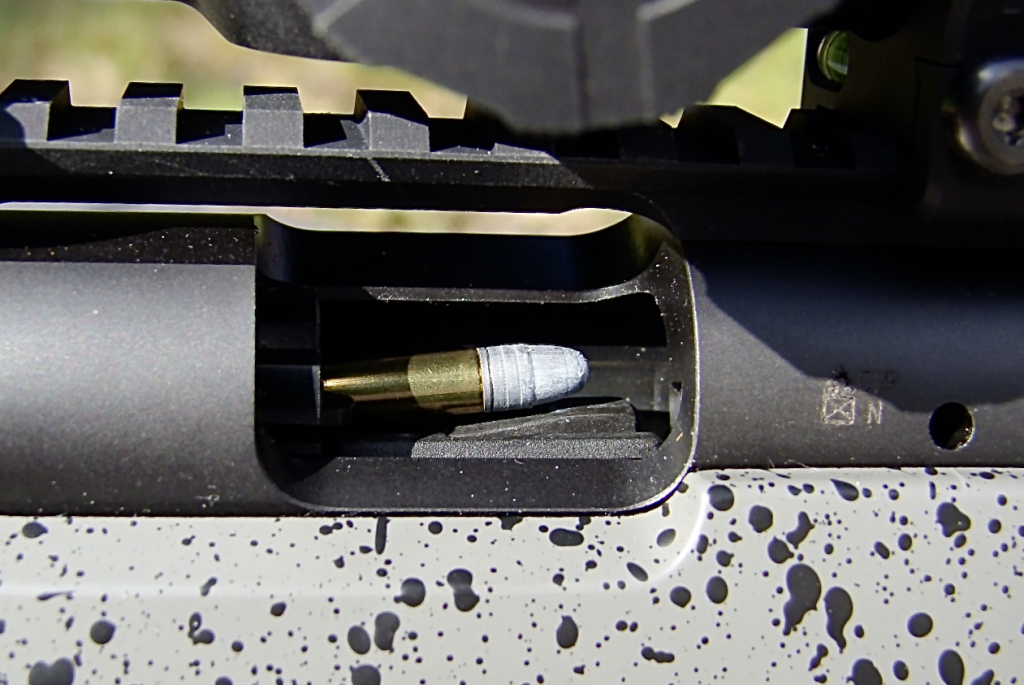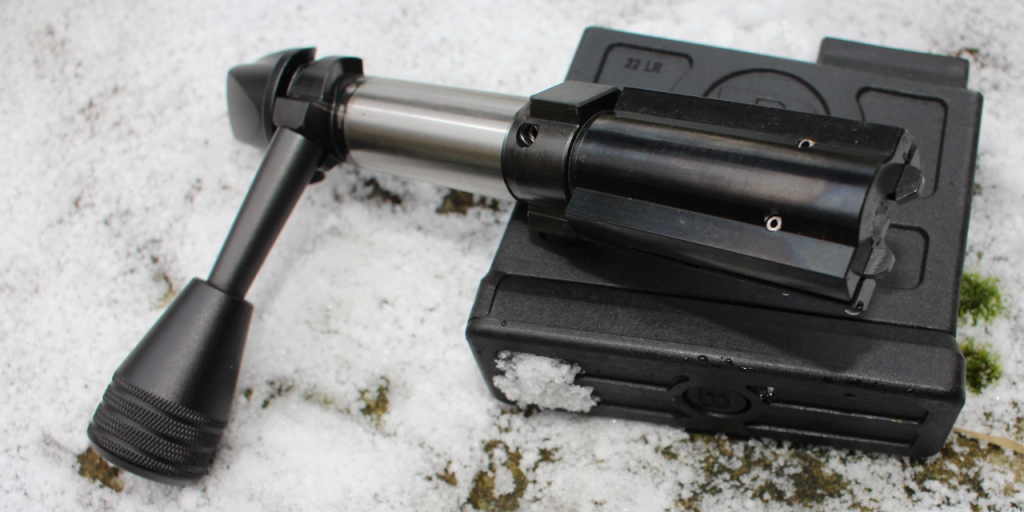 MAGAZINE
Once again, as a nod to the target user, Bergara has designed the magazine to fit into what most shooters would recognise as standard – the AICS 10 round magazine – so, in look and feel it's going to be the same thing as your full bore comp gun uses. Great for practising safety drills and 10/5 round mag changes, even the magazine release is in the same place as the majority of comp rifles – just forward of the trigger guard and is ambidextrous.

TRIGGER
The Bergara trigger is a decent factory single-stage trigger, with a small grub screw just forward of the trigger shoe to make the weight adjustments. With the screw all the way in, it's a 3-pound, 3-ounce pull, which adjusts down to 2lb 4oz at its lowest setting.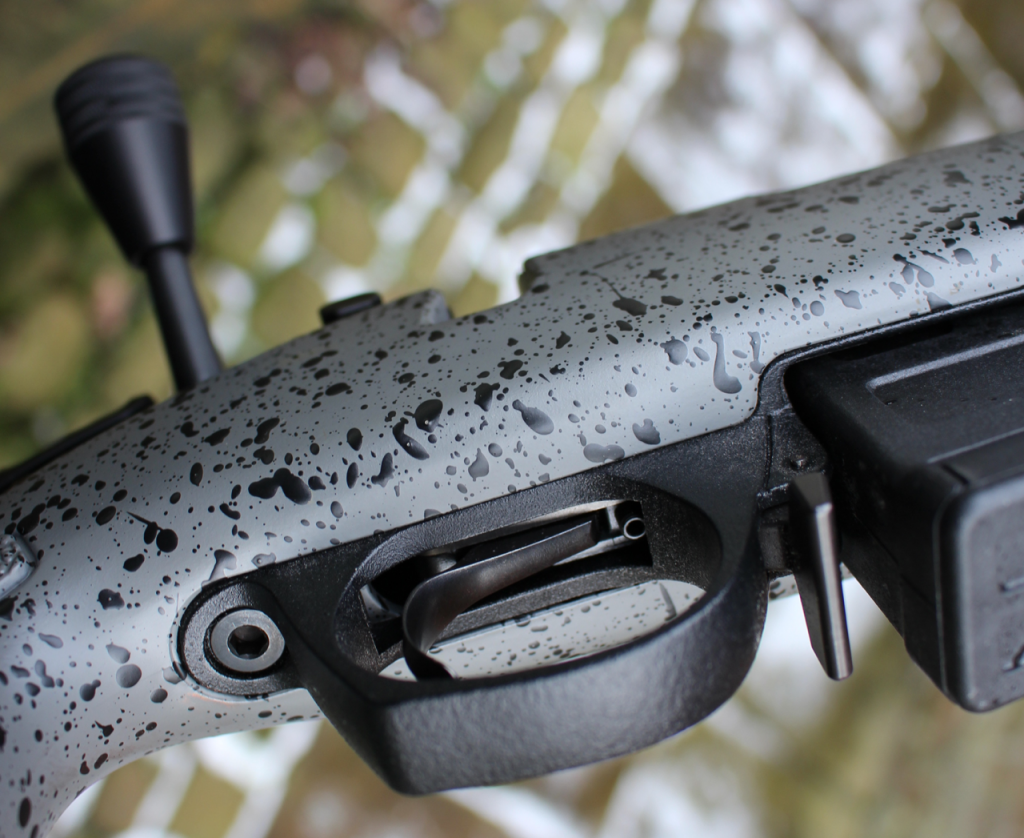 The trigger is better than most standard factory triggers I've used, breaking cleanly without any creep and, under comp. conditions with the adrenalin flowing, I didn't notice much difference but, under bench-testing conditions, my only gripe is the trigger-weight adjustment range is so small it was difficult to detect much difference between highest and lowest settings. A greater range of adjustment would be useful. Would I change the trigger to the same as my centrefire comp. rifle? Probably not but, thanks to the action's Remington footprint, you have a massive choice of aftermarket triggers to choose from. There is an excellent trigger test on accurateshooter.com showing the consistency of the Bergara trigger using a TriggerScan TS-11 under laboratory conditions.
TEST DAY
To complete the look and feel of my comp rifle I added a heavyweight scope, a Sig Tango 6, and excellent Tier-One Tactical rings and Picatinny rail, a Harris bipod, and a sound moderator. The total weight when complete was a very manageable 11lbs.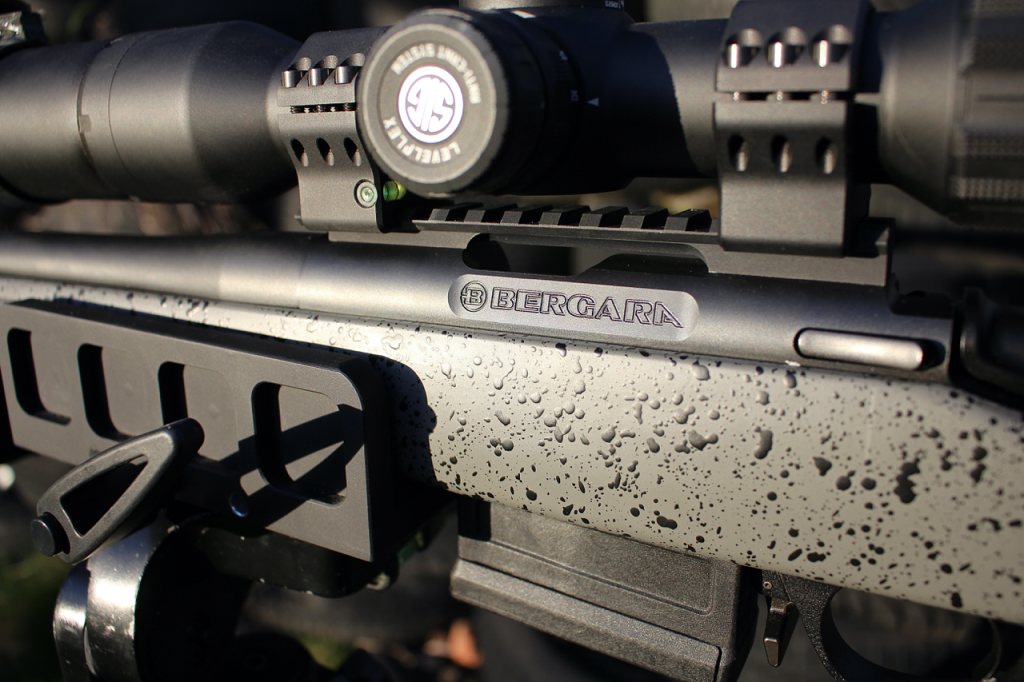 All 22s are individuals and finding the ammo they shoot best is the familiar process of shooting groups but, knowing that I was going to stay with standard and subsonic rounds narrowed the field down, so in this test I had Lapua Master L, PMC Match and Geco. In an ideal world I would have carried out all the tests shooting indoors but, due to the current situation, I was limited to a maximum of 30 yards indoors, so I set myself a goal of a 10-shot string to really test both rifle and ammo consistency. All three shot very well but the Lapua just had the edge coming in at 11.95mm at 30 yards. I then shot the same ammo outdoors at 100 yards and, in far from still conditions, all three were close again with the Lapua ammo again just having the edge at 19.2mm – which is only to be expected, given its price range.
There were no feeding or extraction issues with any of the ammo used.
As I've mention throughout this piece this was a rifle designed to aid the PRS shooter but this clearly is not the only range of its usefulness. This is a solid very well-built item that would handle hard field work all day long – the short barrel means it's ideal from vehicles making it great for the varminters and, given the accuracy of its heavy barrel there is no reason it couldn't be utilised in the new sport of 'long range' 22 rimfire shooting, or just plinking for fun – so this is not a one trick pony.
It's not the cheap-end of 22s but, given what you get, I think it represents great value for money.
Recommended prices are as follows – but, as always, shop around:
Complete steel rifle: £1,190 (L/H £1230)
Barrelled action steel: £780 (L/H £820)
Complete carbon rifle: £1,290 (L/H £1320
Barrelled action carbon: £880 (L/H £920)
Rifle supplied by Fox Firearms
Contact Diggle Range shop 0044(0)161 4308278
Brian Fox: 07941 958 464
Email: irvingfox1234@aol.com