Most of us will have shot from a bi-pod at some time or other. In fact, it may be an essential part of your shooting kit – and why not – it's the easy way to stabilise your rifle when taking that critical shot, be it target or hunting.
The bi-pod is perhaps personified by the Harris. This ubiquitous American bi-pod has it all – light-weight, easily foldable, easily fixed or removed and realistically priced. What's not to like? Well actually, there's lots!
The bi-pod has always been the preserve of the hunter and tactical shooter but, of late, a different class of shooter has made different demands on the bi-pod – the FTR shooter. The rules of the discipline require the FTR competitor to shoot from a simple bi-pod. However, the FTR discipline needs a bi-pod which is a little more sophisticated – ultra stable, light, infinitely adjustable but cost is not seemingly a problem – as long as it does the job. Suddenly the Harris looks a bit anemic! The bi-pod has grown up.
Yes, the famous SEB Joypod would look stupid on a tactical-style rifle but a Mystic Precision less so. The American made Atlas bi-pod is an exceptional design and is much superior to the Harris, without betraying its tactical roots. Tactical shooters are also beginning to demand a better bi-pod.
So, what features are we looking for from a bi-pod? Well, of course these will vary dependent on use but, in no particular order:
It must offer a stable shooting platform – on any surface
It should have a wide range of adjustment (height)
It shouldn't be overly heavy
It should fold away neatly – or be quickly detachable
It should offer the firer a degree of movement – horizontally/vertically
You may have one or two more – like the price!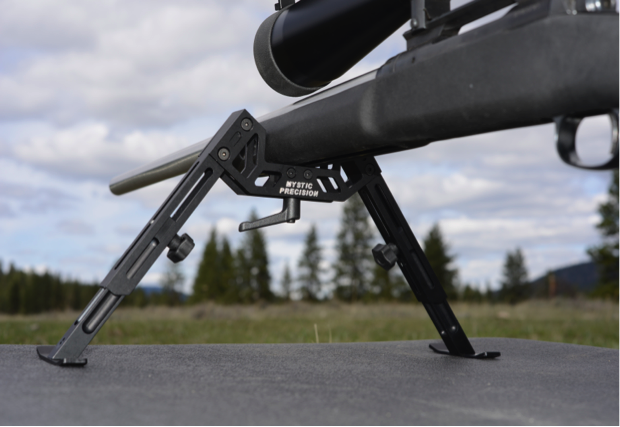 The Mystic Precision – halfway between a tactical and FTR bi-pod. Very light, quickly detachable and offers a 'sit-in' configuration
However, as bi-pods develop and offer more features – swivel, cant, mariner-wheel adjustment, QD fixings etc – there can be a trade-off and, many FTR shooters are disappointed to find that their expensive 'pod is prone to cant from the torque effect of the rifle – if it is 'perched' on top of the bi-pod rather than 'in' it.
Designs such as the Sako bi-pod (for their TRG range) offer a 'sit-in' configuration rather than a 'sit-on', placing the mounting/pivot-point closer to the barrel.   This design will surely handle the torque far better.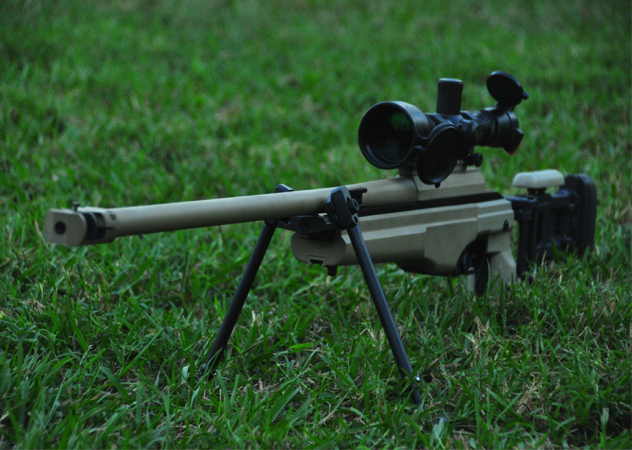 Sako's TRG bi-pod offers most of the desirable features for a tactical bi-pod
Of course, this is a bi-pod designed for a particular rifle. It would require some work to adapt it to another rifle. But, many rifles are now littered with Picatinny rails and these rails are designed to allow accessories to be quickly fitted to the rifle via this universal fixing.
Some bi-pod designers are a little slow to grasp this…….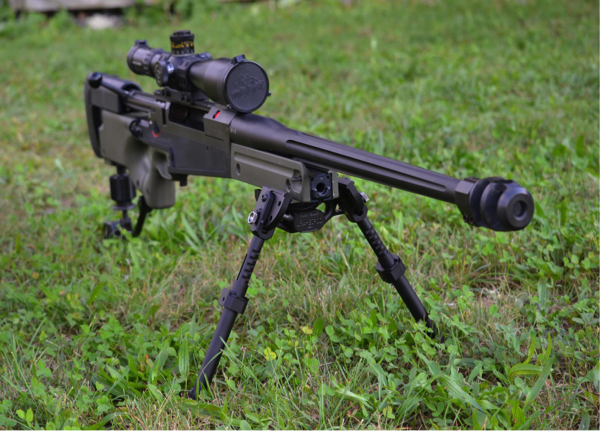 The USA-made LRA bi-pod is superbly engineered and marketed as FTR friendly or tactical
At the 2012 Shot Show I discovered another great bi-pod from a company called LRA. I was excited about this one as, in addition to being a great tactical bi-pod, it was also being marketed as an FTR bi-pod. I hoped they would ship me one for a review but strangely, bi-pods are 'restricted items' export-wise! I did get to shoot with it on Media Range Day however and it lived up to expectations, being very well made and stable.
In addition to the Shot Show, I always like to visit the famous IWA Show in Germany, which includes a large Police/Military section. Access is restricted to military, police and media and it features some pretty interesting stuff. A few years ago, I saw a very purposeful-looking bi-pod. It wasn't being featured as a bi-pod as such but simply being used to support one of the weapons on this particular stand. My poor German didn't do me any favors but honestly they just weren't interested in my bi-pod questions but, that bi-pod stuck in my mind.
It was top-mounted on a fore-end hand-guard Pic rail with the rifle hanging below. I've always thought that this would be a great way to mount a bi-pod. It was also very robust, with plenty of adjustment and offering a wide, stable platform.
I've looked for that bi-pod ever year since without success but now, amazingly, it's here, sat on my desk as I type this article. Well, OK, maybe not that very bi-pod but a close copy -being designed and built using ideas from three different bipods – namely two USA designs and one German. None of the designs are patented and the manufacturer of our bi-pod has consulted the original designer, who is aware of others copying his design and has not objected.
So, before we go on-range, first impressions:
'Sturdy' would be an understatement, yet it's not over-heavy at just 550 grams – or 1lb 3oz if you prefer but the robust spigot attachment adds another 6 ounces. The 50 cal. origins in the design are plain to see and suddenly, my Atlas looks weedy!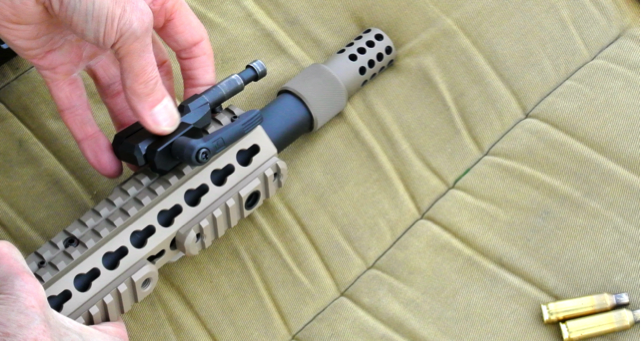 The all-steel spigot offers and ultra-solid QD fixing on a Pic rail
We've already highlighted the Pic-rail top-mounting but it's worth mentioning that the steel Picatinny mount that comes with the bi-pod is QD and superbly engineered – as it should be for this is the first point of 'stability' and, if you already have a 'spigot' on your rifle, you could dispense with the Pic-rail mount assembly and simply clip the 'pod onto your spigot – usefully reducing the overall weight by 6 ounces.
The QD spigot is a great feature – although it releases at the touch of the locking-lever, I prefer to leave it permanently in place on the top Pic-rail on my AX handguard – allowing me to 'un-clip' the bi-pod instantly. And yes, you can nip-up a clamp so that the spigot-fit is tightened to your liking but, because the rifle is 'under-slung' – like a pendulum – the rifle doesn't 'flop' as with some spigot-mounted 'pods.
It's just so solid
The large feet swivel to conform with the ground you're shooting off and the two-part sliding legs will add another three-inches to the height and a further four-inches to the span – making 16 inches in total. At the lowest height, with the bi-pod mounted on my AX chassis top Pic-rail, the barrel is a mere six inches off the ground – lower than my Atlas, though of course I can swivel the legs forward on the Atlas to make it a similar height.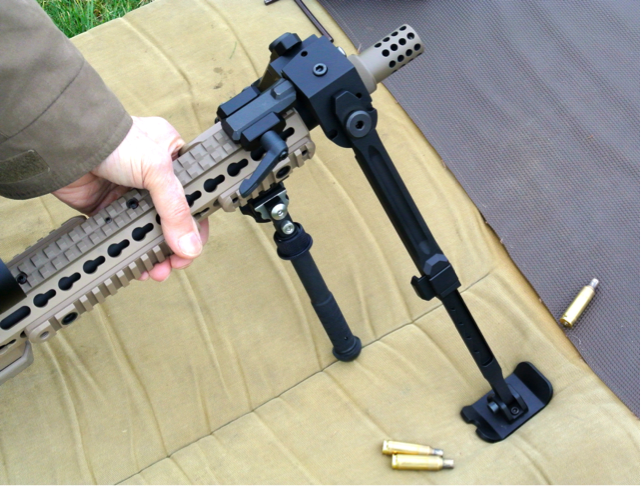 For comparison – here's the Atlas fixed on the underside Pic rail
The sliding leg arrangement is nicely done, offering very positive push-button 'lock-steps' every half an inch or so. The legs also fold – forwards or backwards – with another simple positive system.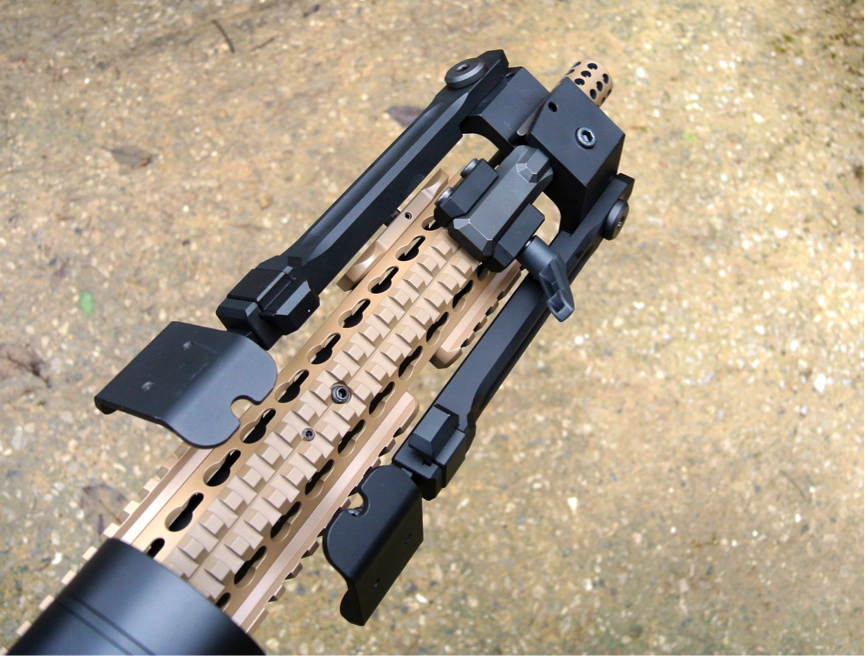 Legs fold rearwards (as here) or forwards
OK, time to see how the Phoenix performs on range. I use my 6.5×47 tactical-style rifle (based on an AIAX stock) mainly for the McQueen competition and occasional tactical comp. and I love to get a really low position – so the Phoenix certainly scores on this front.
I tried both options – with the rifle hanging free and with the spigot locked lightly. It requires an Allen key to lock the spigot but, if I were to make one change to this bi-pod, it would be to fit a locking-lever (like the one securing the spigot-mount) thus doing away with the need for an Allen key.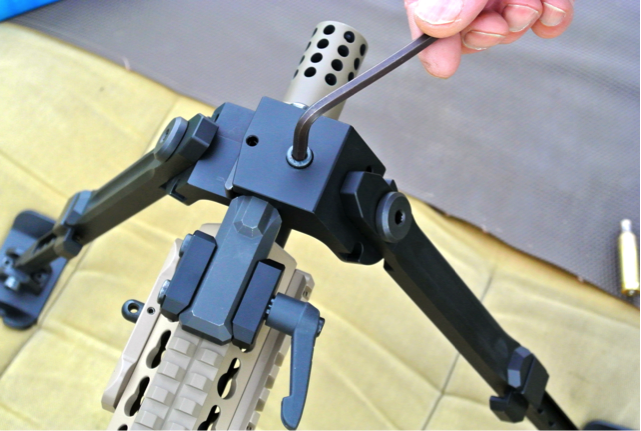 Nipping-up this socket-head screw clamps the bi-pod solid. Could be replaced with a little lock-lever – like the one fixing the spigot mount.
With the rifle hanging free, I didn't notice any undue torque effect and, by the time the next round is chambered for the follow-up shot, the rifle is back in position. I thought I would prefer the bi-pod locked but I'm fine with it hanging loose. Moving the rifle laterally, to scan the McQueen wall also offered no problems – perhaps due in part to the large feet, which sat on the grassed firing-point rather than digging-in – as with the rounded tips of the Atlas (or Harris) feet. Yes, I know the feet are on my shooting mat in the photographs but that's deliberate – I didn't want them to get 'lost' in the grass!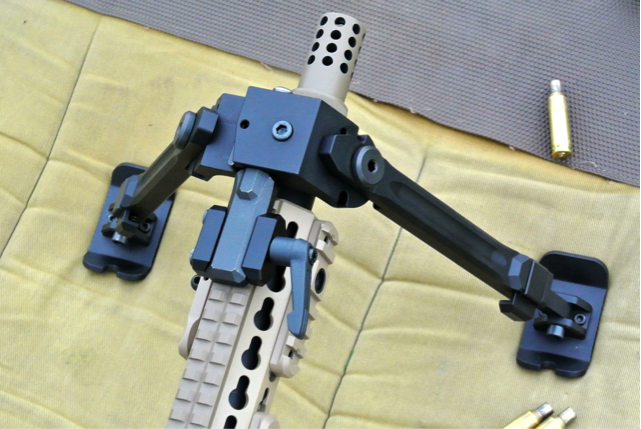 Check out those feet!
One of the features we shouldn't overlook on this bi-pod is the sheer quality of the CNC machining. The top-hinge for the legs – allowing them to fold forward or aft (for on-rifle storage) – is very precise and the legs lock-up without the slightest play. Similarly, with the leg-extension ratchet system – simple, rugged design, totally free from play yet with no tendency to bind and allowing a half-inch incremental adjustment over a three and a half inch range.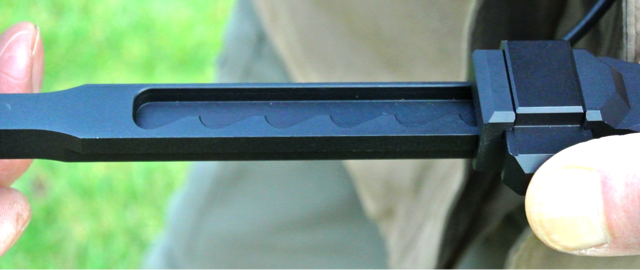 The sliding-leg ratchet arrangement – thumb operated catch
Finally, does the bi-pod interfere with the sight-picture in any way? As you can see from the photographs, my scope's objective is only a couple of millimeters above the Pic rail but the answer is – no, it does not!
Do I need another bi-pod? To be honest, I don't but the Phoenix is so good and, at £220 including the adapter, it's fantastic value and I just had to have one! Can't wait to Cerakote it in Magpull Dark Earth and shoot the next McQueen!
If you would like one, e-mail phoenix.services@hotmail.com