If most of us were to write down a list of essential shooting equipment, I doubt that ear-protection would be number one – yet, really it should be. Apart from your gun and ammunition it's the one other essential.
I currently own around five sets of ear-muffs – rather than risk forgetting them, I have a pair in every gun bag and range box. Yet, I still found myself without a pair on the firing-point the other Sunday. How come? I was range officer and although I'd managed to remember score cards, radio, binoculars etc., I forgot my ear-muffs………..It's not the first time either!
Well, now I've solved the problem with these ProGuard ShooterPlugz. Yes, OK I know, you don't like ear-plugs – neither do I – for some reason they never seem to fit properly do they?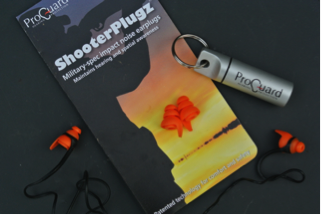 We all have different size feet, hands, head but for some reason it's a case of 'one size fits all' when it comes to ear-holes! So well done to ProGuard for offering two sizes in the pack.
What's more, the plugs are strung together so you can't easily lose one and, best of all, they are contained in a neat little aluminium screw-top cylinder designed to fit on your key-ring. Never be without ear protection again!
On the back of the pack there's all the usual milspec tekkie blurb but who cares? At £19.99 they are good value and they just might save your hearing one day.
Proguard ShooterPlugz are supplied by hearing protection specialists who also supply custom hearing protection specifically for shooting applications as well as other applications such as motorcycling / industry.
More detailed information can be found at Proguards website.