By Vince Bottomley & Jeanette Whitney
The fabulous IWA Show continues to expand and this year topped the 1600 exhibitors mark, putting it on a par with the US Shot Show and attracting over 46,000 trade visitors from all over the world.
Each year the venue – the Nurnberg Messe (above) continues to expand with new halls and facilities. It is probably one of the world's best exhibition spaces, with catering and parking facilities to match.
There were no less than eleven halls in use this year and visiting them all in four days requires some stamina. Although products are to some extent 'grouped' you can still find the unexpected gems – which is what I love about IWA!
Barrels This year, I came across a Canadian barrel maker I'd never heard of – amidst an airsoft section – something I normally avoid. IBI Barrels (International Barrels Inc) are not subject to the American ITAR regs so are still happy to ship abroad to suitable individuals. Check out their website at www.internationalbarrels.ca
Whilst on the subject of barrels, there's no need to go to the USA or Canada – our own Sassen Engineering Ltd were also exhibiting – they offer both cut and button-rifled barrels in all the usual contours and lengths at very competitive prices.
Scopes Long-range rifle competition is my main interest, be it benchrest or F Class and we are now, at last, very well catered for in the optical department in terms of high-power low-weight optics. March were displaying their Genesis ELR scope and their new High Master (10-60) series – it doesn't come much better if you want the ultimate F Class scope. Similarly, Vortex (15-55 Golden Eagle), Nightforce (15-55 Competition) offer excellent alternatives. Most serious 'effers are now using one of these scopes which, due to their weight – or lack of it – help with an FTR rifle build.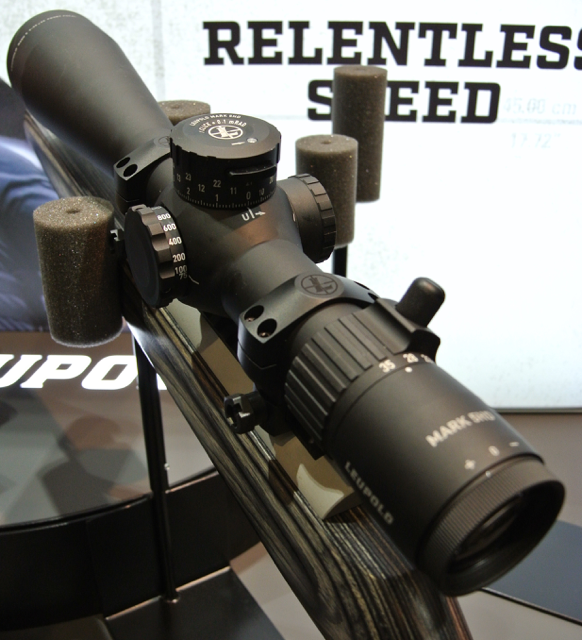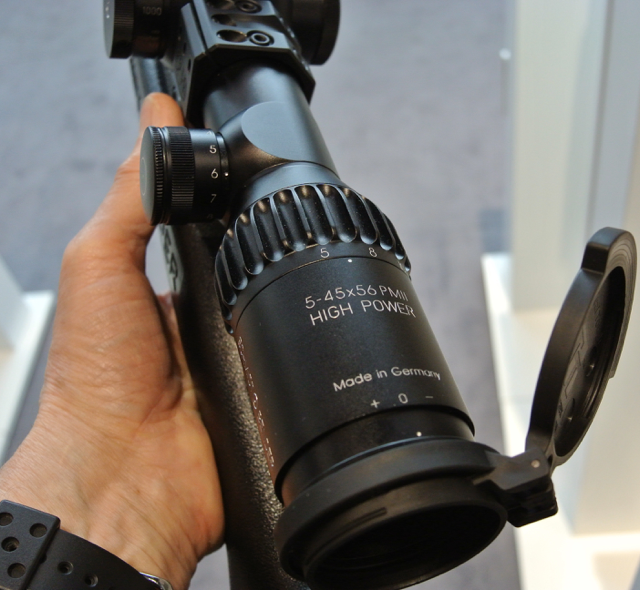 Schmidt & Bender were displaying their new PM2 in 5 – 45 and Leupold and Nightforce had 5 – 35 power scopes on display. The Leupold was a particularly compact model and should appeal to tactical/Precision Rifle Series participants.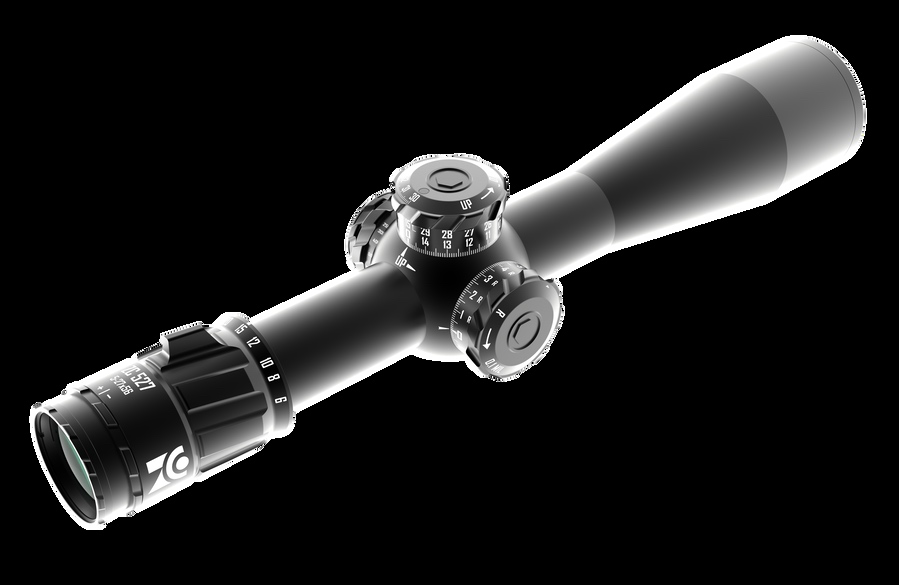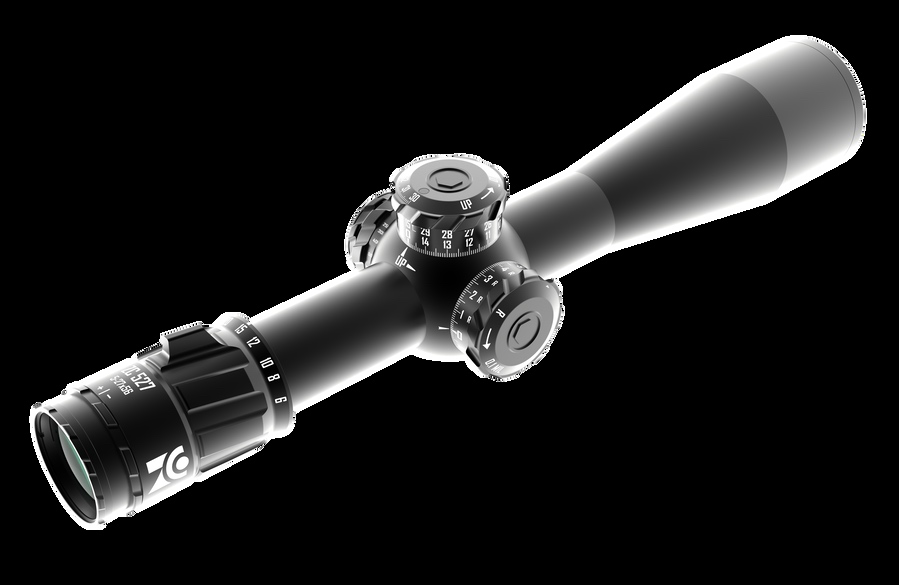 Another interesting scope was displayed in the 'new products' section so I couldn't really get to handle it or have a look through it. It was from Zero Compromise Optics, an Austrian company www.zcompoptic.com It was a 5 – 27 magnification and promises 35 mils of elevation – which equates to around 125 MOA – useful for ultra long-range use.
Rifle Chassis The advent of CNC machining has had a massive influence on the design of rifle builds. Previously, your custom rifle would have a fibreglass or wood-laminate stock. Now, chances are, it will be CNC'd aluminium. But of course, aluminium is heavy compared to wood and fibreglass so we also have a good choice of ultra-light carbon-fibre stocks to suit most disciplines, though cost will be a significant factor.
Perhaps one of the best stocks to 'marry' CNC and Carbon-fibre is the KRG Whiskey 3 folder, machined from titanium and with a carbon-fibre tubular fore-end – offering all the benefits of CNC without the weight plus, it looks 'the nuts' and it's unbelievably light! March Scopes are the UK KRG importer and were displaying this stock c/w a Tuebor Precision titanium action and carbon wrapped barrel – very nice and super-light tactical rig!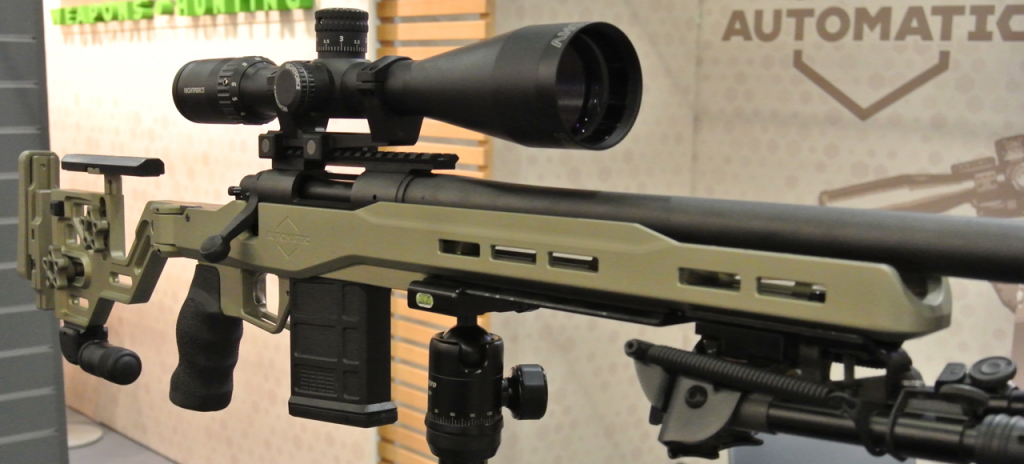 Some manufacturers, like Accuracy International, Unique Alpine, Haenal, Blaser, Keppler, Sako, Styer etc. have employed aluminium stocks for many years but cannot be considered 'budget' but companies like MDT and KRG are well established companies offering reasonably priced 'drop in' stocks for popular barreled-actions and offer a tactical upgrade at modest cost. New stocks are constantly joining the market – like the Ukrainian Automatic brand (above) who were displaying a particularly nice example and they are looking for UK distributors. www.ibis.net.ua

But why go for a custom build? Now, almost every major manufacturer seemingly has a sub £2k mag-fed CNC'd stock tactical-style rifle – check out Bergara, Smith & Wesson, Howa, Savage, Ruger, Remington, Tikka etc.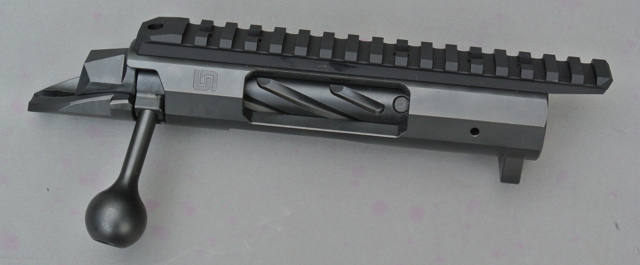 Actions Not a lot to report on actions this year – we did do an in-depth review of the Canadian Ultimatum Precision action (above) last month when it first arrived in the UK via GS Precision and I did visit their IWA stand for an update on future projects and I resolved the puzzle of the twin ejector-plungers in the boltface – it simply aids ejection when using the rifle on its side – as required in some PRS matches! This action has it all and are available in the UK now!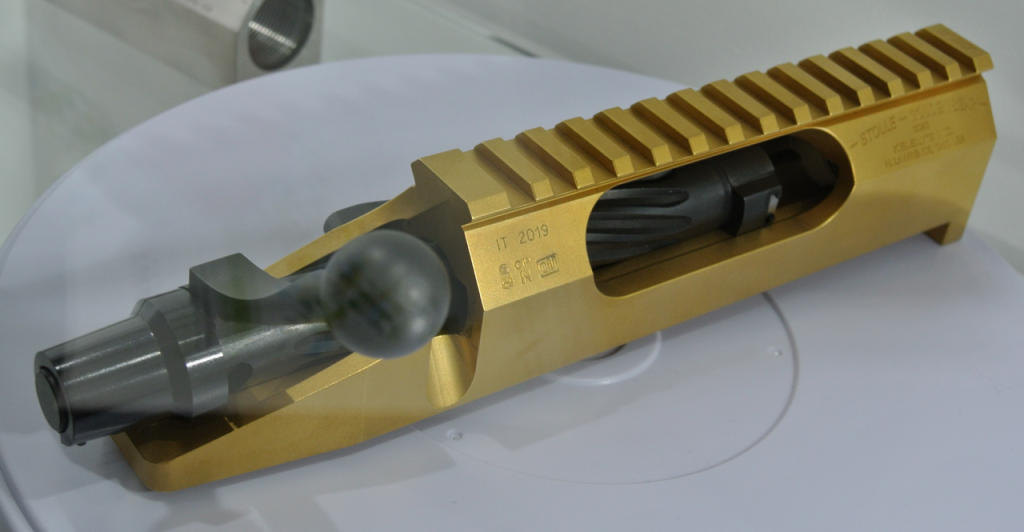 Without doubt Kelbly are one of the world's most famous 'accuracy' action manufacturers and they have recently expanded their range again – to cover the PRS fad – with a tactical version of the Atlas. But, their famous lightweight aluminium Panda action – which has probably won more benchrest matches than any other action – also gets a re-vamp and is now offered in steel. It's called the Black Bear and comes with a black nitride finish. Or, if you fancy a bit of bling, order the Golden Bear with a gold titanium nitride coating. The action has a massive flat-bottom bedding area and will appeal to F Class Open rifle builders or long range benchrest shooters where weight is not such an issue. www.kelbly.com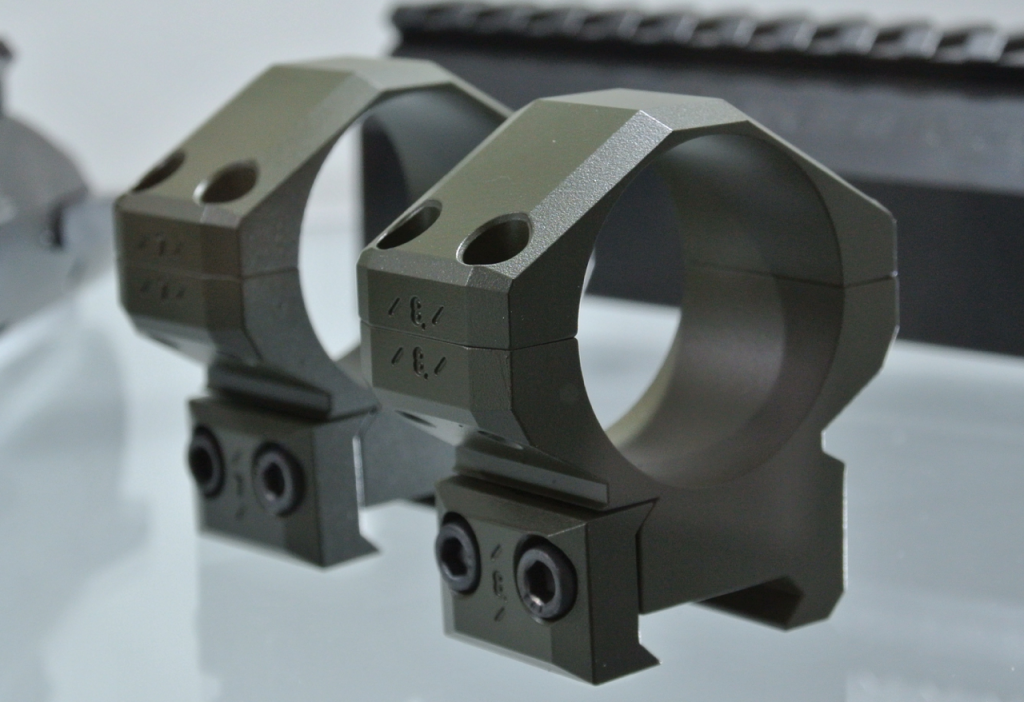 Scope Rings Oh how things have changed in the world of scope mounting – 25 years ago we had very little choice of decent rings and the Australian steel Hilver mounts were about all we had in the UK.
Remember the awful Millet rings or the even worse Parker Hale? I used to drool over the Apel mounts at IWA but now the choice is seemingly endless – again thanks to CNC. Even Kelbly had some new rings to show us. 25 years ago, their beautiful, light, expensive Davidson-rail fit rings were the preserve of the serious benchrest shooter. Yes, these are still the go-to rings for many BR shooters but not the PRS guys so, Kelbly's have a new ring which will sit nicely on any tactical rig. Incidentally, Kelbly products are distributed in Europe by the Italian Regina company www.kelblyeurope.com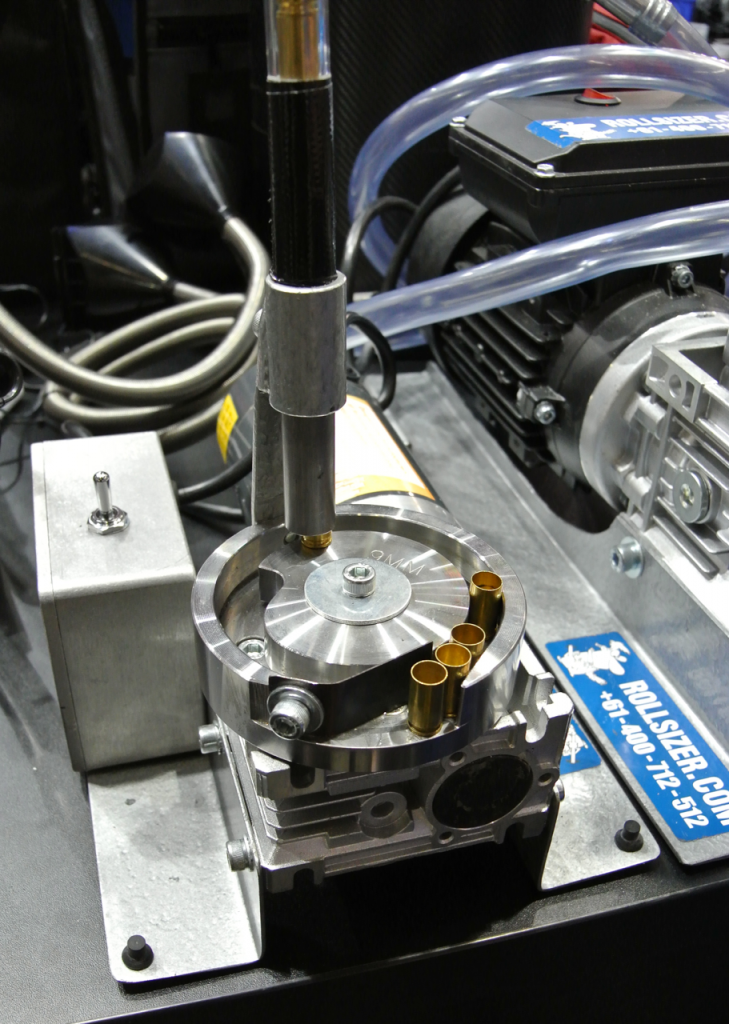 Reloading Not a lot new here – except maybe this – a new way of re-sizing your straight-sided brass pistol cases from Dillon. Instead of passing them through a sizing die, you roll 'em! The only advantage I can see is that the rolling machine is electric – switch it on and it does the rest. All you do is top up the hopper. You still have to remove the primer though so has it any real time-saving merit? Fascinating to watch though!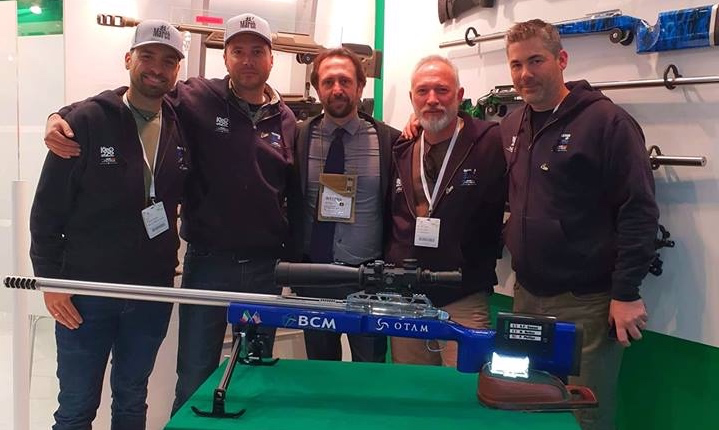 ELR – Extreme Long Range ELR is the newest rifle discipline – check out the website at www.elrcentral.com ELR Central is American based but now ELR is coming to Europe, with three shoots in France this year. The March Genesis scope with 400 MOA of adjustment is the scope for this new demanding discipline and March Scopes UK (top pic) were displaying their ELR rifle built by GS Precision and will be at the latest King of 2 Miles event in France at Camp de Canjuers April 20/21/22nd. The BCM Europearms Team were also displaying their ELR rifle so it looks as if ELR is finally taking-off outside of the USA. The remaining two French shoots are in July and October/November so plenty of time to build your rifle but read all about the April shoot elsewhere in Target Shooter.
Other stuff Sometimes it's the stuff you don't expect to see that makes IWA such a great exhibition. Although the traditional art of gun-making has largely died out in the UK save for one or two niche builders – like Purdy, Rigby and Holland & Holland, in Europe it is still a massive and respected trade and the work of the mainly German and Austrian hunting rifle builders is awesome. Many of the rifles run into 5 figures – some 6!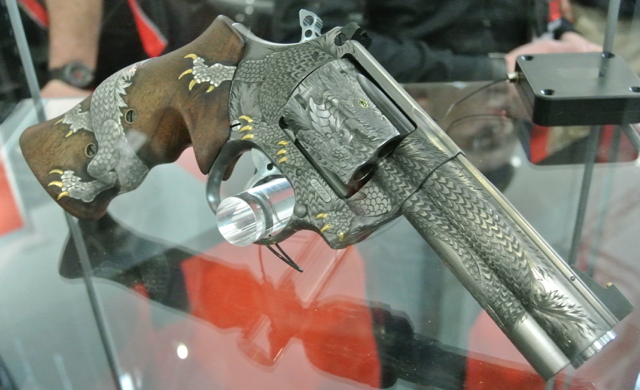 Of course, we have lost pistols so I don't spend too much time looking at them but some of the exhibition pieces are breath-taking.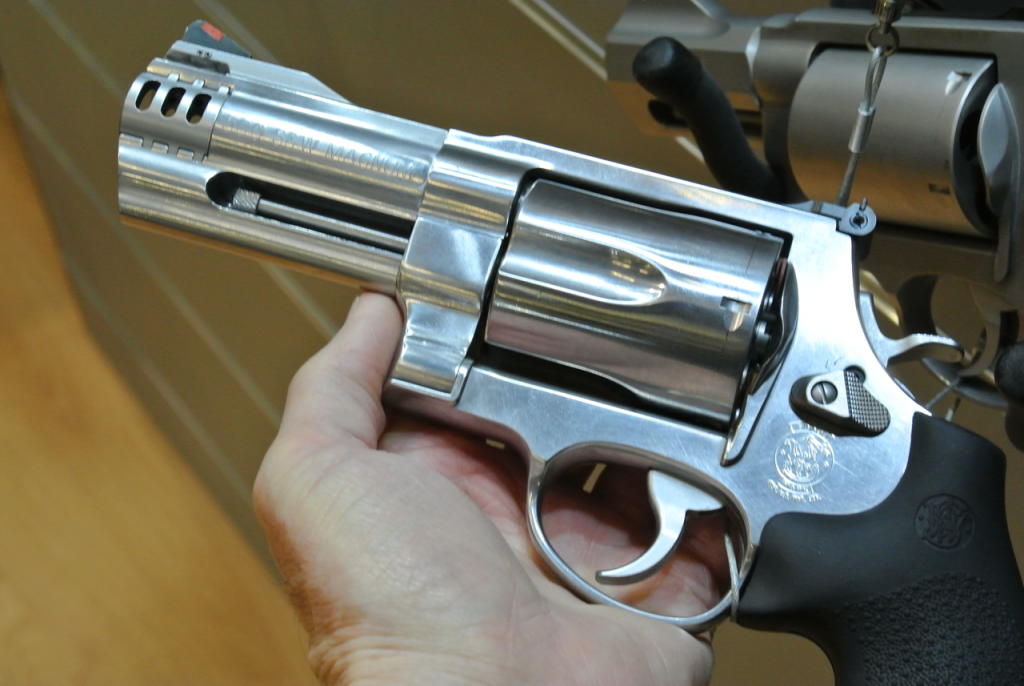 On the modern pistol front, I was gob-smacked by the 500 S&W 5-shot revolver. Remember when Dirty Harry told us that the 44 Magnum was the most powerful handgun in the world? Not anymore! This revolver operates at rifle pressures and will drive a 300 grain bullet at 2000 fps!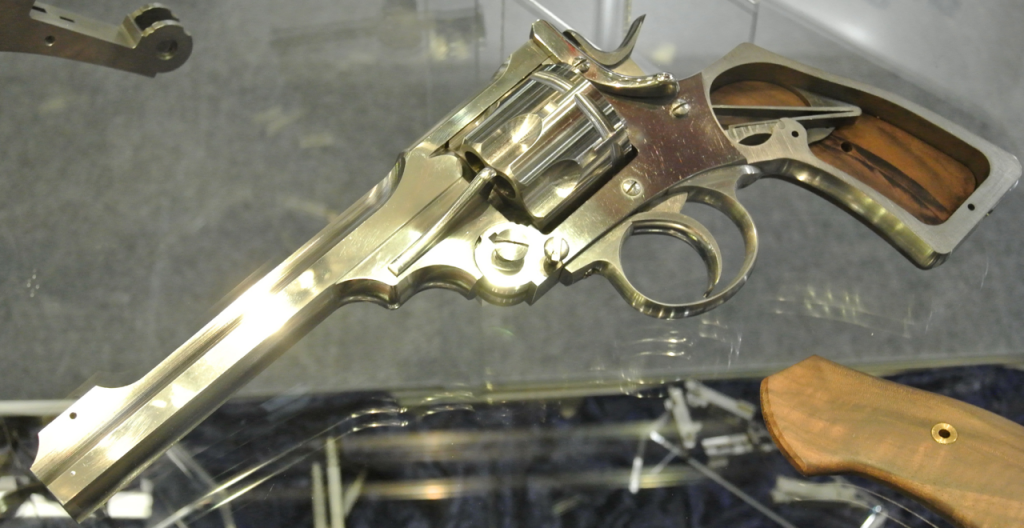 Or how about a modern reproduction of the famous Webley revolver?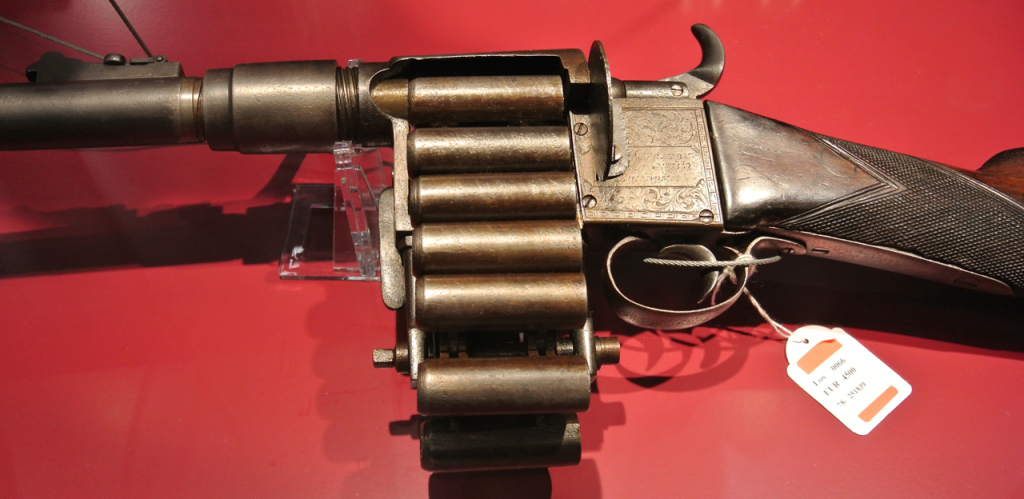 Similarly, the interest in historic firearms is rife and there was some unusual and rare stuff on display.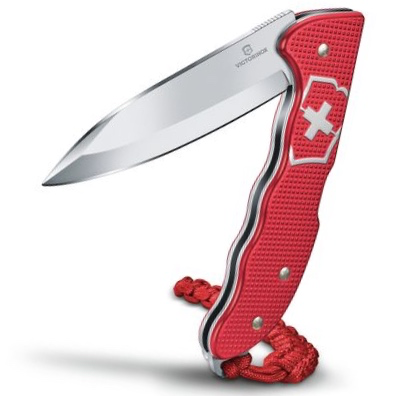 Of the eleven halls making up the IWA exhibition, one is devoted entirely to knives, knife making and knife sharpening. Knives are having bad press at the moment in the UK but not so in the rest of Europe. Many countries have their own traditional knife – like the Swiss Army knife or the French Laguiole and many jobs depend on the continued production of these knives. Where did it all go wrong for the UK?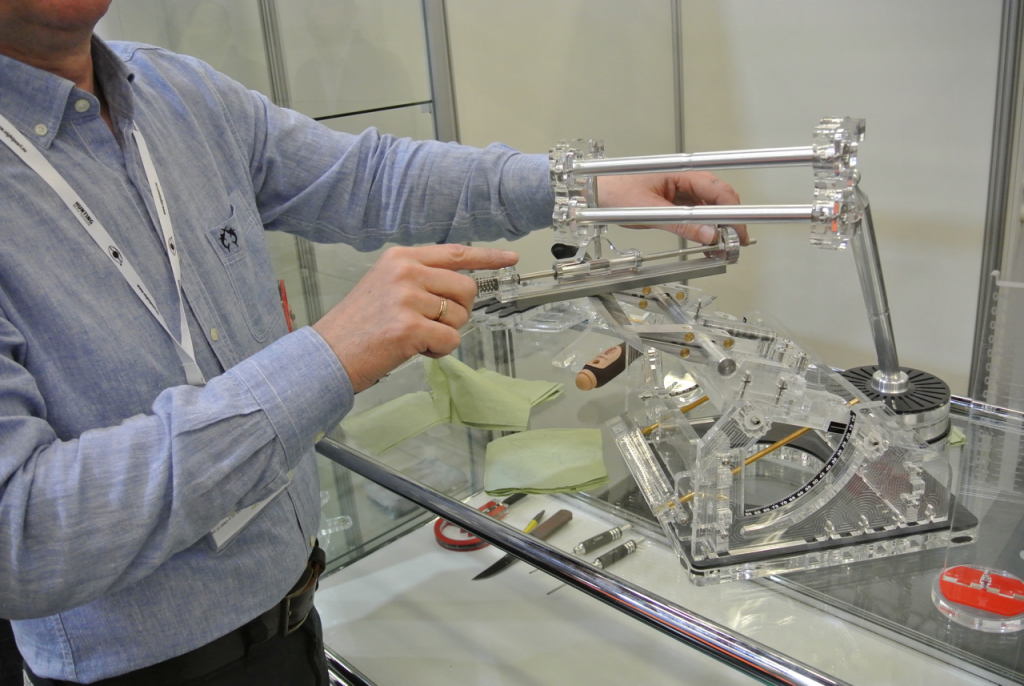 However, this knife sharpening contraption was ridiculous in its complexity – but yes, it worked!
Proshot have a new barrel-cleaner that claims to do everything you need! They gave us a sample to test so we'll let you know. We also got some Russian copper remover – one is ammonia based, the other not. Look out for our tests.
Of course, there is an abundance of CNC'd rifles built on the AR15 theme in every colour and configuration you could imagine but of course, we can't have 'em in the UK. However, I did find this straight-pull example in the new products section – which meant that I couldn't handle it or find out anymore on the web but I'll keep trying.
I remember seeing the first box-fed shotgun at IWA and I know that PSG is a popular discipline in the UK. Yes, there are now dozens of box-mag-fed shotguns but this only inspires creativity – check out this one by Omega of Turkey – a little different with its four revolving under-slung tube magazines. I guess it would be pretty heavy though with a couple of dozen cartridges on board!
Airsoft Personally, I don't understand airsoft. It seems to promote a gun-culture, which is one step on from computer games but it is a massive market and so it gets a significant place at IWA but personally I'd sooner see it at a toy fair. With mainly Chinese manufacturers leading the way, the 'weapons' are super-realistic and difficult to distinguish from real – which is part of the appeal I suppose. However, as firearm users, we are either paper-punchers or hunters and pointing a gun at another human being is totally against what we are about. Look at the pic below – it's a toy – imagine walking into an airport with that!

Savage and Sharp Finally a fitting tribute by one of the largest sporting arms manufacturers in the world to one unknown Scottish benchrest shooter. When David Sharp shot his wonderful 3.09 inch 5-shot group at 1000 yards in a benchrest competition at the Scottish Gelston Range last October with his factory 308 Savage we naturally wrote it up in Target Shooter magazine. It didn't go un-noticed and our friend Paul McMenamin of 6mmBR.com featured David's extraordinary feat in his US blog. Fortunately, Savage also picked up on David's achievement and amazingly gave it centre stage on their IWA stand with a similar Savage 308 Benchrest rifle in a glass case complete with David's story. Well done Savage and well done David.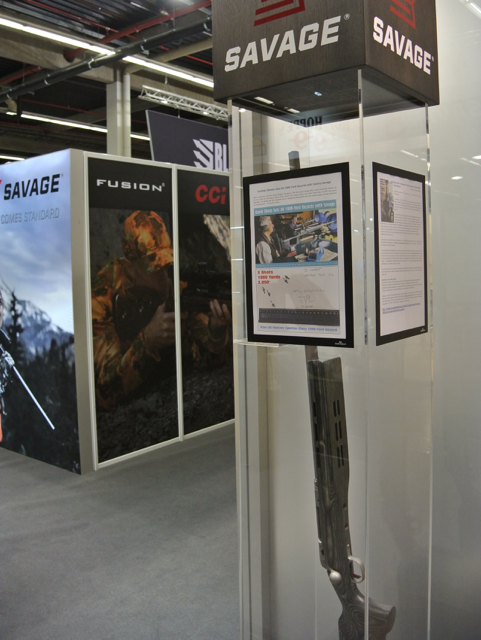 And finally…………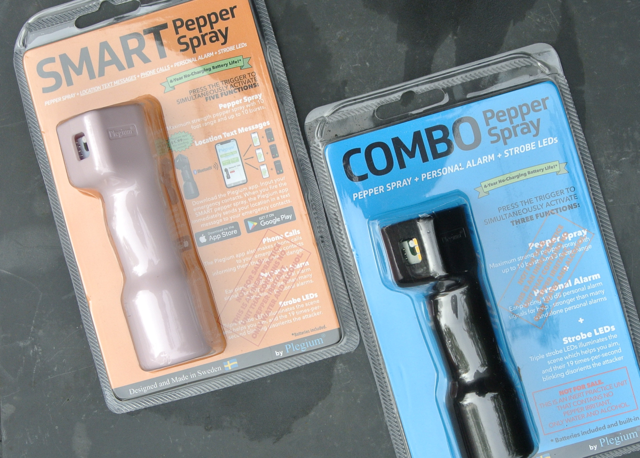 Last year, in the IWA security area, we came across a personal alarm which was also a pepper spray, strobe light and would dial up a chosen number via your smart phone. At that time, it was not UK legal but the company, Plegium, were working on a UK-legal version. Well, now it's here and Plegium will have it on sale as soon as they can find a UK distributor. The pepper has been replaced with a UK legal harmless liquid which will spray a coloured dye on the attacker.
Target Shooter will keep you updated.