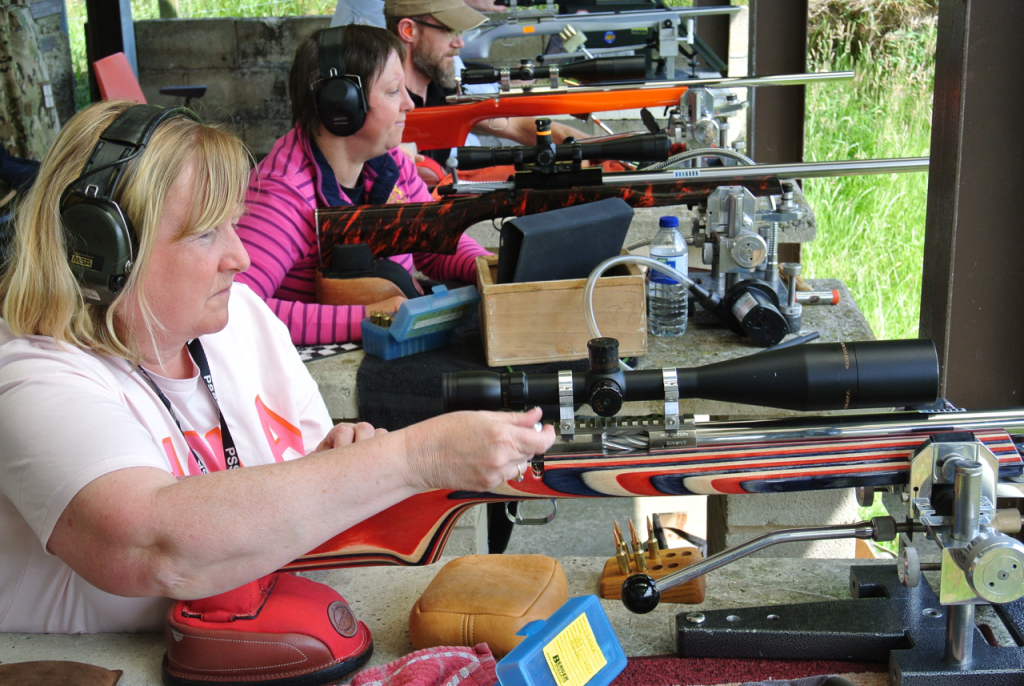 Our two long-range Championships – 600 and 1000 yards are held over six shoots. The 1000 yard takes place over the summer and the 600 yard follows over the winter period. So, the September 1st Shoot was the final 1000 yard competition – until April 2020.
Benchrest of course originated in America and we run our competitions in accordance with IBS (International Benchrest Shooters) rules. However, we have some differences. In the UK we have always catered for shooters using more modest equipment, with our Factory Sporter Class and, we use electronic targets displaying the appropriate IBS face for group measurement and score. Originally, we only shot for group but the advent of electronics automatically gives the score so why not? Finally, in 1000 yard Heavy Gun Class, the Americans shoot 10-shot groups – we tried it but went back to five-shot groups. Both UK and US shoot five-shot groups at 600 yards.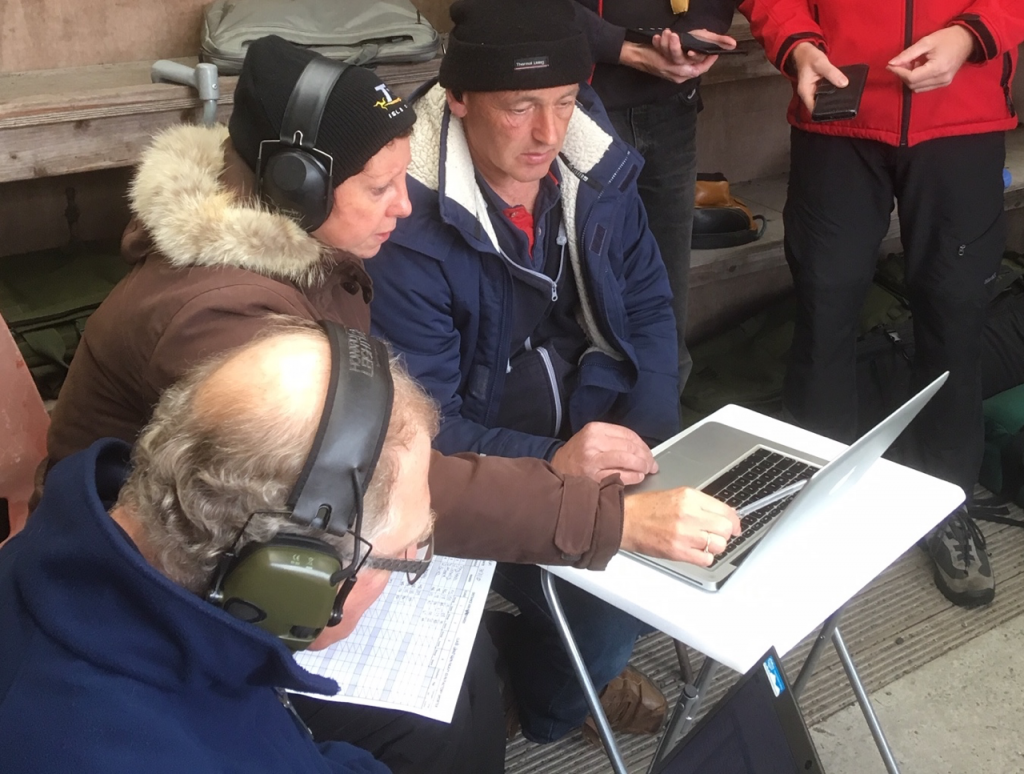 Factory Sporter Class – Unlike most benchrest classes, there are no weight restrictions in Factory Sporter Class. However, there are a few other rules:
Rifles may be re-stocked or the existing factory stock modified to better 'ride the bags'. Some factory rifles, like the Savage Model 12 Benchrest, already come with a decent wood-laminate benchrest-style stock and are competition-ready right out of the box. Chambered for the remarkable Norma 6BR, this is an excellent rifle to get into long-range benchrest. These rifles regularly shoot sub. MOA at 1000 yards. With more conventional stocks, a three-inch wide 'bag-rider' can be fitted to the underside of the fore-end and some competitors also fit a rear bag-rider to the underside of the butt.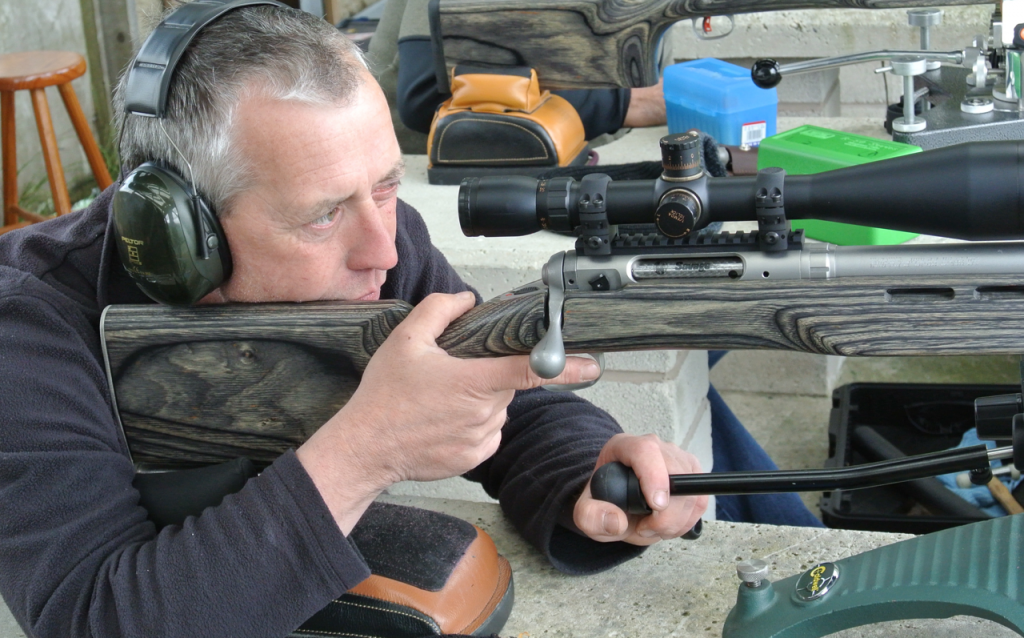 A replacement trigger can be fitted. Originally, we did not allow this but that encouraged competitors to tinker with their trigger with possible disastrous results – far better – and safer – to have a proper competition trigger fitted.
The barrel MUST be the original barrel manufactured by the company who make the rifle – no problem with Savage, Remington etc but some niche rifle builders do use externally obtained barrels. If your factory barrel gets shot-out, it can only be replaced like for like – no custom barrels. Finally, the factory barrel may be re-crowned but it cannot be shortened by more than one inch. A muzzle-brake, if fitted by the factory, can be used but otherwise, no brakes or moderators.
So let's see who did what with their factory kit.
We had about 15 regulars with a great variety of factory rifles. Alan Seagrave is something of a legend in the UK Factory Class and he has many sub. MOA groups (i.e less than 10 inches) to his credit with his absolutely standard Tikka in 6.5×55. Alan's rifle is as standard as it could be – standard plastic stock, trigger etc. Alan is a past winner of the Championship and he takes the win again this year. In second spot is a newcomer, Adam Davy – always great to see and Adam also has his two sons shooting with us as well. In third spot is our 'Remington Girl' Toni Young who achieves remarkable things with a very well used 308 Remington!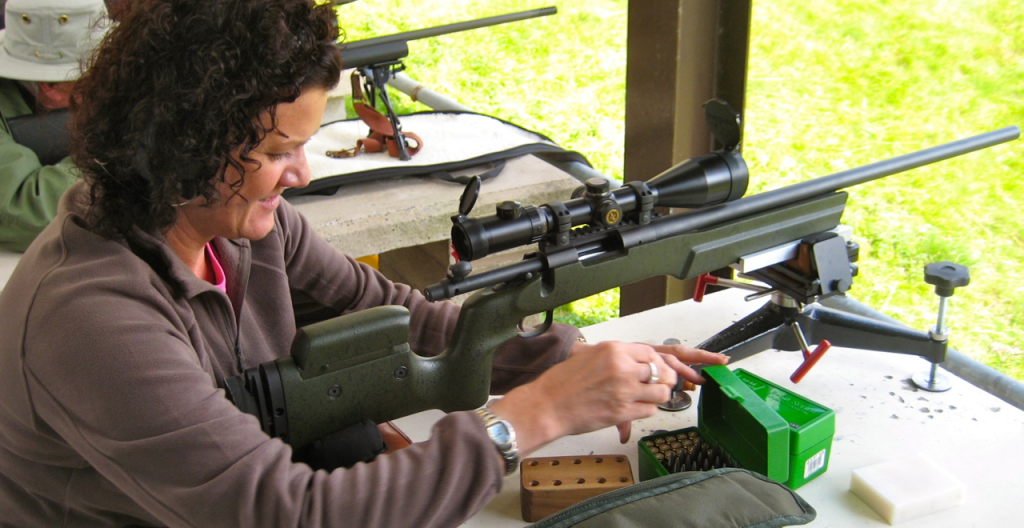 Group:
1st Alan Seagrave 6.5×55 Tikka
2nd Adam Davey (Adam has used a couple of different rifles)
3rd Toni Young 308 Remington
4th Dave Jackson 6BR Savage
5th Drake Davey
6th Trey Davey
Small group of the year: Toni Young 5.118 inches
In Score:
1st Alan Seagrave
2nd Adam Davey
3rd Toni Young
4th Dave Jackson
5th Trey Davey
6th Drake Davey
High score of the year: Alan Seagrave 173 (ex.200)
Light Gun Class – This is perhaps the 'premier' class. Why? Well, rifles must be built to a strict weight limit of 17 lbs. including scope. Unlike with Heavy Gun, to build a competitive 17 lb rifle some compromises must be made. Barrel weight, length, profile must be carefully chosen. A typical custom action will weigh between 2.5 to 3lbs. A heavy, long barrel around 8lbs. Add a couple of pounds for scope, rings, rail and trigger and it doesn't leave a lot for the stock. Small 6mm cartridges like the Dasher, 6BR, Swiss Match and the like are now the most favoured. There is little interest in running the big barrel-burning WSMs that ruled the roost ten years ago.
This years Championship attracted a regular 20 competitors and this year's winner is Vince Bottomley. Yes, Vince has won previously – with a barrel-burning 7mmWSM but now he sticks to the little 'sixes' with the Swiss Match taking the honors this year.
Second spot however went to Nick Parkin with a 6.5-284. This was a popular cartridge many years ago but again, limited barrel-life has seen a demise in this excellent cartridge of late.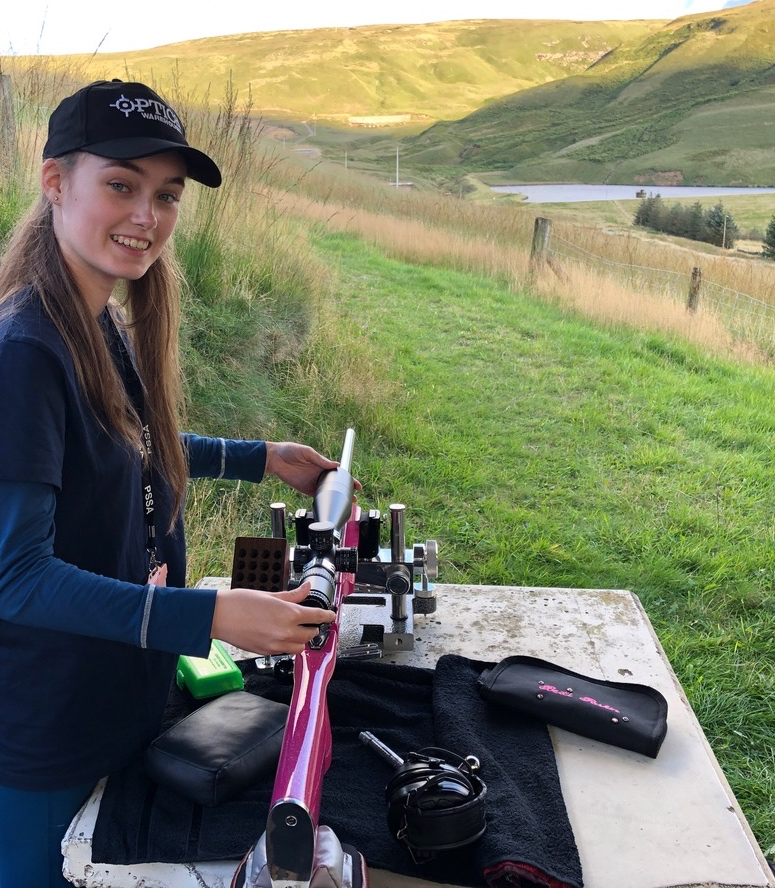 Third spot went to Nick's 16 year old daughter Bexi, shooting a Savage chambered in 6BR. This rather special rifle was put together by renowned gunsmith Pete Walker as part of Bexi's Duke of Edinburgh Award and Bexi took an active part in the build – see http://www.targetshooter.co.uk/?s=Bexi She has produced some truly outstanding performances in her first season of competitive shooting. Her results have now attracted sponsorship from Optics Warehouse and we are all very proud of Bexi's achievements.
Group
1st Vince Bottomley 6mm Swiss Match
2nd Nick Parkin 6.5-284
3rd Bexi Parkin 6mmBR
4th Mary Marsden 6mm Dasher
5th Tony Lenton 6.5×47 Lapua
6th Jeanette Whitney 6mm Swiss Match
Small group of the year: Vince Bottomley 4.055 inches
Score:
1st Jeanette Whitney
2nd Mary Marsden
3rd Vince Bottomley
4th Nick Parkin
5th Ian Dixon 6-6.5×47
6th Tony Lenton
High score of the year: Mary Marsden 183
Heavy Gun – This year we had 19 Heavy Gun shooters. In the USA, Heavy Gun means just that – with rifles typically weighing 40 to 60 lbs! A lot of our Heavy Guns are really Light Guns that failed to make weight! Most are only a couple of pounds over weight. In the US, Heavy Guns shoot 10-shot groups and to do this quickly – typically 10 shots in not much more than 20 seconds – a heavy rifle which hardly moves under recoil is essential. We do have a couple of true UK Heavy Guns – Les Prior's 6mmBRA and little Emily Lenton's 6BR and Les managed second place in the Championship this year but sadly, we've seen very little of Emily recently but Dad Bruce did win Heavy Gun with his not-so-heavy 6XC Stolle.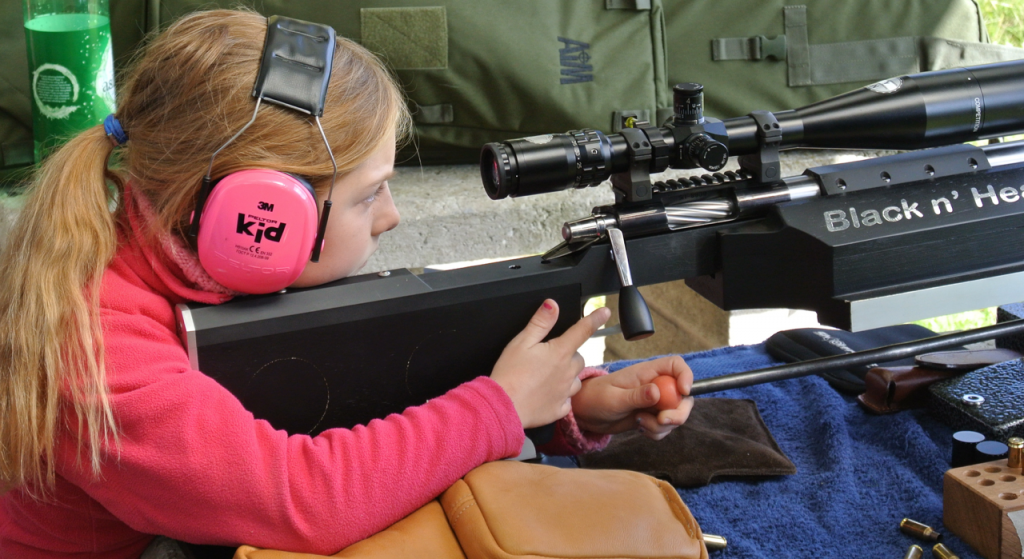 Taking third spot is Jochen Schulz. Jochen gives our shoots an international flavour by making the long trip over from Germany every month to shoot with us and it's great to see him taking third place as he has had to use a borrowed rifle for some of his shoots due to an essential re-barrel of his comp. gun.
Results: Group
1st Bruce Lenton 6XC
2nd Les Prior 6mmBRA
3rd Jochen Schulz 6.5-284
4th Urbis Funk 6.5×47
5th Dan Valmont 338 Lap. Mag.
6th Darrel Evans 6.5×47
Small group of the year: Bruce Lenton 4.724 inches
Results: Score
1st Bruce Lenton
2nd Urbis Funk
3rd Les Prior
4th Jochen Schulz
5th Mike Perdeaux 248Win
6th Darrel Evans
High score of the year: Bruce Lenton 182
Although we have seen some very impressive performances, none of our UK records have been broken this year.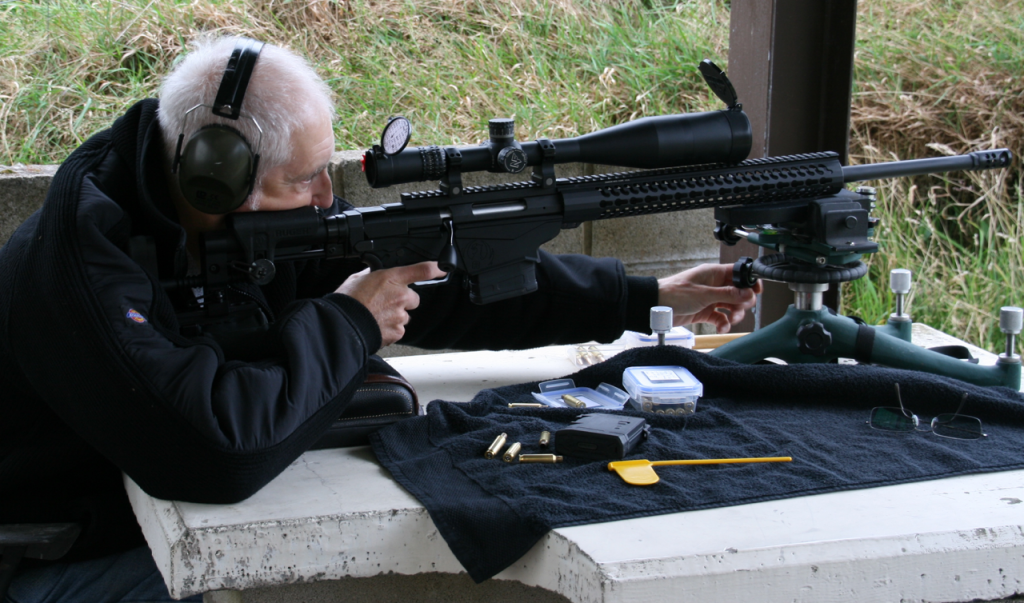 Why benchrest? – So what attracts shooters to long-range benchrest competition? Accuracy – pure and simple but with the added element of shoulder-to-shoulder competition. Yes, we are all out to shoot that tiny group but conditions don't always permit this and really it's just a matter of beating the guy (or girl) on the other benches! It's also a great way to test and refine your equipment and we often have F Class shooters taking part as our electronic targets not only measure your group to the nearest millimetre but also provide other information – terminal velocities and SD readouts (standard deviation) giving valuable information to reloaders. It also teaches shooters about 'set-up' and firing the perfect shot – quickly – again and again.
Check out the competition calendar on www.diggleranges.com for details of future shoots.