The Nightforce NXS 5.5-22×56 MOAR – Fast Adjust, Zero-Stop Turrets by Chris Parkin
After the initial popularity of the mil-dot reticle, which offers simple, easily understood hold-off or dial-in values for the long-range shooter, it seems to have taken several years for manufacturers to wake up to the fact most shooters – AND their scope turrets – still work in Minutes of Angle (MOA). Manufacturers are now lining up to offer reticles compatible with this system of angle measurement but, in Nighforce's already bulging range of aiming solutions, is MOAR the one for you?
MOAR
All Nightforce NXS models follow a familiar generic build – here showing a 5.5-22x magnification range.  The 56mm objective lens flows into a two-piece body-tube and finishes at the rear with the familiar 36mm, none fast-focus ocular assembly.  This displays an unusual design, with the complete eye-piece body rotating when magnification is altered.
Eye relief is 4 inches/100mm, with an image showing an edge-to-edge sight picture displaying excellent colour-balance and clarity.  Centrally, the 30mm aluminium main body-tube features a pleasantly profiled saddle assembly – parallax and illumination to the left, with elevation and windage to the top and right-hand side.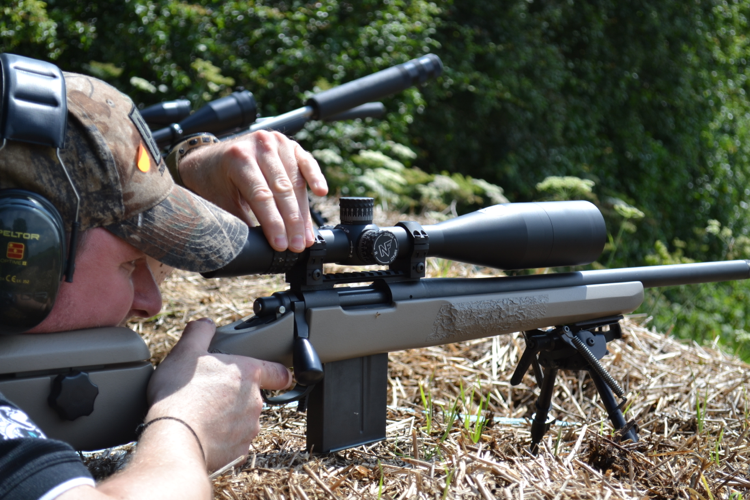 Parallax is dialled-in with no backlash and focusses the image as close as 50 feet, pleasantly doing this in perfect harmony with zero parallax error which some scopes sadly fail to do.  The Illumination switch clicks in/out for on and off but the screw-fit cap must be removed to alter the brightness rheostat with a fine-tipped screwdriver.  There is no auto turn-off but the system works effectively if not silently.
Both elevation and windage are controlled by the new fast-function turrets – 20 MOA available per turn with five complete turns, allowing 100 MOA total adjustment in elevation and 60 for windage. This is very generous, allowing either long-range dialling for distant targets with or without an inclined scope rail or, it will cope with a rifle offering difficult zeroing requirements.
Individual clicks are ¼ MOA and well defined with a solid feel and no overrun.  Zero stop is set by removing the elevation turret cap completely and then loosening four socket-screws to set the `stop` at zero.  After nipping them up, you carefully reset the outer turret cap at zero too. It's a workshop job rather than a field task and the instructions warn you not to completely remove any bolts but I like the fact you can leave a little spare `negative` travel into the elevation, yet still set your marker to `Zero`.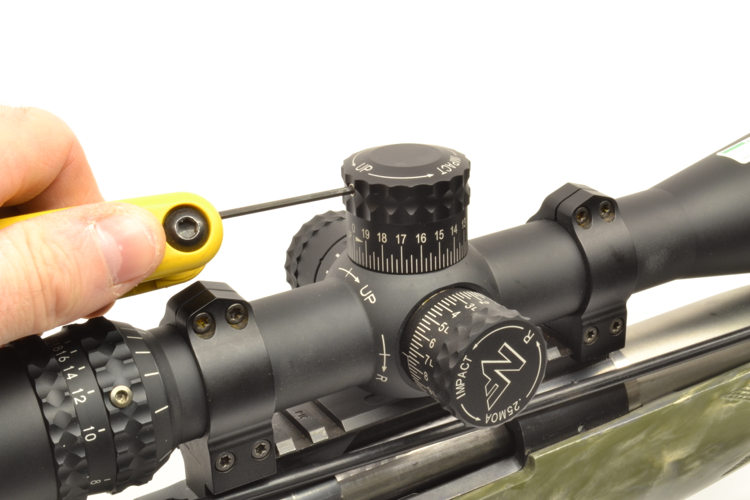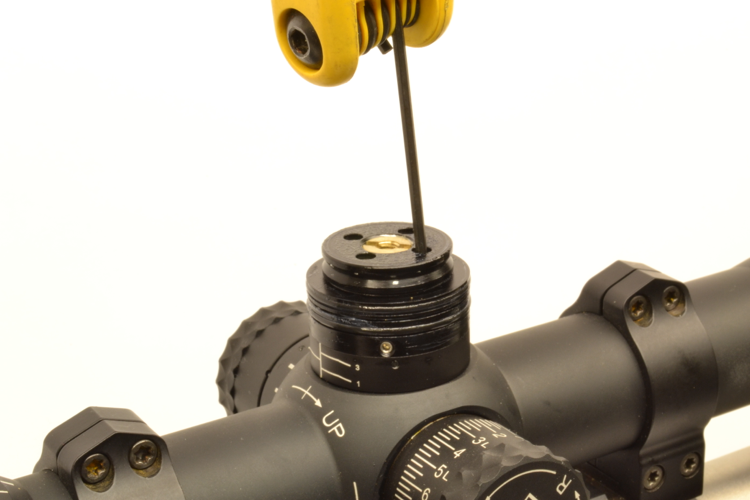 All controls are solid aluminium, machined with knurling to aid adjustment and no signs of plastic or rubber appear anywhere except the elasticated lens covers supplied with the scope. A 75mm sunshade is also included.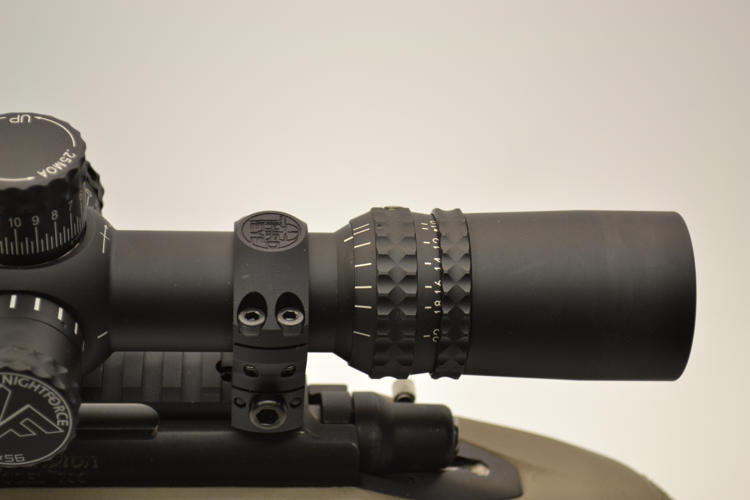 Dial in or Aim off?
Nightforce reticles have always showed great diversity and allowed the experienced user to specify their own idea of 'aiming nirvana'.  My first serious long-range scope was an NXS 8-32x with the NP-R2 reticle offering 2 MOA hash marks at 22x magnification.  I loved the concept but found at very long range, 2 MOA was still too much for a quickly aimed-off snap shot responding to a spotter's command.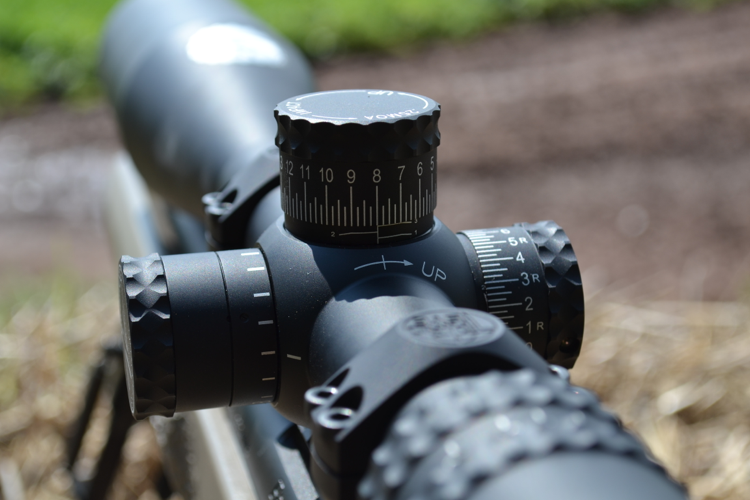 The new MOAR shows individual hash marks in 3, 6 and 9 o'clock positions extending to 20 MOA from centre with an extra 10 in the 12 o'clock direction to assist either with target measurement or shorter range corrections.  The whole lot illuminate when turned on but here originates my only real criticism with the NF.  When shooting in daylight in precision `mode`, the very fine layout is superb but when faster fire is required, it sometimes looks a little too slender. With many scopes this can easily be fixed using reticle illumination to increase definition but, in daylight, this requires full brightness to be set. Fast forward to a late night vermin shoot and you need far more subtle illumination in darkness or under the lamp and with this scope, that requires a partial disassembly of the turret to turn brightness down, not ideal.
The reticle is in the second focal plane so, the 1, 2 and 10 MOA subtensions have to be used at the specified 22x magnification for correct offset, the magnification dial on the scope also has a marker at 11x which effectively doubles their values.  Detailed descriptions of all dimensions on the reticle are available in the supplied manual.
Testing
I mounted the scope in a set of 30 mm Third Eye Tactical rings on my Picatinny rail equipped 308 Remington 700.  A 10-shot zeroing session showed perfect agreement between click values and reticle MOA values – attained by measuring the bullet strike on the target relative to the aiming mark.
10 holes had me quickly zeroed, including an additional `box` test completed to remind me of Nighforce's excellent tracking and return to zero.  After the turrets were re-set in the comfort of my workshop I used the rifle at a steel-plate shoot, run with hunters and vermin controllers in mind, using silhouette targets out to 450 yards.
I had no problem dialling onto the targets in minimal winds and any misses were easily corrected by my spotter but, on such a calm day at these ranges, there were only tiny corrections to apply on the smallest plates.  From either prone or standing positions, resting on a straw bale, exit-pupil size and eye-relief were very forgiving and I enjoyed alternating between aiming-off and dialing-in, sometimes altering the magnification to add a little mathematical `spice` to the shot.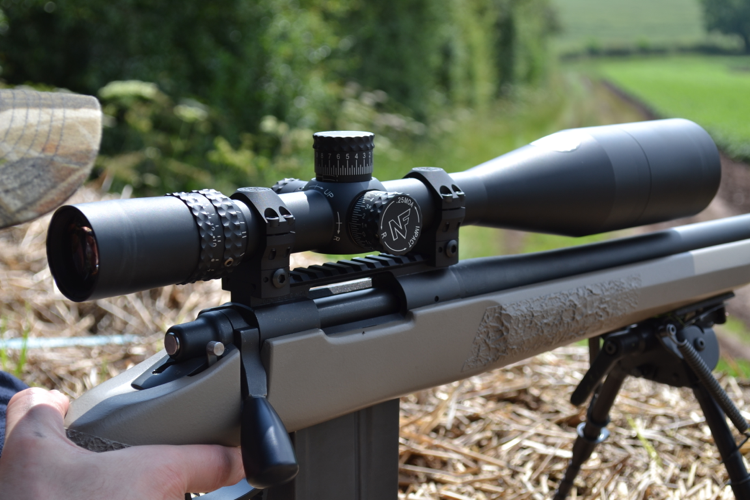 At longer ranges, I had over 50 MOA left available to me after zero and, with a short barrelled 308 running subsonic well within 1000 yards, I could dial out way beyond effective strike range with little more than two turns of the turret and although no direct rotation marker is provided, the vernier scale lurking beneath the outer drum and zero stop mean you won't get `lost` even though you could theoretically be a turn out of position.
These factors, like reticle choice, are very much down to the purchaser's choice and with this particular model offering six choices of reticle along with the choice of mil-rad turrets to complement the metric thinkers, you too can choose your own aiming Shangri-La.
For
Elegantly simple design
Rugged build reputation
Precision shooters dream Reticle
Against
Choose your reticle carefully to suit your needs
I think it is time NF offered external brightness control
Verdict
Another excellent Nightforce but choose your reticle carefully
Technical Specifications
Reticule                                   MOAR
Click Values                          ¼ MOA
Clicks Per turn                     80
Full rotation                         20 MOA
Total range                            100 MOA elevation, 60 MOA windage
Parallax                                 Yes, side
Tube Diameter                   30mm
Field of View                         17.5-4.7 feet @ 100 yards
Eye Relief                                99mm
Exit Pupil                                 7.0-1.8mm
Weight                                     32oz/965g
Length                                      15.2in./404mm
Waterproof                           Yes, to 100 feet
Gas Filled                               Yes
Price                                          £1642
Contact:  RUAG   www.ruag.co.uk  Tel: 01579 362319