The Aimfield Drag-bag surely needs no introduction to serious shooters – wherever you shoot in the world.  I got one of the very first bags – almost eight years ago, when green was the only colour option and they only came in the 50 inch version.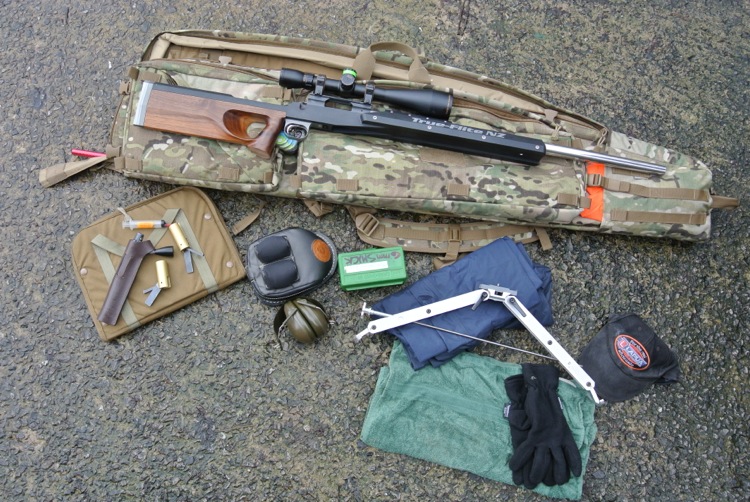 John – John Dean of Aimfield Sports – has expanded the range since then and various colour options are now available – namely black, sand and a darker green.  A longer 60 inch bag is also available which is popular with F Class shooters and their 30 inch-plus barrels.  John also offers a shorty 40 inch version, which is wide enough to take a 'folder' like the Accuracy International or a shorter rifle like the AR15.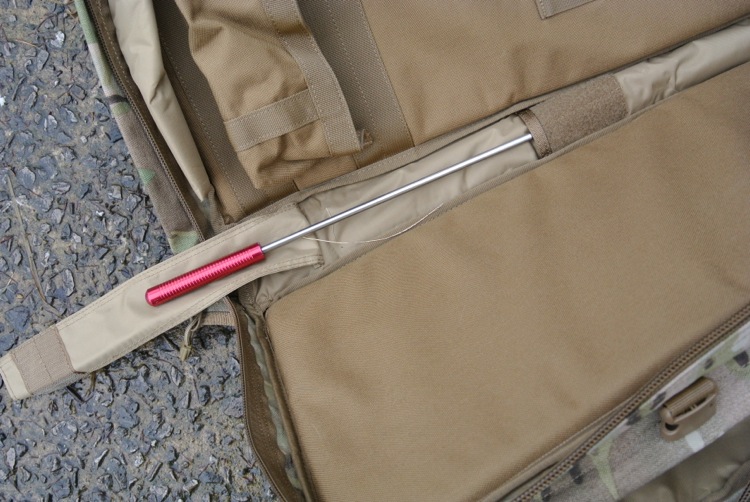 As you can see from the photograph, the bag has two massive external pockets, giving plenty of carry-space for your ammo, bi-pod and waterproofs, plus a lot more besides.  There are also a few hidden pockets, which are useful for smaller items – pens, bolt-grease, small tool-kit and the like.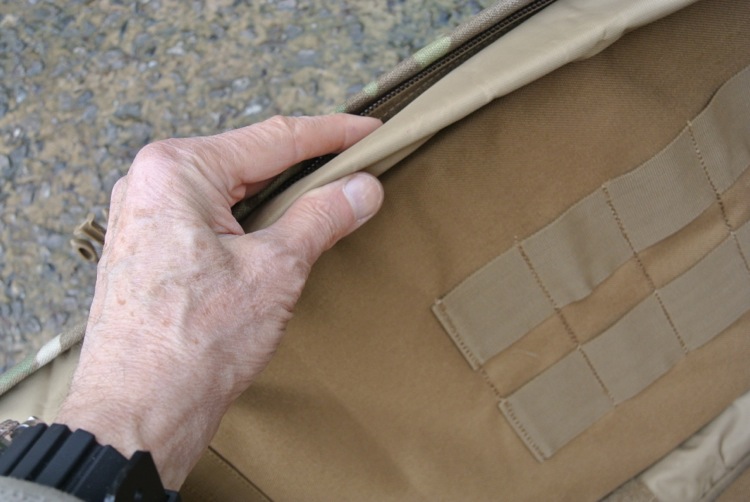 When fully loaded, mine can weigh up to twenty pounds but the rucksack-style straps make carrying a breeze – leaving both hands free for mat and maybe a back-bag.  It's no wonder  these bags are so popular!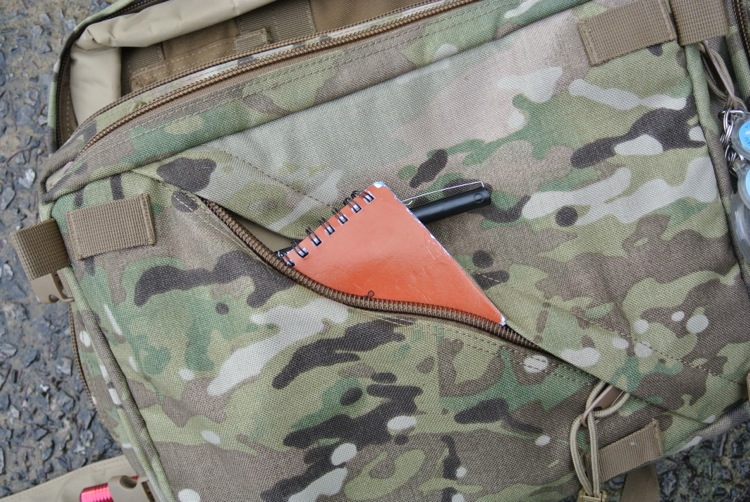 Over the years, John has taken on-board suggestions from shooters and added extra features – more padding to protect the scope, a cleaning-rod sleeve and a waterproof external cover – which doubles as an impromptu rifle-cover when you get caught in the rain out on range.  Fortunately, John is a keen field and target shooter himself so he is constantly evaluating his own products and is quick to notice any opportunity to improve.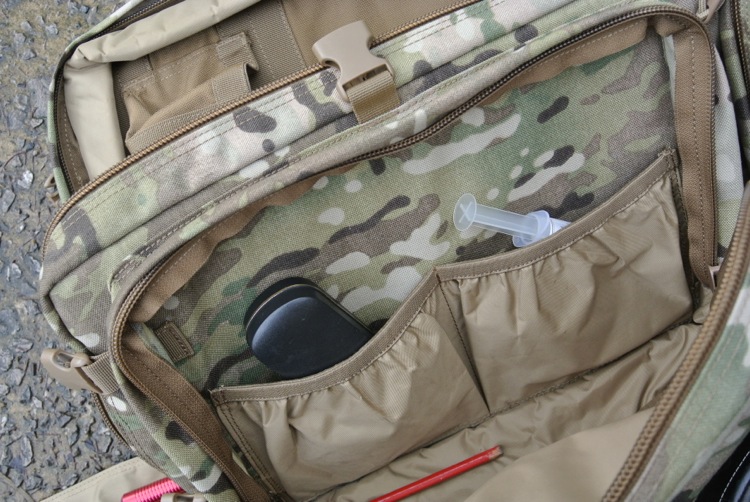 Although the bags are not sold as waterproof, they do offer excellent weather protection and if you use the aforementioned rain-cover – which is cheap, light-weight and easily stuffs into one of the pockets but, even without the cover, mine has never allowed rainwater to get onto a rifle, even after a full wet day on range.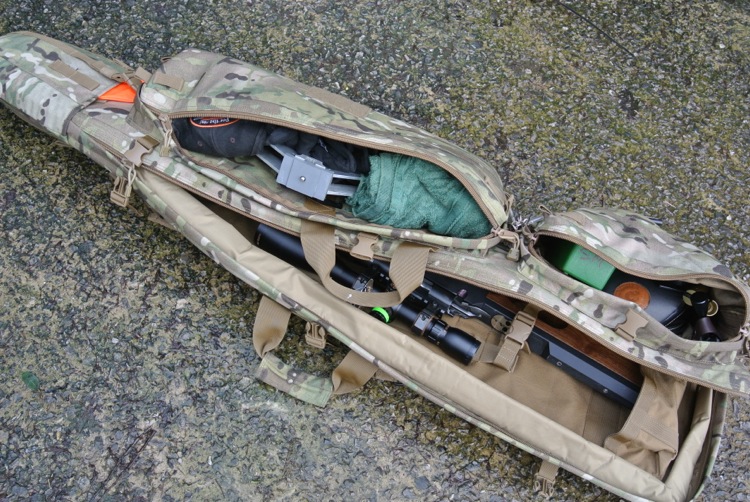 So, after seven years of rigorous use – and I shoot almost every weekend, usually both days – what has gone wrong with the Aimfield bag?  I'm pleased to say – absolutely nothing!  In spite of spending much of its life on wet grass and mud, it still looks respectable and I've never even attempted to clean it.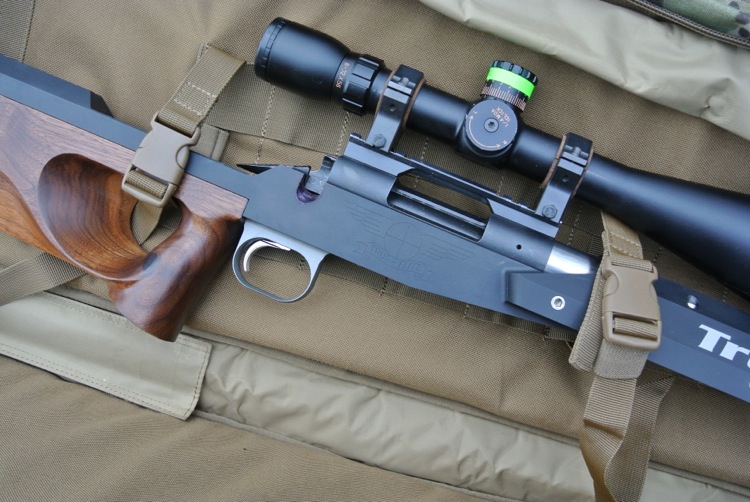 But, over the years, I've seen shooters appear with AIM bags in new colours, sporting new features etc. and I suppose I'm a little envious.  I need an excuse to buy a new bag!
Well, that excuse has just arrived!  John has recently taken delivery of his latest bag – made from genuine Multicam® Cordura fabric.  This is not just a Multicam copy – it's the genuine article, sourced from the American company, Duro Textiles.  Duro is major supplier of fabric, fabric technologies and camouflage to the military.  The 1000 denier Cordura used in the Aimfield bags is the heaviest fabric that the company offers.  It is coated on the back side for water resistance and the face side is finished with a durable water repellent.  Another 'plus'.
What's more, it is available in a new length – the Aim 55, which takes rifles up to 54.5 inches in length.  I must admit, my old '50' was struggling to zip-up on one of my longer rifles so this one is absolutely ideal and, for a few months at least, I'll be able to pick my bag out from the dozens which can often be seen lying around at any of our shoots.
In conclusion, Aimfield Sports continue to set the standard for drag-bags.  On my travels to the Shot Show, IWA and the like, I get to look at a lot of gun-bags but honestly, if I'd seen a better bag, I'd have bought it!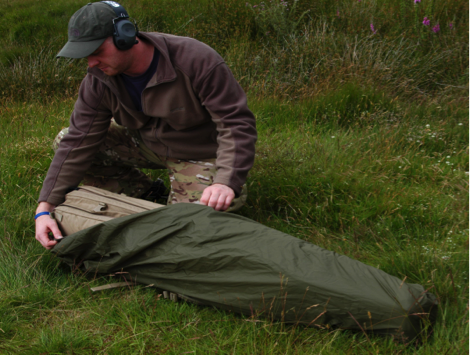 In addition to being a shooter himself, John is a generous supporter of shooting and frequently offers his products as prizes.  He is also the UK agent for Sightron scopes and you can see a full range of Aimfield products via their multi-lingual website www.aimfieldsports.com  They will ship anywhere in the world and offer 10% discount to Her Majesty's Armed Forces.