It has been a few years since Nigel Greenaway has written for Target Shooter but we welcome back this experienced shooter and contributor to our fold – having won the UK CSR championships four times and placed 2nd five times in the last 13 years – who better to test a new accessory for the AR15? – Ed.
The AR15 platform is now very well established in the UK for Civilian Service Rifle shooting – all due to its combination of accuracy, rate of fire, availability of surplus 5.56mm ammunition and ability to be customized with lots of add-on goodies.  This article will examine a little known add-on that I have just started using on my Southern Gun AR15.

The vast majority of CSR shoots follow the military courses of fire to the letter – which includes timing. Frankly, it is very difficult to keep up in the multi-positional courses of fire unless using an AR15 when shooting off a magazine (bipods are only allowed in the Practical Rifle Class).  This was a lesson learnt by me in 2001 when bipods were banned for Service Rifle Class – my Parker Hale M85 sniper rifle effectively became too slow overnight (admittedly only by about half a second but seconds count in this game).
The ability to shave seconds off timing is something the AR15 does well because of its modular build and ability to be customized to suit the shooter.   There is a multitude of different fore-end styles, adjustable butts, forward hand-grips, etc. that can be purchased to suit individual preferences.  Unfortunately, recent changes to US export laws, designed to stop Americans selling arms to their potential enemies, have meant it is now virtually impossible for private individuals to import AR15 add-ons.  I found out this recently after a friend kindly brought back one of Magpul's excellent UBR stocks for me.  It is probably the best of all the collapsible butts because the cheek-weld position does not change – no matter what length the butt is set at.  It also is very comfortable but is a little bit too short for me so naturally I decided to import the 0.7 inch Magpul Enhanced Recoil Pad – basically a piece of rubber!  Simples – but alas no American company would export it – annoying and very frustrating.
A search on the internet found a company in Canada – Modular Driven Technologies Corporation (MDT), who make an Enhanced Adjustable Recoil Pad for the Magpul UBR stock.  It further enhances the UBR stock by adding adjustability for drop and offset plus the comfort of a soft rubber recoil pad.  It is a simple replacement – just remove and replace the two screws that hold the existing recoil pad.  MDT also makes a version for the Remington 700 plus a chassis system – see www.mdttac.com  Ordering the recoil pad was very easy following an email to MDT – they were perfectly happy to ship it direct and it arrived within a few days.  At CA$59 (about £35), plus a few Canadian Dollars for postage, I believe it is good value for money.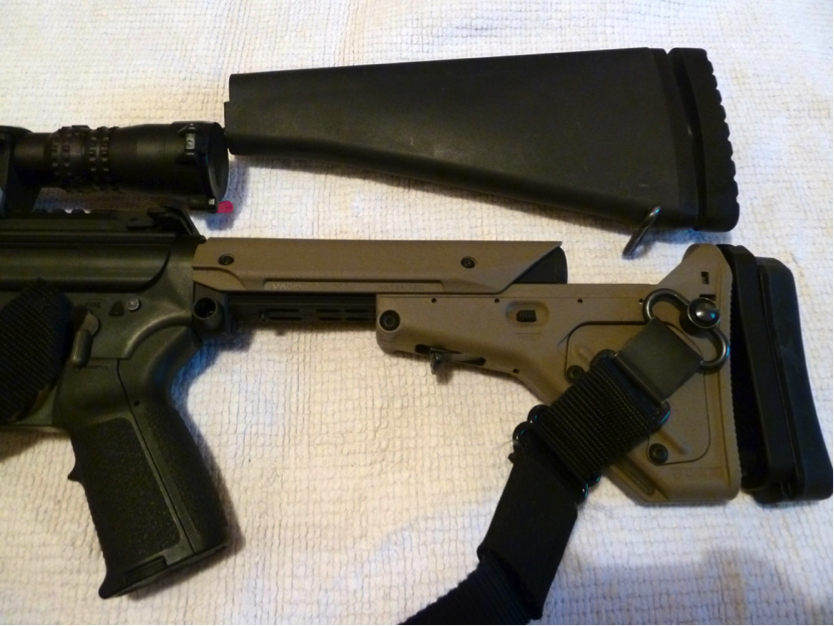 Fitting took less than a couple of minutes and the results are clear to see – much longer length of pull compared to the conventional stock shown in the photo which I had previously fitted an extendable butt pad.  In addition, the MDT pad has vertical and axis adjustment.  Something that you can't see in the pictures is the added weight of about 8 oz.(which is in addition to the weight of the Magpul UBR.  This is actually a desirable feature because it adds weight to the rear of the rifle, which brings the weight into the body when shooting standing, sitting or kneeling – making for a more steady position.
I managed to have a shoot with this new set up over the Christmas period and I must say I was very pleased with the results from the prone position.  I've yet to try it standing but dry-firing practice feels a lot steadier – thank to the weight transference closer to the shoulder.  We'll see what 2014 brings but I'm certainly looking forward to using this new set up as I am sure it will improve my multi-positional shooting.
Just as important is the fact that we have here a Canadian supplier who is willing to supply to its UK cousins and Allies in many a recent conflict.  I suggest you act fast before the Canadians start passing stupid laws.  Shame our American cousins have ended up penalizing its staunchest friend by prohibiting the export of a piece of plastic and rubber!