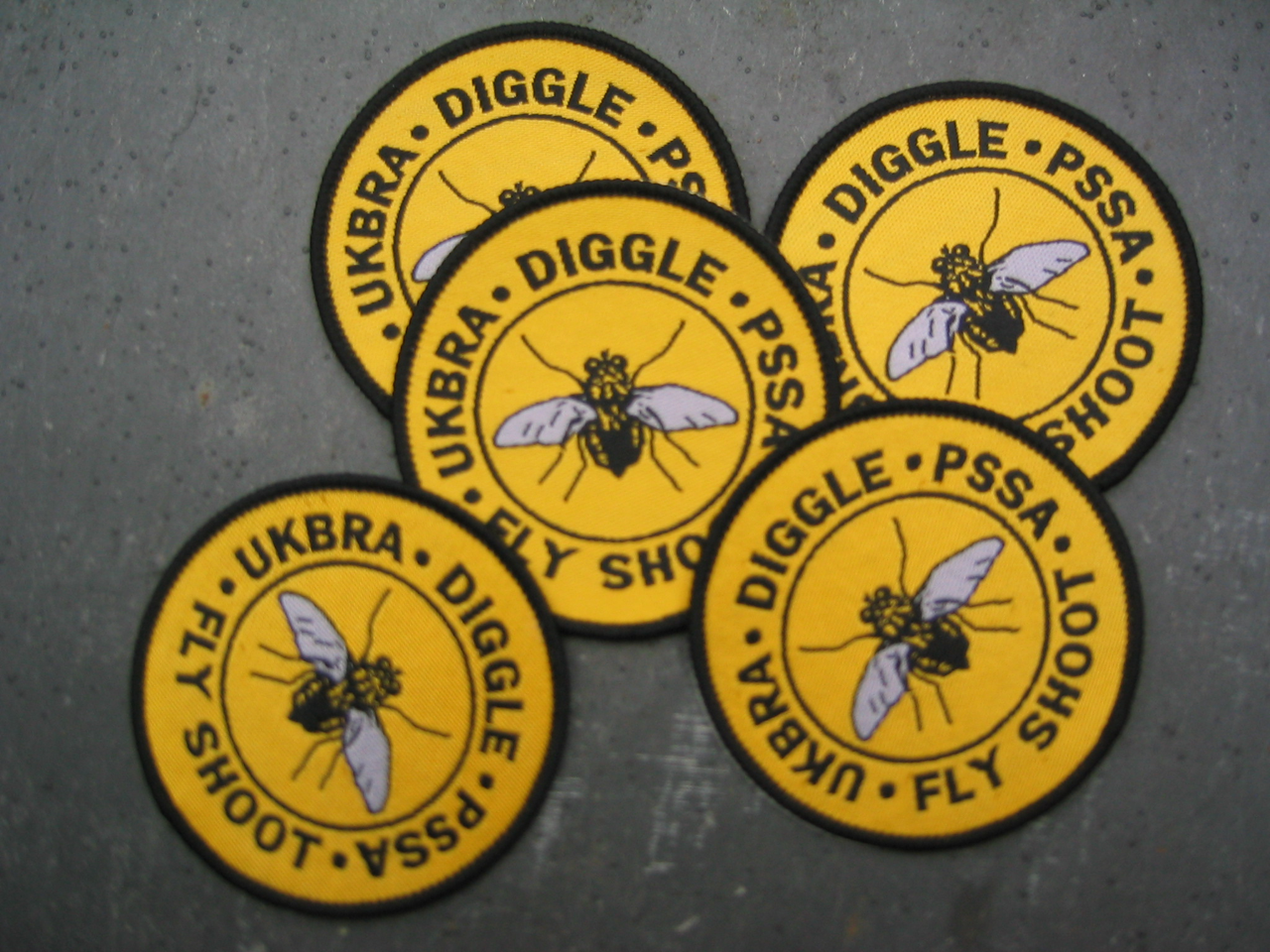 If my memory serves me well, the Fly Shoot is now in its seventeenth year and, like the Egg Shoot, it continues to attract a quality field of like-minded accuracy-nuts and a typical 40 shooters turned up this year.
The Fly Shoot comes under the heading of 'novelty' shoot as it is like no other and, perhaps that's the reason for its popularity. We didn't dream it up though – thank the Aussies for that and for supplying the unique targets. The Fly target (see pic below) consists of a scoring-area just 8 inches in diameter – less than 2 MOA at 500 yards – with a 1.8 inch diameter ten-ring. In the centre of the ten-ring is a fly – which of course gives the shoot its name. A hit in the fly-ring scores ten but more importantly, if you manage to hit the fly it wins the shooter a unique fly-patch. Stray one minute of angle (five-inches) from the fly and you are out of the scoring area – it's a 'tight' target!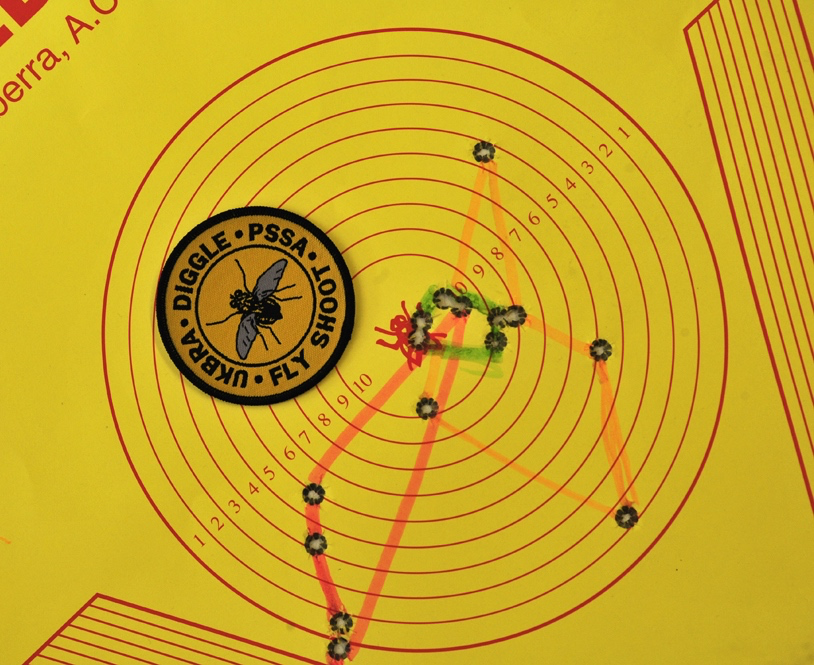 But, having said that, it's a competition which can be enjoyed by all and we have a Factory Class for standard 'out of the box' rifles for which there were 11 shooters this year. The Custom Class tends to attract benchrest-style equipment and F Class rifles, using 'machine' front-rests, back-bags and big scopes but there are no rules or restrictions on how or what you can shoot.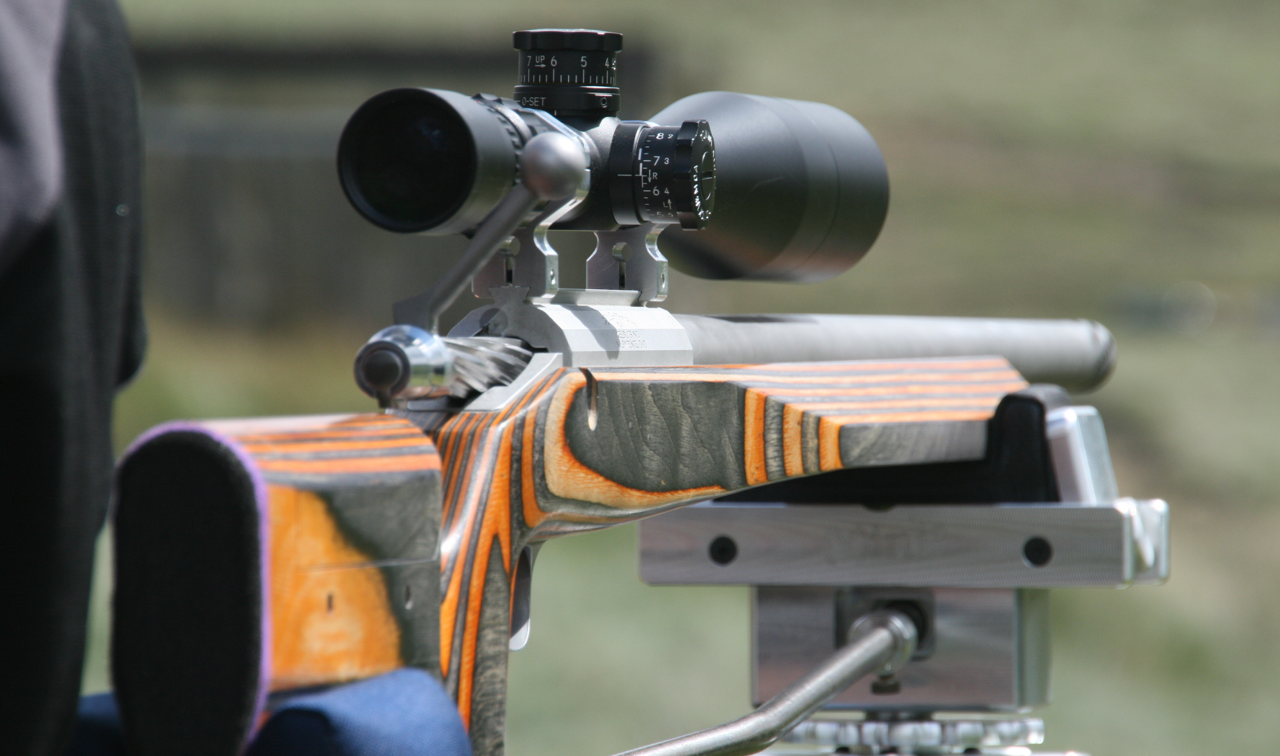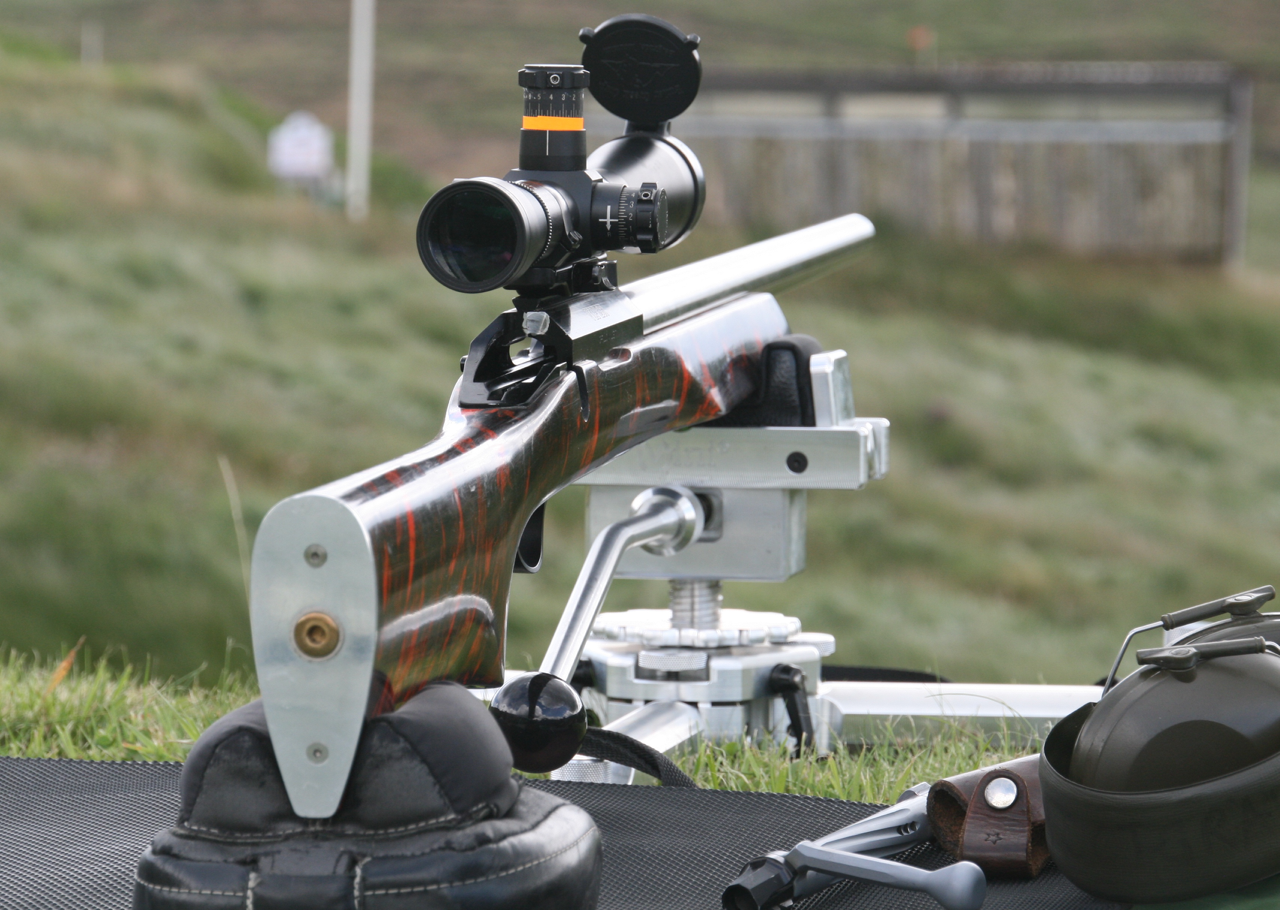 The course of fire consists of a five-minute sighting-in period followed by three, 5-shot groups. In addition to simple 'score' shooting however, there is also a 'group' bonus – measure the group in inches, round it down to the nearest whole number and subtract from 10 to get the group bonus. Example – a 3.5 inch group would earn a bonus of 7 points. Group bonus points will typically account for about 20% of a shooter's total tally.
If you have a scope of at least 32X, you should be able to see your shot-holes and adjust your aim accordingly but, if you are using low-powered optics, then you may enlist the aid of a spotter to help with sighting-in – but not during the course of the competition. Don't forget however, seeing your shot-holes and adjusting your point of aim will inevitably enlarge your group and, although you might pick up a few extra 'score' points, the group bonus points will suffer.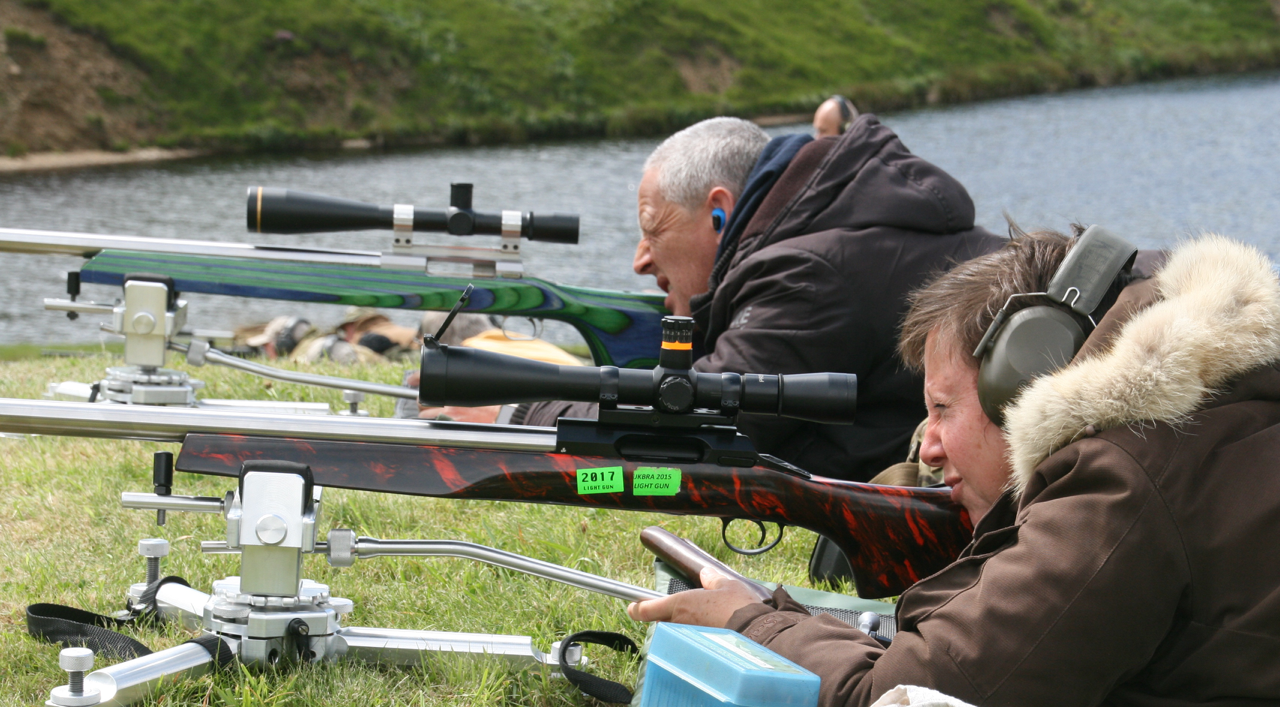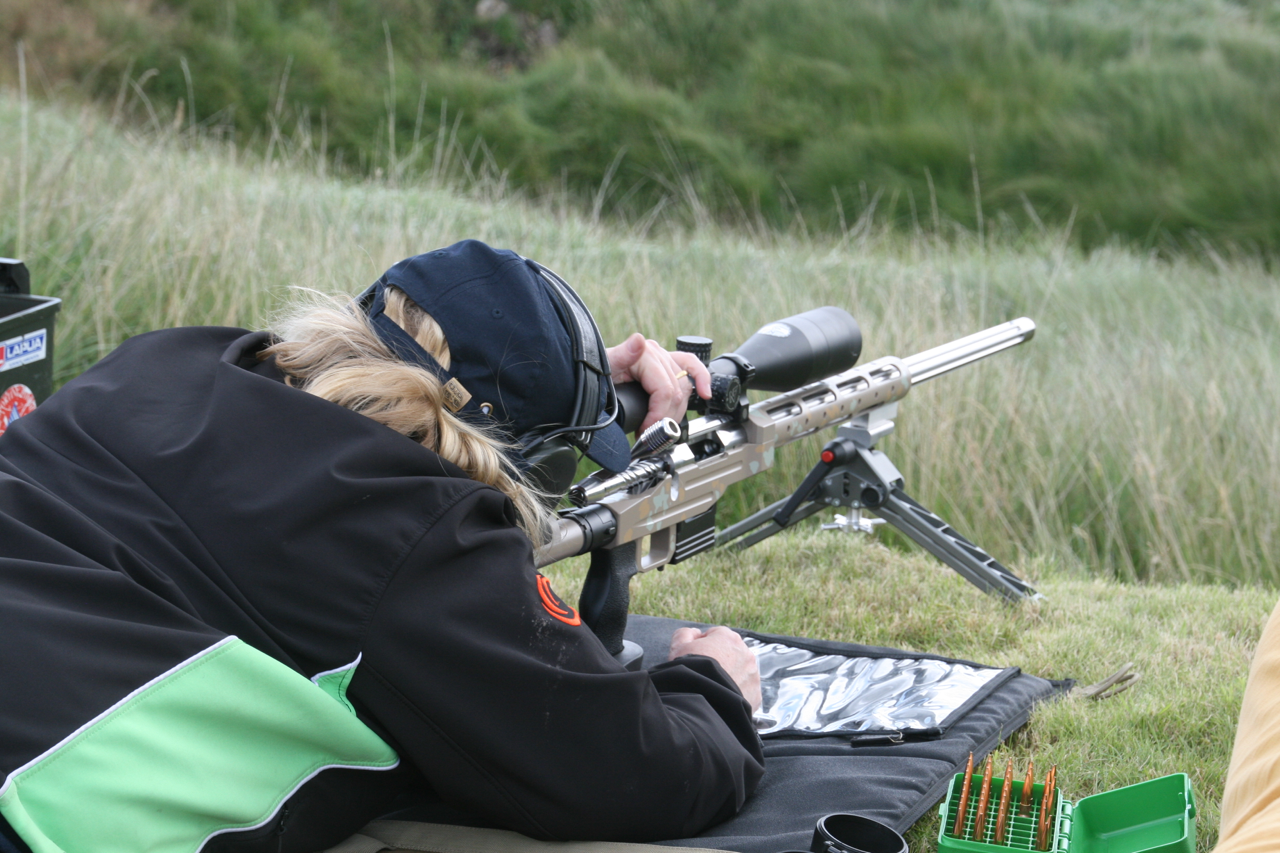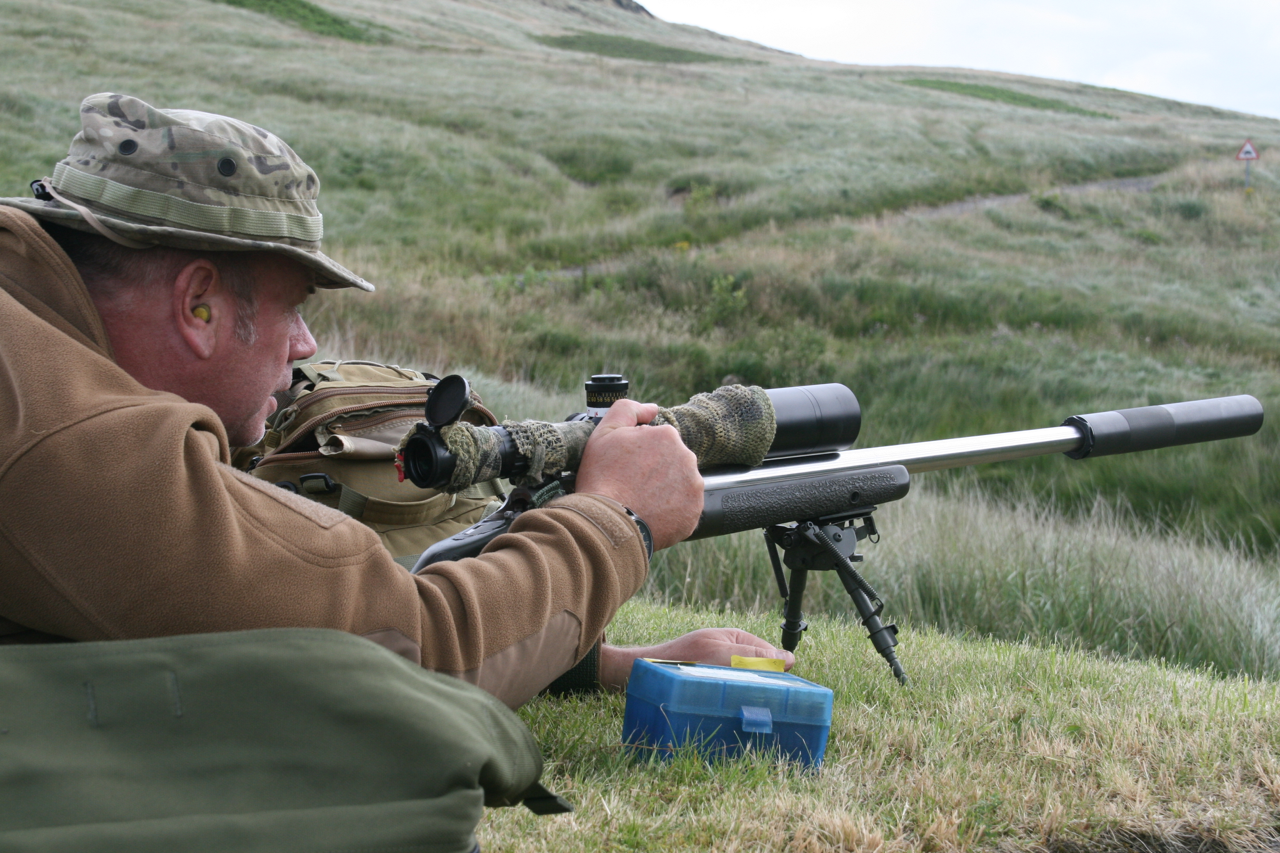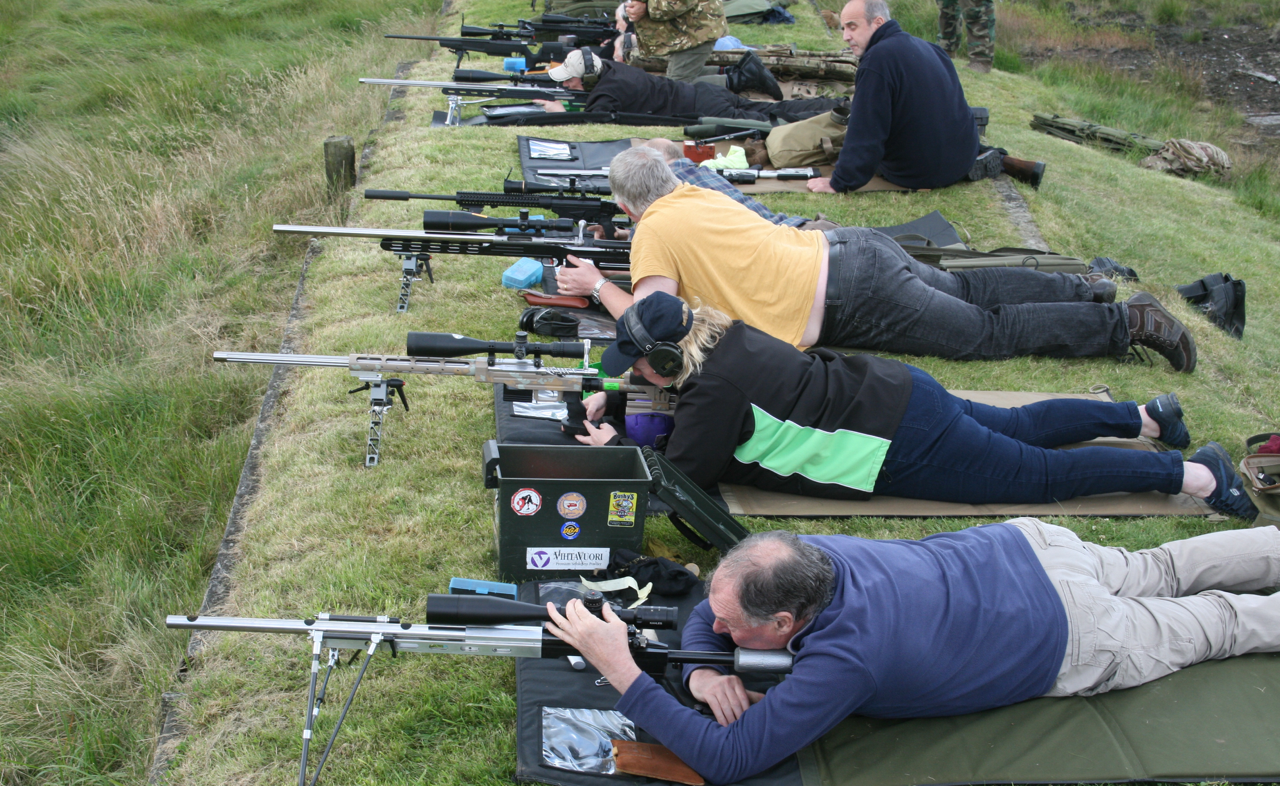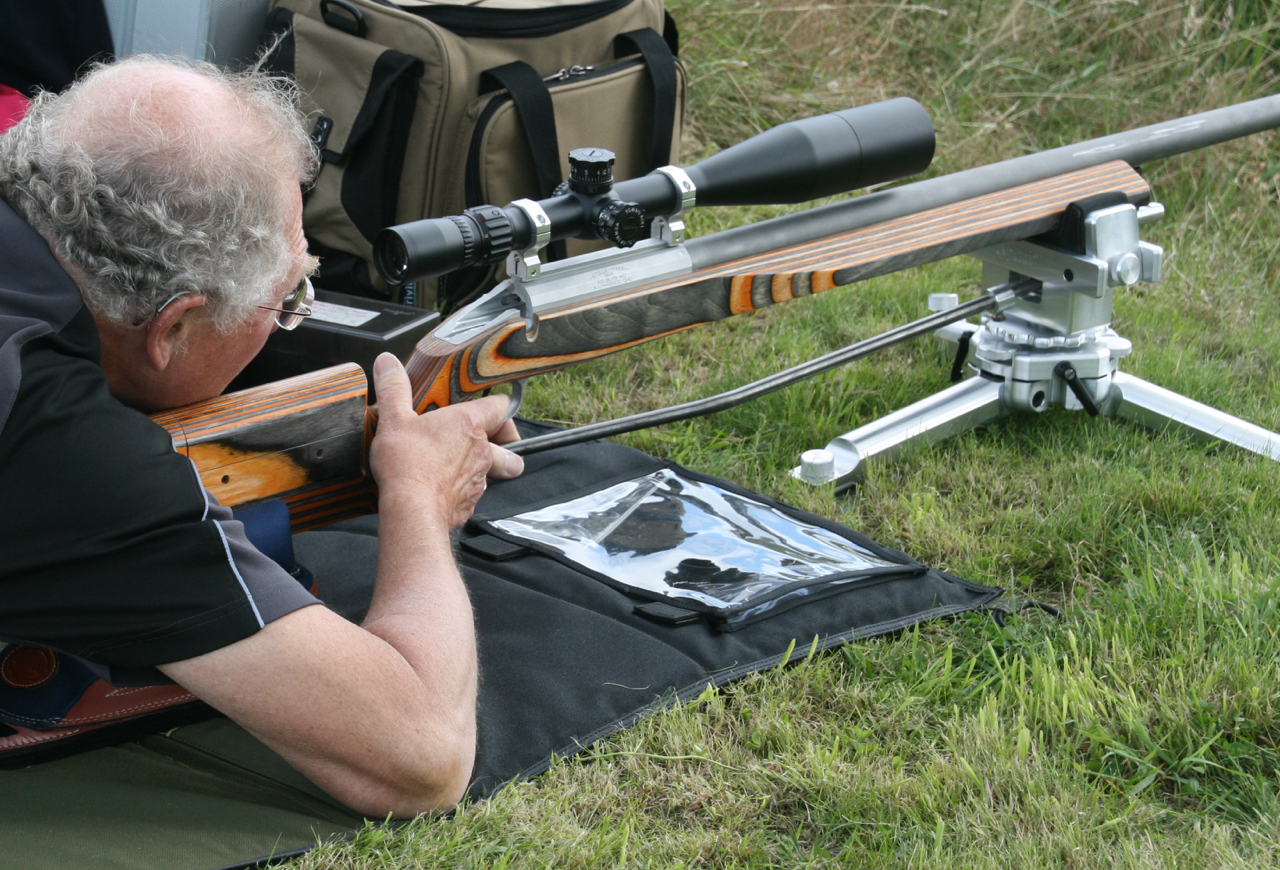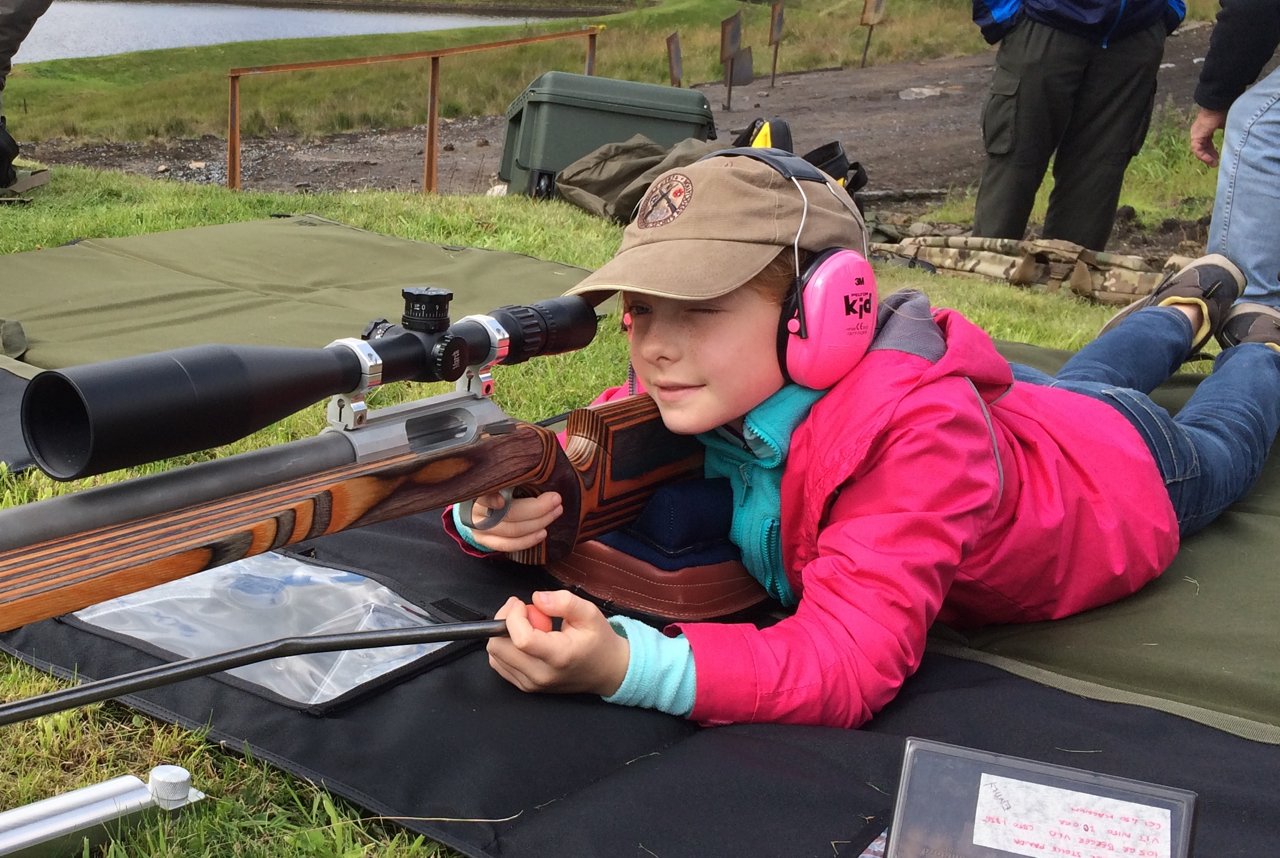 Like many outdoor events, we are at the mercy of our wonderful summer weather. The forecast wasn't good and, as I was driving to the Range, a few spots of rain appeared on the windscreen – an organisers nightmare…. At Diggle however, we are fortunate in having covered firing-points at several distances but, the general consensus was to shoot outdoors and it was the right one – we enjoyed a mild, if overcast day's shooting with the rain only arriving when we were all indoors for the prize-giving.
Although winds were moderate – there was an extreme of about two MOA – enough to take you from one side of the target to the other if you caught a sudden gust or a lull, so it was no push-over.
Top Custom Class scorer was Diggle regular Mike Marsh with a score of 154 points and, he also hit a fly. Best Factory rifle shooter was John Price using his new Tikka Tactical thingy in 260Rem. with a score of 81 points. Smallest group of the day went to Darrel Evans with a superb 2.031 inches using his Accuracy International chambered in 6.5×47 Lapua.
The Diggle Club are generous in that they like to return as much of the entry-fee as possible to competitors and there were cash awards for small group and the first three places in each class plus of course the coveted fly patches.
Results – Custom Class
1st Mike Marsh 154 (Inc. group bonus of 22 & Fly hit)
2nd Tom Reynolds 128 (16)
3rd Phil Sammons 127 (18 & Fly)
4th Vince Bottomley 122 (20)
5th Martin Eldershaw 121 (17 & Fly)
6th Neil Bintliffe 113 (18 & Fly)
Small group: Darrel Evans 2.031 inches
Factory Class
1st John Price 97 (16)
2nd Graham Watts 96 (17)
3rd Chris Gleave 75 (18)
4th Ian O'Brien 74 (17)
5th Graham Francis N* 71 (17) *We are fortunate in having two Graham Francis' at Diggle, one from the north and one from the south!
6th Jack Mills 63 (11)
Small group: Chris Gleave 2.727 inches
Other Fly patch winners were: Ian Dixon, Darrel Evans and Simon Drake.
In summation, thanks to all competitors and a big thanks to those who helped out in butts and with the lengthy target scoring procedure.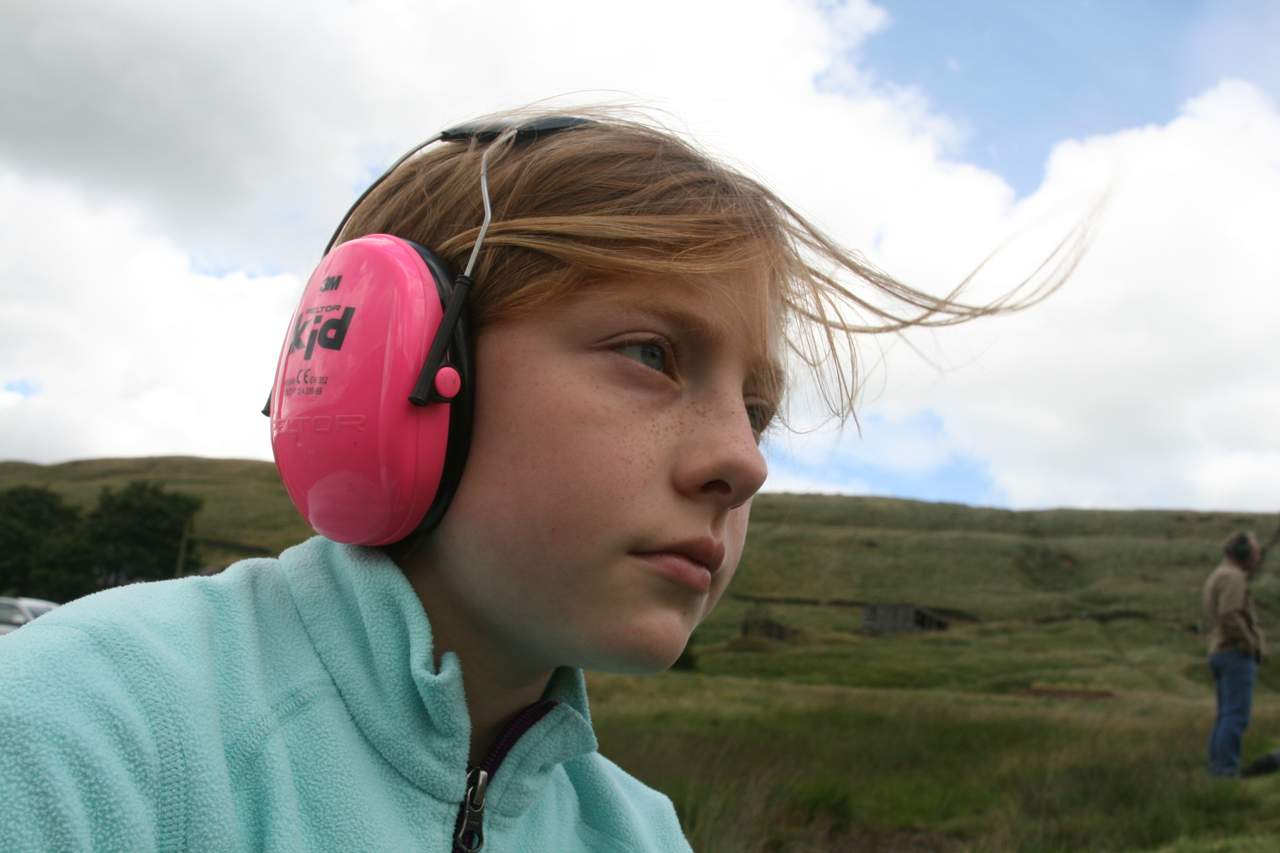 Finally, a special thanks to Emily Lenton (above) who shot most of the photos on this page and she also finished 13th in the competition – not bad for a ten year old. Hope to see you all next year.