Winter inevitably means a curtailment of outdoor shooting but at least we have the shooting shows to look forward to.
Although the Las Vegas Shot Show probably tops everyone's wish-list of 'must do' shows, it's the European IWA show which is my favorite. OK, Nuremberg will never rival Vegas but Teutonic efficiency beats the US effort hands-down and whereas the Shot Show is severely limited by available exhibition space, IWA continues to expand thanks to the fabulous modern Messe exhibition centre.
Although I love shows, they can be tiring and a full day constantly on your feet takes its toll – especially after four days! For some reason, organisers can fail to realize this and ad-hoc seating is almost non-existent (except at IWA!) Maybe this is deliberate – to force us into the bars and restaurants but I've learned to always take a small folding stool with me. But, that's just another thing to carry – along with camera, iPad etc.
Last year, at the IWA Show, we were invited to a press launch of some new Scandinavian products. It was a well put together briefing and, as well as being fed and watered, I learned how to start a fire without matches! One of the other samples I picked up was a neat folding stool – the Walkstool.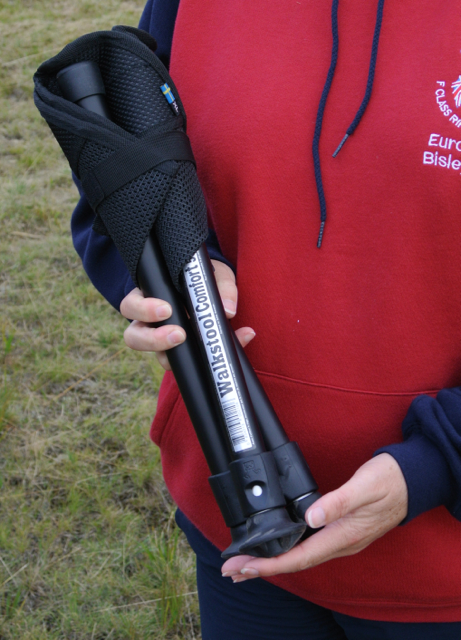 This stool instantly made my existing folding stool obsolete – it was lighter, stronger and more compact when folded. Well, I say 'folded' – the legs are actually telescopic and Walkstool claim that this is the only stool of its kind with this feature and it makes it ideal for carting around exhibitions! At 26 ounces, it wasn't much heavier than my camera and it neatly fitted into the water-bottle compartment on the outside of my rucksack.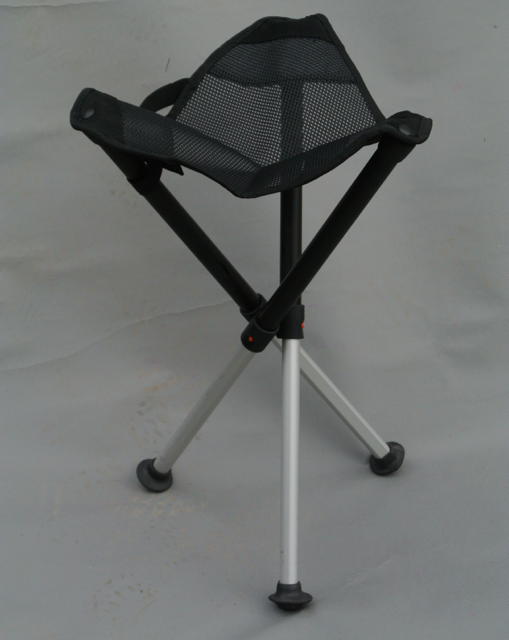 It came in very useful – so much so that I ended up leaving it permanently in the car and using it far more than I'd ever imagined – including on range. If you get creative, it's even possible to use the Walkstool as a shooting rest.
The actual bit where you sit is made from a strong synthetic mesh-type material and is very comfortable. Aluminium tube is used for the telescoping legs, with rubber feet but, if you want to set the stool on a soft surface – like sand – there is a 'web' which attaches to the rubber feet and prevents you sinking into the sand. It's also possible to use the stool without the legs extended. This obviously reduces the height but, in certain circumstances – like if you are outside and sitting on a hillside – it can be very useful.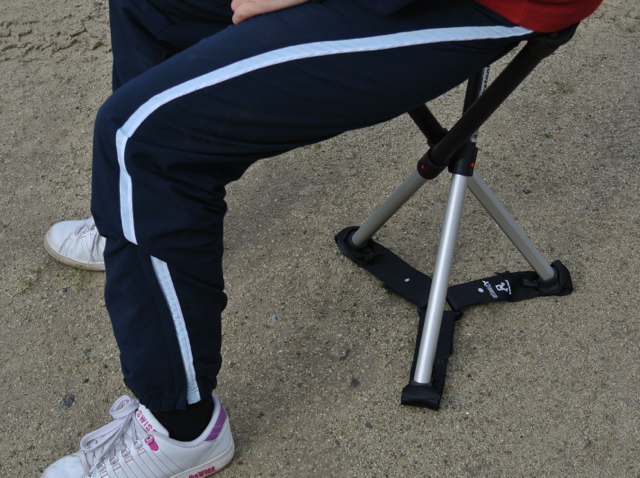 The Walkstool is made in Sweden and, as you would expect, it's stylish, very well-made and strong, despite its light weight. In fact, it's so strong, four Walkstools will even support the weight of a car! Check out the website www.walkstool.com and see for yourself!