After testing the Savage model 25 a few months ago, I was quite intoxicated with the new 17 Hornet cartridge, formalised by Hornady from the previously wildcatted 17 Ackley Hornet. With tiny powder consumption, good barrel life and low noise, what isn't to like for a miniature plinking round that brings all those `long range` needs closer to home?
Mini-Mauser
Although I loved the cartridge and the Savage rifle – which proved more than accurate enough for fun shooting – the mechanical design of the bolt and action did lead to a few minor feed problems and consequently bullet suitability.
The fine-pointed nature of the polymer ballistic tips on Hornady's own V-Max bullets fed well but the slightly larger opening of the meplat on Berger's target bullets caught the base of the feed-ramp with every shot, sometimes feeding but regularly jamming in the action. Furthermore, single feeding was impossible due to the tight ejection-port opening and limited finger space to feed a round off the top of the feed-lips on a magazine that won't single-feed.
This made the gun fantastic as a vermin shooting gun but, for those wanting to stretch its target ability, the inability to use a `match` bullet was problematic.  I eagerly awaited the CZ Model 527 with its mini-Mauser controlled-feed action.
A centre-feed magazine and a recessed boltface that would accept the mag. spring sliding a rimmed Hornet case under the extractor-claw has fared extremely well in the 22 Hornet for many years.  Its application to the rimmed 17 seemed like a simple solution.  Of course, one could say the 17 hornet has an intrinsic design flaw – it will always invite a 'stuttered' cartridge-feed because the rebate around the chamber-mouth for the case's rim, which will always represent a hurdle to cross with such a tiny pointed bullet and case combo.  The relative diameter between bullet and case gradually decreases as overall cartridge size and volume diminishes and can cause problems even with `modern` case designs like 223 Rem. based rounds, so can't be ignored in any rifle build.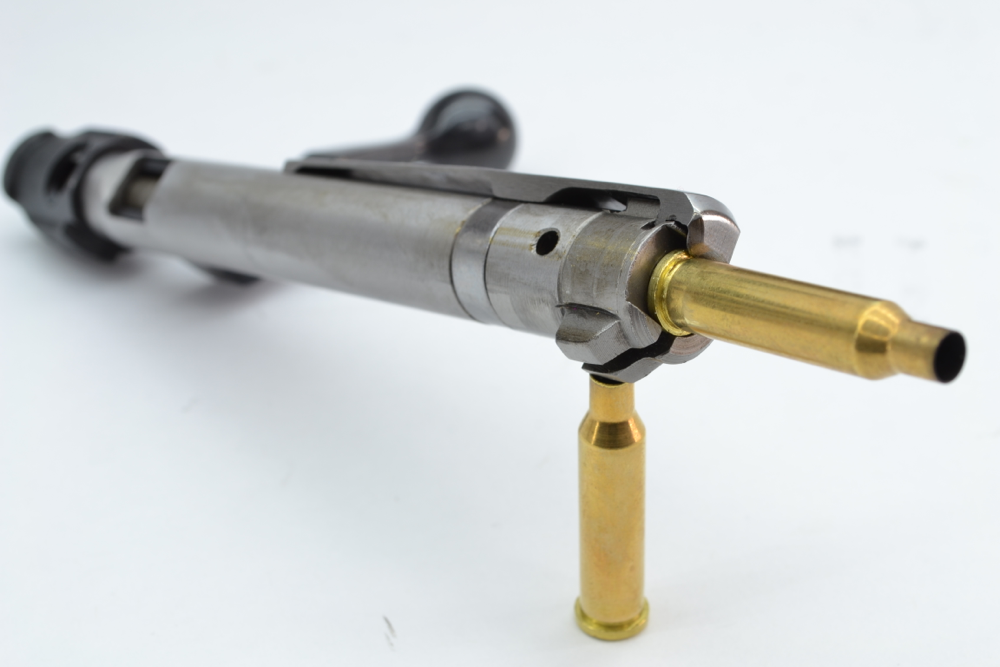 Varmint or target but no use of Varget
The CZ starts out with a neatly screwcut crown with the popular ½ inch thread to accept a moderator or muzzle-brake.  No real reason to fit a brake as the recoil is minimal with bullet splash easily spotted in any visible backstop – if the tiny pill actually kicks up enough of a splash to see!
With a diameter of ¾ inch, the hammer-forged tube flows back through 24 inches with a very gradual taper until swelling out to a delicately swamped 1 inch at the face of the action.  The action is a compounded shape of round barrel-tenon with a flat-bottom interspersed with rebates for magazine cut-out, an integral recoil-lug and, moving rearwards into various machined sections for the trigger sub-assembly.
The trigger shows multiple adjustment points and, although arriving with it set at 64 ounces and considerable gritty creep in its travel, I had it adjusted within a few minutes to 38 ounces and just the tiniest feeling of movement as it broke. On a single sear design like this it is all very well balancing the trigger to `knife edge` delicacy so it will break like glass but this all comes contrary to safety as you trade sear-engagement for feel.
The trigger also has a single-set facility where you can push the blade forwards until it clicks so that the pull is now really knife-edged but safe with this secondary stage, breaking at 28 ounces.  The trigger blade is slim and quite long so does vary in feel in its set and un-set modes as the reach does change and also your finger-position in its length, so effectively changing the leverage exerted.
Over-travel is also adjustable, along with the set function stop point although I left these two alone as they felt fine.  If the shot is declined with the trigger `set`, application of the safety to allows the trigger to be clicked back to normal position.  I used the trigger in normal mode at all times other than when `set` testing, it felt fine to me as it was and, I preferred the slightly more controlled feel of squeezing it gently to the `dead drop` feel of the set unit with extra time, noise and travel on the blade.  Set triggers are a bit of a Marmite option, you either like them or you don't.  The smooth trigger-blade would have also felt a little more tactile had it featured some vertical serration.
Bend it
CZ's own 15mm dovetailed rails are used which accept a number of ring options. Edgar Brothers supplied a set of 30mm Millet rings that are windage adjustable with separate jaws each side to clamp onto the rail, each adjustable to tweak the ring from side to side should you need to.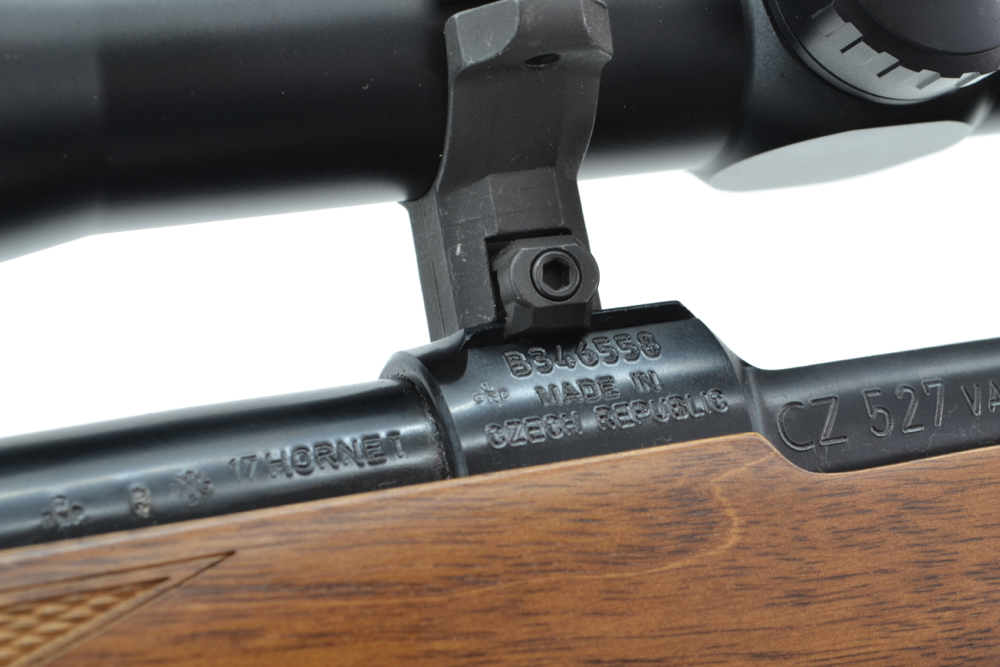 The ejection-port is spacious with good access to the chamber; a full length Mauser claw guides the bolt as it slides smoothly – after about 20 shots of break-in time.  Extraction and ejection of fired or live rounds was seamless, along with very smooth feed from the magazine.  It was quiet too, which is important to the hunter who wants to close the bolt with the least amount of disturbance.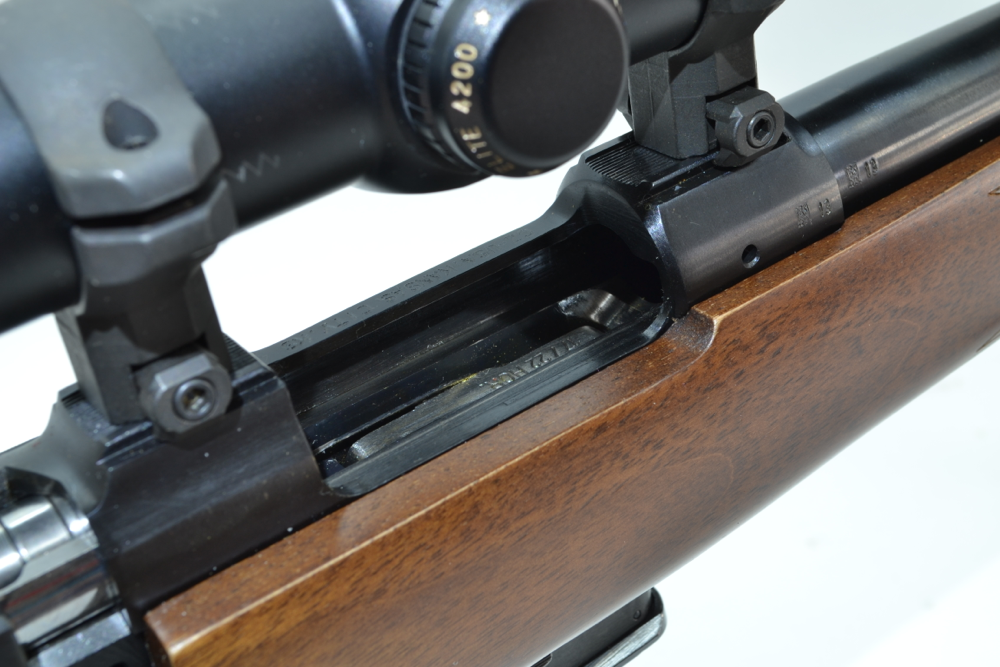 What are effectively two locking-lugs give the bolt a 90 degree lift and, with a 50mm scope objective mounted close to the barrel, the angled-down handle didn't foul the scope's ocular bell.  Bolt-lift was nicely weighted and gave a good feel for cartridge pressure, more of which later!
The safety-catch is a thumb-operated lever high on the right side of the action in front of the bolt shroud.  It moves forward for safe and rearward to fire – the opposite way to normal but does lock the bolt-handle in 'safe' setting.  The left side of the action shows a serrated push-button for bolt removal which doesn't require the trigger to be operated in conjunction.  If the need arises, the bolt can be field-stripped without the use of any tools in 5 seconds flat.  It isn't difficult to reassemble either but be careful to rotate the inner body into correct alignment with the rear shroud to allow the bolt-handle to slot-in otherwise frustration might make you force something incorrectly.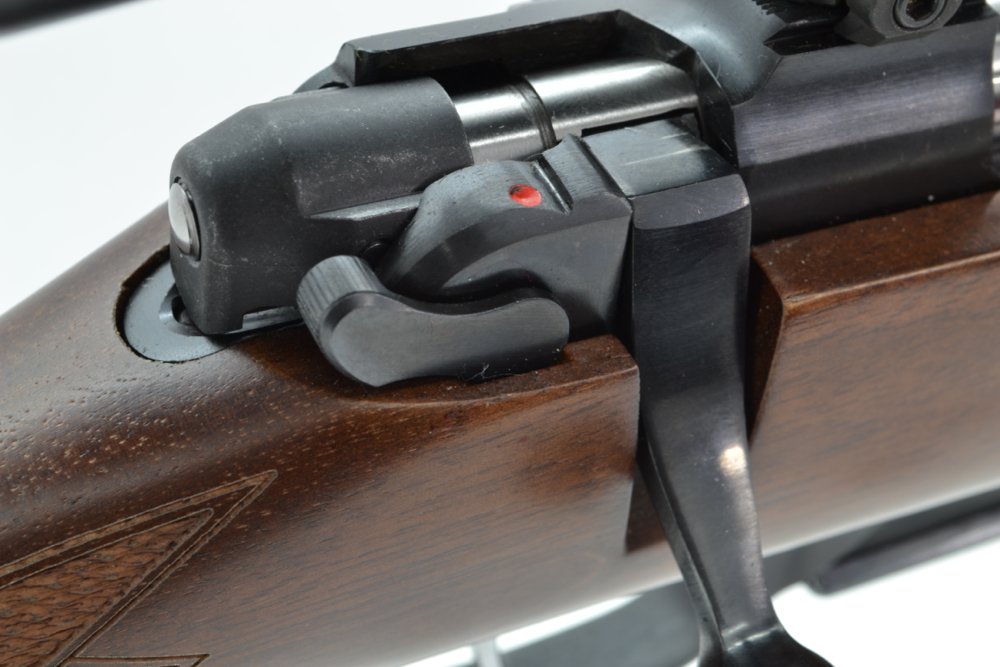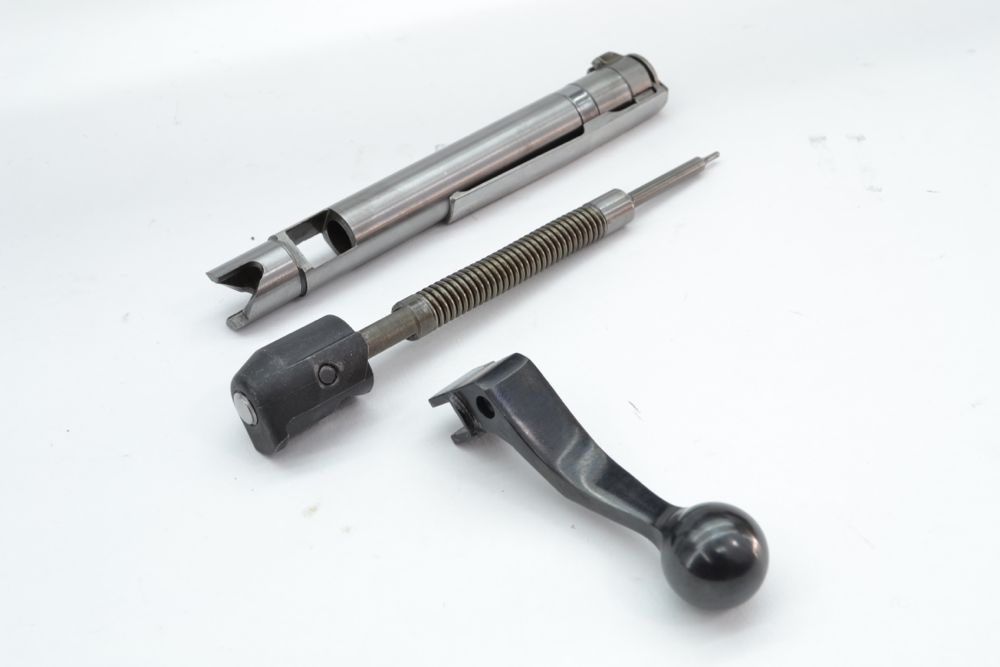 Down below
The underside of the gun features all-steel bottom-metal and magazine system holding five rounds. It's easy to load and looks indestructible, slotting easily in and out of the recess with a single side-mounted sprung catch to lock it in place.
There are two action-bolts holding everything together with a neat functional inlet in the stock that although fine to use, will accept a bedding job for those wishing to further reinforce this gun's straightforward nonsense-free build.  The recoil-lug pocket in the stock does actually show very small amounts of some factory bedding-compound in its outer corners to reinforce the centralisation of the barrelled-action in the stock.
The rear action-screw hole has a rolled-steel pin inserted to act as a pillar and prevent compression of the stock.  The barrel is free-floated in the straight-grained and profiled lightweight walnut stock, showing neatly executed sharp chequering at both grip and fore-end.  The grip is nicely open in radius so doesn't cramp the firing hand and reach to trigger is about perfect.  A ¼ inch pad at the butt isn't needed to shield off any recoil pain but its rubberised texture grips the shoulder nicely, certainly suiting a field shooter or prone user who wants the gun to grip the shoulder, a factor I find actually eases muscle strain and relaxes the positional setup for the shot.
Pull is only 13¾ inches which is on the short side for me but could easily be spaced out and is certainly better than the 13 ½ inches featured on many US guns.  The entire build has a hand finished feel that carries old world charm and a bit of culture, especially with the iconic Mauser styled action.  I liked the trigger-unit and complete lack of threadlock on any of its adjustments; it invites you to refine it a little from the 'brute strength' factory setup for the lawyers but shooters can by-pass so well done CZ.
ARRRRRGGGGGHHH Chronographs
A scope and factory ammo. were supplied with the gun, the 20gr Hornady V-Max Superformance ammo advertises 3650 fps and happily ran the gun in while the Bushnell scope was also zeroed. Bushnell optics really started to come on-stream last year from Edgar Brothers and I have seen quite a few examples myself.
After initially seeing them at IWA, both editor Vince Bottomley and I were expecting a little too high a pricing structure but I must say, we were wrong!  You can look forward to a review of some of the high-powered tactical line-up over the next few months but I will leave it for now by saying I was impressed – I actually put my short Yorkshiremans arm/hand into my far distant deep pocket and bought one!
Anyway, back to the CZ, I never got chance to chronograph the factory ammo – two chronos and a multitude of atmospheric lighting conditions refused to register these tiny little pills speeding over the optical sensors.  Needless to say, the gun shot reasonably well with 1 inch groups at 100 yards posing little problem.  I was using a 10X scope at this point with a 3 inch dot on target to aim at so wasn't expecting magic as my own aiming error was easily likely to be around ¼ in.
When I upped the scope to a 30X Bushnell the groups shrank quickly but after three separate visits to the range, I still couldn't chrono the rounds and was getting frustrated.  Handloads using Hodgdon LilGun with the 20gr. V-Max were supplying superior accuracy and consistency but the tiny volume of 9gr. charge-weight had to be very carefully measured as even the 0.1gr. variation caused significant effect on the cartridge.
I ran the rounds in 0.2 grain increment ladder tests all the way up to 10 grains but above 9.6gr. I got a couple of high pressure moments, indicating the charge was on a knife-edge and critically intolerant to mediocre charge-weight consistency.
Anyway, moving forward to the match bullet realm, Hannams Reloading supplied me with some of the excellent Berger 25gr. match bullets that carry a reputation for perfection in these small 17's and they did not disappoint me here. My previous experiments handloading the Savage had shown a truly loving partnership between the 25 grainers – both V-Max and, at the time, tricky to feed Bergers and I was straight on the case here with Hodgdon H4198.
The powder had shown fantastic flexibility and just the right burn-rate to get towards 100% volumetric fill on the case as the pressure started to reach its maximum.  Velocities were a tiny bit off what one might want to achieve but, with a cartridge that is inherently limited by low BC projectiles and thus never going to be a super long range performer, isn't accuracy king?
Well it applied here and the gun was addictive to shoot.  Handloading had to be done delicately as before, due to the tiny cases and bullets but the sliding-collar design of the Hornady dies allowed the flat-base bullet to be rested in the case mouth and then vertically centralised with its tip in the centre well of the seating die.  The mechanical advantage of any press is huge compared to the force required to deform a case and bullet as tiny as these so, almost fingertip pressure was required to maintain a `feel` for the process. Because the bullet was held securely vertical and centred throughout the ram's ascent, I got a 99% record on the 100 loaded rounds I produced.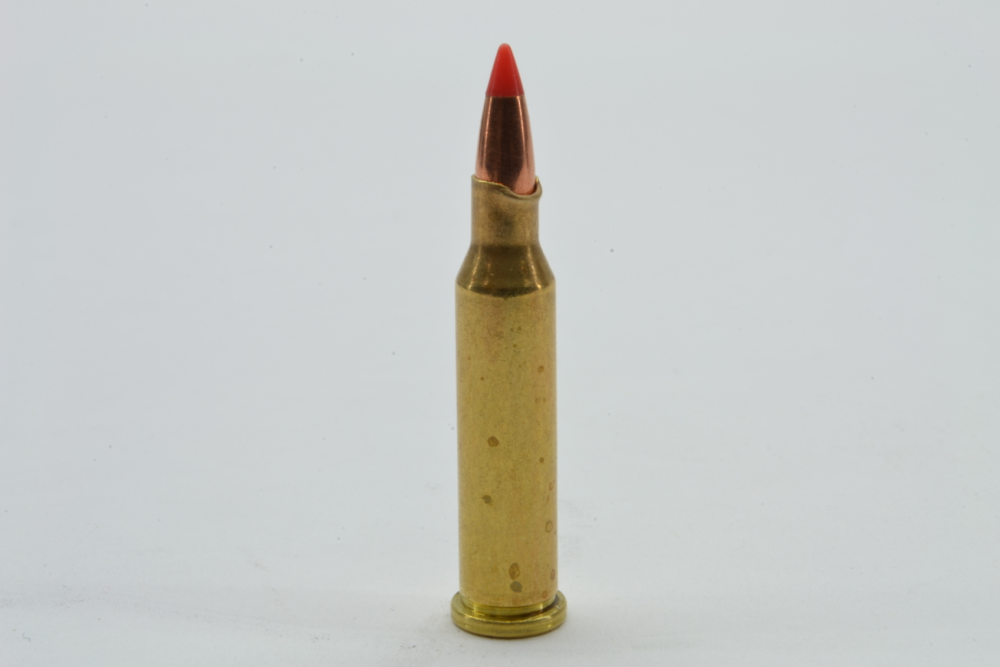 Settling at 11.1 grains of H4198 in the CZ (a touch more than the Savage had liked) gave me consistent accuracy with 10 and even 15 round groups fired quickly remaining close to an inch at 100 yards.  Stretching things as far out as 300 yards on steel plates was tricky as the `clang` heard is faint but gave fun shooting and wind-calling practice at much shorter distances than larger 6/6.5mm centrefires require, with a huge fun factor retained.
Shooting on paper doesn't produce smiles as often as 'bangin & clangin' and can invite too much investigation toward perfection when you just want to shoot.  With just 11.1 gr of powder, the Riflecraft Hardy moderator does a very good job of suppressing the noise.  I remembered to wear ear defenders this time but the 17 never actually made you feel the need – even though gunshot noise ALWAYS damages hearing.
A Blackhawk Sportster bi-pod was supplied along with the gun and it looks very similar to a 9-13in. Harris but arrives fitted with a Podlock-style handle and, rather uniquely, allows the gun to be panned laterally as well as canted. On a gun with a weak fore-end this might just help avoid intermittent barrel contact through flex in the stock.  The walnut unit fitted to the CZ – although slim – was plenty stiff enough to prevent this anyway and the gun never suffered any movement in the point of impact from multiple shooting positions, partly helped by zero recoil!
Let there be light
The first time the sun showed its face a little higher in the sky, I shot off to try the chrono again and with sky-screens fitted, I finally measured some speeds. The few remaining factory rounds I had were clocking 3520 feet per second, with LilGun fuelled handloads clocking some un-publishable speeds with the 20gr V-Max!  Needless to say, if you want to meet factory specifications for the 3650 fps promised in the advertising campaign, you will have no problem but, be aware, the LilGun combo was VERY susceptible to sudden overpressure and I backed down significantly for a safer life.
Running at 3600 fps, one shot every now and again would suddenly crater a primer and tighten up the bolt lift – one even sooted the rim of the primer and I called it a day at that point.  I never push speeds but few powders have seen such favour with other handloaders I have consulted like LilGun has with the light bullets.  Nine grains is a very small charge but, any tiny charge variation is significantly high in percentage terms. On the other hand, the H4198/25gr combo was delightfully consistent.
I am tempted to get hold of some 30gr bullets to fully test the versatility of the 1 in 9 twist barrel but, like 90% of the recommended powders, they are currently unavailable!  The 25gr/H4198 loads were zipping through the air at 3130 fps and the final positive was a very subtle one!  Previously, the 17 Hornet Hornady brass has been a little shallow on the primer pockets and required uniforming to seat primers correctly.  This was finger-breaking work – even with a power trimmer – as the cases are tiny to grip BUT, the new Fiocchi primers, also from Edgar Brothers are 0.003in. thinner than Federal or CCI and seat just fine with no protrusion……..ahhh bliss!
Comments
The fun-gun 17 Hornet offers long-range practice at short-range prices, with minimal noise, recoil and cost.
Specification
Model                                       CZ 527 Varmint
Calibre                                     17 Hornet
Magazine Capacity          5 round
Barrel,                                      20 inch hammer forged screwcut ½ inch UNF
Length                                      42 ½ inches
Weight                                     7 ¼ lbs
Moderator                             Riflecraft Hardy GenIV 17 cal
RRP
Rifle                          £980
Moderator           £330
Ammunition       £95.90/hundred 20gr V-Max Superformance
Contact  Edgar Brothers  01625 613177 (trade only suppliers).
17 cal 25gr Berger Match varmint bullets £55.45/200 – Hannams Reloading 01977 681639