This was the first shoot of the UKBRA's 600 yard winter series and we had a near maximum entry of eight relays. For mid October the weather was unexpectedly warm and sunny, though as always, a tricky south-westerly wind kept us on our toes.
Heavy Gun
For the first time ever, the Heavy Gun shooters out-numbered the Light Gun entry and it was the Heavy Gun guys – and gals – to shoot first and young Emily Lenton was eager to get going shooting Dad's super-heavy 6BR. It was also Emilys first outing with her new Kahles 10-50 MOAK scope which was presented to her by Kahles via RUAG UK. Emily had the Kahles wound up to full power and I had a peek through it – very nice crisp image, easily resolving bullet-holes at 600 yards.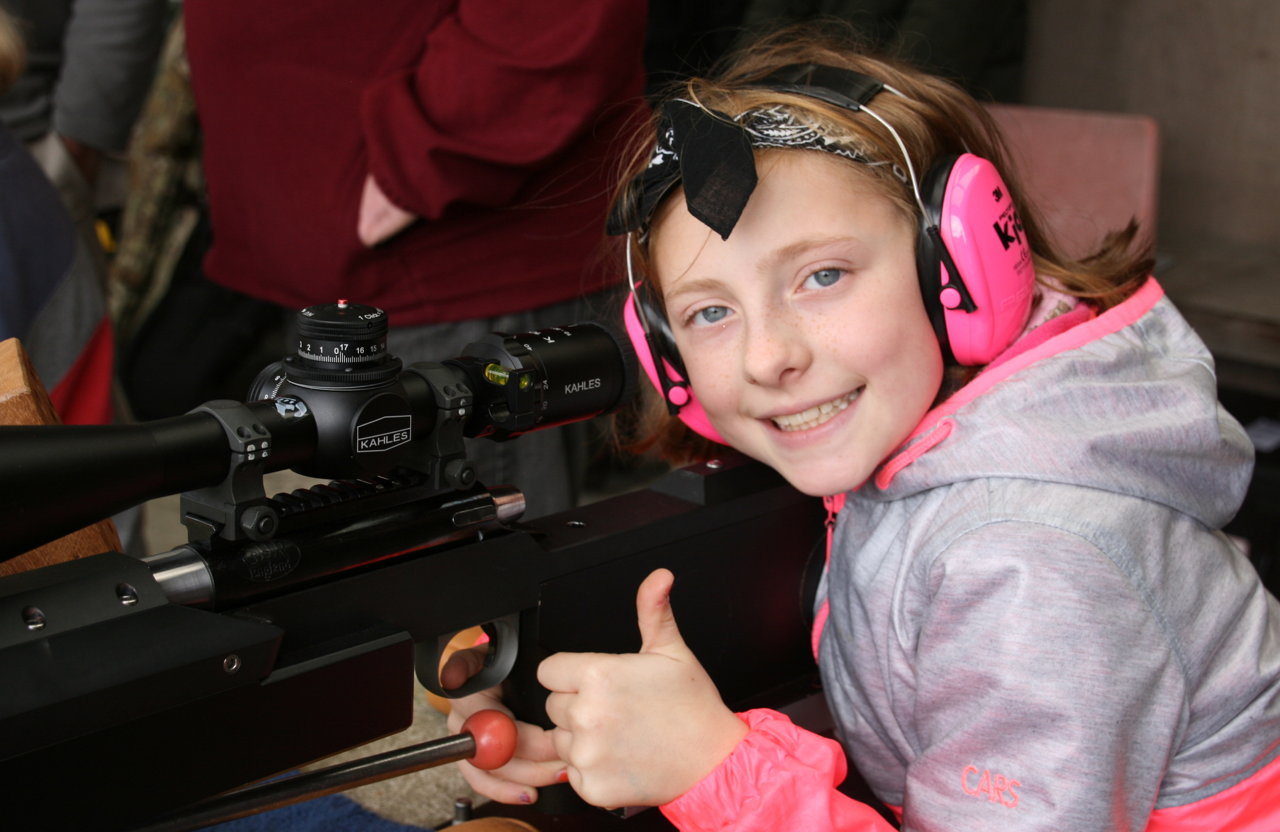 I think Emily likes her new Kahles!
In spite of the switchy breeze, Emily was soon punching in two-inch groups and so were Darrel Evans, Les Prior and Dale Almond but, some very consistent shooting secured 10 year old Emily the Heavy Gun agg. In fact, Emily's 3.22 inch agg. for her four, 5-shot groups was the smallest of the day, beating all the Light Gun shooters as well!
Heavy Gun small group however went to Simon Mearns with a stunning 1.058 incher – a new UKBRA Heavy Gun record. And Simon wasn't shooting some massively heavy artillery piece – he'd actually put it together as a 17lb Light Gun but the scales said 'no' – it turned out to be a couple of ounces over-weight! But, a record is a record so well shot by Simon who is in his first season of benchrest competition.
1st Emily Lenton -6BR GBR :3.220 in.(agg. of four 5-shot groups)
2nd Jonathan Walker -284 Barnard :3.522
3rd Steve Roberts -6XC RGR :3.678
Small group -Simon Mearns :1.058 inches (New record)
Light Gun
For Light Gun Class in the afternoon the weather pretty much held and there were more 'twos' – from Mal Roberts, Ian Dixon and Vince Bottomley. Mal eventually took the win with his 6mm Dasher but Vince's 2.486 incher (22 Dasher) was good enough for LG small-group award.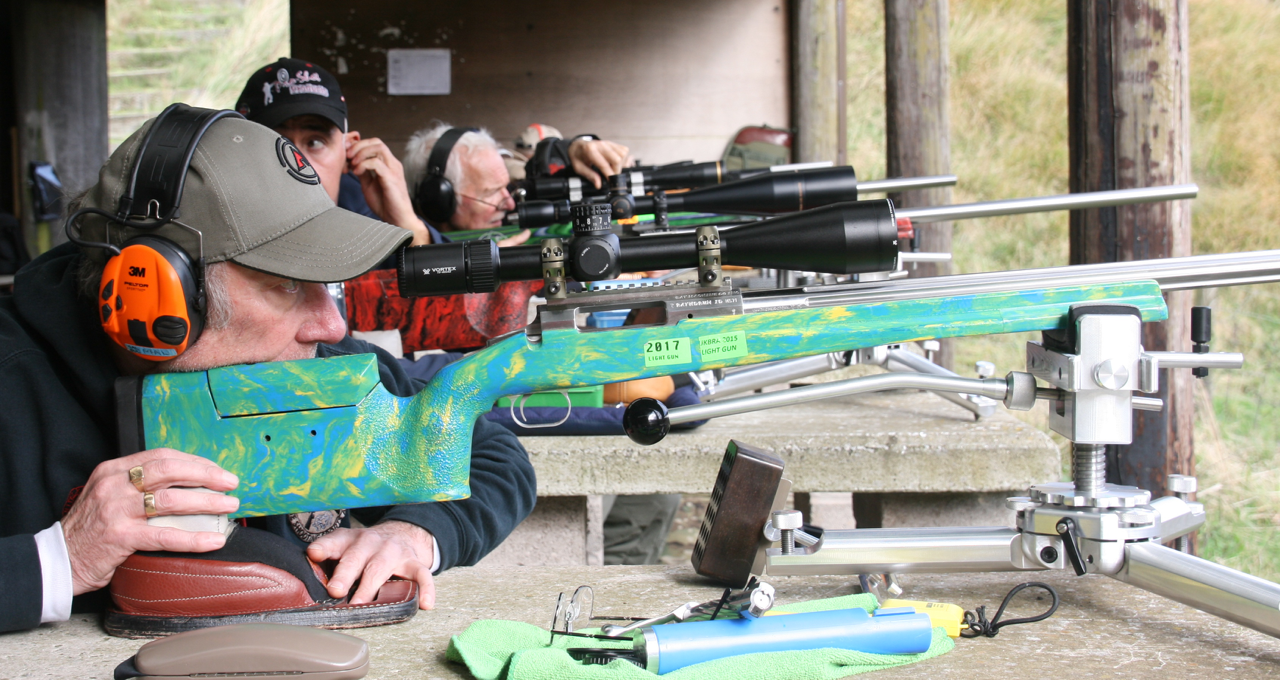 Mal Roberts gets ready to shoot the Dasher
1st Mal Roberts -6 Dasher BAT :3.313 inches
2nd Ian Dixon -6mmx47 BAT :3.457
3rd Vince Bottomley -22 Dasher BAT :3.876
Small group -Vince Bottomley :2.486 inches
Factory Sporter
Factory Sporter is a great way into benchrest competition and we had just six factory competitors but, they had a good battle with Paul Pendleton's 6BR Savage taking the honors with a very respectable 6.09 inch agg. and an excellent small group of 3.352 inches. It was Tony Leah's first outing in benchrest shooting his 223 factory Savage and he managed a 6.625 inch group – an MOA group is pretty good for a factory rifle.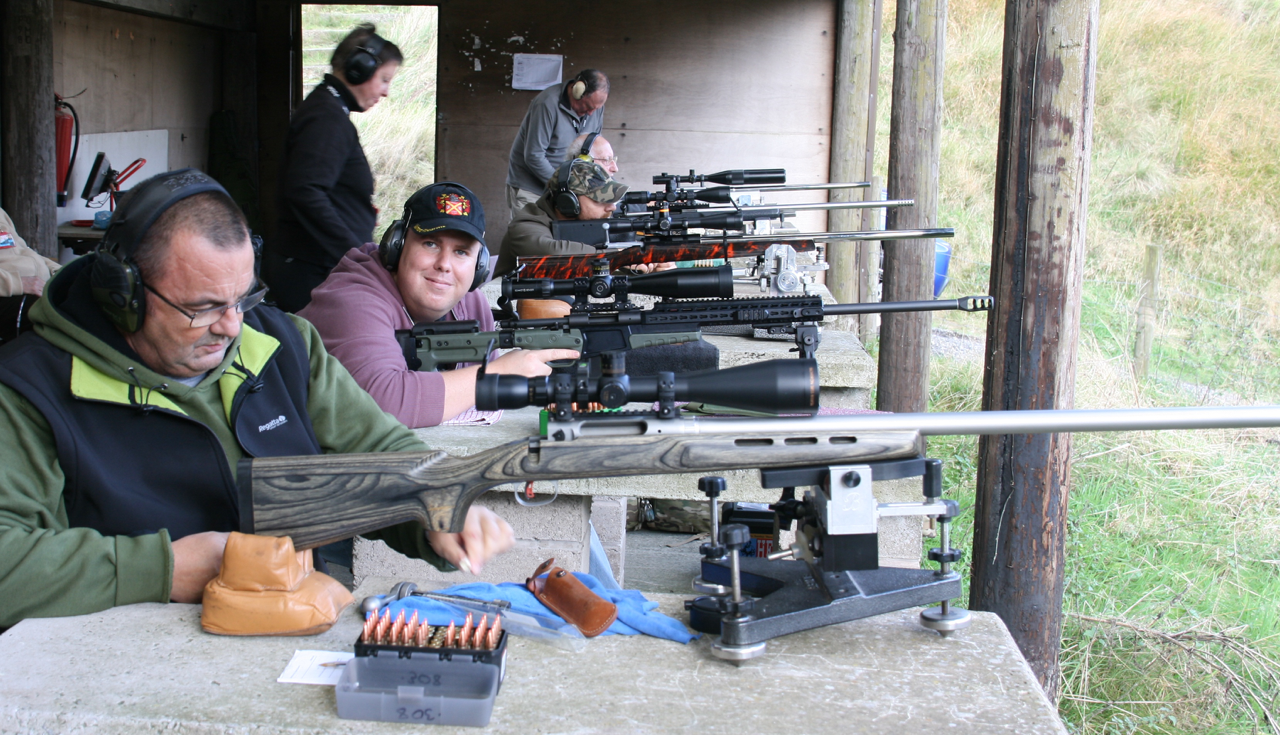 Paul Pendleton, Factory Sporter winner
1st Paul Pendleton -6BR Savage :6.09 inches
2nd Dave Jackson -6BR Savage :7.393
3rd Paul Parkinson -6.5 Creedmoor :7.845
Small group -Paul Pendleton :3.352 inches
The next 600 yard benchrest shoot will be held on Sunday November 5th 2017 at Diggle Ranges. Want to give it a go? E-mail vinceb@targetshooteronline.com for more info.