Invest in yourself – get trained for F-class
F-class is often seen as being heavily geared towards equipment; much of our talk tends to focus on barrels, scopes, actions and the like.  With all this attention on the hardware, it is very easy to overlook the most important bit of kit; the software – you!
The GB F Class Association recognises that there can be a lot to learn in F-class and, for that reason, we put on a training weekend in February every year which is open to new recruits and anyone else who feels they could benefit from investing in themselves.
There is a proud British tradition of just 'muddling through' and, to be frank, that is how most folk get into F-class.  It is far from ideal though and, after a few years, most guys will admit they started out on the wrong foot and took longer than needed to get established – often misspending a small fortune in the process.
Do you ever wonder how you're supposed to know all the stuff that the other guys seem to know?  Where do they get all that info?  Is there a book or DVD that has all the stuff in it?  Well, the short answer is – there are no short-cuts – you can end up shooting for years, piecing together all the information you need.  Shooting has often been referred to as a 'learning game' – you never stop learning and that is part of the attraction for many of us – that's what keeps us interested and keeps bringing us back.
Now, that's all very well for an established shooter but, what if you're simply testing the water – just trying to find your way into F-class?  That's where the Association's training weekend comes into play.  The training weekend is primarily designed to equip you with all the information you need to get established in F-class.  That said, it is open to anyone who feels they could benefit from the following:
Learning to plot your shots
Learning to load accurate ammunition
Learning to read the wind
Learning how to look after your rifle
Learning all the do's and don'ts of entering competitions, what works and what does not.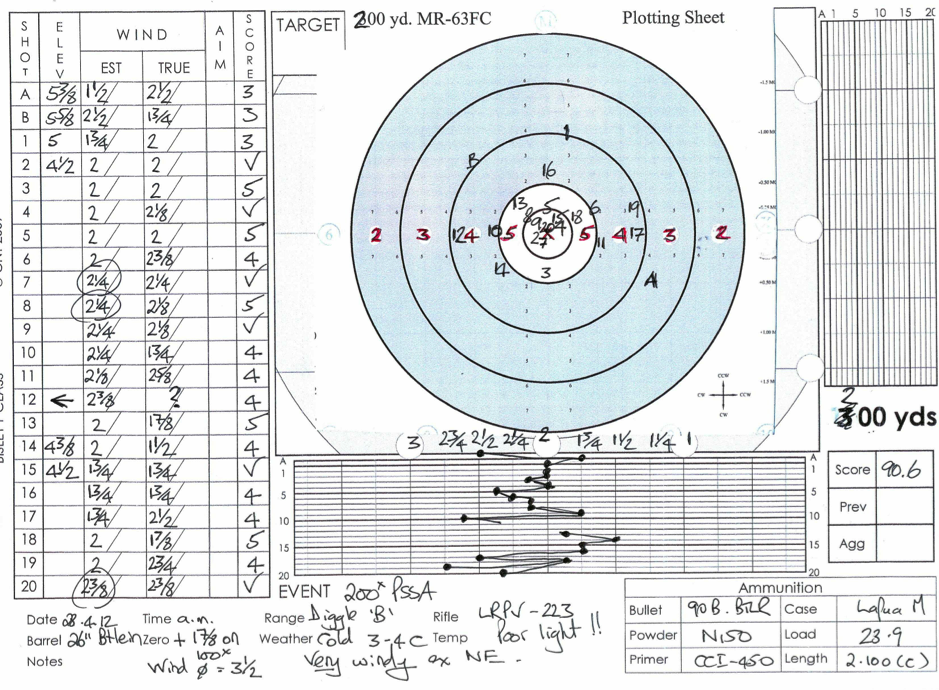 You may well be thinking; "Who is doing all this training? What are their credentials?"
This is where the Association can draw on the strength of the membership.  In the GBFCA we are fortunate in being able to call on volunteers with ample experience – two former World Champions, National League Champions and current GB Captains.  All are ready and willing to give their time and experience to anyone on the course.  You will not find many sports where that is possible.
So where and when does all this happen?
The training weekend takes place at Bisley on three of the ranges there – short Siberia, Century and Stickledown.  It takes place on February the 21st to the 23rd.  A time of year when there is little or nothing else taking place to clash with.
The course is structured to give you a mixture of indoor sessions and range time.  The indoor sessions focus on plotting, reloading and rifle maintenance.  The outdoor range time focusses on establishing elevations and tips on wind-reading.  There is ample time for question-and-answer sessions and that is especially useful – being able to pick the brains of some of the best shooters in F-class provides a rare opportunity to find out how Champion shooters think and the opportunity to establish friendships with some of the key figures in the sport.
It is not all formal teaching though – we all need to eat and drink and it is usually around the dinner table that one learns even more about the essentials.   As I keep saying, there is more to shooting that just banging holes in paper; the social side of things is important too and F-class has a good reputation for being open and friendly.  The Bisley setting is ideal for getting together with friends; all the food, drink and accommodation you need is right there on location with no need to travel off-site, thereby maximising the benefit you get from the time spent on the course.
Numbers on the course are deliberately kept low; this ensures that everyone gets the maximum assistance of one-to-one coaching out on the range and ample time for personal attention in the indoor sessions.  In this way, nobody needs to feel intimidated; you can have all your questions answered by F-classers who ready and willing to help you.
So, has it proved beneficial to shooters who have previously attended?  The feedback we get from attendees is generally positive.  We take heed of their needs and constantly refine and improve the format of the course to ensure everyone gets maximum value out of it.  Probably the best recommendation is to note that members who attended the course just a couple of years ago are now distinguishing themselves at the upper end of the National League tables.
The course alone cannot take all the credit for that but it certainly helps to put you on the right trajectory for success.
Instead of just 'muddling along' in that fine British tradition, it is far more effective to take just a little time out to invest in yourself, to learn what works and how to make best use of the kit you have.
Time spent at the outset of your F-class career, learning the right stuff, will pay dividends later on in saved time and expenditure.  Many of the more seasoned F-classers have bemoaned the fact there was no training course when they started; consequently, many of us have spent a small fortune learning and re-learning lessons already learned by others and in doing so, have simply delayed our own progress, depleted funds and acquired a shed full of kit that was not ideal.
They say a wise man learns from other's mistakes; you could do likewise by investing in the most important factor in the whole equation – you.
If the training course sounds appealing to you, act fast; spaces are limited and the course is only 8 weeks away; see the entry form on the Association website:
Hope everyone had a Happy Christmas, good shooting to you all in 2014