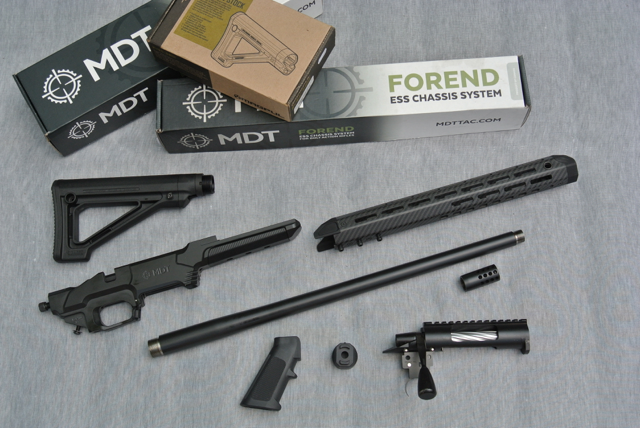 In addition to long-range benchrest and F Class competition, I do enjoy the odd tactical shoot – particularly McQueen* competitions and my current tactical rig was built specifically for the McQueen – which is very popular at my home club and hotly contested.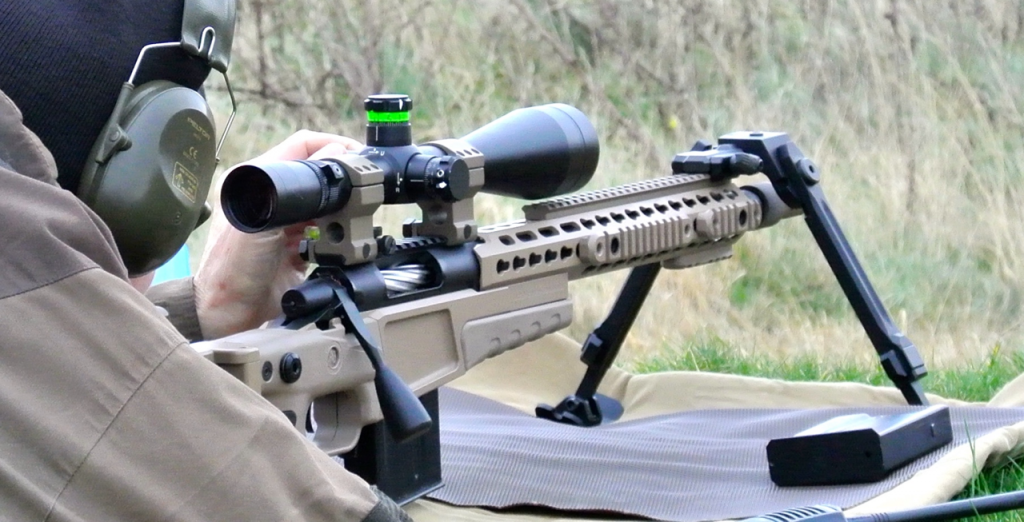 Here's my current rifle – built on a BAT VR action and chambered in 6.5 x 47 Lapua and mounted in an AI AX chassis.
I've always liked the look of the Accuracy International AX and, like all Accuracy products, they are 'bomb-proof – built to withstand serious military use. However, that comes at a price. Not only are they quite expensive but they are also heavy. My current rig weighs 16.5 lbs unloaded and it only has a 17 inch barrel! Great to shoot off a bi-pod but a pain to lug around and 'challenging' to shoot unsupported! That shorty barrel is fine for McQueen but velocity obviously suffers at longer ranges. I'm looking at something of Tikka T3x TAC A1/Ruger PRS weight – both of which tip the scales under 11 lbs.
So, here's the plan. Whilst over in Germany at the IWA Classics Show in March, I took the opportunity to look at all the CNC'd drop-in after-market stocks on offer and believe me, there are good few. I eventually found one that fitted the bill – MDT from Canada. If you're not familiar with MDT – or Modular Driven Technologies – they have been in the CNC stock game longer than most and have refined their products to cover most requirements, be it tactical, target or hunter and 'drop-in' inlets are offered to accommodate most of the popular factory actions . If you're looking for a folder MDT offer a really neat, positive hinge. (below). They even offer just the hinge bit – if you wanted to hinge an AR style butt.
Check out the MDT website at www.mdttac.com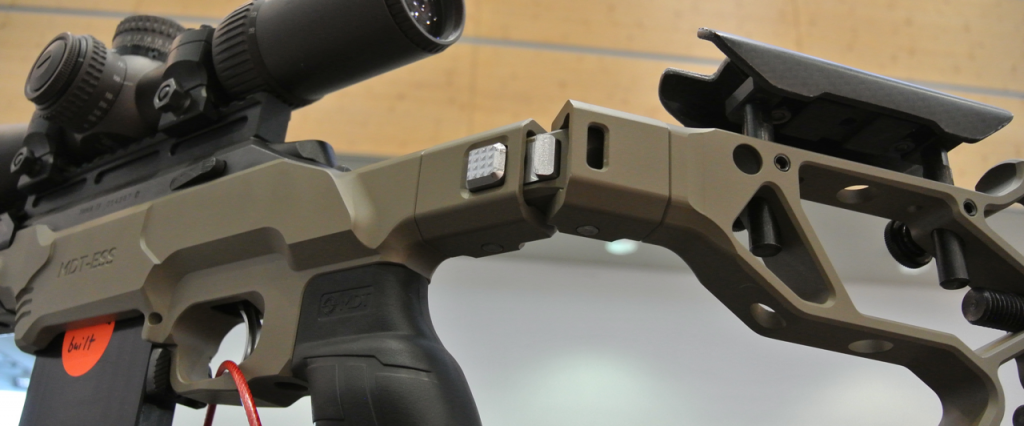 Once home from Germany, I e-mailed MDT and, to my surprise, received a very helpful reply by return. With weight uppermost in my build spec, I was attracted by their carbon-fibre fore-end – available as an option to their ESS chassis system. Not many manufacturers offer carbon-fibre options and, in addition to looking very 'Gucci' they save a few important ounces in the process. If you're not looking for carbon-fibre, MDT offer a great choice of fore-ends to suit any application.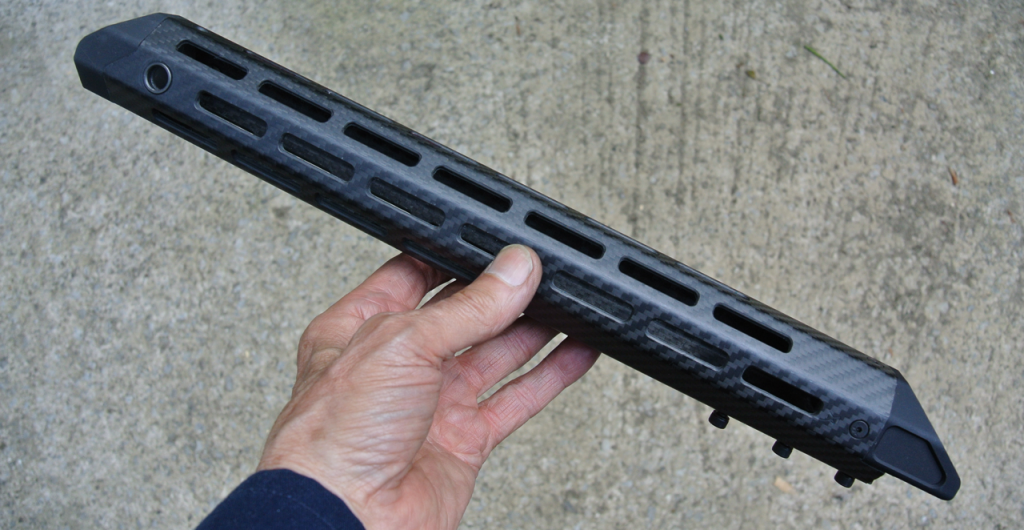 I don't need a folding chassis so, an AR15-style Magpul butt would be light and handy and mine was sourced locally from Bradley Arms ( www.bradleyarms.co.uk ) and I was pleased to see that it weighed under a pound when I dropped it on the scales. Again, Magpul offer a massive choice with collapsable/cheek-piece risers etc. Mine is a simple non-adjustable giving a 13 inch pull and a short, flat section if shooting with a rear-bag. Fortunately, MDT offer an AR15 adapter for the ESS chassis-base so no problem installing the Magpul buffer tube etc. A standard AR15 pistol grip (donated by Northwest Custom Parts ( www.nwcustomparts.com ) completes the job.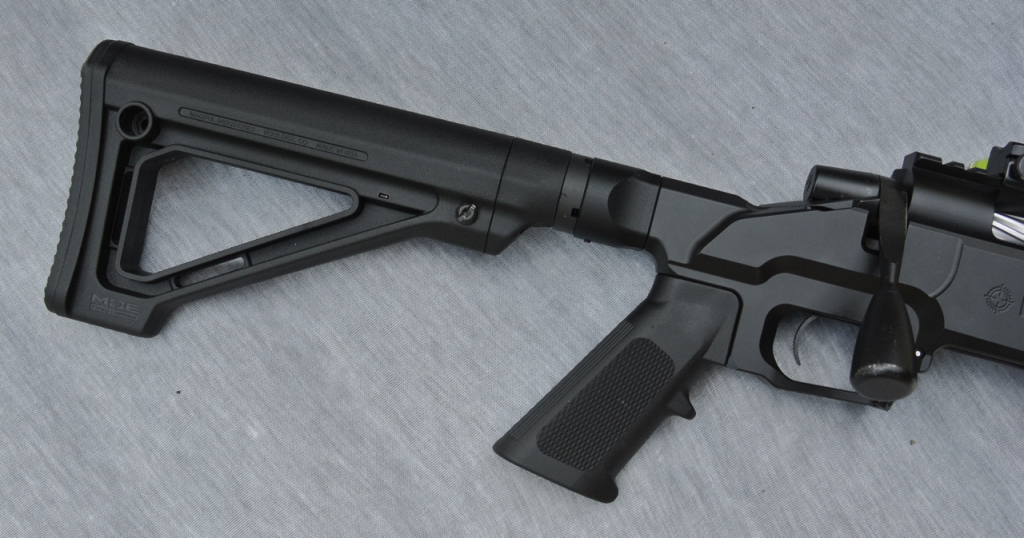 Not only are the MDT chassis systems competitively priced but MDT are not hampered by the American ITAR regulations and, within a couple of weeks my chassis had arrived.
This time, with weight-saving in mind, my barrel will be a 'varmint' profile – similar to a Remington PSS. My 28 inch Bargara 6mm blank from Fox Firearms has a 1 in 8 twist but I will finish it at 22 inches. Is this long enough for 1000 yard stuff? Yes, I think so – I currently run a 6mm Creedmoor as an Open F Class gun. It has a 30 inch barrel and the 105gn Bergers are still ripping through our electronic 1000 yard target at 1800fps! Even losing 8 inches off the barrel length should still give me around 1500 fps at the target – way better ballistics than say a 155gn 308 bullet leaving a 26 inch barrel.
Interestingly, the Rifleshooter blog has an article where a 6mm Creedmoor barrel was shortened an inch at a time to assess effect on velocity. If you're not familiar with this excellent blog, check out www.rifleshooter.com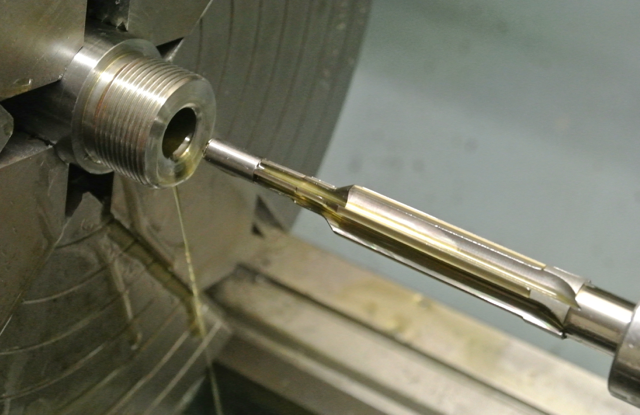 So, the first step in my build is to get the Bergara spinning in the lathe. I need to get the barrel work done ASAP as I intend to get it and my Tier One muzzle-brake Cerakoted black at GS Precision (https://www.facebook.com/gsprecision/) to match the black BAT VR action. No problem, GS Precision turned it around in 24hours.
Black? Cerakote? Does it really matter what a rifle looks like? Maybe not – it won't make it shoot any better but a tactical-style rifle is a bit of a fantasy build and most tac-rifle owners enjoy customising their kit to look the part. I'm not however Cerakoting the MDT chassis – it's already finished in black and looks great with the carbon fore-end.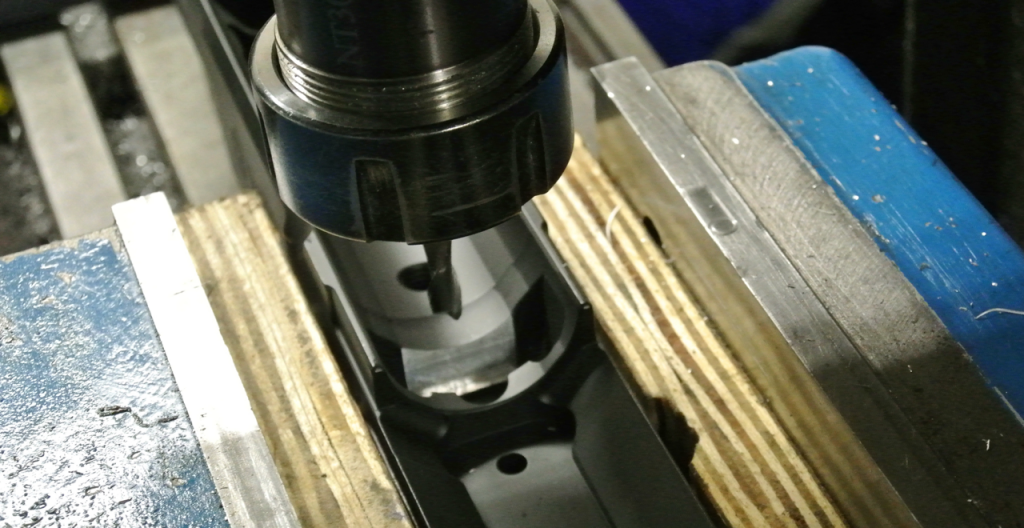 My MDT ESS base – the bit that holds the action – is designed as a drop-in for a Remington 700 action. The BAT VR has a Remmy 'footprint' with compatible action-screw holes but varies in one area – the recoil-lug. On the Remington, it's a skimpy thing trapped between barrel and action but, on the VR, it is part of the action and, it's much thicker than the Remmy lug – by a couple of millimetres. This means a little bit of 'surgery' on the mill before we can start the build. A similar 'adjustment' was required with the AI AX chassis to accommodate the BAT – I must stress that if you are using one of the popular factory actions that MDT cater for, this wouldn't be needed – it would be a simple 'drop-in'.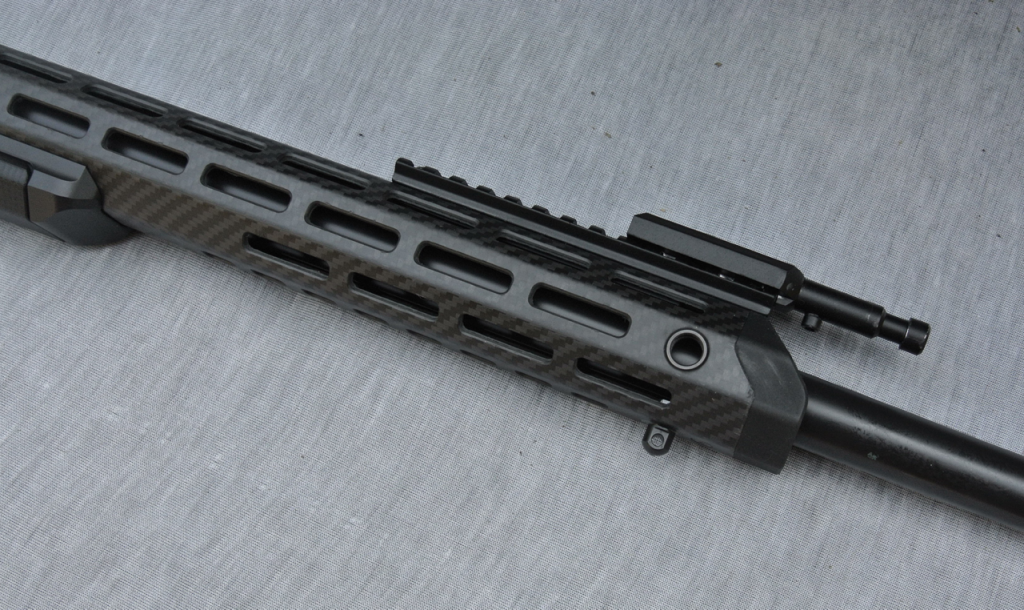 Assembling the MDT components is simple and straightforward, needing only a couple of Allen keys as the correct length socket-head action-screws are thoughtfully provided. After the milling work, the whole rifle was together in minutes. I couldn't wait to get it on range but first – the scales!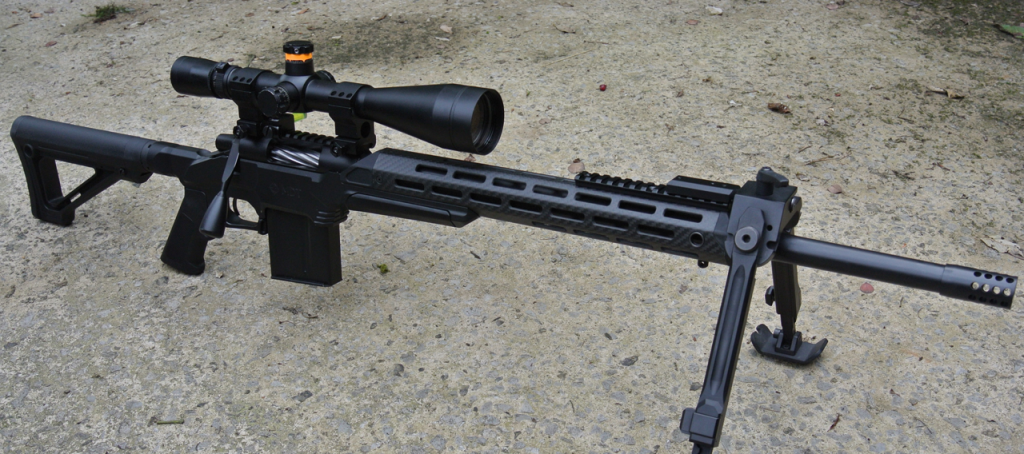 Just 10lbs 8oz. – a great result. I mounted the QD fixing for my Phoenix 'pod (above) by adding a length of Picatinny rail to the fore-end (a Harris type fixing is provided as standard) but this and the scope added less than two pounds so a great saving of around 4lbs over my AI AX rig plus the bonus of five more inches of barrel.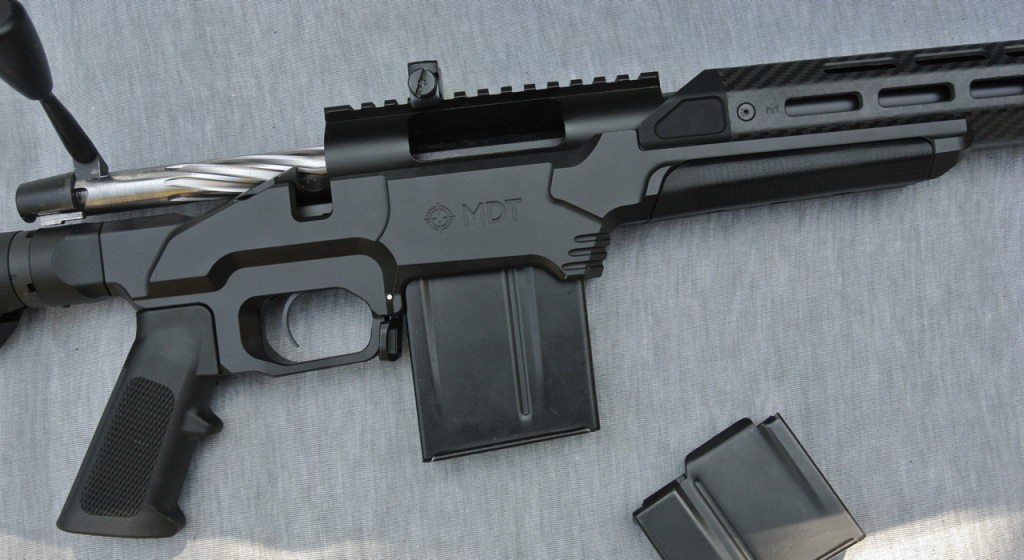 The MDT chassis takes the popular AI magazines though MDT offer their own – in steel and polymer – including a 6BR version.
The next job will be load-development for the 6mm Creedmoor. Part 2 will follow.
*McQueen Competition – If you've not heard of the McQueen competition, it has an interesting history dating back to the First World War when a similar course of fire was used to train British snipers. At the end of the War, de-mobbed snipers demanded that the NRA devise a competition based on their training.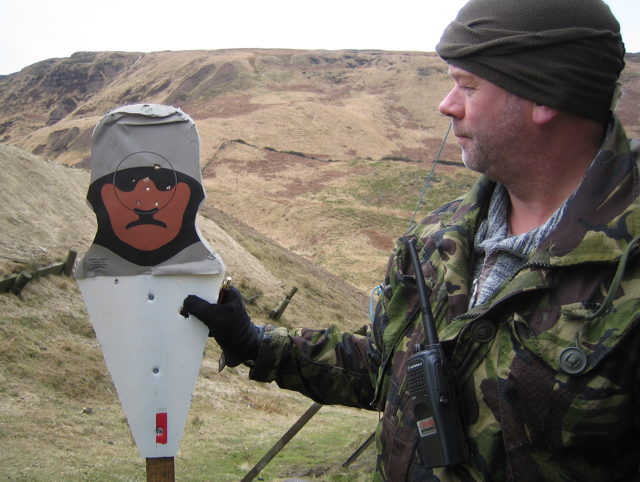 The competition got its name from the target printers, McQueen of Galasheils, Scotland who printed the 'Hun's head' targets for the NRA and put up the magnificent Silver Eagle trophy which is still shot for to this day at the Bisley Imperial Meeting. The photo above shows Rob (a former winner of the Silver Eagle) holding the Hun's head target – which appears at any one of ten 'windows' for a 3-second exposure. Ten shots in the 4-inch circle scores a maximum 50. Almost any of the mid-range cartridges are popular for the McQueen – it's contested at 200 and 300 yards, so anything from 223 upwards will do the job. Not much point going over 308 Win though, as rifle-upset from the recoil of a heavy cartridge will waste valuable seconds getting back on target.