Aim Field Sports is certainly one of the best things to come out of shooting in the last couple of decades.  Although they offer a limited range of products, all their kit is top-notch and many military and police forces around the world rely on it, as well as hundreds of sport shooters all over the world.  Accuracy International are just one major manufacturer specifying Aim Field products.
Dragbags
The dragbag was Aim Field's first product and I can certainly attest to the durability and practicality of this rifle bag. I was fortunate to get one of the very first ones way back in 2006 and it's still in service today – not a stich or a zipper has failed.  However, my 32 inch barrelled FTR gun became a bit of a tight squeezeso I opted for the AIM50 in multi-cam. I passed the old bag on to a junior shooter so it's still in use.
So, why are we having a look at Aim Field?  Well, just recently, I finished my new ELR rifle build and, whereas most of my rifles have 30 or maybe 32 inch barrels, the ELR has a 34 incher, plus another three-inches for the Terminator 'brake.  Just a tad too long for my current AIM50.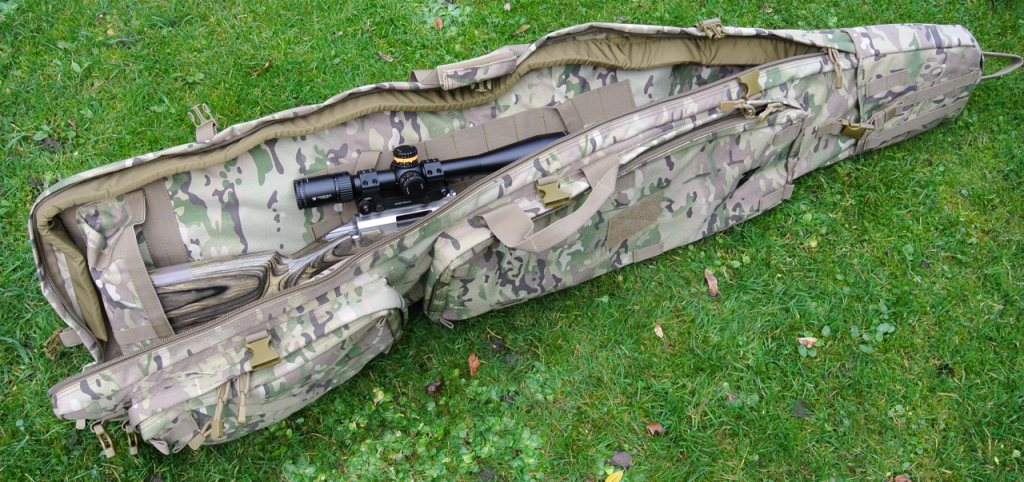 An AIM 60 was soon on its way to me plus, for review, one of John's new Tactical drag-bags – specifically made to accommodate rifles with a folding stock.
There aren't many products that are so well designed they can't be improved on and to some extent this is the story with the Aim Field bags. The initial design was so right in every way that very few changes have been made.  However, that's not too surprising as John is a keen shooter just like you and me so he is constantly field-testing his products.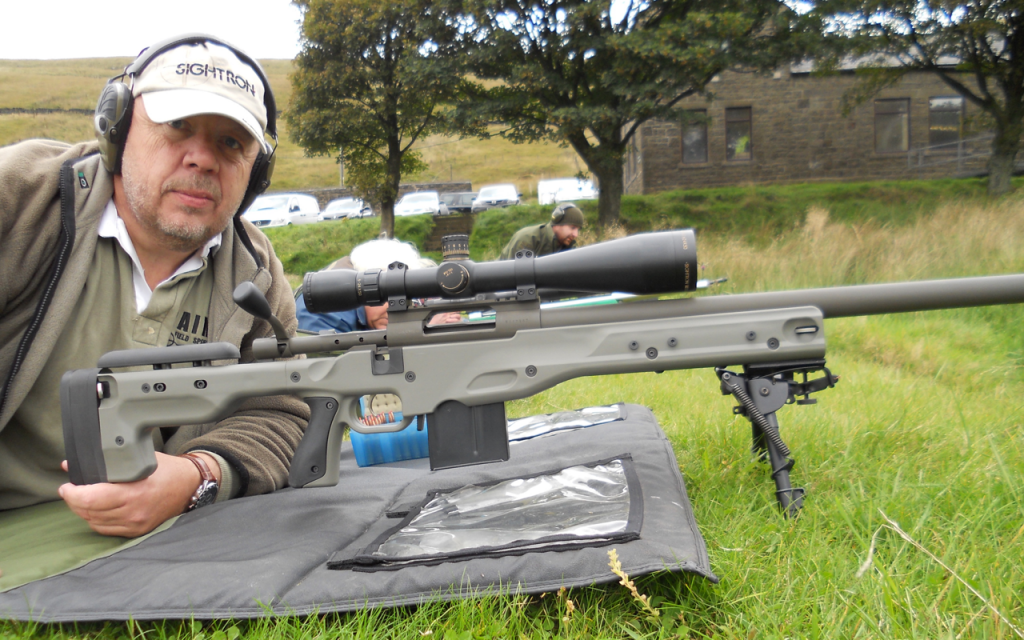 This has lead to the odd upgrade and John has added a useful cleaning-rod sleeve – not just for 'field' cleaning but who hasn't needed to remove a stuck case or miss-fired round in the heat of competition?  John has also added a padded foam strip along the length of the top zipper – which offers useful protection to your scope.  At my club, drag-bags get slung on the back of the club pick-up with little regard to the ones underneath……..
When fully loaded with a 20lb F Class gun, plus ammo, plus all the other paraphernalia which seems essential, it means that I'm lugging around 25 lbs of kit (not to mention, front-rest and mat) so those wide, padded rucksack-style straps are absolutely essential.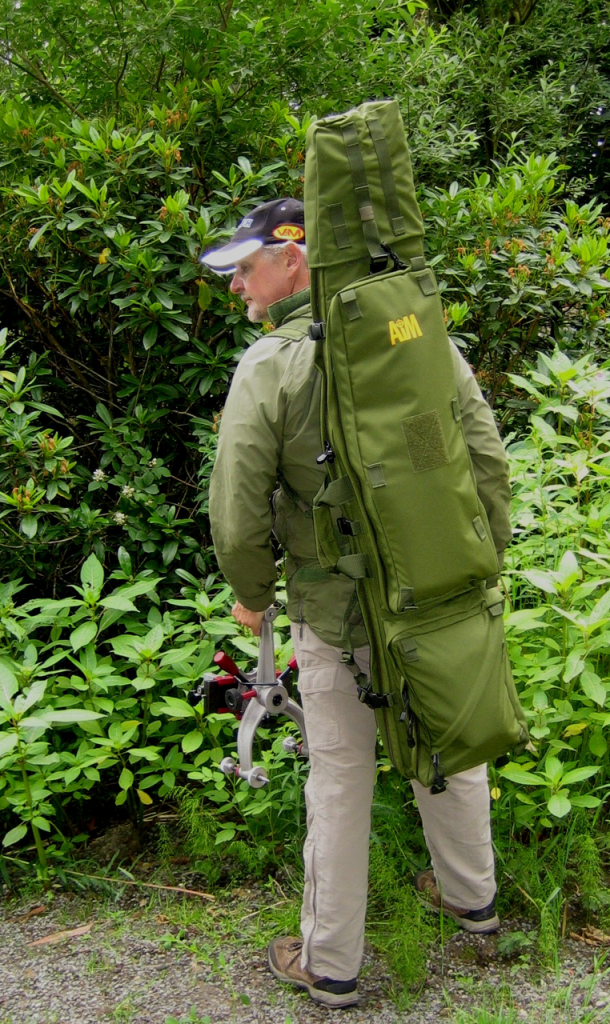 There are literally dozens of John's bags in my club – they get wet, dragged through the mud, thrown on the pick-up but they all do their job and our precious rifles always emerge unscathed!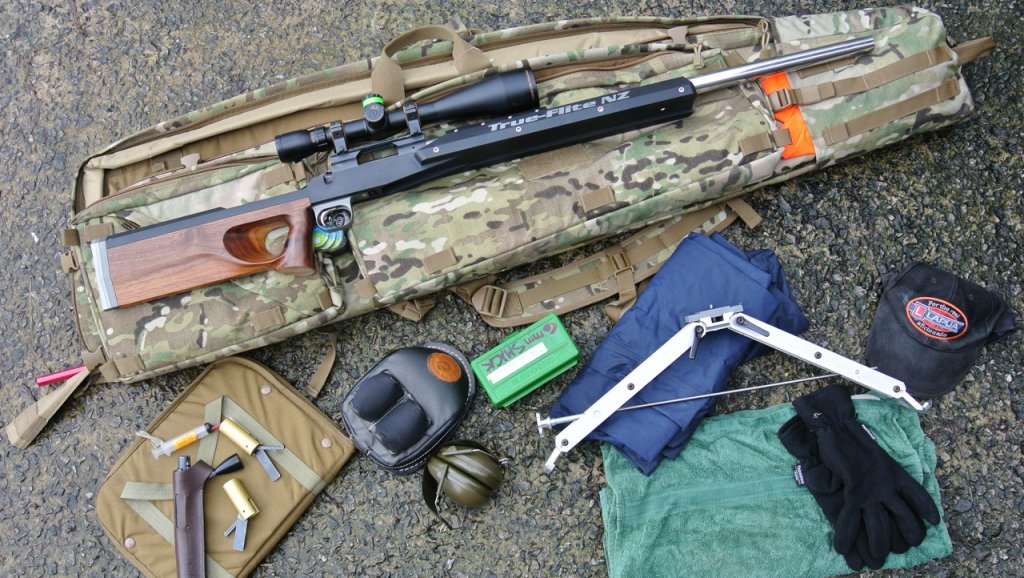 This is the AIM 50 bag. It nicely accommodates my current FTR rig plus all the 'essential' bibs n bobs. Interesting to see how my F Class kit has evolved over ten years……….
Yep – it all fits!
As you can see from the pictures, there are plenty of large zipped pockets and as you explore further – pockets within pockets – so that smaller items like car keys, pens, phone and the like can be safely stowed whilst you shoot. Plus you can get a bit better support for your rifle by using the internal straps if you wish.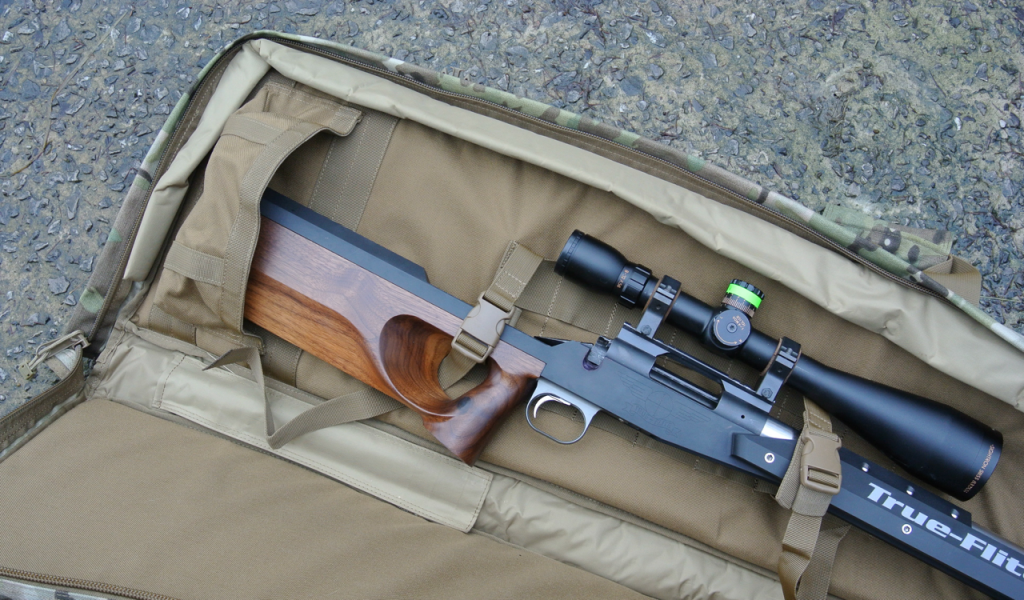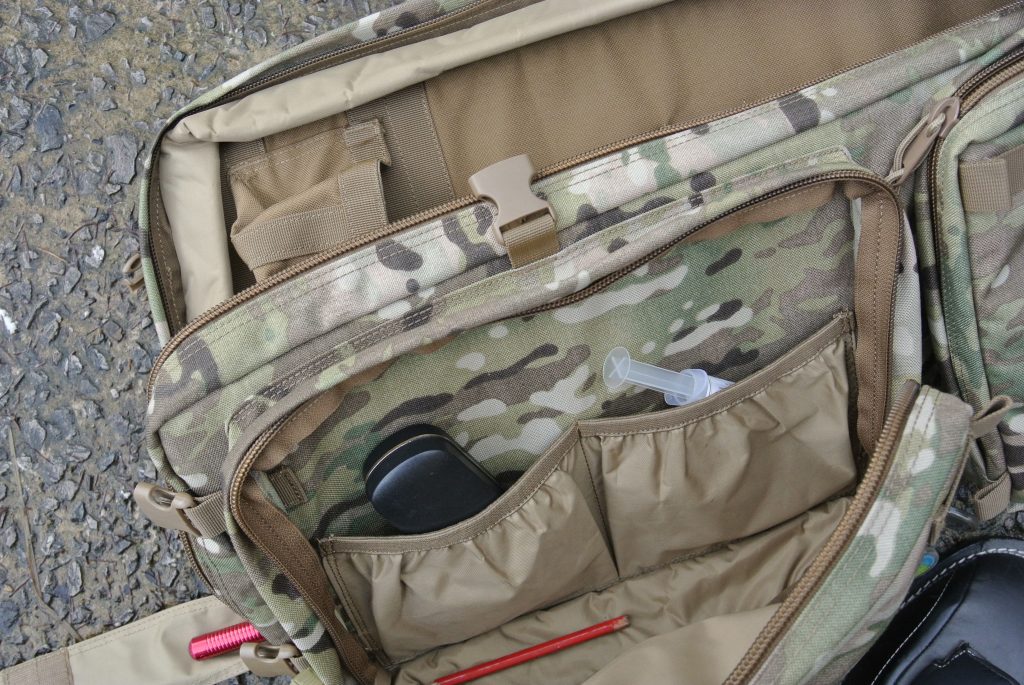 Finally, John also offers a weatherproof cover for your bag – which also makes a great impromptu rifle cover if you get caught in a shower and don't have time to 'bag' your rifle. It folds up small so you can easily carry it with you.
Shooting mats
Prior to John's involvement, mats were either those thick green plastic things with a foam rubber infill – designed for Target Rifle shooters needing elbow-cushioning or some sort of roll-up tactical affair. In the early days of F Class, many shooters made do with a plastic groundsheet as the TR mats were too 'bouncy' to properly support a back-bag but, John's new mat design changed all that.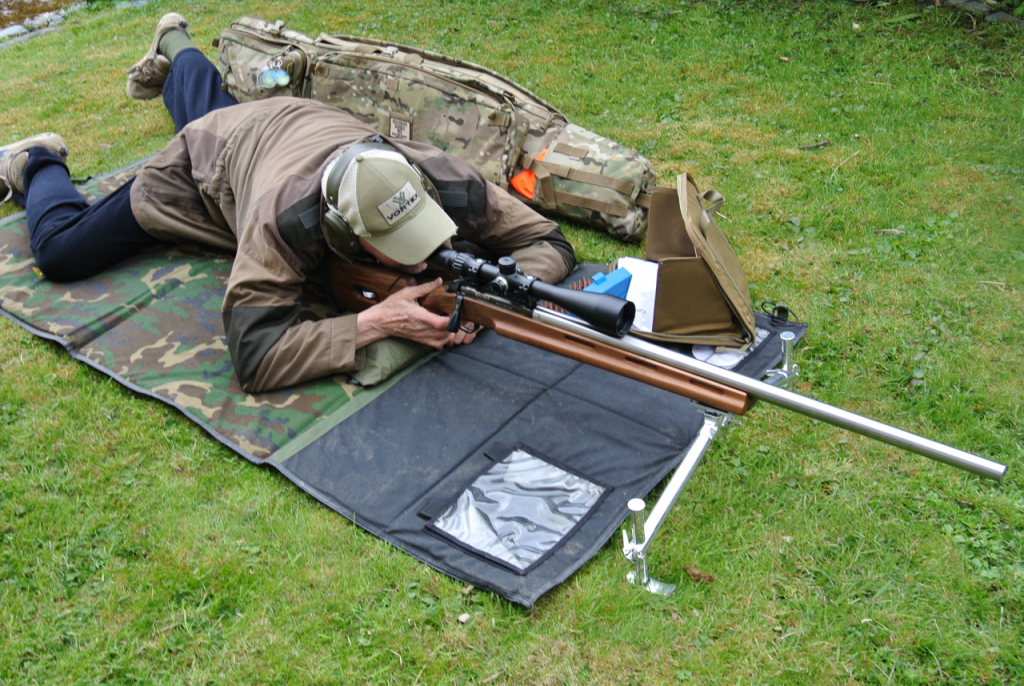 The Aim mat was wider than normal, firm but thinner padding and it folded rather than rolled. Like legions of you, I was sold as soon as I tried it – the extra width meant an end to wet knees and the folded format was easily carried – by throwing it over the back of your dragbag – when carried rucksack-style. Initially it was offered in green but now it's also black, tan or camo. The bag is an absolute winner with its waterproof underside, non-slip front panel and two transparent pockets for score card etc. plus of course a carry-bag – which is just right for slipping in your Weatherwriter.
The new Aim Field F2-42 Tactical Dragbag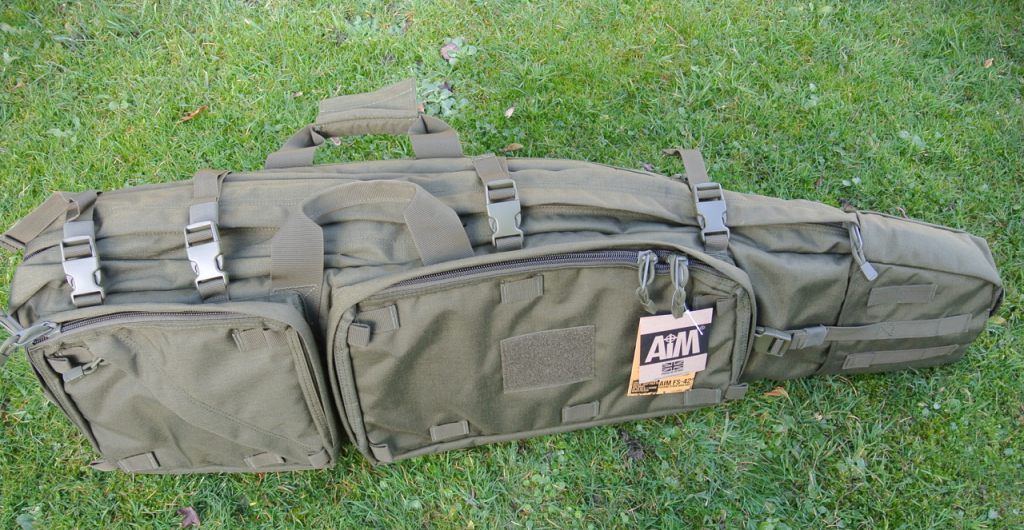 If rifles are to be carried in vehicles – as they often are in military/police scenarios, then they need to be as short as possible – i.e folding stocks.  To take advantage, a folding-stock rifle needs a shorter bag but, it needs to be a little wider at the butt-end to accommodate the folded stock.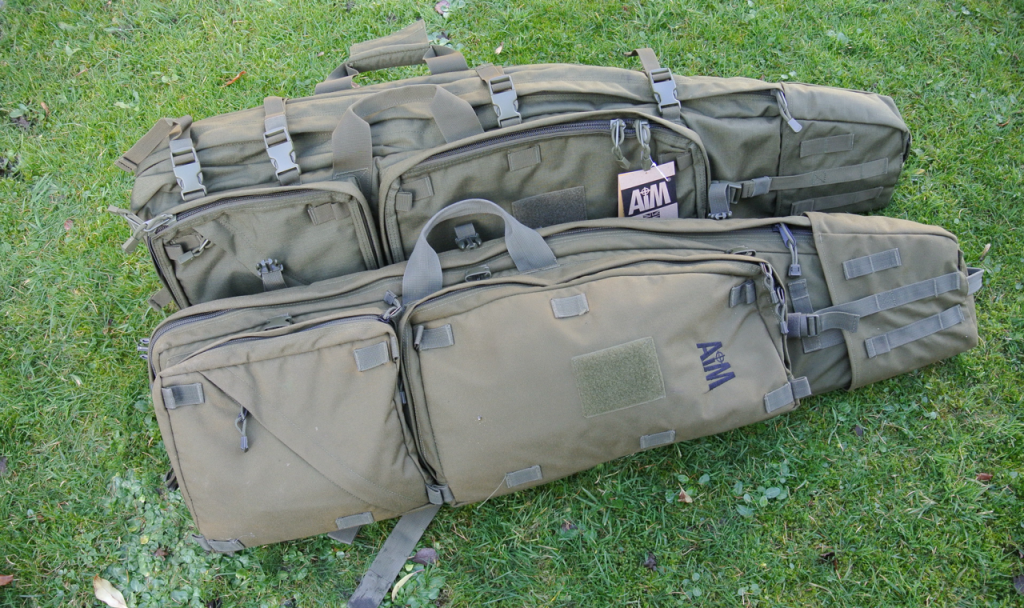 John offers left and right hand versions of his bag depending how your stock actually folds and although a 'folder' will fit into the normal AIM 40, the extra bulk of the stock will compromise the capacity of the rear pocket – which usually carries my 50 round box of ammo. and my muffs.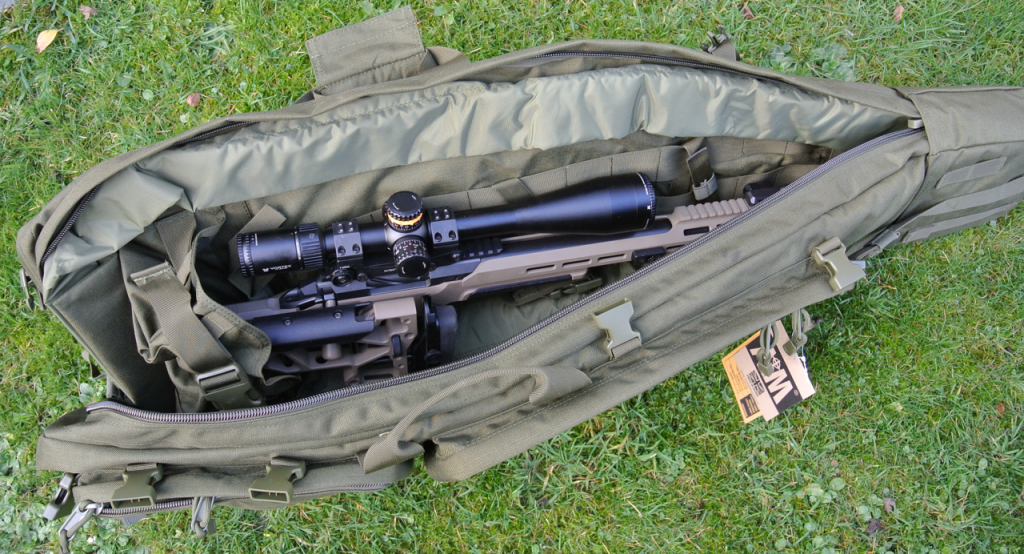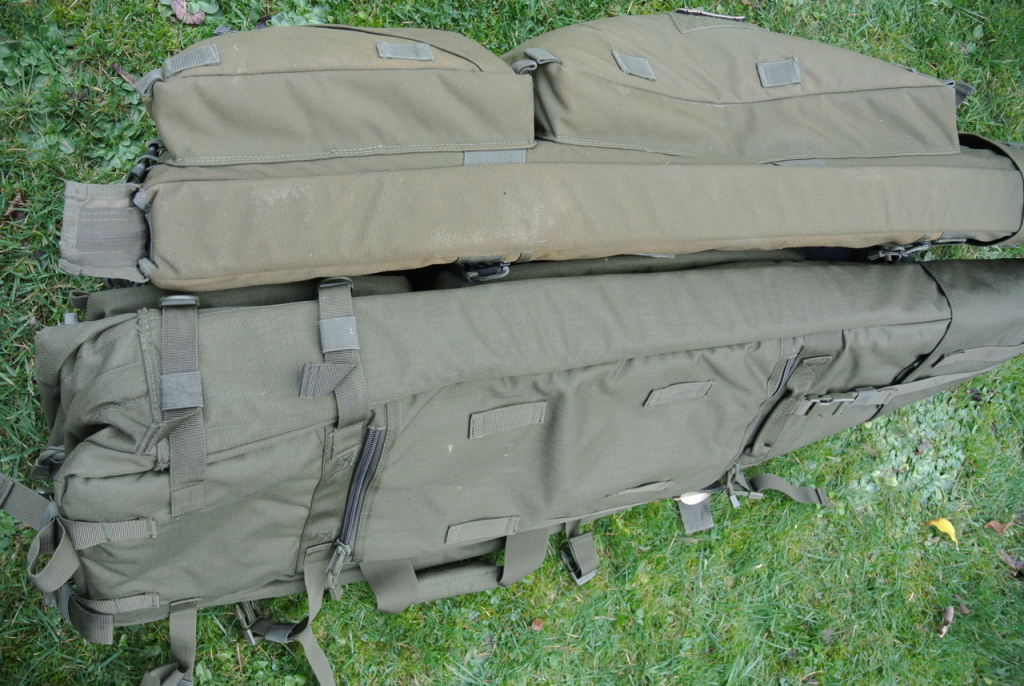 The Tactical Folder bag is 42 inches long and like all Aim Field bags is made from 1000 denier Cordura – a water-resistant material which offers high resistance to tearing and abrasion.
The FT-100 & Scout bags
Before we close, there are another two rifle-bag options – the Scout, which also incorporates a rolled-up mat and the Field Target FT-100 – an extra deep bag to accommodate field target rifles. The Scout is a good option if you plan to walk more than you shoot as all your kit can be carried rucksack-style.
There can't be many serious competition shooters who don't already own an Aimfield product but, if you wish to upgrade, replace or you are a new shooting looking to buy the right kit first time then look out for John's Black Friday offers – 25 to 30th November. Check out www.aim-fieldsports.com