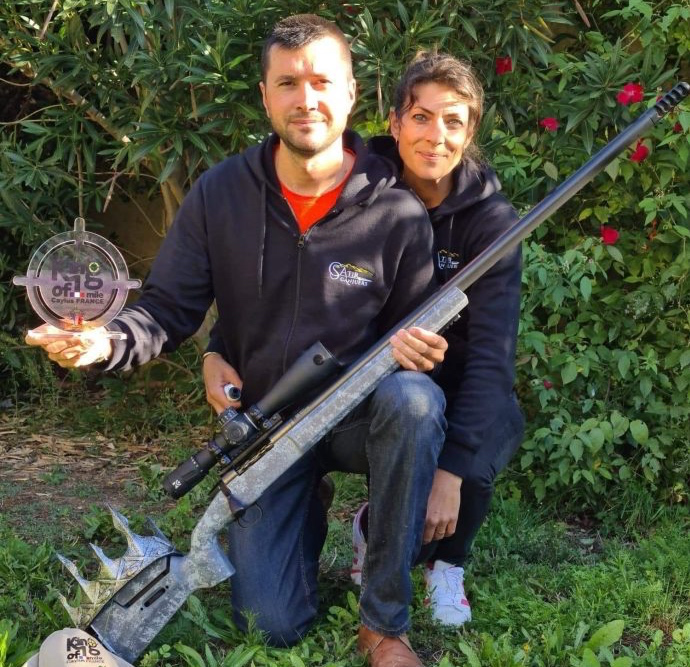 Finally, the King of 1 Mile competition in Caylus France arrived. What a run it has been! Amid everything that is happening around the world, the competition still took place and we made it there – after 4 cancelled flights!
I believe we were the only ones that flew in for this competition and everyone else travelled by car. Shooters drove all the way from Czech Republic and Spain and we flew in from Malta.
We witnessed a husband and wife team (above) soar to the top of the list using one of the latest cartridges on the ELR shooting scene. We saw the rise and success story of a growing line of cartridges conceived by shooting legend, David Tubb. We had covered the 37XC version earlier in the year. This time we witnessed its necked-down version – the 33XC.
May I take this opportunity to thank the founders and organizers, Eduardo Abril De Fontcuberta, Didier Lonassac, Philippe Lozano and many others who were instrumental in making this happen as well as the sponsors who came forward to see this through (scroll down to the end of this article for prizes).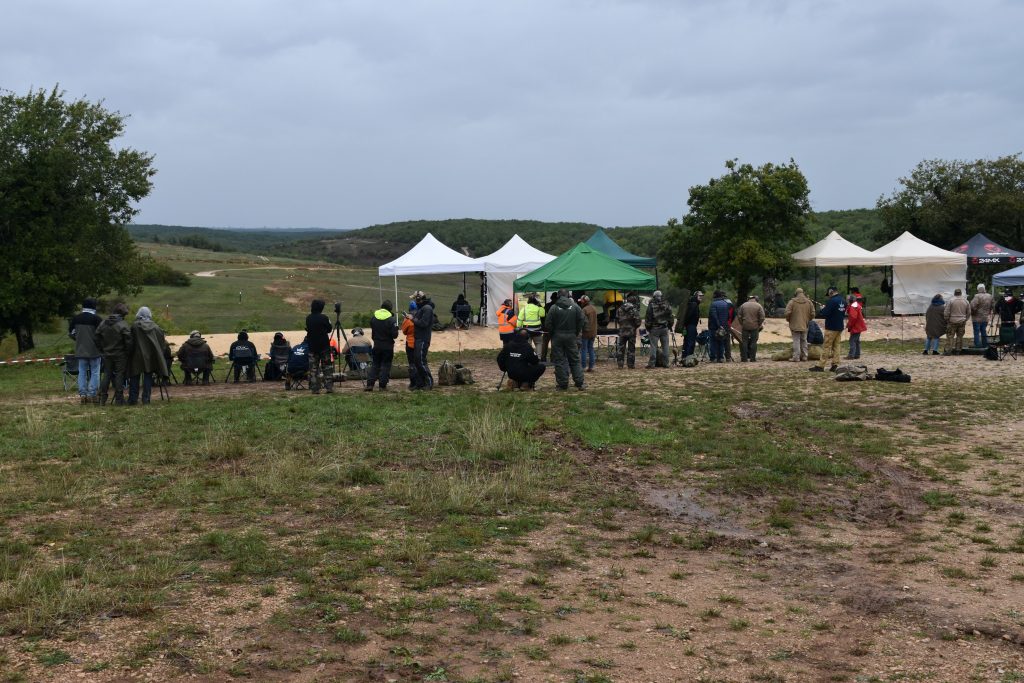 We were filming a video when the now reigning King of 1 Mile in Caylus – Benjamin Gineste – was on his qualification run. It was truly enjoyable to be there, watching these shots. Little did we know that we were witnessing the future champion.
The shots were solid, the spotter on the ball, the trajectory indicative of an imminent hit and the impacts unforgiving! I could see the wake of the bullet rise fast into the valley and descend with conviction nailing the target with authority leaving no doubts as to the hit.
Those big 300 grain Berger bullets travelling over 3000fps leave their signature from the moment they leave the barrel. I run my 300 Norma Mag balloon popper pretty hard, yet I could notice there was a different animal being set free when that rifle barked over the valley.
I interviewed Benjamin about this round and his preparation. Scroll down to the end of the article if you wish to read the Q&A with him. Something tells me there will be plenty of 33XCs in a few months time in France!
For anyone passionate enough to have done the trip, this sort of spectacle is what you're out here for – in the rain. Other shooters did not dissappoint – the level was very high and watching ELR shoots can really be a spectator sport – especially if it could be broadcasted onto a screen. (Future organizers listen up!)
Course of Fire
This competition brings together some of the best long-range rifle shooters in Europe. Due to circumstances and restrictions, the international turnout was slightly low but the French were out in full force. I really enjoyed seeing the mélange of rifles fused between overgrown F-class style setups to other more tactical oriented factory rifles like PGM, Victrix, Sako and AI among others. I spotted a few custom rifles as well as rifles built from scratch by their owners – the likes shot by Francois Dreuil (barrel-block design).
Ko1m in Caylus started with the qualification session on the Saturday with targets spread out from 700m to 1340m followed by a final phase on the Sunday bringing together the 10 best shooters from the qualifiers. The final is shot from 1415m to 1600 meters.
The 700m plate may seem like child's play with these big rifles during your training session. Throw in a stopwatch, hours of pouring rain, gusting winds, a team of onlookers and no wind flags and you're in for a run! I never thought I'd miss close targets – until it starts happening. The pressure mounts with every round you chamber. Many were seen wiping their rounds dry before chambering them.
Running the drill – preparing for your turn at King of 1 mile
Once you walk to the firing point, you get 3 minutes to setup your kit and the referee notifies you that your turn is about to commence and hence the count down, he taps your back and from then on, the 9-minute counter starts ticking. You have exactly 15 shots to qualify. Good luck is the last thing you hear. It felt like one of those University exams taken in a foreign language in an unfamiliar environment.
The course of fire is unforgiving. You start out with a cold bore shot at 1280m on a circular steel plate that is smaller than the other targets at that distance. It hung on the far-right side of the valley, east of a tank sitting on the rifle range. As far as I remember, no rifle shooter rang this plate. We saw a few shots being very close, yet shy from a solid hit. We hit 1 Moa left of that target which gave us a good indicator as to our initial wind call.
You then swing your rifle to the other side and proceed to the square metal plate target at 710m (40x40cm) laying in front of a berm on the left-hand side of the range. You get 5 rounds at that target. If you miss, you're out, guillotine approach.
If you hit at least once, you may proceed to the next target at 910m and you now have 3 rounds and so on for the 1250m target which is still of the same size. As the winds gusted, bullets impacted all around the steel plate with very near misses. Here you understand how the 33XC round can make a difference. View the ballistic charts below to find out how the 33XC can help you!
Benjamin Gineste, with his wife spotting finished second in the qualifying stages out of 96 teams.
On the Sunday, each team in the final got 5 rounds at each target. If you miss you may continue but the round count will still stand so you will have less rounds for the further away targets. If this sounds like your kind of challenge, start practicing for the next one in June 2021.
Which caliber reigned at King of 1 Mile in Caylus?
That would be the 33XC by David Tubb. It reminds me of an oversized 284Win.
The 33XC cruised above everything else. Brainchild of world class shooter, David Tubb, the 33XC is superb. It leaves the various 338 Lapua Magnum wildcats and the Remington Ultra Mag improved into the 'also-ran' category. They simply can't compete with the velocity of the 33XC.
The 33XC (eXtra Capacity) has (139 gr of H2O capacity) while approaching 130 grains of useable powder capacity yet leaving the .393" neck unfilled (for bullet-seating – as it should be) – depending on the powder density and drop-tube length.
How hard is the 33XC on barrels? 😆 We asked Ryan Pierce from Piercision rifles. Ryan reports that the "N570 is really hard on the barrels in this cartridge and the barrel at just 190 rounds looks like a 6XC at 2000 rounds. I might get 400 rounds out of this barrel" he adds! Sobering indeed – but if you stick to slower burning H50BMG or VV 20N29, you may just hit the 800 round mark. That's plenty of won competitions in a match where the round count is just under 15 to qualify and 15 more the next day! You're in for winning or you're out!
More info is present on the facebook group setup by David Tubb himself.
Interview with the new King of I mile
If you've been on this website before, you know that we have been covering training in Sicily to 1 mile as well as equipment overview in preparation for the king of 1 mile competition for sometime now so we asked Benjamin Gineste about how he likes to set himself up for success.
Rod: Hi Benjamin, I was lucky to be watching and filming your qualification string. It was a pleasure to witness that level of shooting and spotting as well as ballistic performance. How challenging was the shooting for you this last weekend?
Benjamin : Strangely, what was the most difficult was the weather. Each hour that passed time evolved so I was hoping to have a time when all of the targets could be visible. Regarding the wind, it didn't bother me at all because I shoot a lot in the mountains with very different winds.
Rod: How did you prepare for this competition?
Benjamin : I prepared very little with the weapon I used for this competition.
I have only had this rifle since July and because of the fires raging in the south of France we were able to train very little on our large firing ranges dedicated to this kind of training.
On the other hand, I was able to shoot a lot with small calibers. Even if the performance of these calibers is lower, it allows you to work on shooter/spotter communication, maintain your shooting fundamentals and improve your readings of weather conditions. So to conclude, I was prepared.
Rod: How long have you been running the 33XC?
Benjamin: I have been using this caliber for two and a half months and today my barrel must have 200 shots. The lifespan of the barrel is extremely short – between 500 and 1000 shots maximum depending on the powder used.
Living in Europe, I had to find powders available here to give it its full potential.
The break-in and the development of the charge took about a hundred shots from the barrel. It's impossible to take out this caliber to go shoot every weekend unless you have a huge reserve of barrels at home. (I can probably say the same for the 300 Norma Mag I am running – Rod)
Rod: What about your rifle, what are the specs on it?
Benjamin : Ah ah! it is the most wonderful of guns.
This is a custom build by GS Precision https://gs-precision.com from my English friends Gary Costello and Stuart Anselm. It by far my best gun. It's the perfect combination between optimal performance/calibre/weight. (Someone found the perfect balance!)
Specs:
Stock – MacMillan A6 Supermag
BAT M action
Barrel Benchmark 34 inches
Brake – Terminator
Trigger – Triggertec
Rings – Tier One
Scope – Zero Compromise Optic 5-27×56
LRA bubble level
Sandro Caroselli mirage band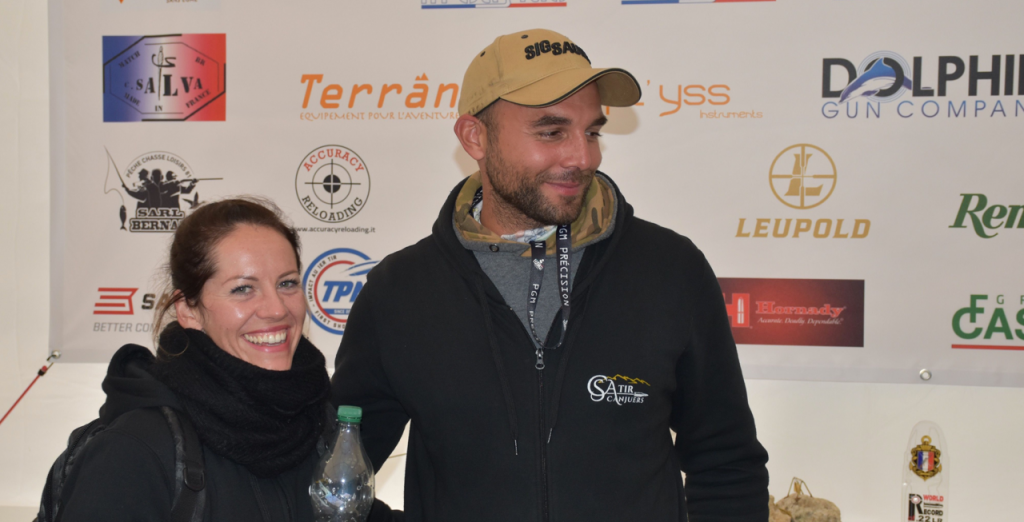 Rod: I noticed your spotter is your wife Alix, that's fantastic and many must be envious! Can you tell us more about your shooter – spotter communication, who does the wind-calls during your shooting string and do you train together to achieve this level of excellence?
Benjamin: Yes it is really a great opportunity! We have been practicing this passion together for more than 10 years with the greatest assiduity. We shoot every week at least once. In anticipation of future rules at KO2M where there will be only one spotter we have decided to team-up on the shooting-range as well. I am very proud of her and I owe her this victory because without her expertise, gleaned over several years, she would not have been able to see certain details such as the last target of the final.
On this target, I could not see the impacts around the target because of the vegetation and it was a small branch that broke that alerted her to the correction to be given. For me it was impossible to see.
I believe we will continue to team-up but now she wants her own guns! (Rightfully so – Rod)
Interview with Joachim Son-Forget running 33XC in a GS Precision Rifle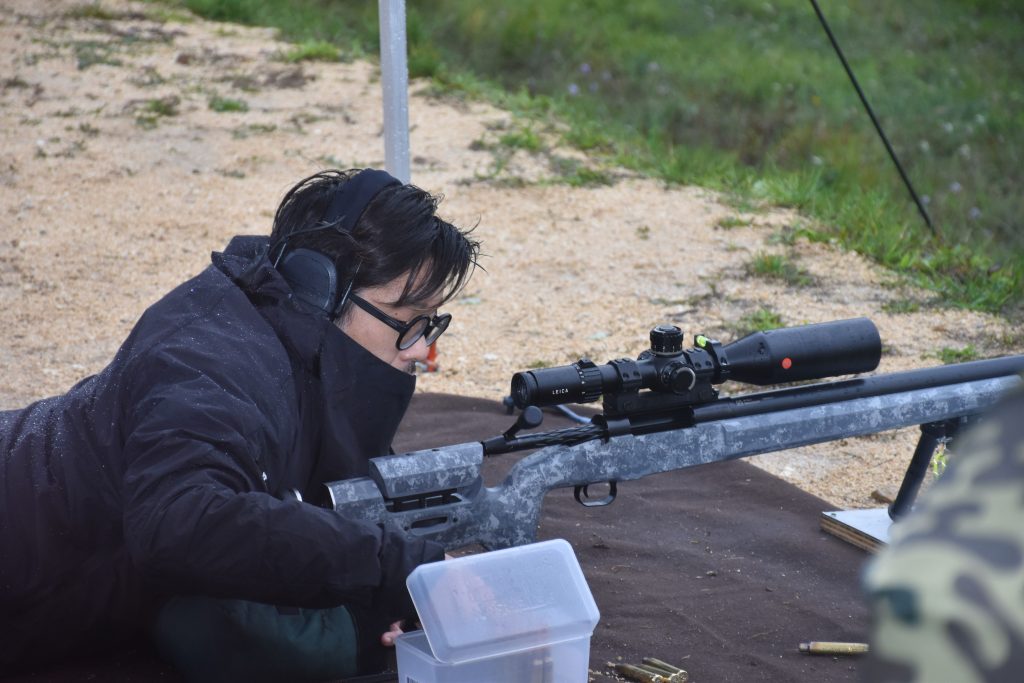 Rod: How challenging was the shooting for you this last weekend in Caylus?
Joachim: The qualification was stressful as I ended up among the first 5 shooters. We were told for several days we would shoot under a storm and I just escaped from a car accident on the highway on the day before on my way to Caylus.
My usual spotter cancelled his participation because of Covid 19 issues and my trigger was out of action 2 days before coming.
Somehow it helped as I was relaxed but so motivated at the same time. I shot with a lot of fog, I could barely see the targets, it was pouring and the wind was challenging after 1200m. But my spotter Roman has been a professional long-range shooter with elite troops by the past. He brought me back on target and we avoided shooting during the big wind accelerations and used the 'windows' where let's say it was between 2 and 3 m/s.
But I was so happy with that crazy result. To be honest, I think that among finalists, I was one of those with the worst conditions of the weekend, both for qualification and for final round.
2. How did you prepare for this competition?
Joachim: As I am living in Switzerland, I can shoot at 100 and 300m several times a week or at least once a week let's say. I usually rehearse at this distance, correct my stance, film myself to analyse my mistakes, work on grouping and concentration.
I also bring my telemeter with me everywhere and my Kestrel and I try to guess distances and environment parameters using the feedback from the machine to train me to be more and more independent of them. It's bit obsessional I know.
I usually carry my Garmin with Applied Ballistics to simulate situations from everywhere and virtual dialing – without rifle of course.
I switch calibers all the time between my 338 Lapua Magnum B&T, my 6 mm Creedmoor BadRock and those two GS Precision (https//:gs-precision.com) rifles – the 375 CT and 33 XC.
I ordered them between August and October 2019 and then Covid delayed their arrival. When I got them I immediately started working on loads, with the help of different friends, Benjamin Gineste, my top notch gunsmith Thibault Arbez from Armurerie Mayor in Geneva and of course, Stuart Anselm and Gary Costello of GS Precision and Stephane Eggerswyller in Geneva.
In addition, I have a routine of two sessions with assault rifle, pistol and shotgun per week, lot of dry-fire and holster work at home – for tactical shooting originally and to prepare for IPSC matches as well. I work on my own exercises combining stuff I learnt from martial arts since childhood and shooting techniques.
3. Were you dialing for wind or holding off in the conditions we had last weekend?
Joachim: For qualification, I started without clicking any windage, as on my first shot, I had a wind from 10 o clock and may be around 1 m/s as a background. Then it went up during the shooting and I had to dial left windage. My elevation stayed stable, while I noticed a trend to shoot low. But it was better shooting low the first 2 shots, to align me for the rest of the run, which allowed us to miss nothing after the first 2 shots, except the first target at 1250m, again because we had to dial wind a little bit more, as the right side of the field is not protected by trees like the first 2 targets at 700 and 900m.
For finals, it was a nightmare with the wind. First 4 shooters were in a better situation probably but whatever that's life and it's good to be challenged. I started by dialing 3 m/s from 9 o'clock. On average, that was true but wind was turning from 7 to 11 o clock. I turned around the first target at 1405m and took time to hit it. So I just had the opportunity to shoot the next target then, with lot of wind again. Even with the 'laser caliber' wind still humbles you. When I think about it, I might have adjusted my stance again when it started going badly. I had some trees in the scope on the way to the target, got disturbed, might have even put bit of cant with the stress with my cheek, I am still torturing myself to improve for next time. I might admit I was more stressed than I was for first run, where I felt very calm.
4. How long have you been running the 33XC?
Joachim: As I said 3 months! Those were my first shots at those distances over 1000m with this rifle. But I might say my ballistics were perfect, I am happy with the time I spent on it before coming. I really love this caliber, it's just so impressive.
5. Can you tell us about your load and load-testing?
Joachim: With the 300g Berger OTM and N570 powder, this is just superb. I worked also with the Hodgdon H50BMG but went back to Vithavuori finally and I will stick to it in my 338 Lapua Mag from now on also.
Now that I have fireformed a lot of cases, I have some work to do after I resized them. Still adjusting my choice of neck-bushings and tools. I am doing a mix of things between TPM tools and Tubb's original ones.
Benjamin tried RS80 as well. We exchanged quite a lot our respective issues and experiences with constrained time. Our rifles are really sisters. Except our respective personal changes and choices, they come from the same gunsmith (Stuart Anselm of GS Precision) and were made from the same components. I know people were 'afraid' of 33XC, and we had to face a very complex situation with limited time and no opportunity to shoot one mile before the competition.
6. Has it been difficult to tune the 33XC cartridge?
Joachim: I have not much experience reloading to be honest and finding the settings – optimal OAL, choice of the powder, bullet etc was quite challenging having just three months to be fully ready. I had only one opportunity to shoot this 33XC up to 1000-1100m in the Swiss mountains, in very different conditions with an altitude of 2200m, while my barrel was still speeding up, after spitting its first 100 bullets. I shot permanently with the magneto speed to follow up the moment it would stabilise. It went stable at 984 m/s. I adjusted my bullet jump to the rifling after I had to dismantle the rifle as I wanted to do a trigger change for a double-stage Geissele (don't ask me why I like them, but I like them, whilst I shoot a Bix n Andy on the 375).
I also moved away my wonderful March Genesis, to keep it for the 375 and as I felt more comfortable with the Leica PRS for the match distances so I had to zero myself again just the evening before I took the road. I like to complicate my own life I know!
7. What about your rifle, what are the specs on it?
Joachim: McMillan stock, Bat M action, Benchmark 34 inches barrel with 1:8.5 rifling, Geissele trigger (double stage, I like them), Atlas bi-pod (BT35-NC 5-H), Leica PRS scope.
8. Who is your spotter and how do you train your communication?
Joachim: I usually don't shoot with Roman but my spotter withdrew at the last minute because of the Covid situation. But we know well each other as we both belong to Group Mike. Didier took me in the Group Mike after my last year's participation with quite good results, just missing the qualifications for few points. I knew Roman from the military fairs before and we befriended each other. He's a nice guy, excellent shooter, excellent trainer, excellent spotter and a good person to share alcohol and good food with. So I was in full trust when we started our run. He is able to focus deeply. I am just disappointed I could not help him much during his own run as much as he did for me, where he shot last on Sunday, with the worst conditions ever. I complain about mine, but God was not with him for the shooting slot. But basically, coming from a military background, he works like I am used to working – clear and loud order, no poetry. Number of clicks up/down left/right. A strategy discussed before. Big focus – and the shooter trusts the spotter. And that usually works, that's how he does it and that's how I am comfortable to work too. All of them are more experienced than I am so I usually learn, learn and learn, from victories and mistakes too.
Head-to-Head with Francois Dreuil – 300 Lapua Mag shooter & his barrel-block rifle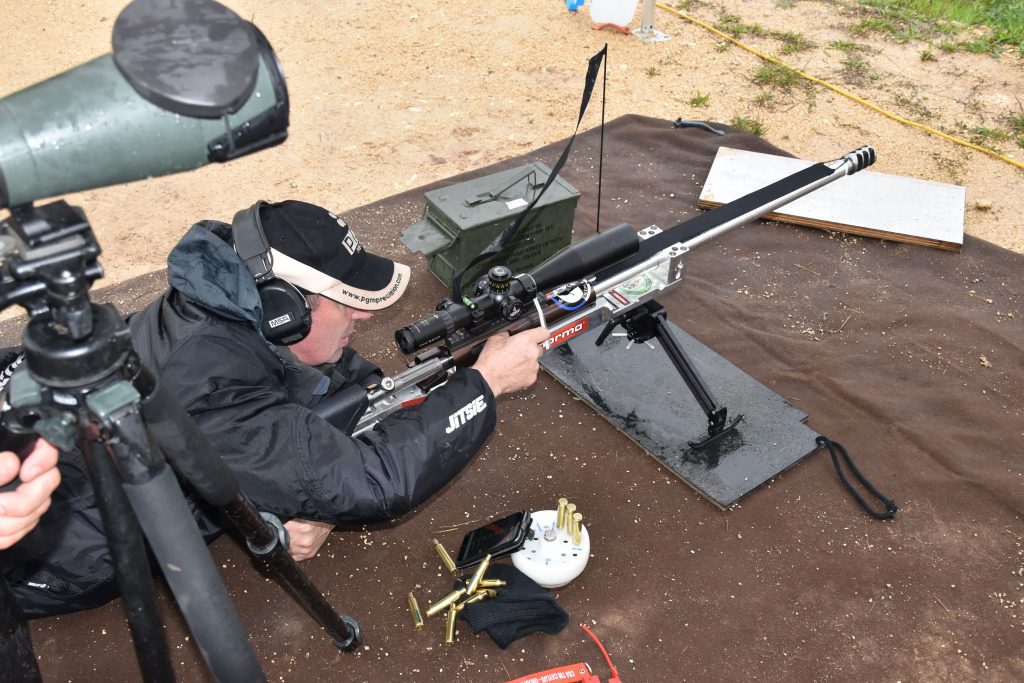 I happened to be filming Francois's qualifying string from 710 – 1420m so when he got off the firing-point after a fantastic performance, I made sure we had a look at his kit and what he had to say. This is a true amalgamation of English and French lingo so I'll do my best to translate.
Rod: How challenging was the shooting for you this last weekend in Caylus?
Francois: It's always difficult when you have wind or rain and it's in these conditions that you can identify the best shooters. I was a bit lucky because I faced a lot of rain but not much wind during the qualification stages. I was not so lucky shooting the first on the final round and changing wind conditions but that is the game…
Rod: How did you prepare for this competition?
Francois: As with all sporting disciplines you must practice, it's not a physical sport but you need to get familiar with your rifle, your optics and your shooting style, they say that once a month is the bare minimum. You must also work with your spotter to understand the lingo required as well as the indicators you intend to use.
Rod: Were you dialing for wind or holding off in the circumstances we had last weekend?
Francois: How do you go about compensating for the conditions – do you keep on the reticle or with optical corrections? I am more of a sniper on target, so I always make the corrections and never the counter shots, a military shooter will work more against the shot … The advantage of working with the reticle is to keep the corrections made with previous shots. Several shooting techniques depending on the type of wind, continuous wind that changes slightly, it is rapid fire. Wind with gusts, we shoot between two gusts taking more time but not too much because time is running out And then I have my little wind indicator mounted on the weapon …
Rod: How long have you been running the 300 Lapua Magnum?
Francois: I've been shooting this caliber for about 5 years, it's a relatively small caliber, precise and powerful enough for long range shooting and just about right for ELR.
Rod: can you tell us about your load and load testing? Did you do a lot of load development?
Francois: Yes, I am a bit of a perfectionist and I always look for what is best – there are two schools – one is to put the maximum amount of powder in the case to have maximum energy/velocity and the other is to use what is need to give best accuracy (without losing too much velocity. I apply the second solution.
Rod: Why 300 Lapua Mag?
Francois: I didn't quite choose this round, I found this rifle as a donor rifle and built the rest around this calibre and I've had good results with it.
Rod: What about your rifle, what are the specs on it?
Francois: There is enough to write a long chapter but I will get to the point: 5 years ago I found an ad 'For sale – bench gun 1000 yards in 308 and 100 yards in 6 PPC'.
I found it odd and bought it. It could shoot 300 Lapua (which is a 308 bullet in a 338 Lapua Mag case) and 6 PPC with the same case and boltface (you just need to sleeve the boltface to suit the smaller case) and change the barrel. This weapon was built 25 years ago with a cast iron stock (yes yes I did say cast iron) of yellow color, some may remember … So I shot it and sometimes won competitions at 1250m or 100m.
But, with the weight being limited to 40 pounds for the Ko1M, I had to adapt and change the cast iron stock with one of aircraft aluminum. The idea was to have fun making a prototype stock to try out different configurations of floating or clamped barrel and to be able to mount all types of actions. The stock has a recess which allows me to place inserts adapted to the actions of different manufacturers.
Rod: Who is your spotter and how do you train your communication?
Francois: My spotter is Grégori Barilliot, he placed just after me – meaning we have done a good run together as team. We shoot together about once a month on different ranges and we've been doing so for about 10 months since Covid has only enabled us to work together 4 or 5 times.
Prizes at Ko1m Caylus
Last but not least, a word about the generous prizes given out at Ko1M in Caylus.
All competitors love titles earned at competitions, it's what we all go there for. However it's awesome when you see sponsors putting forward meaningful prizes on the table that make a difference to the shooters and which they can actually use. Here are some prizes that were given out during Ko1M in Caylus for the King of 1 Mile:
Schmidt Bender – PMII 5-25 x56 and likewise for the Prince of 22lr
Savage – 6.5 Creedmoor rifle
Aimfield Sports – gun-bags
CZ – Varmint 308 rifle
Tikka – 22LR T1x
PGM – 2 bipods
PGM – 2 rear monopods
Bushnell – new model scope
Leupold – Mk4 scope
Kestrel – 2 x 5700
Dolphin Gun Co – scope mounts
Dolphin Gun Co – Carbon-fibre bi-pod
Magnetospeed chronograph
One cartridge box
3 iron targets
5 gun cases and many other small prizes
Head-to-head with Eduardo Abril De Fontcuberta – Founder King of 1 Mile / King of 2 Mile
Rod: Was Ko1m in Caylus as you had expected it to be – given all that is going on around us?
Eduardo: The competition was a huge success from the shooters perspective and this is the most important fact. Shooters came, shot, had fun and learned. That's what creates sport. Every time a new organizer runs a King of 2 Miles type competition there is a huge learning process and this was no different but the passion and hard work paid off.
Rod: What's your take on the 96 teams that came to shoot from different parts of France and Europe?
Eduardo: The King of 1 Mile and the Prince of 22 are both designed so that a new shooter with his long-range equipment can compete against the more experienced shooters and see how he places against them. This challenge will tell him his true level of performance and where there is room for improvement, whether he wants to start ELR competition, or if he is just shooting for fun.
The French and International teams faced this reality as some were experienced and some were not. Of course the most experienced and best equipped won but now there are many new shooters and teams, knowing what to do and with an objective, so the next competition will be harder for the top placed .
Rod: Where you surprised that you Benjamin Gineste & his 33XC won this 1 Mile competition?
Eduardo: Not at all, Benjamin, Alix and their team are a top contenders capable of winning any ELR competition and the 33XC is, in my humble opinion the top caliber for 1 mile.
Rod: Have you shot the 33XC before?
Eduardo: Yes , I am building one of my 375 rifles into 33XC so I can shoot in Europe in the countries that don't allow the 375 Cheytac and over. I need a competitive ELR rifle this side of the Ocean.
Rod: How do you see the competition evolving over the years and what are your plans for the future?
Eduardo: ELR competition is evolving with the KO1M and PO22 and bringing in new shooters. Eventually some of those will step up to 2 miles and beyond. The sport will grow and expand with new ideas and new developments and ELR will push its limits. This is what I envisioned when I started KO2M – A global ELR community with a common goal. A sport full of camaraderie and pushing the envelope of rifle technology.
Rod: How do you see Ko1M progress in Europe and what is required for other organizations/countries to have their own Ko1M?
Eduardo: KO2M and PO22 are the perfect platform to start ELR in any country and starting one is as simple as contacting FCSA ELR committee or me directly at eduardo@fcsa.org and ask us how to start a King of 1 Mile or King of 2 Miles. We are here to help and we supply half a decade of know-how so you don't make the same costly mistakes we did. We, at FCSA, are a non-profit organization devoted to 50BMG and ELR, we are devoted to help the sport.
Rod: What are the challenges and opportunities of Ko1m today?
Eduardo: Bring your tactical or competition 'light rifle' and test yourself in a competitive environment – that is way harder that you think. Here you don't select the time or the conditions and you will surely find your limits. This is an opportunity to test yourself and your current equipment without having to buy anything new, and find your limits. Then you will decide if you want to step up to dedicated ELR equipment or just have fun with what you already have. Both approaches are super fun.
Rod: When is the next Ko1M and Ko2M?
Eduardo: Covid is wrecking every schedule but the KO2M IN FRANCE may be the next competition. Check their Facebook page.
Rod: Do you see Prince of 22lr as a feeder to Ko1M or a separate discipline?
Eduardo: It is a feeder for ELR and a very challenging one for those that, for legislation, range availability or budget don't want to, or can't shoot KO1M/KO2M.
Rod: Anything else you would like to add?
Eduardo: Come and shoot with us! We are a global sport.
Rod: Thanks Eduardo for sharing your views about the future of this exciting discipline!
Please note – this article is taken from Rob's own website https://www.rifletalks.com/equipment-reviews/gineste-king-of-1-mile-in-caylus-the-rise-of-33xc/?lp=ref-targetshooter and we are grateful for the opportunity to run it on Target Shooter. Rob also competed in Caylus so the account is first hand plus there are vidoes and more photographs on Rob's site so be sure to take a look.