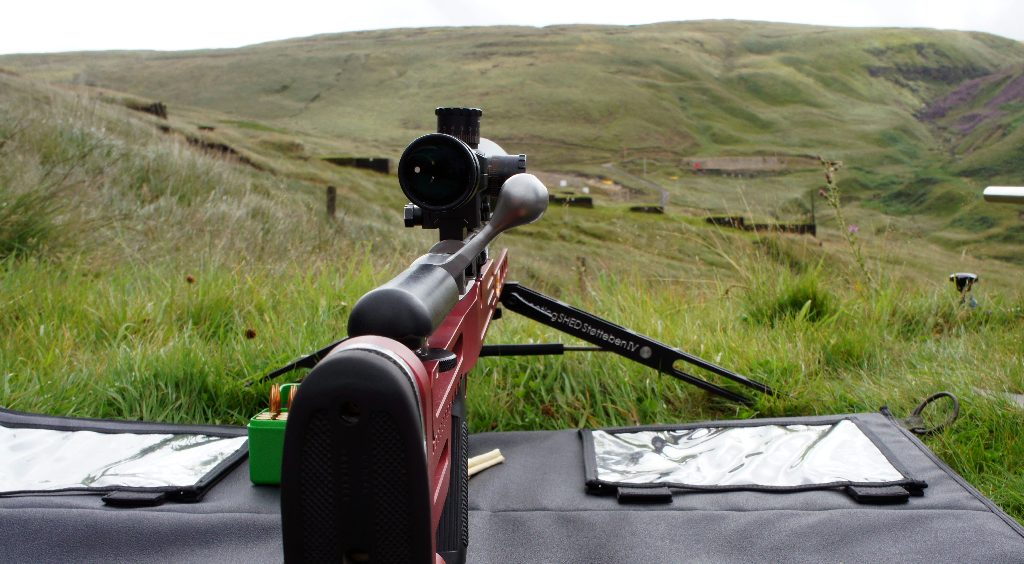 Background
East Lincolnshire is one of England's oft-overlooked regions, a flat agricultural area between the Humber and Wash with many thousand hectares of potatoes, peas and beans but few towns. The scenic Lincolnshire Wolds to its north east prove the exception to the arable flatlands, a narrow strip of low hills, deep glacial valleys and small communities that can trace their origins back a long way.
Visitors exploring this designated 'Area of Outstanding Natural Beauty' could stumble upon Binbrook, an ancient village half way between Lincoln and Grimsby. You may even have unknowingly seen the former RAF Binbrook, a WW2 bomber airfield that was used as a backdrop in filming scenes for 'Memphis Belle', the USAAF B17 war movie. That's a few miles outside the village, so let's return there and search out a onetime Wesleyan Methodist chapel on the High Street which like many such places of nonconformist worship that lost their congregations have been recycled into homes, shops or workplaces. This one houses The Shooting Shed Ltd., a gunsmith and rifle builder – the sounds of sermons and psalms replaced by the whine of lathe or milling machine.
Micro companies are first and foremost people outfits, here it's David Bonwick and his Danish wife Christel ('The Viking'). With occasional help from their son, that's the workforce. Despite this and the absence of rows of CNC machines, this tiny operation makes an impressive range of handloading and shooting tools, gauges, and accessories, all in-house designed, manufactured, tested and, where appropriate, developed over time.
Little thingies to super-wide FTR Bi-pod
I want to feature three items, all relatively simple but beautifully made and finished and very effective indeed. But before that, let's mention the Shed's other activities. David says that's he's the only gunsmith over a huge geographic area and in normal (non Covid-19) times, does the full range of repair and refurbish work on residents' sometimes ancient and much abused shotguns and rifles.
The more interesting challenges are covered on the company's frequently updated Facebook page, accompanying pics often showing replacement parts that David has fabricated from scratch for guns whose makers are long gone. Hours may be spent puzzling out how the more obscure mechanisms fit together and work in the first place – given their arrival as a bag of loose bits after an unsuccessful owner intervention. He's built many target rifles from scratch too over the years and used to produce a very interesting 'tubegun' based on the CG 'Millennium' action for the prone slowfire disciplines. In fact, he's just designed and made a one-off tubegun stock for an old Anschutz M54S rimfire match rifle for his own use, also to keep himself busy during virus lockdown.
The Thingy – for the RCBS Chargemaster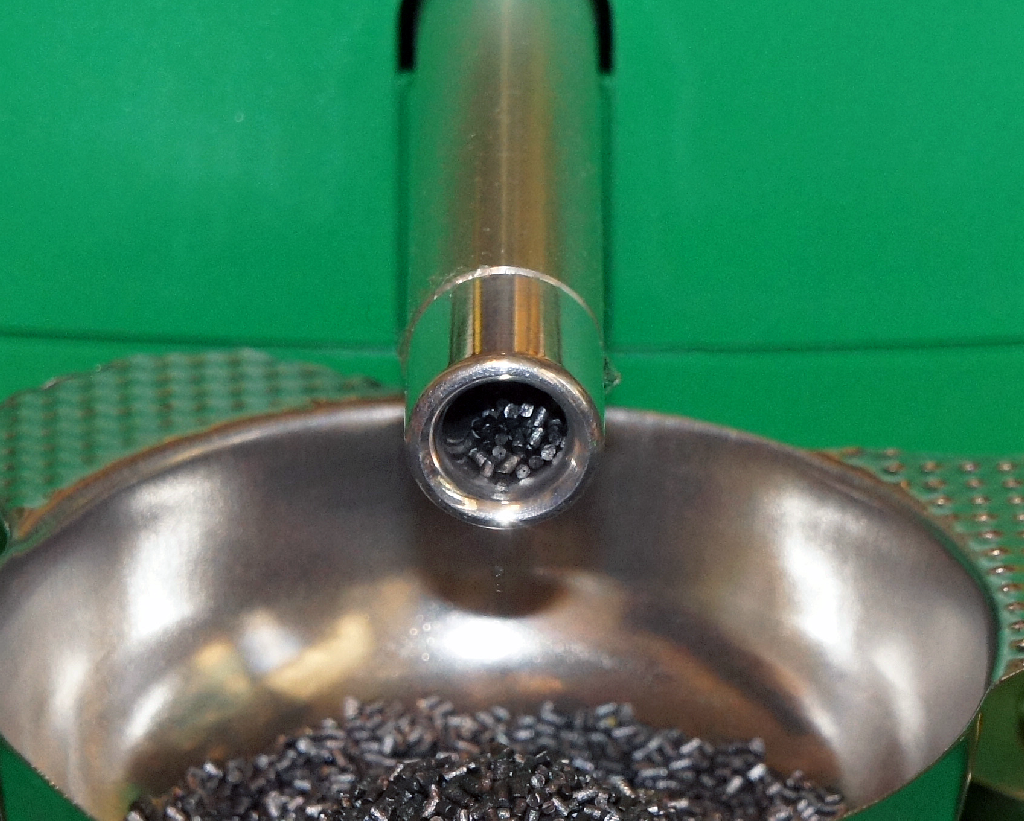 Onto my trio – ranged in size order from small to large. First off we have the RCBS Chargemaster adapter tube thingy – The Shooting Shed's name, not mine! This is a little aluminium alloy restrictor collar that push-fits into the Chargemaster dispenser tube's outlet to reduce the device's propensity to throw occasional over-weight charges, especially with long-grain extruded powder grades. The Chargemaster is a great machine – I'd not be without mine – but it does struggle at times in finalising charges. The last part-turn of the tube which should release a couple of kernels often sees a build-up behind its mouth such that half a dozen or so fall out taking you over the set weight. Simples – just throw the charge back into the reservoir and restart but, wasted time and disruption to operating rhythm aside, it becomes more than tedious when two out of three charges are 'over'. I've no idea how the 'Thingy' works except it seems to have a small internal restrictor collar making gravity work harder to let kernels fall out, but work it does. It fits, it works, so ten out of ten here. (The 'thingy' is also available for Hornady's L-N-L Auto Charge dispenser.)
Cleaning-rod Guides

Next up is another mechanically simple implement, a range of machined and highly polished aluminium alloy cleaning rod guides for a large number of actions and, within that, cartridges. I was about to type 'another one-piece tool', but realised on reflection it has two components as there is a neoprene ring up front to seal the guide in the chamber-neck and stop bore solvents and crud leaking back to places where you don't want them. (It also holds the guide into the action good and tight and properly aligned with the bore.)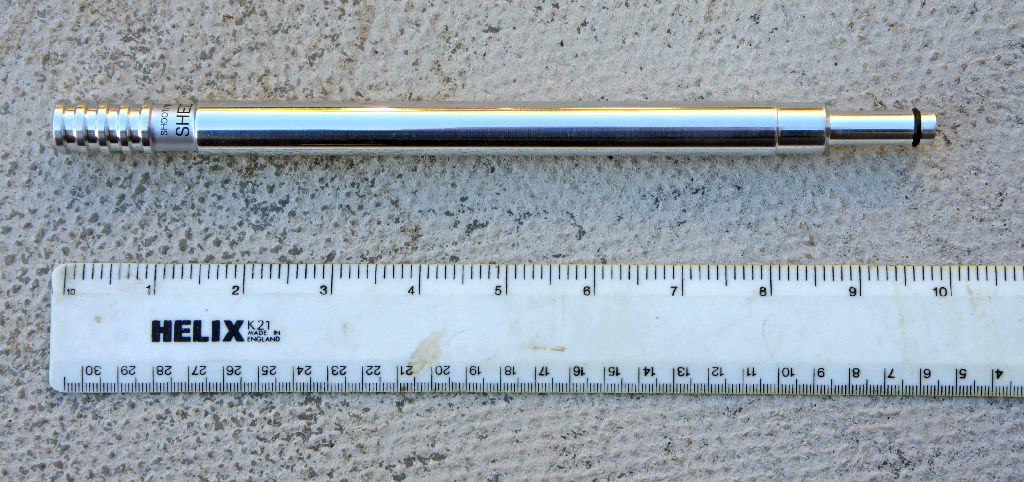 One of the stranger aspects of modern rifle ownership and use is cheapskate employment of multi-action / multi-calibre rod guides and other poorly fitting substitutes for a proper tool – especially when you consider what a decent factory rifle costs these days, never mind custom builds. Loose guides rattle around in actions; rods rattle around (and bend) in the guide risking damage to the vulnerable leade and throat; used solvent and the abrasive fouling particles it holds leaks back into the chamber; all sorts of parts that should remain clean and dry risk being polluted by contaminated oils and solvents. To do the job properly, you need a rod-guide with a close body to action fit and contoured up front to suit the cartridge length and calibre with a seal where the case-neck resides in the chamber.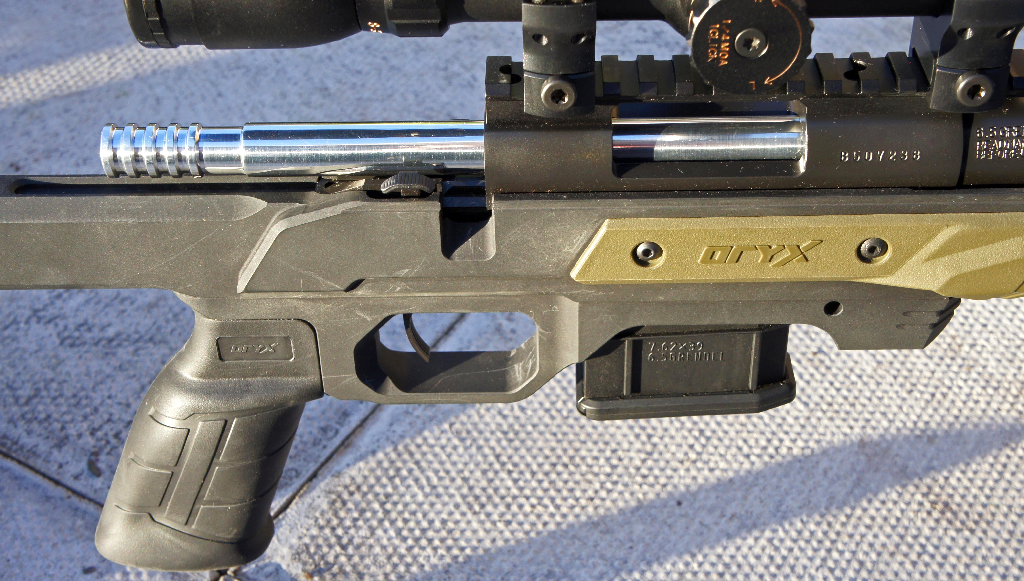 At this point, enter my Howa 'Mini' 1500 Oryx in 6.5mm Grendel calibre. Howa's 'Mini' action is relatively new and the cartridge isn't widely distributed either, so few accessories and no rod guides that I could find. There are Howa 1500 short-action guides available, but this version's bolt is fatter than the Mini's, so they won't fit in the smaller action, even if you have one for the cartridge concerned. An email to The Shooting Shed confirmed that a custom model could be machined if I passed on the bolt body dimensions – a fortnight on and the guide arrived. (I believe David has now added guides for this action to his range). Incidentally, he can't afford to keep everything he lists in stock, so many items seeing lower demand are made to order but, I know from experience that they'll usually be made up and dispatched in a matter of days.)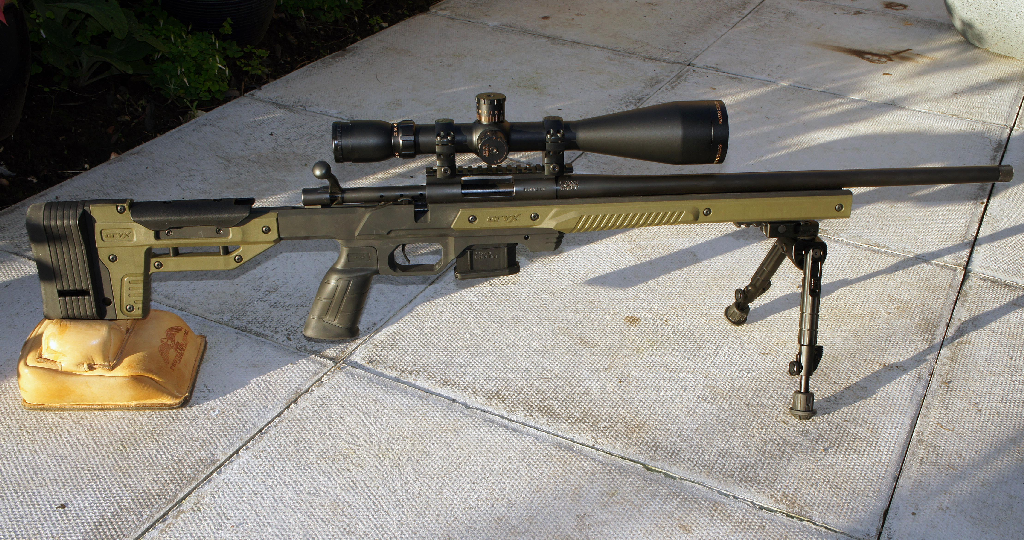 So how does this one do? First off it is very pretty! Yes, I know – how can you say that about an item that is little more than an aluminium tube, but it definitely conforms to the old engineering adage that if something looks 'right' it usually performs right. Highly polished, it even arrived in one of these tight-fitting nylon mesh tubular-wrappers, same as many quality barrelmakers use for their stainless blanks. Up back, a series of grooves have been machined into the body so you have five very aesthetically pleasing rings. They must be for looks surely, but we'll see.
The Stotteben FTR Bi-pod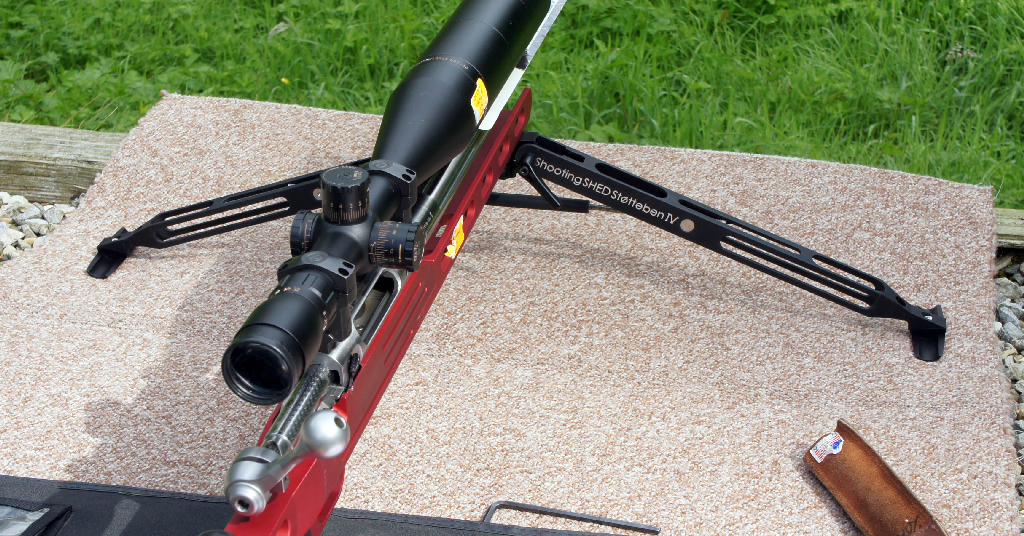 When I reviewed the Tier-One 'Carbon' F-Class bipod (http://www.targetshooter.co.uk/?paged=3&s=tier-one), I reckoned that with its 660mm wide 'footprint' at its lowest setting that was going to be the widest 'pod I'd ever encounter. But the SHED's Støtteben FTR Bipod 'footprint' is wider still with a maximum recommended 785mm (31 inches) setting. Its height ranges from very low indeed to a maximum recommended 380mm (13.5 inches). Of course, being an 'A' frame type, 'footprint' width diminishes as the height setting increases, but even at quite a high setting, those feet remain well apart. Støtteben? It's the Danish word for 'stabiliser' and that is surely what this accessory is as it provides a wide and very stable platform indeed for a prone and rested heavy rifle set-up.
David makes a batch of these bipods every year or two, each succeeding lot a little different and improved over its predecessors. Mine is a Mark IV, but the latest lot of now Mk Vs has recently been completed. David regularly says this will be the final output, but such is the Støtteben's reputation, not to mention its appeal to those who see somebody else using one on the range for the first time, that he's so far always been persuaded to make yet another lot.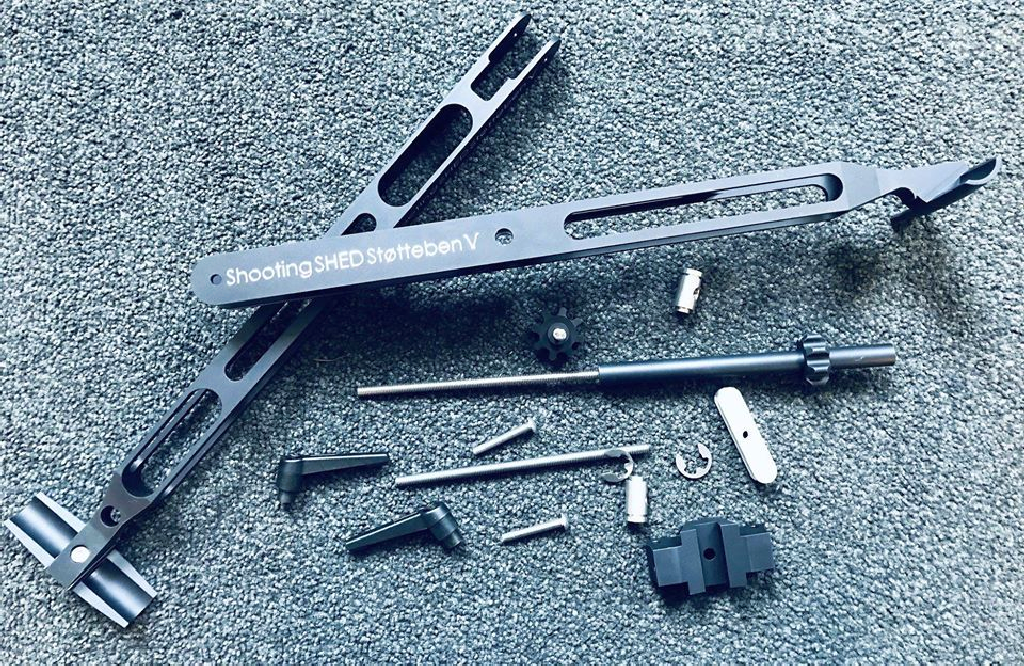 Unlike the Tier-One equivalent which uses a development of the Remple / Duplin design, this model uses a simpler version of the A-frame arrangement with twin lockable joints at the top of the 'legs' one on each side of the mounting platform that secures the device to the rifle fore-end. These have to be slackened before resetting the bipod height, this then done by turning a threaded horizontal rod between the legs and somewhat lower down. Cant is also set by slackening the joints until there is only mild friction and turning the rifle to the vertical before re-tightening things through the friction twist locks. With the locks fully tight and the rigid aluminium alloy box structure legs, this is one strong bipod, no give it in at all. I regularly shoot full weight 284 Win and 300 Rem SAUM F-Open rifles off mine and both stability and tracking performance is excellent. The feet are curved, fairly wide, and sit/track well on a variety of surfaces.
 At £295 it is cheaper than its SEB Joypod or Tier-One equivalents. Ah! Ha! What about weight then with its all-metal 6082 T6 alloy and stainless steel construction? Shooting Shed lists the Mk V as nominally 665g or 23.46 ounces which is 150g or a good 5 ounces heavier than the highly regarded, best-selling SEB Joypod. Five ounces might not sound much but building a competitive rifle within the 18lb allowance means some sacrifices and top FTR shooters begrudge every single ounce 'spent' on the bipod and optics. Five ounces will get you another inch of barrel!
David has lighter steel hinges/lock options available for those counting every gram if they ask. Likewise, it comes ready to fit an Anschutz accessory rail, but I bet David would make up an adaptor for other stock fittings if needed.
I use this bipod a lot on no fewer than four rifles and a couple of ranges with very different types of firing-point with cartridges up to the 300 SAUM with 185s and 190s. I can only say it works superbly for me and other owners I've met are equally satisfied with this home-produced product. So for me, it's a score of ten out of ten again!
Bestsellers
So, there we have it, three accessories, all 'good uns'. Shooting SHED makes yet more things …….. MANY more things! I asked David what are his other best sellers and he says bullet comparators, rear bag riding attachments including a very popular kit for the Ruger Precision Rifle.
SHED scope rails for BSA Martini Internationals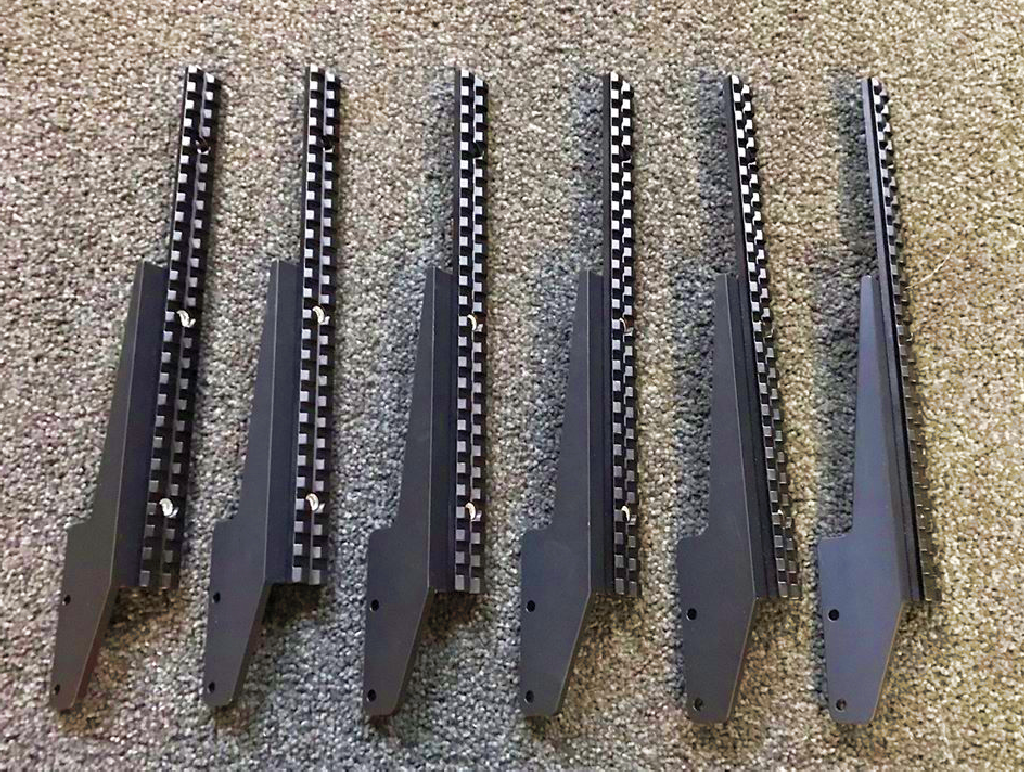 I did say three items but I'll just mention these excellent Picatinny mounts specially for the 22 BSA Martini International. This side-mounting no-gunsmithing scope rail attaches to the BSA Martini, those iconic and long out of production but now increasingly cult status British match rifles. These rifles are immensely popular in clubs and this conversion allows the fitting of a scope rather than aperture sights without resorting to drilling the receiver. I don't know of anyone else offering such a product for the Martini.
David, The Viking, and the 'SHED' are obviously thriving in their former Wesleyan chapel deep in the forgotten Wolds, but he does have one regret – for every bag rider, rod guide, or BSA Martini mount he sells to a domestic customer, half a dozen or more go abroad – as far afield as Japan and Australasia even.  For some reason his presence is much higher among European and Scandi shooters for example than here at home.
So, have a look at the 'SHED' on Facebook or better still its comprehensive website (https://shootingshed.co.uk/oscom/). As well as the many product and work categories note the 'SHED Journal', an excellent and regularly updated blog about interesting gunsmith jobs, rifles and shotguns and various Wolds ramblings (https://shootingshed.co.uk/wp/).
The Shooting SHED Limited, The Former Wesleyan Chapel, High St, Binbrook LN8 6BH; email: shed@shootingshed.co.uk