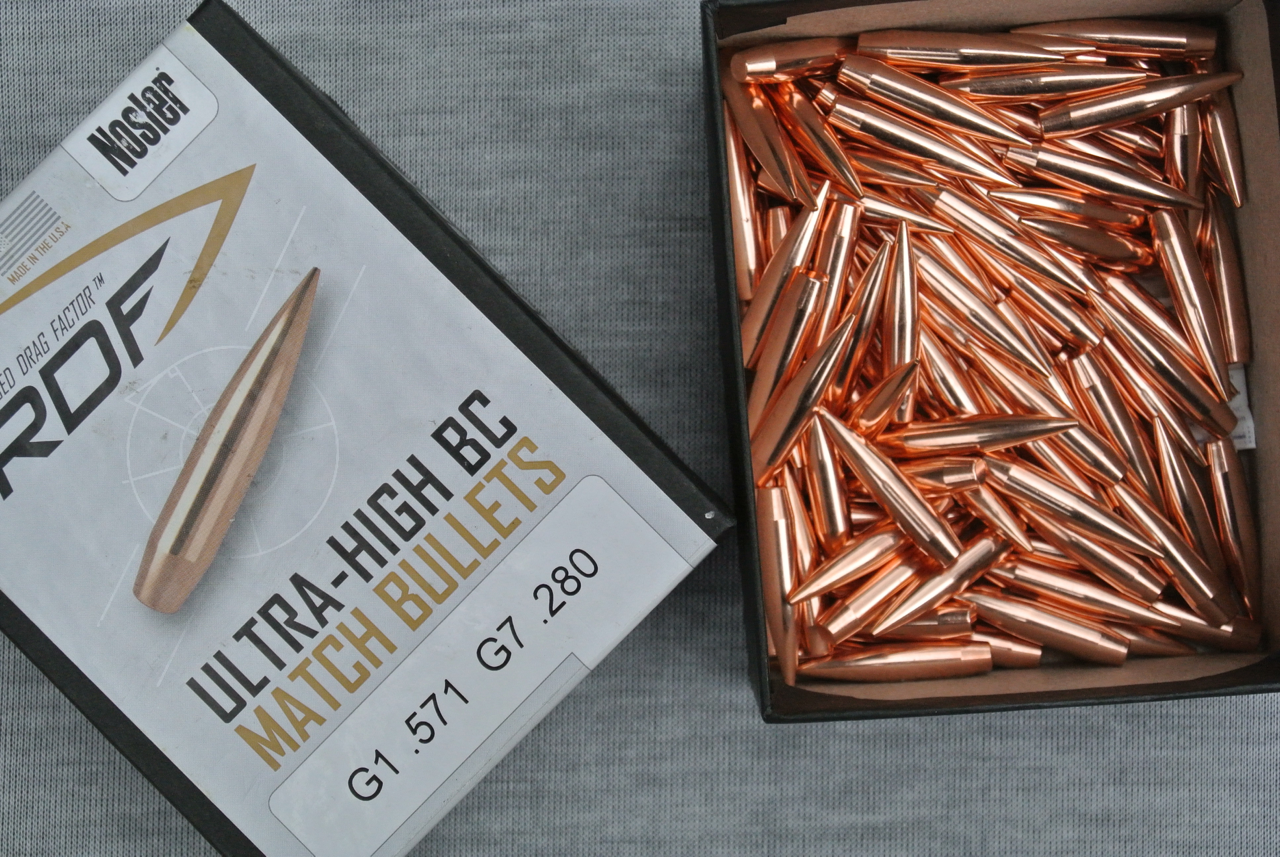 Remember way back when – when Sierra were the 'go to' bullet? When we all shot the 30 cal. Sierra 2155 Matchking? Things were simpler back then for sure. Not many shooters had a chronograph and 'BC' had Biblical rather than bullet connotations……..
Then we got offered options – like the excellent Lapua Scenar, with its claimed BC higher than the Matchking – or the red plastic-tipped Hornady A Max. If you were serious about your shooting pre-millenium, you were probably using one of these three bullets.
But, back then, Target Rifle (sling & aperture sights) was really the only long-range game in town where competitions were held at extreme ranges and their 2 MOA bull was well within the capability of the Matchking – I mean, half the field were shooting milsurp or 'issued ammo' anyway!
I started to shoot short-range benchrest about 25 years ago and soon got introduced to a small yellow plastic box containing 68 grain 6mm flat-base Berger bullets. Flat base? I'd only every shot boat-tails up until then. Berger continued to churn out their little 6mm pills for the benchrest crowd but slowly, other 'cottage' custom bullet makers began to squeeze the Berger monopoly. That was in the day when you could order custom bullets from America and they would reliably arrive – duty free – a few weeks later – happy days.
Fast forward to the millenium and the advent of F Class – devised by one George Faqharson and the DCRA (Dominion of Canada Rifle Association). George and the DCRA changed long-range target shooting forever – but not perhaps until the 1 MOA bull arrived on the 'effers' target. To reliably hit a 10-inch circle at 1000 yards demanded an accurate rifle and very accurate ammunition.
Yes, we all started off with the Scenars and Matchkings but soon, those little yellow boxes started to appear and the 155 grain Berger began to dominate FTR and, to some extent, 'yellow box' bullets still do, though a few of the aforementioned manufactures have finally woken up! Sierra have their amazing new 200gn Matchking, Hornady their 208 grainer, Lapua's Scenar L range and Berger with their 185 Juggernaut plus their 200, 210 etc. etc. But what about the others?
One big name bullet manufacturer yet to make a name in the world of target shooting is Nosler. Although established 70 years ago, Nosler's passion has always been hunting but now, Nosler are seeking to break into the serious target market and have launched their RDF (reduced drag factor) range of projectiles.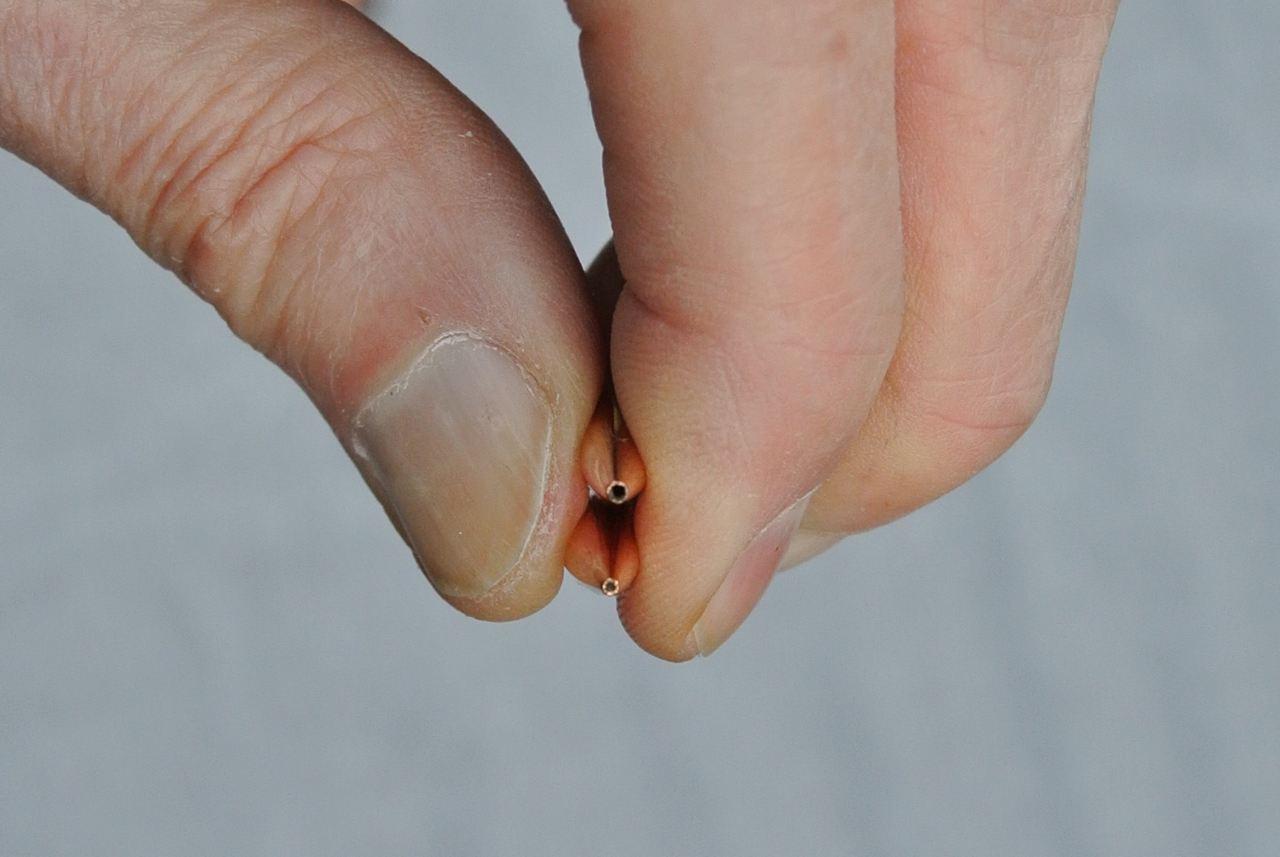 Top – the 6mm Berger VLD. Bottom – the Nosler, with smaller meplat
As you would expect, an established company like Nosler have done their homework. They are selling to a different market – a knowledgeable market, fully conversant with ogives, meplats, BCs etc. So, Nosler are claiming that their RDF bullets are the 'pointiest' on the market – giving the flattest trajectory (due to a higher BC) and better resistance to wind-drift. Their 210gn 30 cal. has a claimed G1 BC of 0.701 – compared to Berger's 0.625 for their 210gn.
Interested? So was I. My two current shooting passions are long-range Benchrest and F Class and, at the last 600 yard UKBRA benchrest shoot an unusual thing happened. A shooter (Dave Jackson) using an 'out of the box' 6mmBR Savage beat not only the Factory Sporter field but also all the Light Gun and Heavy Gun shooters! I can only remember that happening once before. I had to know what bullets Jacko was using.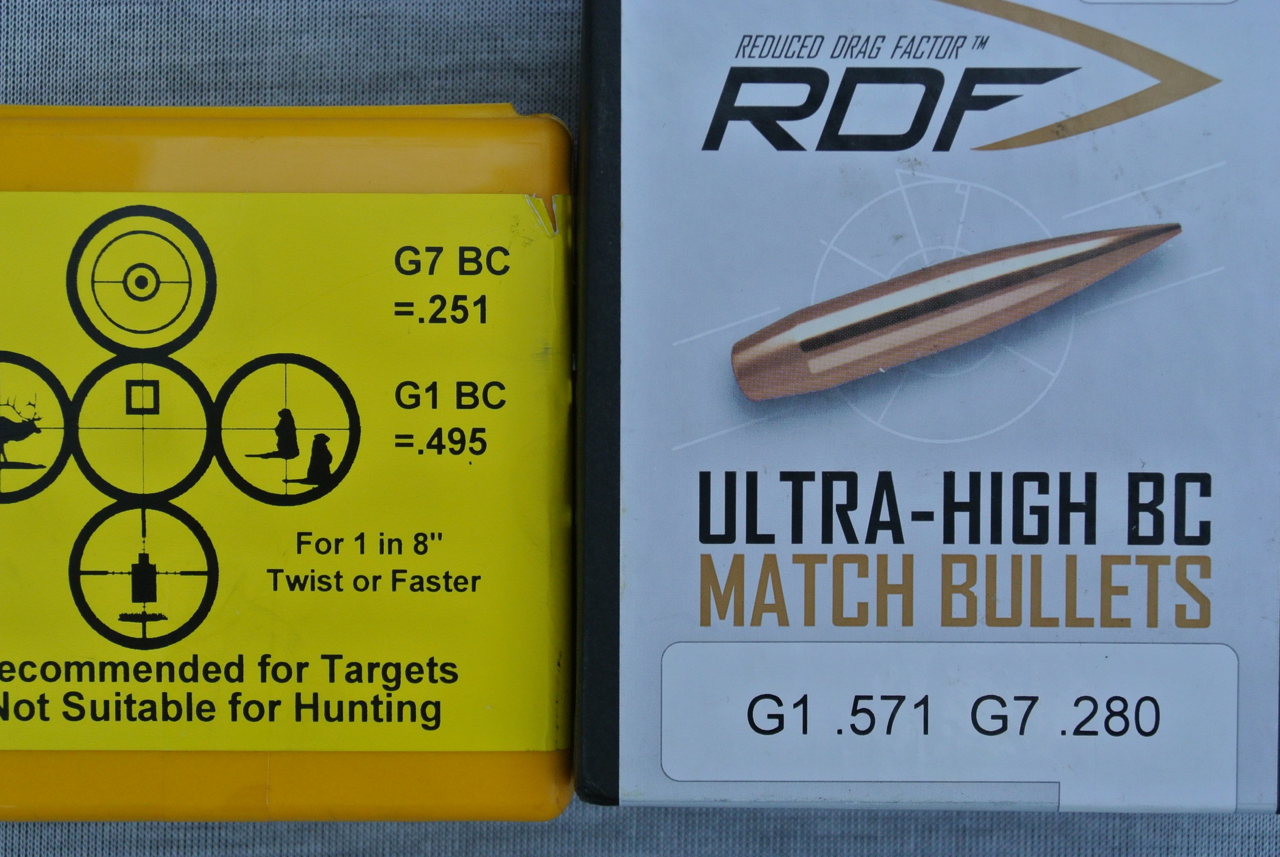 These are the BC numbers which will excite any long-range rifle shooter
I also shoot a 6mm and I've relied on Berger's 105grain VLD for many years and I was surprised to hear that Jacko was using the new Nosler 105gn RDF bullets! Interesting. Up to now, I hadn't even seen a Nosler RDF bullet.
Noslers are imported by Highland Outdoors and I had a chat with their rep Adam Danby. Adam agreed to send me a box of the 6mm RDF bullets and they've just arrived. The variety of ways to package bullets is varied. Berger have always had that nice plastic yellow box. Lapua, until recently had that horrible cardboard box which would occasionally split open, spilling its contents… The new Noslers are also in a cardboard box. It's quite sturdy and a bit better than Lapua. But, it's what's inside that counts.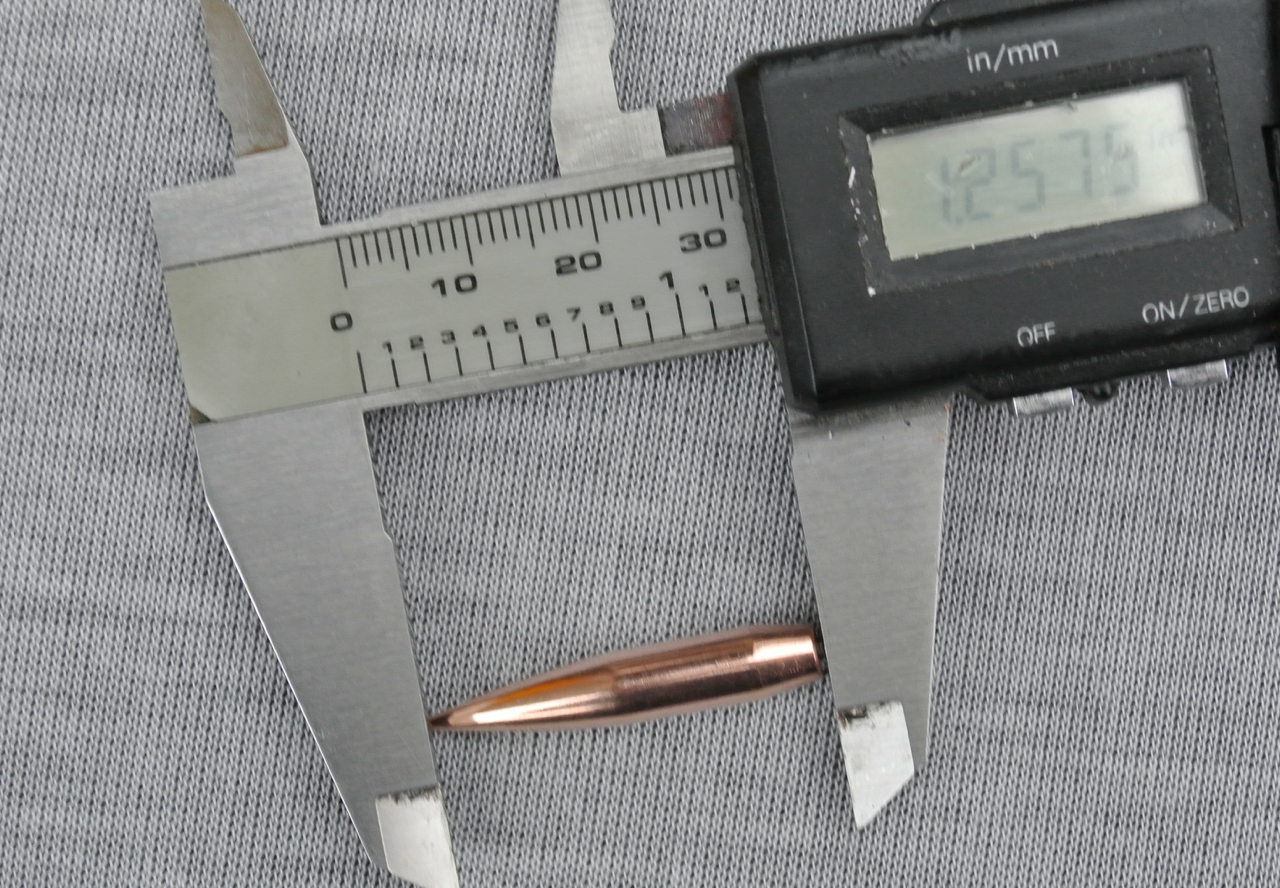 The Nosler 6mm is about 35 thou. longer than the Berger VLD
For my sample I requested the RDF 6mm 105gn, which I can test alongside my Berger VLDs. RDF? VLD? How do they compare? For a start, the Nosler is about 35 thou. longer than the Berger and the meplat is noticeably smaller. For those of you who've tried DIY meplat-pointing will know it works – by slightly improving the BC. However 'home' meplat pointing results in an obvious pointy cone whereas the Noslers have a continuous smooth ogive. They do look nice I must admit.
I'm currently shooting a 6mm Swiss Match at 600 yard benchrest. The Swiss Match case is identical to the 6BR with a super-long neck but a little bit longer in the body, giving about 25% more boiler-room which is useable, with velocities typically 10% up on the 6BR – i.e. circa 3250fps. I form my Swiss Match cases from a 6.5×47 Lapua – a single pass through a Forster 6×47 body-die does the job and they are ready to shoot. I've given up neck-turning for all but my 6PPC benchgun but my Swiss Match reamer is what I call a 'no-turn' neck, giving me about three thou. over the neck of a loaded round. The small-primer Lapua brass takes the pressure so much better than the otherwise excellent large-primer RWS Swiss Match cases.
Incidentally, If you're not familiar with the Swiss Match, it was designed as an improvement to the 6BR which dominates ISSF 300m competition but, the short 6BR is a little nose-heavy and can cause the odd stutter when chambering. The Swiss Match is a little longer and prevents the nose-heavy tipping of the 6BR but, in spite of its extra capacity, the factory cartridge is loaded to mimic the ballistics of the 6BR.
At my last outing, a couple of weeks ago, I was fortunate to take the small-group award with a 5-shot group a little over two inches. This is my target with the Noslers for my next outing in the UKBRA 600 yard shoot the week after Christmas. Hopefully I'll get a chance to test the Noslers before then. Watch this space………..