For those who don't know Darrel Evans, let me explain. Welshman Darrel has been shooting benchrest competition with the UKBRA (United Kingdom Benchrest Association) for several years at all ranges from 100 to 1000 yards.
He upset the established applecart by dominating his class – with a sniper rifle – an Accuracy International sniper rifle. Tactical rifles are not usually seen in benchrest competition and it's even more rare to see one in the winner's circle, yet this is exactly what Darrel did.
He was so successful that he was recently inducted into the UKBRA Hall of Fame thanks to his many Championship wins and small-group records.
Fortunately, Darrel's success did not go un-noticed by Accuracy International which explains how this article came about but, I'll let the man himself take over……
Brief History of the 50 Cal World Championships
The FCSA (Fifty Caliber Shooter's Association) was founded in the USA 1985 and the first official 50 Cal. World Championship held at Raton took place in 1996 – before then it was simply a 'national' championship.
This year's FCSA World Championships were again held at the NRA Whittington Center near Raton, New Mexico from July 5-7th. There were shooters from Australia, Great Britain, Spain and of course the USA in attendance.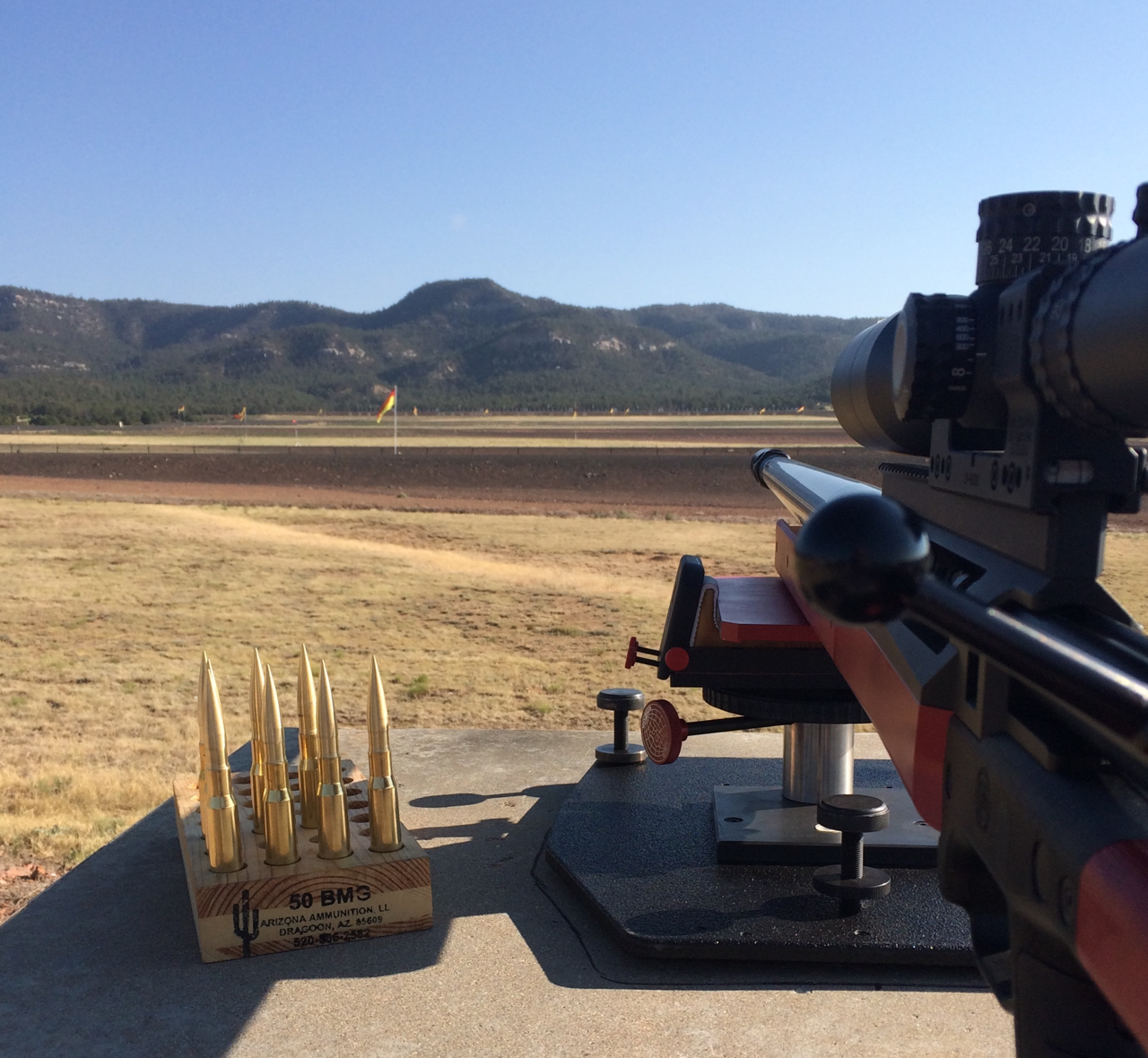 Surely the dream of all long range rifle shooters
The FCSA 1000 yard matches have four classes: Light Gun (32lbs), Heavy Gun (50lbs), Unlimited (no limit) and Hunter (50lbs). In the first three classes, the rifles are shot from a machine-rest off the bench with rear bag. Hunter Class requires the shooter to fire from the ground off a bipod. Competitors shoot for group and score. This means there can be lots of winners – score, group, 2 gun agg., junior, lady, overseas, veteran etc.
There is also a 600 yard Practical & Semi-auto 50BMG Match which is shot prone from a bi-pod and of course, the famous 'King of 2 Miles' which precedes the World Championships.
A surprise call from Accuracy International
After competing in the 600 yard 2010-2011 UKBRA Winter League, where I was lucky enough not only to win the Factory Class, Light Gun and Heavy Gun Classes and set three UK records all in one day, I was contacted by Alice Bond of Accuracy International, congratulating me on my achievements.
I was also invited to go down to the AI factory at Portsmouth for a visit, however due to work commitments, I did not take up the offer offer for quite some time but I did attend the British Shooting Show with an invite to meet up at the Accuracy International stand. So, I finally got to meet Alice, who introduced me to Mr Dave Walls, founder of AI. Over a cup of tea I got to learn of all Dave's achievements, not only in building one of the worlds best military rifles but the fact that Dave has also shot at a very high level himself.
Dave also happened to mention that he had recently been ill and, by coincidence, I was suffering from similar symptoms so I decided to see my doctor, who quickly referred me to a consultant and I ended up having an emergency operation that same day!
A further conversation with Alice resulted in a personal invite down to the factory from Dave for a couple of days. I think that there was a mutual bond between us – not just the fascination and love of accurate rifles and Accuracy International but also the fact that without his advice, I might not be here to tell this tale!
Now, a few years later and many visits to the factory and still getting good results with my AI rifle, Dave asked if I would be interested in shooting in the 2018 50 Cal. World Championships in Raton New Mexico. Needless to say, I jumped at the offer.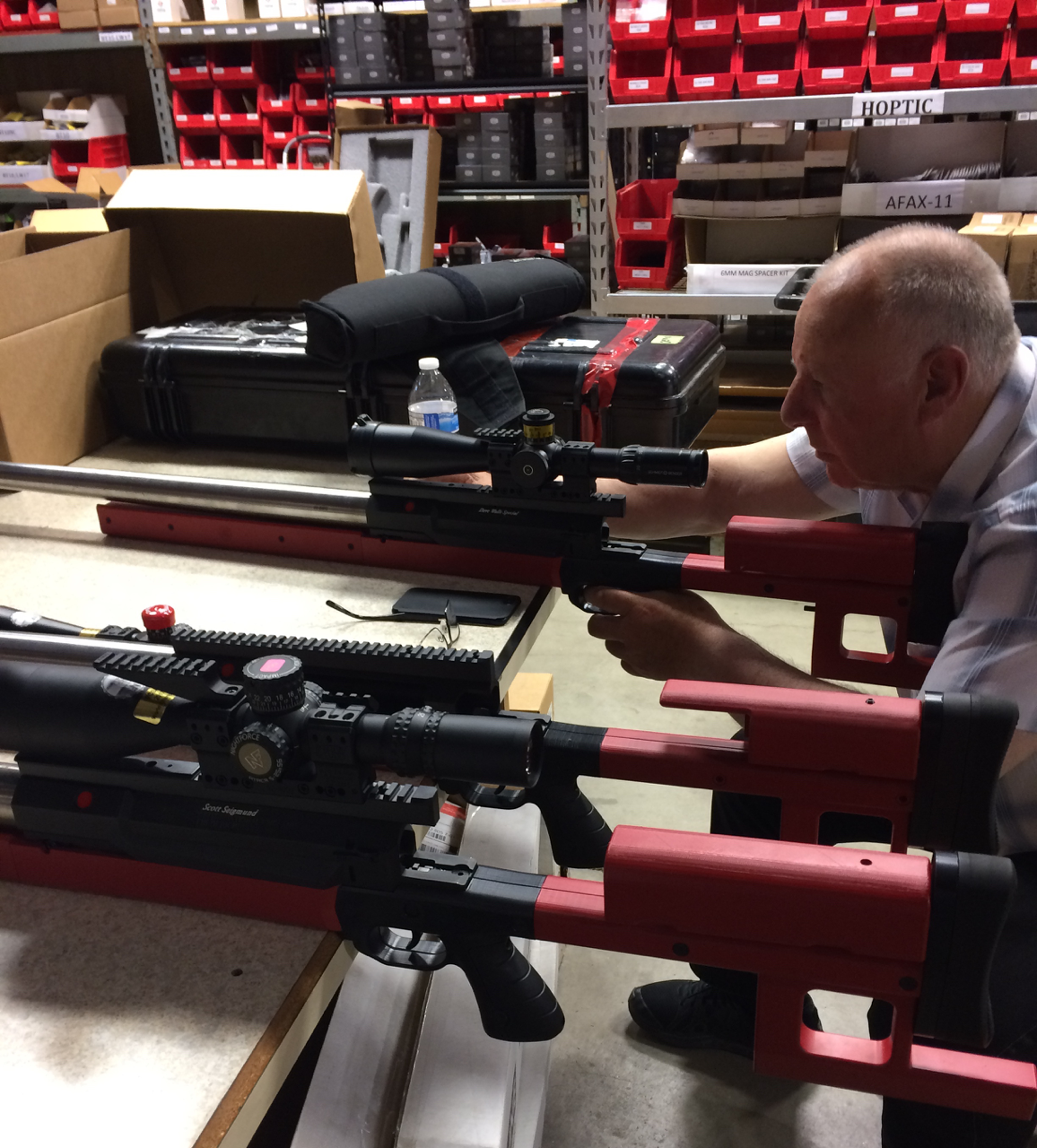 Prepping the rifles following the shipment to Mile High Shooting Centre
New Mexico is a long way from Wales
I decided to leave my car in Portsmouth and travel to Heathrow with Dave and meet up with our third team member, Ady Newbury.
The four 50 cal. rifles we would use were already being shipped down from Accuracy International North America to the Mile High Shooting Centre in Denver ready for collection later in the week. All we had to do was enjoy the flight – though without the fantastic First Class facilities I don't think that I would have made it – I could barely walk 50 yards without severe pain due to a bout of sciatica.
After a night in Denver we went to Mile High to meet owners Diane and Randy and unpack two crates containing rifles, rests and all our cleaning gear. Everything was checked, cleaned, scopes mounted and bore-sighted and the whole lot packed into our SUV ready for the three-hour road trip to New Mexico.
After checking in to our motel for a relaxed evening and yet more food, next day it was time to drive the short distance to the range, check in and have the rifles weighed. We then had a chance to confirm our zeros ready for the start of the World Championships the next day. Now for a good night's sleep and an early start.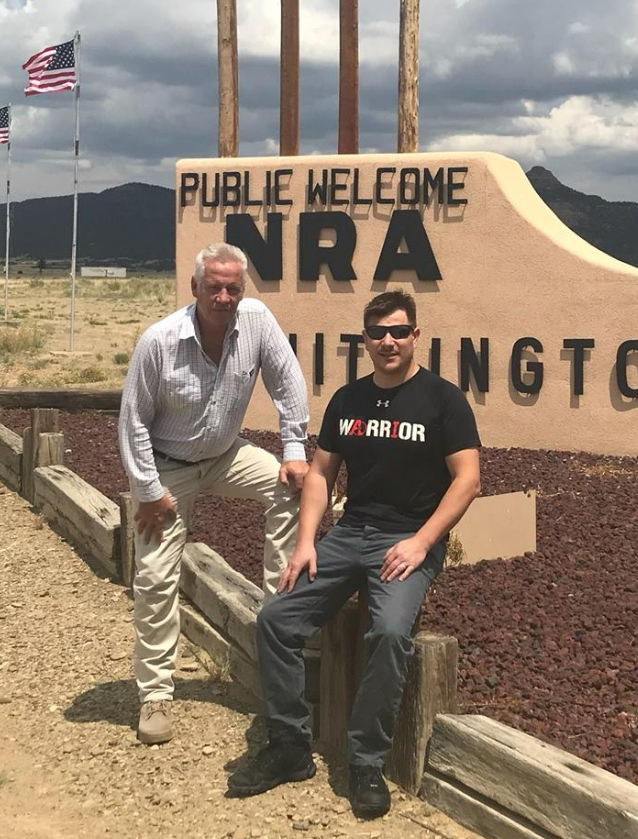 With third Team Member Ady at the entrance to NRA Wittington
Day One – At last we get to shoot

Do I look nervous?
Up at 6.00am and, after a short drive, on the 1000 yard range for 8.00am. Now my nerves are starting to kick-in a little bit with the realisation that I am actually going to compete in the 50 Cal. World Championships!
After the opening ceremony with the American National Anthem, there I was with my rifle, sitting at the bench, waiting for the command to load and make ready to fire in the Heavy Gun Class in the very first World Championship that I had ever shot in – let alone with a 50 Cal. rifle weighing 50lbs!
The evening before, my rifle was reliably putting rounds in the centre of the 1000 yard target but now? What a relief to see the target go down and re-appear with a marked fall of shot – not in the middle but at least it was on. Strangely, for the next three relays I could not get one hit on the target – one round even shattering the target frame! 50 BMG verses wooden 2 x 4 frame – quite dramatic really – oops! Was it me, my scope or had the barrel given up the ghost? Not the best of starts to say the least…
Next up was the Light Gun Class. I can see why many shooters don't like this class – the rifle only weighs 32 pounds and kicks like a mule! I must admit that after such a bad start in the Heavy Gun Class I got the bit between my teeth – OK, head down, get on with it!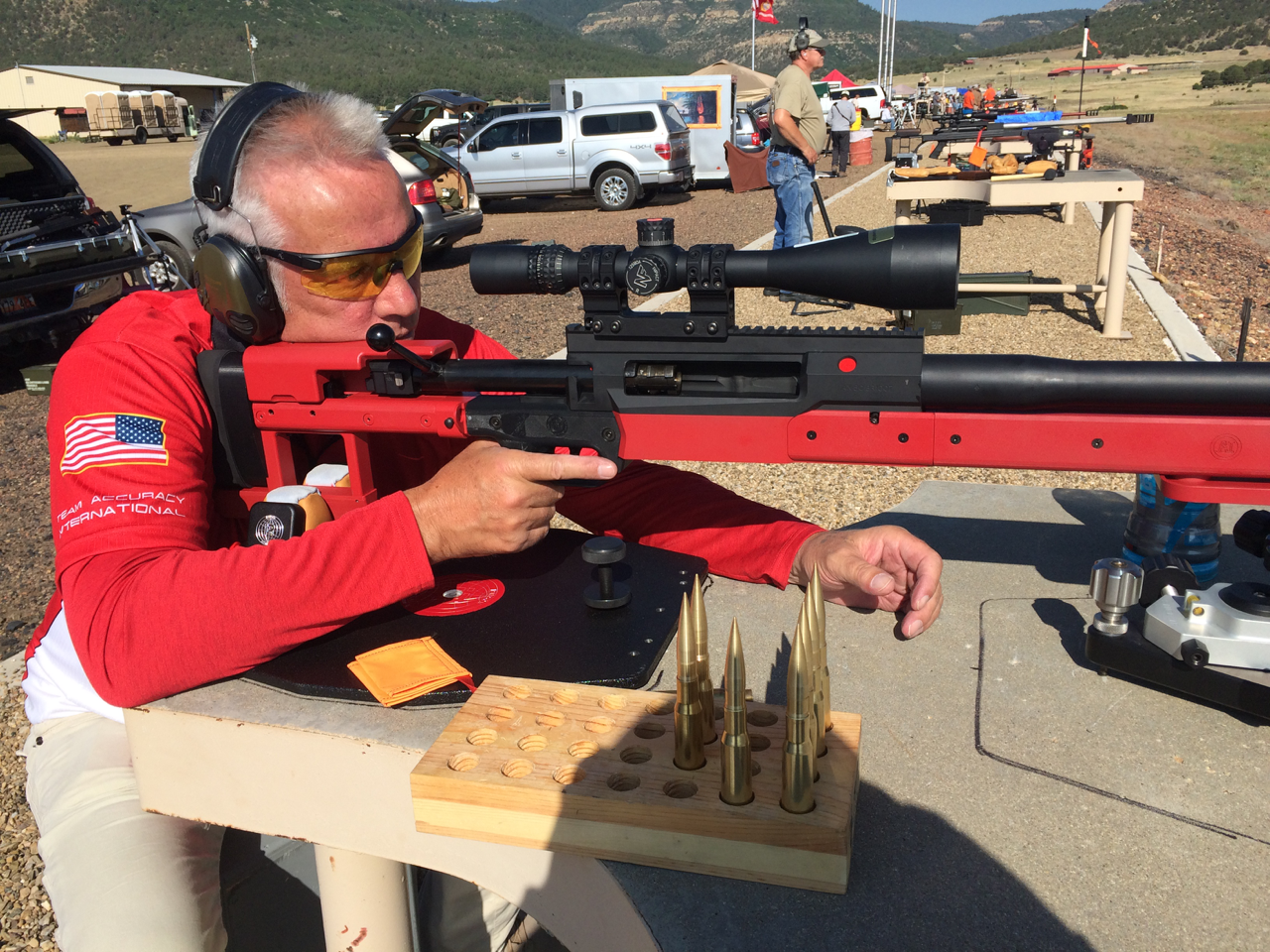 First round was a good centre hit in the X-ring and the rest all in the ten with a score of 50 and a respectable group of 9 inches. Now I was happy! The second relay produced a group of 10 inches and a score of 48. For Relay three, I didn't notice the slight wind pick-up so the group was a little larger at 11 inches and a score of 41.
That was me finished for the day. A bit battered and bruised – I have to admit to having a trickle of blood running down my face after a dose of scope-bite! It happens to the best of us but embarrassing none the less!
Day Two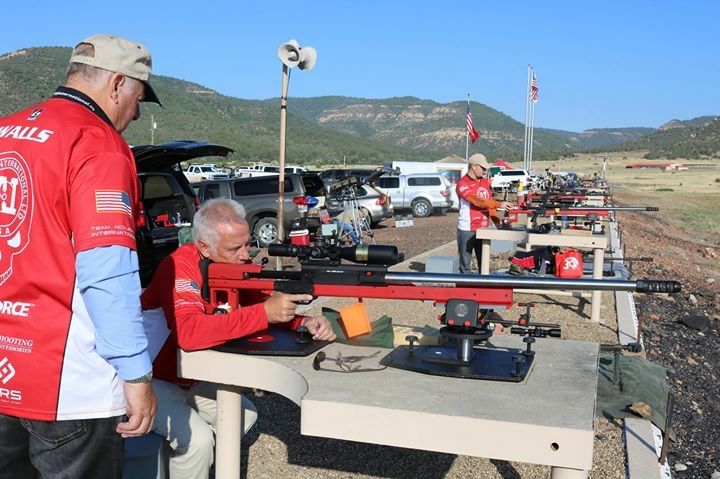 Dave gives me a few pointers with his Unlimited left-hander
First up is the Unlimited Class and I used Dave's left handed rifle. I got off to a reasonable start with an 8 inch group and a score of 37 but now, the wind was blowing from seemingly all directions. The second relay produced a 12 inch group with 37 scored. I finished off with a 14 incher and a score of 47.
After lunch the Light Gun Class will finish off the Championships. I managed a best group of 7 inches in the third relay though only 30 scored. Respectable score of 45 for the other two relays with groups of 12 and 15 inches. That's it – all shooting finished. Now, time to relax and reflect on the last couple of days.
Shoot Dinner & Presentation
My overwhelming memory of the 2018 Worlds will be my fellow competitors and the range folk who were so friendly and willing to help in any way that they can. I felt really at ease at the Dinner, everyone deliberating over the last few days, eating, drinking and waiting for the presentation of awards to start.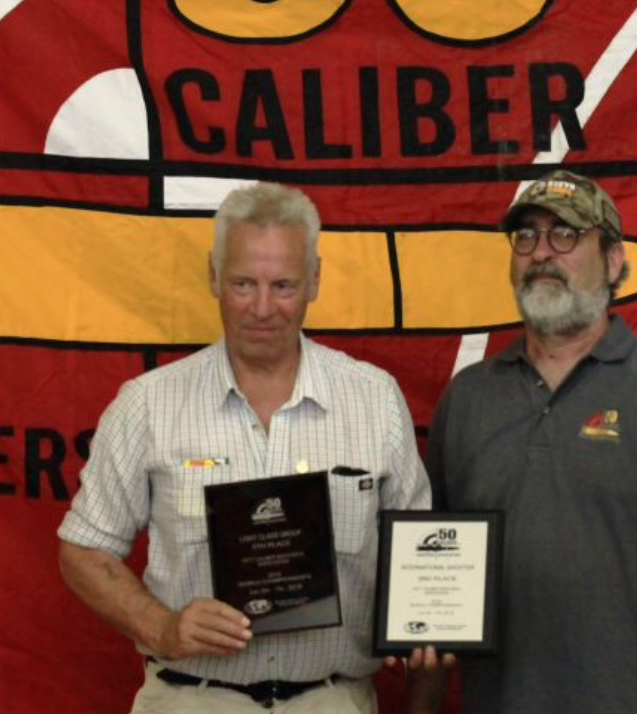 I must admit that I was totally taken aback when my name was called – Ady had already been up to collect an award for fifth place in the International Shooters category and I actually got third place! I was even more surprised when I was called up for fifth in the World for the Light Gun Class – fantastic! I couldn't be more pleased to end up with two really nice trophies.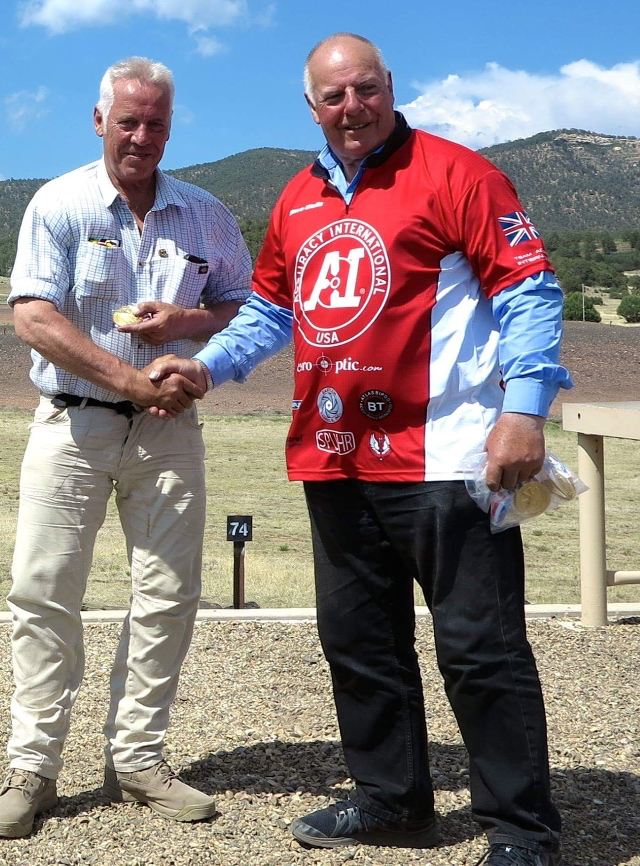 One of the highlights of the week was being presented by Dave Walls with a gold medal that he had got for every one of the United Kingdom competitors.
Epilogue
Now it's time to say goodbye to all the new friends we've made and to thank all of the people at Raton for their help and hospitality. The long journey home starts with a drive back to Denver and Mile High to clean and pack up the rifles and equipment then a short drive to the airport and the long flight back home.
There are many people who made this trip such a memorable experience but, most of all, I would like to thank Dave and all the Accuracy International team for the chance to compete in my very first World Championship. Something I'll never forget.