Despite shooting being a recognized Olympic discipline, we get very little coverage of our sport on TV. Even non-Olympic sports like darts and snooker get hours of coverage but then again, although shooting is an exciting sport to participate in, even I admit, it's hardly a spectator sport.
However, there is one branch of shooting which does get good coverage. In fact I've been watching hours of it on Eurosport over the winter – yep, you've guessed – Biathlon!
Biathlon is a great spectator sport and, even non-shooters marvel at the way competitors manage to shoot incredibly well after so much exertion often at altitude. Don't you just wish we had a Brit to cheer on? Now we have.
Sofie Hopkins is not the first British female athlete to actually compete in Biathlon but, the likes of Amanda Lightfoot are professional soldiers, which kind of puts them in a different league when it comes to sponsorship and training.
British Biathlon is governed by the BBU – British Biathlon Union. Here's a quote lifted directly from their website:
Nearly all biathletes in Great Britain are serving members of the Armed Forces and British Biathlon is hugely grateful to the long term partnership with the army. The British National Championships take place in Ruhpolding, Germany, in January, where most of the National Squad also train.
That kind of sums up how difficult it is for a non-military biathlete to compete – when the British Championships are held in Germany – where the squad also train.
So, for a civilian, there are massive logistical obstacles to overcome.
But, I'll let Sofie tell you her story….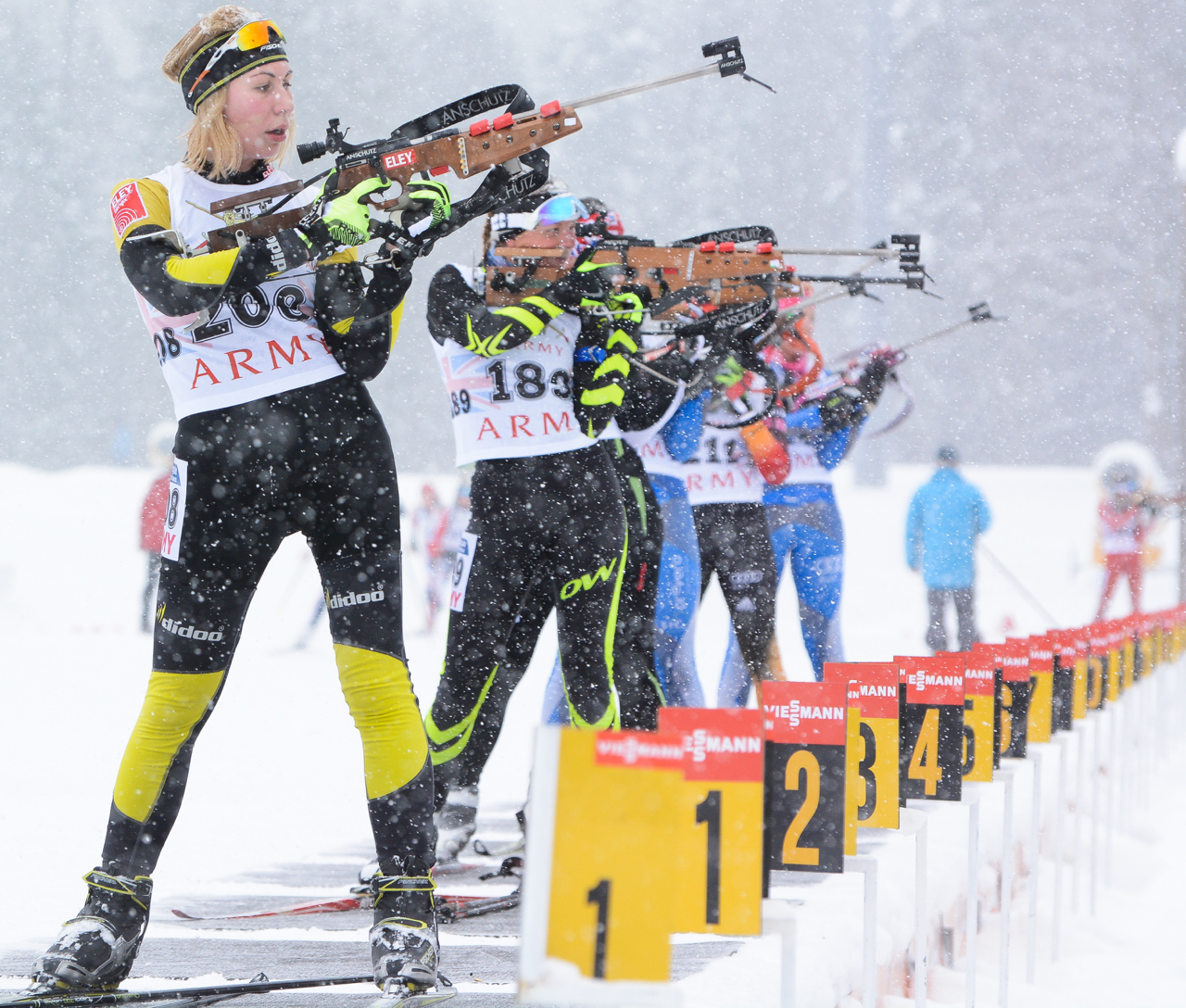 "I started training myself at the age of 14 and, after two years, I approached the BBU to enquire about competing in the British Championships in Germany that year. Initially, they had strong reservations as I was only 16 at the time but, eventually they allowed me to compete. However, they had no category for my age so I was only able to compete in the higher Junior Division. But, I won!
Gold in the 7.5 Km Sprint.
Gold in the 12.5 Km Individual.
Silver in the 10 Km Mass Start.
Silver in the 6 x 3 Km Relay.
I was also awarded overall Junior British Champion and BBU Club Champion and became the youngest ever Junior Champion.
The following year, 2015, I was unable to raise enough funding to enable me to stay in Ruhpolding Bavaria or arrive early enough for pre-training. The logistics affected my results, although I still managed a respectable Junior Gold in the 10km Mass Start and a Bronze in the 12.5km Individual.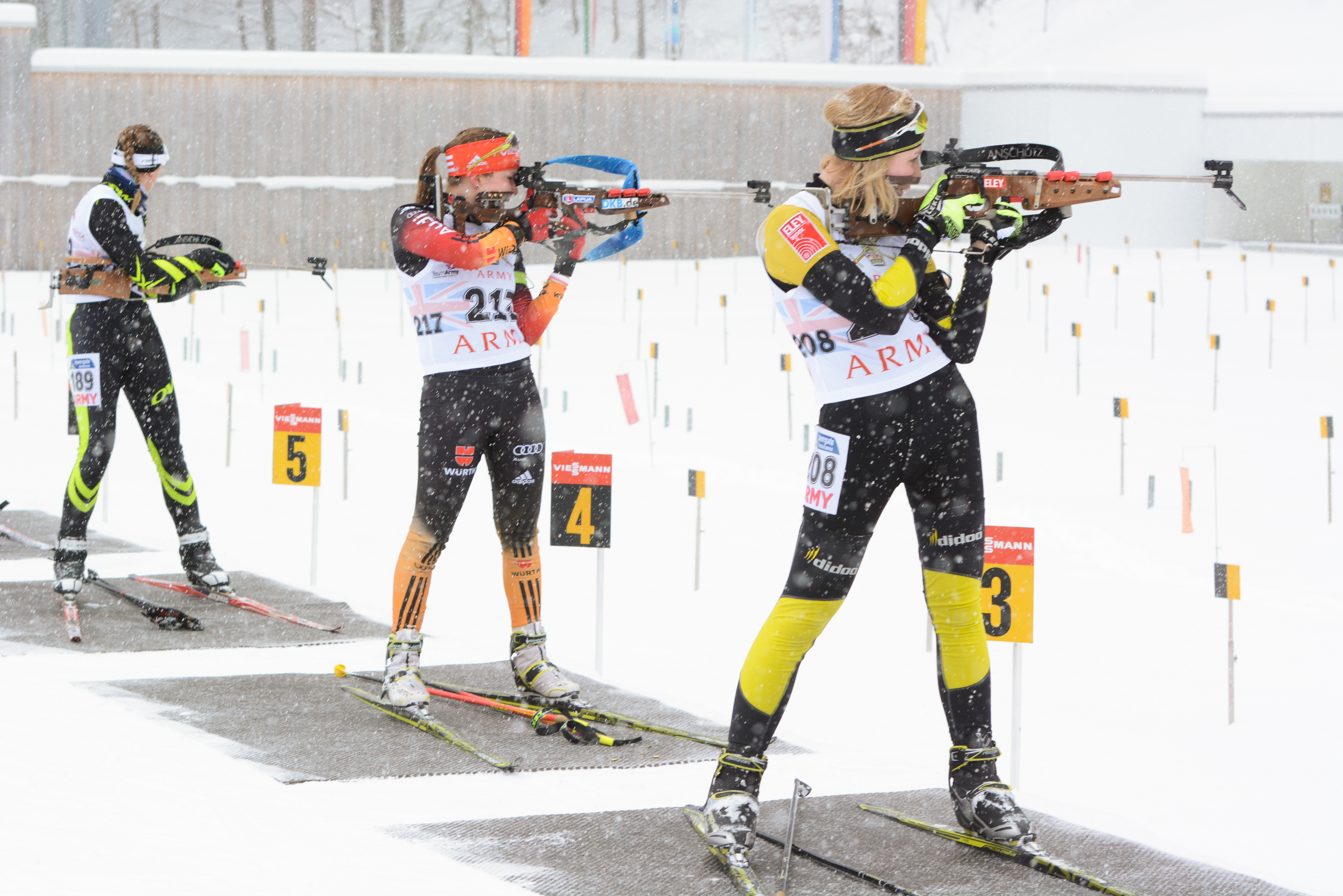 On my return to the UK I competed in the Yorkshire Dales Cross Country Ski Club Endurance event and set a new Women's record of 21km in one hour, smashing the old record by 3km. Two months later, I broke it again".
Although Sofie was Junior British Champion in 2014, she was still too young in 2016 for the Junior section and, as a 19 year old, made her debut in the Youth division. The event was once again held at Ruhpolding in Bavaria and in the first race, the 12.5km. individual she had a great ski, knocking nine minutes off her personal best but shooting penalties dropped her to 16th place.
In the second event, the 7.5km Sprint, Sofie was one of many competitors to suffer a heavy fall but she still made it to the firing range in under eight minutes. However, the fall had broken Sofie's rifle stock in two so she was forced to pull out of the event. Repairs to the rifle cost Sofie £500! Click on this website to watch the repair of Sofie's stock. www.easycomposites.co.uk/#!/composites-tutorials/carbon-fibre-skinning-rifle-stock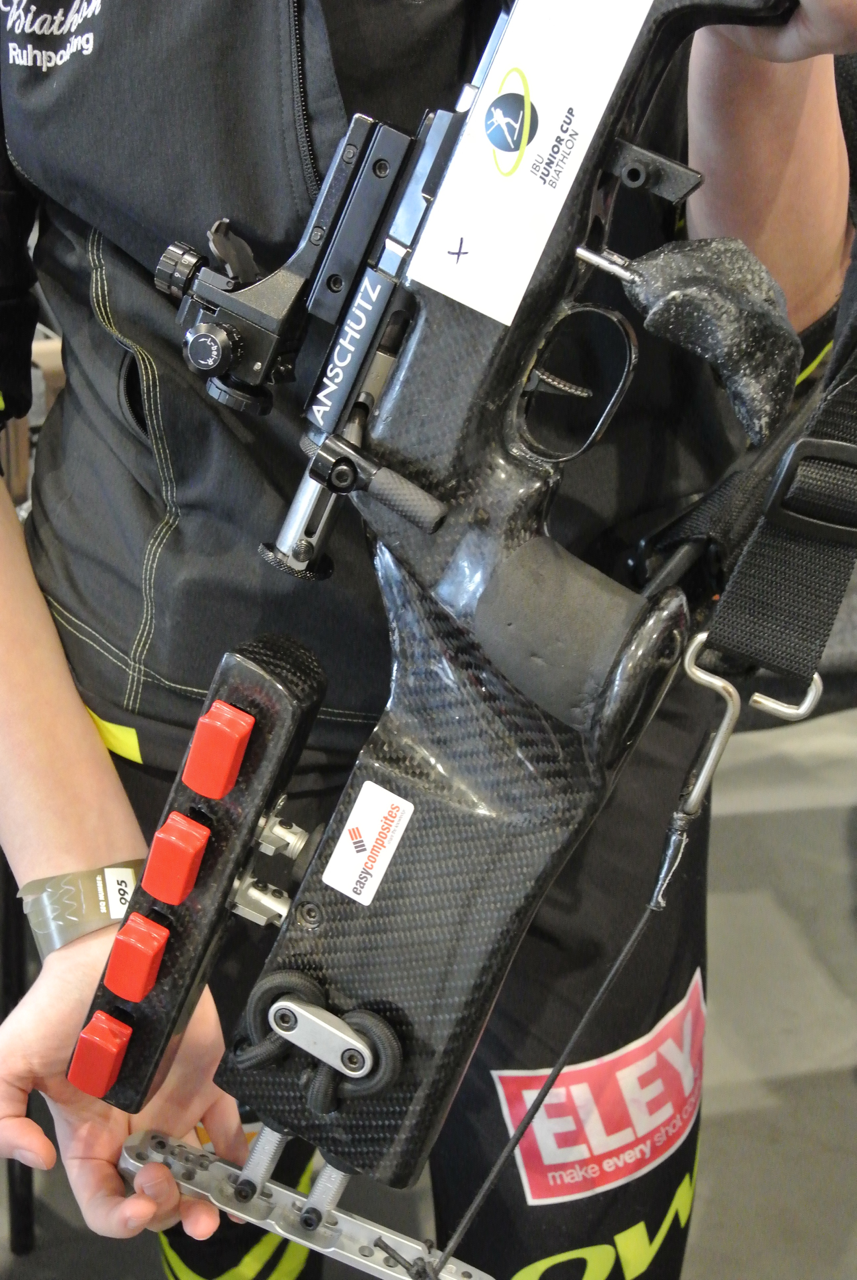 For the 10km mass start, the weather deteriorated and heavy snow and freezing sleet made it difficult to make out the targets. Sofie says:
"The track was just slush making it difficult to get any type of ski technique up but l still came in the top 20 which made me happy. It was the hardest thing I have ever done. I won a medal for my category but it was a one-horse race so I take nothing from this."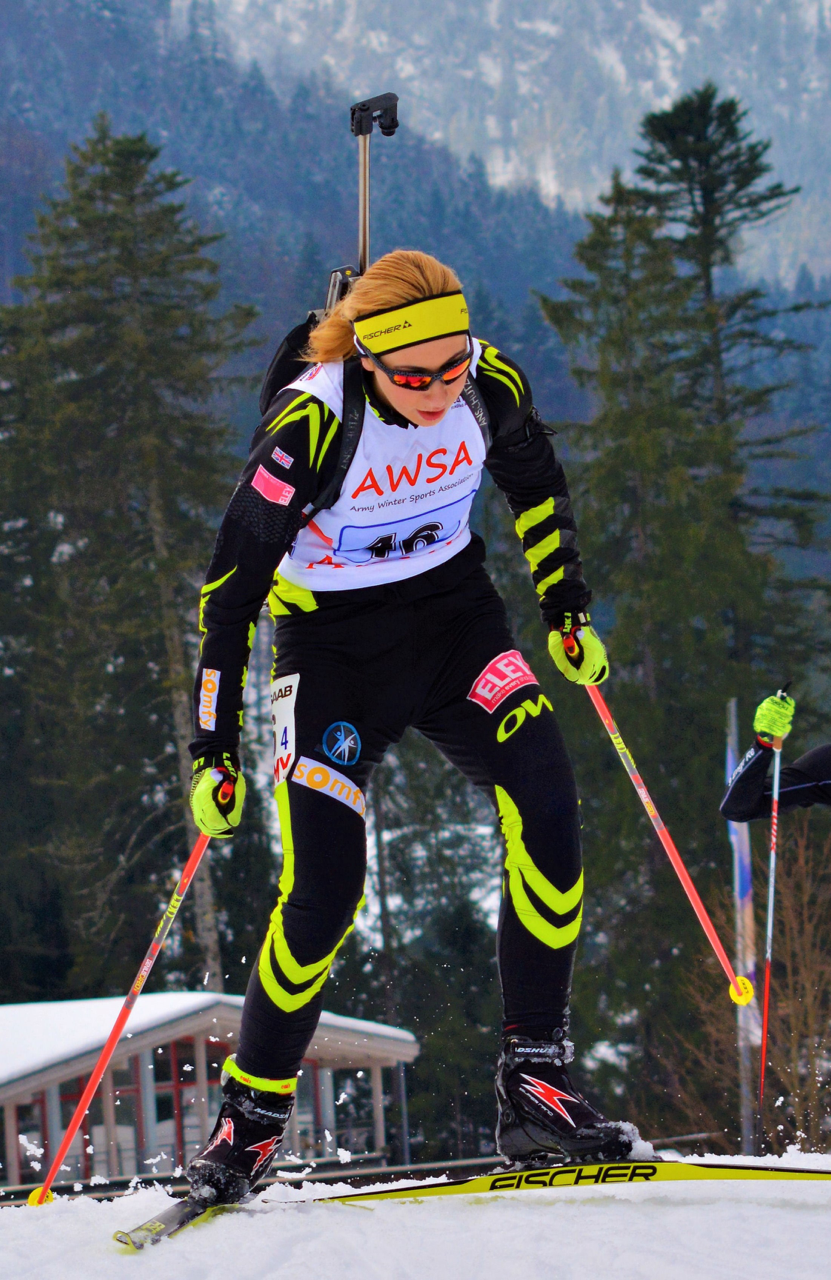 Post-race analysis showed that Sofie had broken all her PBs and she took comfort from that and the fact that Olympian Amanda Lightfoot, Britain's most successful biathlete, had not started biathlon until the age of 19. She concludes:
"I would like to thank my sponsors Eley Ammunition, Humberside Shooting Ground, Snozone, Compass Gym and the late Colonel Crossley."
Sofie of course has to train in the UK, on the roads, using rollerskis. She trains five days a week and shoots at Humberside Shooting Ground. There is a purpose-built Biathlon training centre in Oberhof Germany, the DKB Skihalle which Sophie attends just once a year due to the cost – £1000 for two weeks. Even competing at the British Championships costs around £2000.
This year, Sofie is hoping to go out two weeks before the 2017 Championships in Ruhpolding and have a fortnight training at the Oberhof Skihalle. As a civilian, she will not receive any financial support, subsidies, equipment or training from the BBU. Dad is Sofie's only sponsor though he is a full-time carer for Sofie's disabled Mum.
Sponsorship is the key to Sofie's future and, if you feel you can help Sophie in any way, you can get in touch at fjch561643@gmail.com
Wouldn't it be great to be able to cheer on a British Biathlete at the next Winter Olympics and, if Sophie gets a bit of exposure on UK TV, it can't do our sport of shooting any harm. If you are running any club shooting events, why not raise a bit of money for Sofie. Every little helps.
Thanks to the Scarborough News for assisting with this article.