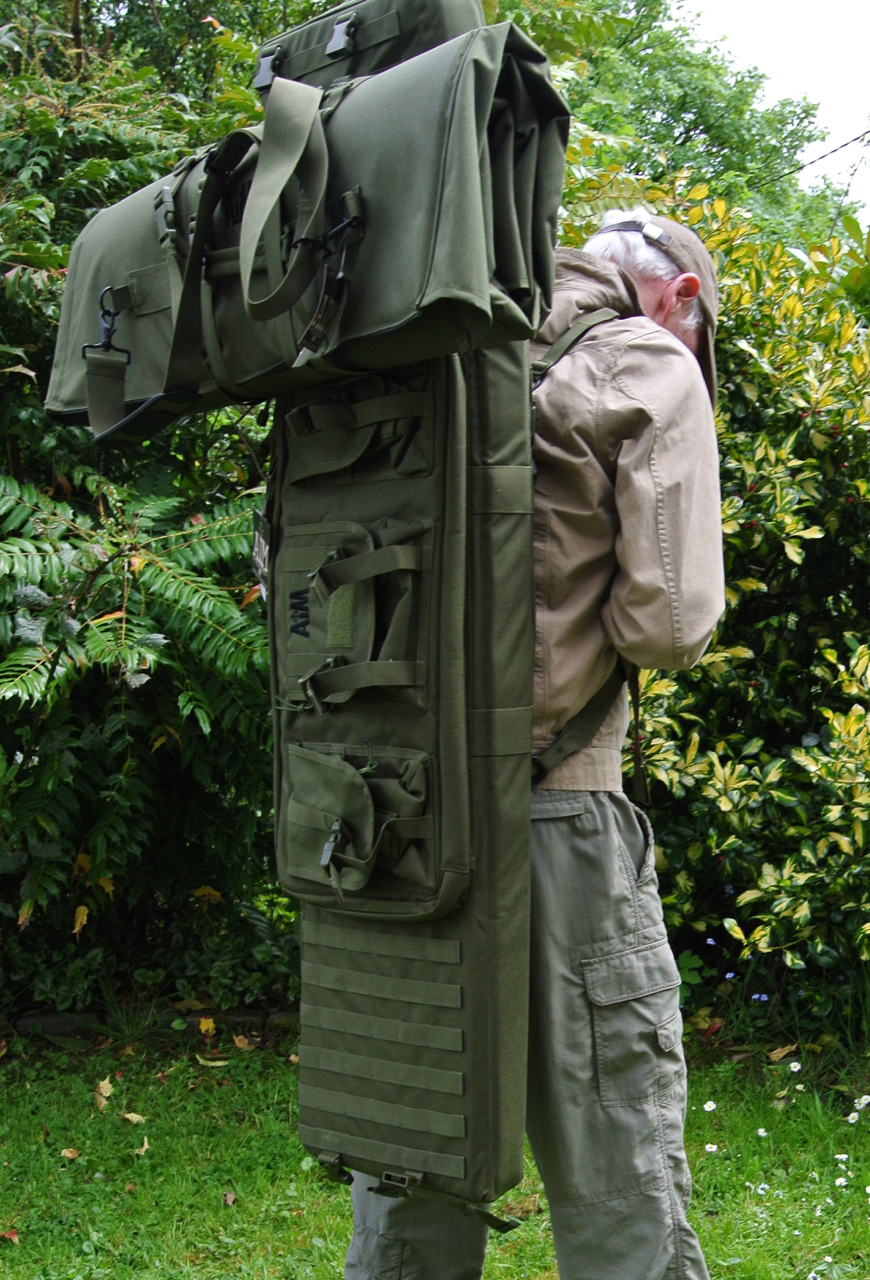 The Aimfield Sports gun bags and shooting mats surely need no introduction to readers of Target Shooter.  Aimfield have sold hundreds of them over the last decade to shooters all over the world.  They're recognised, by amateur and professional shooters alike, as being just about the best there is.
Over the years, Aimfield's CEO John Dean – himself an active and accomplished shooter – has refined the bag in several ways.  Made from ultra-tough 1000 denier Cordura, five lengths are now offered (40, 45, 50, 55 & 60 inches) – with an extra wide version (FS 42) for folding-stock rifles; a cleaning-rod sleeve is now standard and additional padding underneath the top zipper offers extra protection to the scope. Black, plus a range of 'tactical' colours are offered including the latest MTP camo. The FT-100 – a 48 in. bag for airgun Field Target Shooters – which is a little different from the familiar 'drag-bag' configuration – completes the line-up.
I've got three Aimfield bags – the first one was a pre-production 50 inch sample which John kindly gave me for review and yes, it's still going strong!  I've not had a stitch or a zip break but, as my F Class rifles and benchguns seem to get ever longer I'm currently using a 55 incher, though I also have a little 40 for my shorty BAT in its AI AX folding chassis.
When John told me he was bringing out a new bag, my initial thoughts were 'How can you improve on what you already have?' Truth is, it would be very difficult but, by listening to his customers, John has applied a bit of lateral thinking and come up with the Scout.
So, how does the Scout differ?  Let's have a look.  The main difference, which you will immediately see from the photograph above, is the inclusion of a shooting mat.  In other words, your mat, bag and contents all fit on your back – rucksack-style – leaving both hands free.
The Scout is a combination bag and mat – by that I don't mean that the bag unfolds into a mat but rather the mat rolls-up and straps onto the bag. This means that you can now carry rifle/bag/mat on your back – leaving both hands free.  John is, you see, an active F Class shooter and he knows shooters are often struggling to carry a front rest and back bag.  Struggle no more!
Aimfield's current folding mat is amongst the very best – three-feet wide, six-foot long and waterproof with just the right amount of padding – we don't want it to be too bouncy if we're using a back-bag.  If there is a criticism – but personally I'm happy just the way it is – some say it's bulky to lug around and, we certainly do have enough kit to lug around!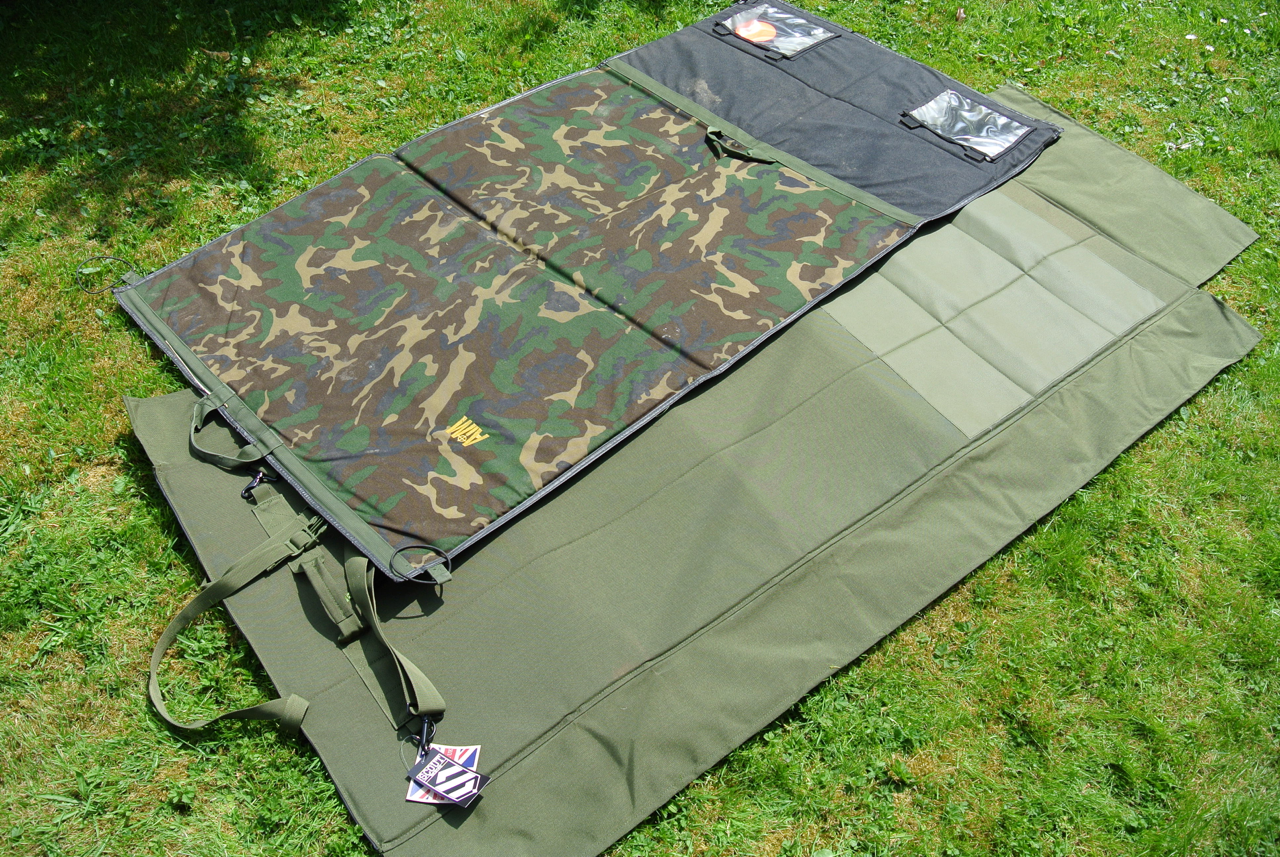 If this is you, then maybe the Scout is just what you've been waiting for – mat and rifle on your back, leaving two hands free to carry your other essentials.  But, have we compromised by having a roll-up mat? Well, with its fold-out flaps, it's every bit as wide as the old mat (the camo one above) and, it's actually longer.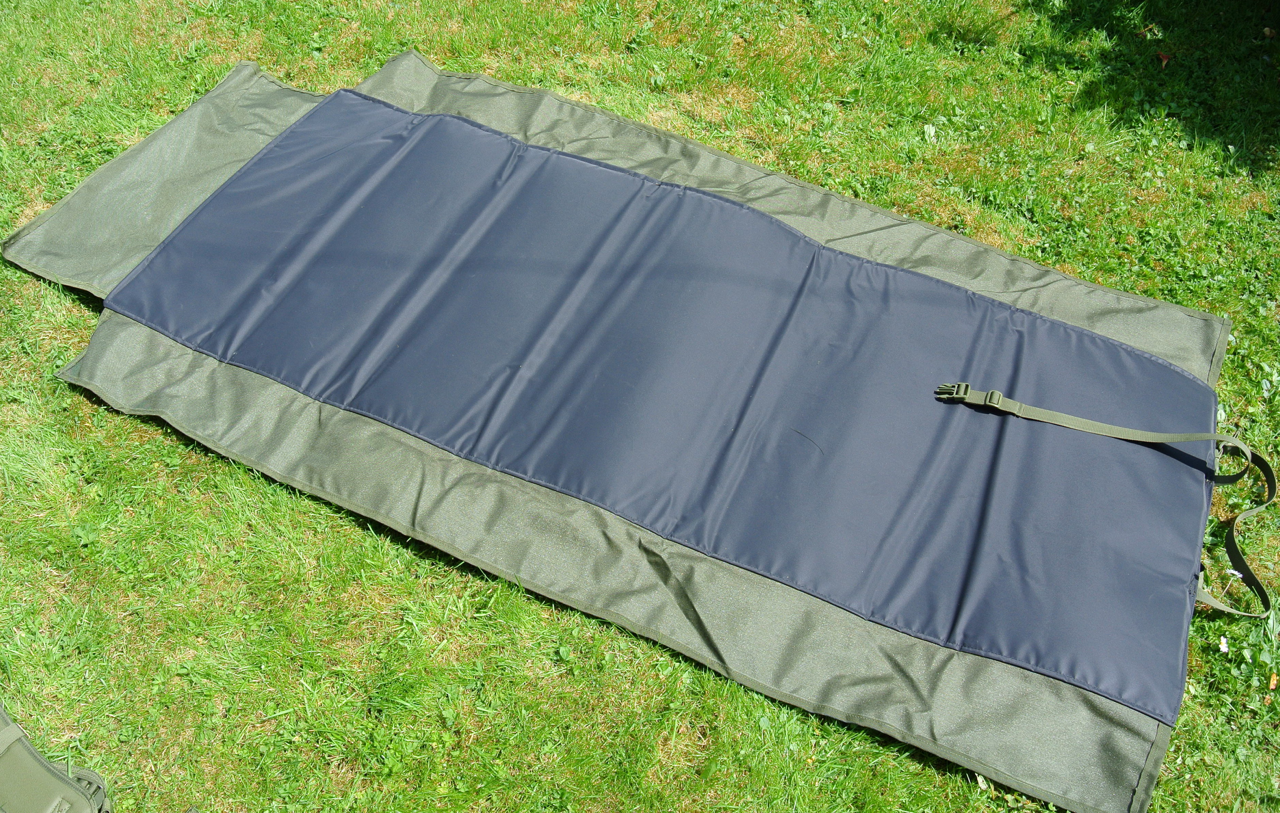 The construction of the mat is similar to the old Aim mat – waterproof underside, Cordura top and a non-slip panel for your elbows. Padding is minimal but adequate – if you shoot off grass!  It also has a shoulder-strap and a webbing handle to give you alternative carry options.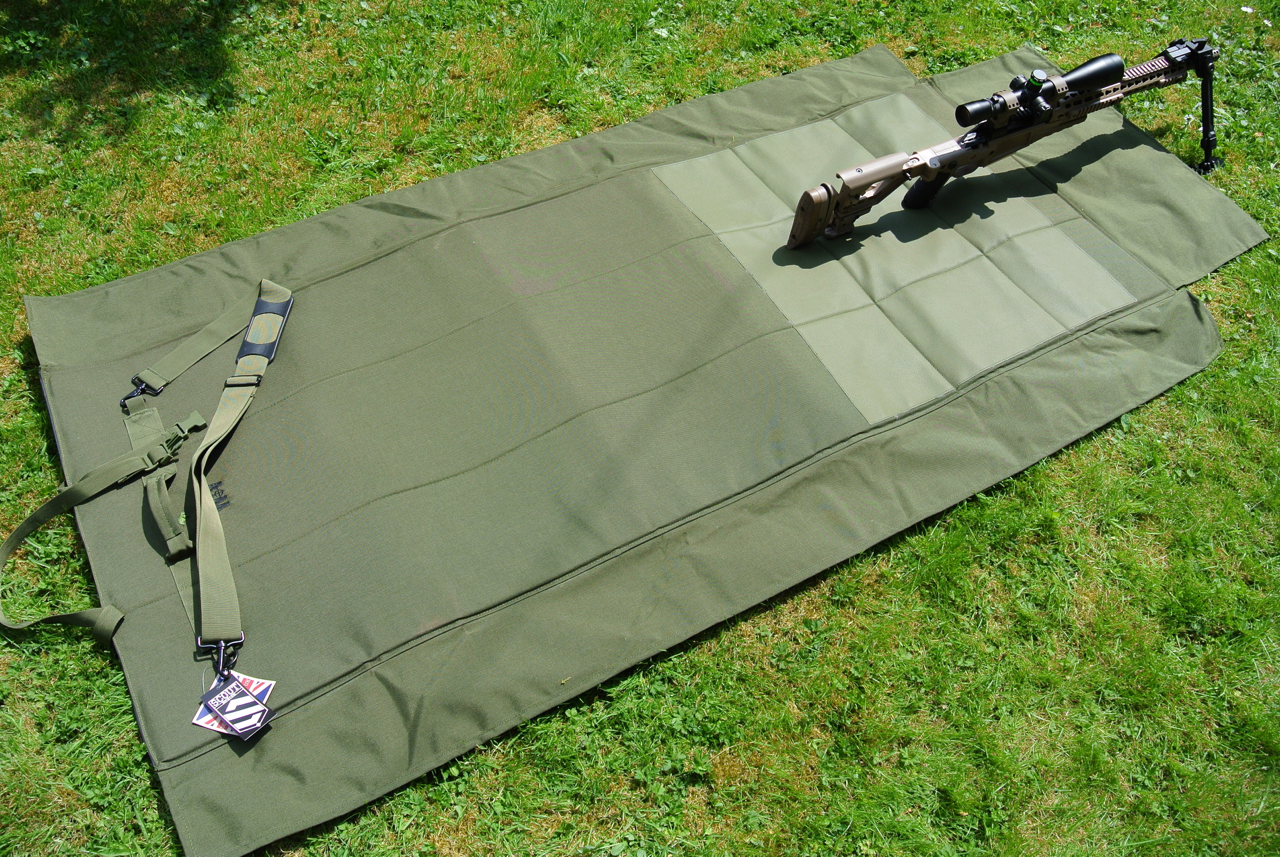 To be honest though, the Scout will probably appeal to the Practical/Tactical/CSR shooter rather than the 'effer but, anyone who shoots on a range, where the car park is a hike from the firing-point, could benefit from the Scout.
OK – that's what it does but, lets have a closer look at the Scout – stitch by stitch, zipper by zipper. How many pockets do we have? What's the longest rifle it will hold?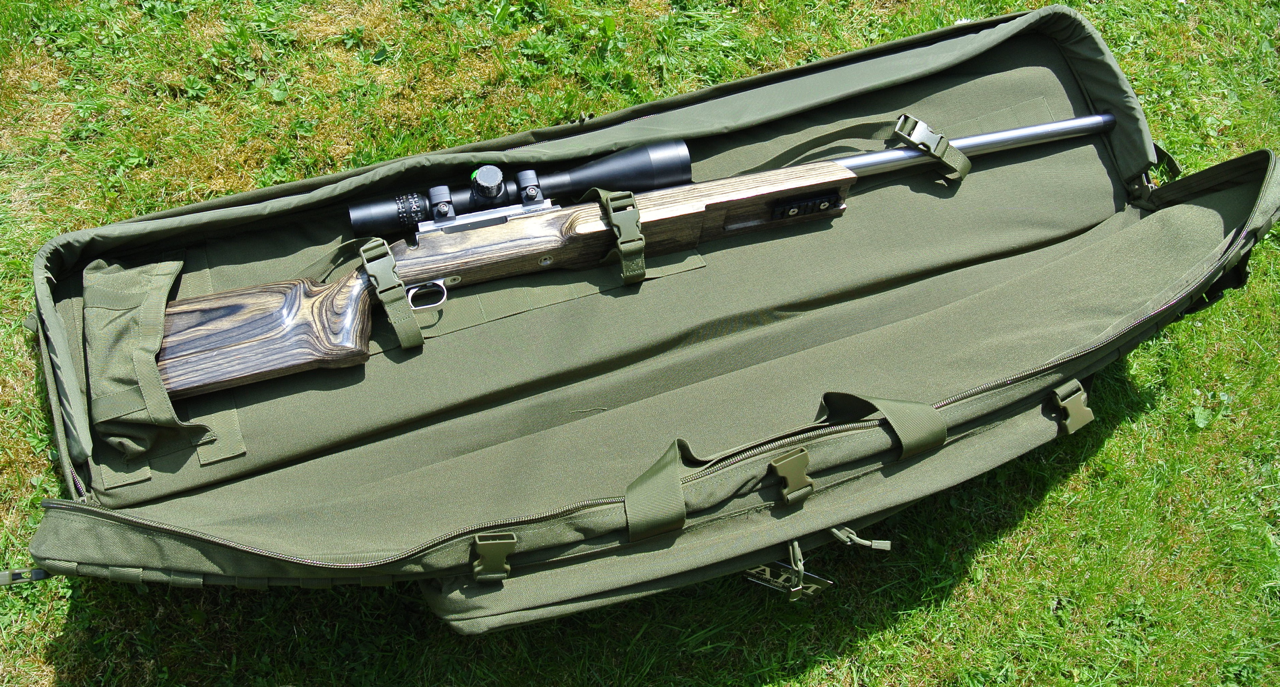 Well, it's full title is the Scout 50 and it will take a 49.5 inch (126cms) rifle – though that's my longest rifle shown in the pic above and it's 51 inches long. A heavy-duty zip runs along the top and down the sides, allowing the bag to open almost flat. The padded scope protector is still there, plus a 'pocket' for the butt which takes the rifle's weight and relieves stress on the heavy-duty zipper.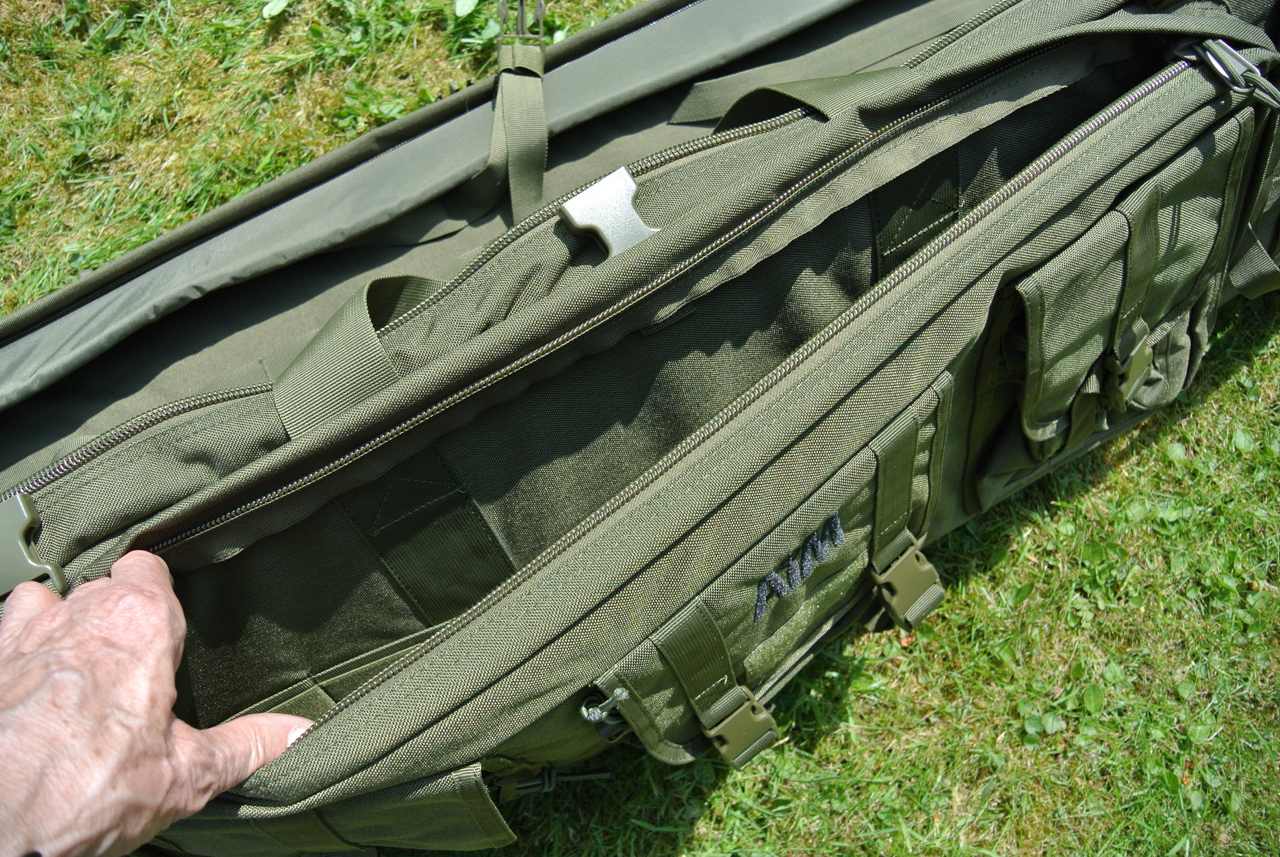 Internally, the depth is 11.5 inches (29cms) allowing stacks of room for any rifle/scope combination.  Externally, there is a long deep pocket, plus three smaller pockets and a PALS webbing system at either end of the bag.  (PALS? – Pouch Attachment Ladder System). John intends to follow up with a range of smaller bags and pouches to fully exploit this system.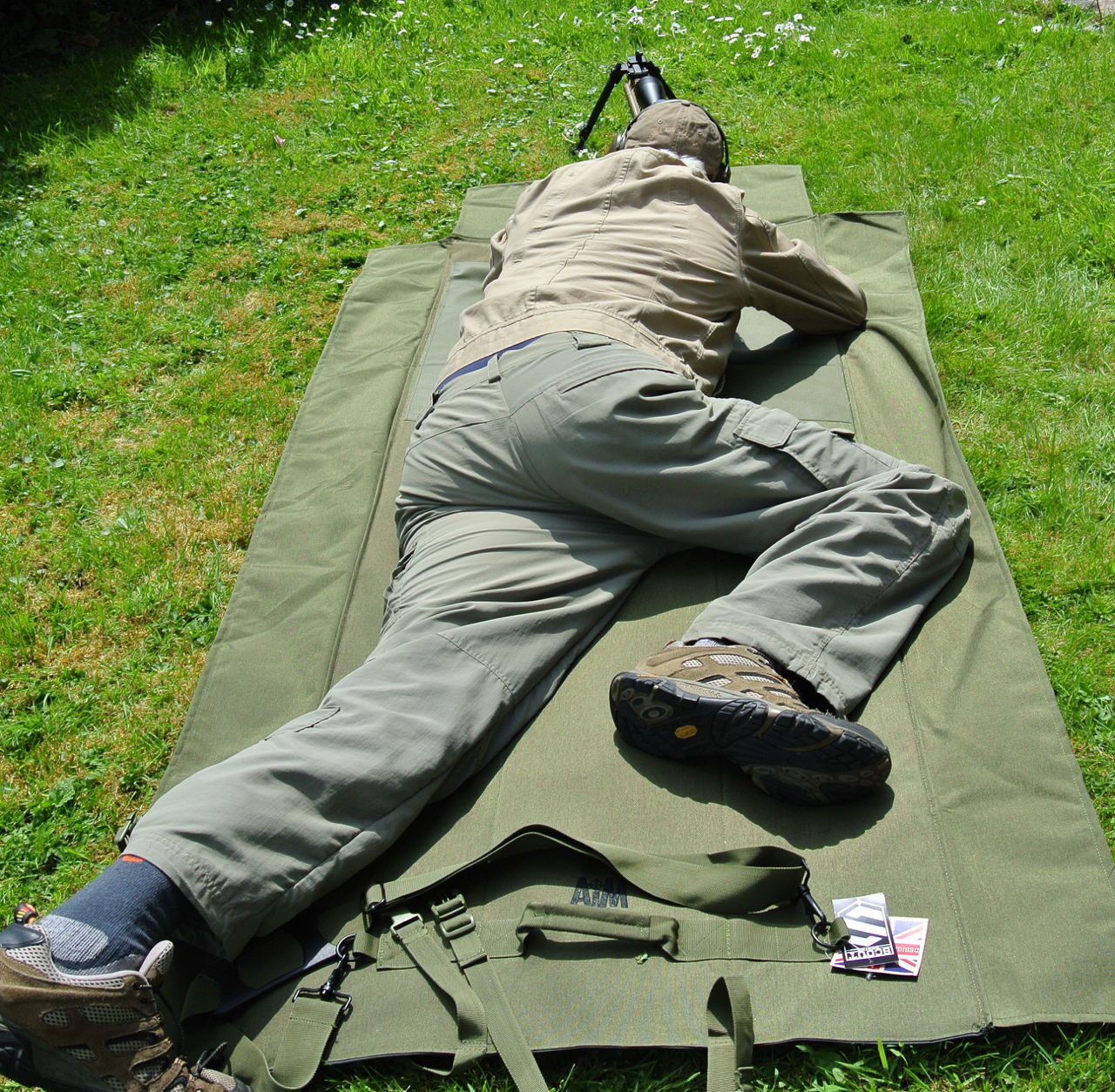 The PALS system allows the mat to be easily clipped onto the webbing – or carry it if you like with the supplied shoulder-strap or the webbing carry-handle.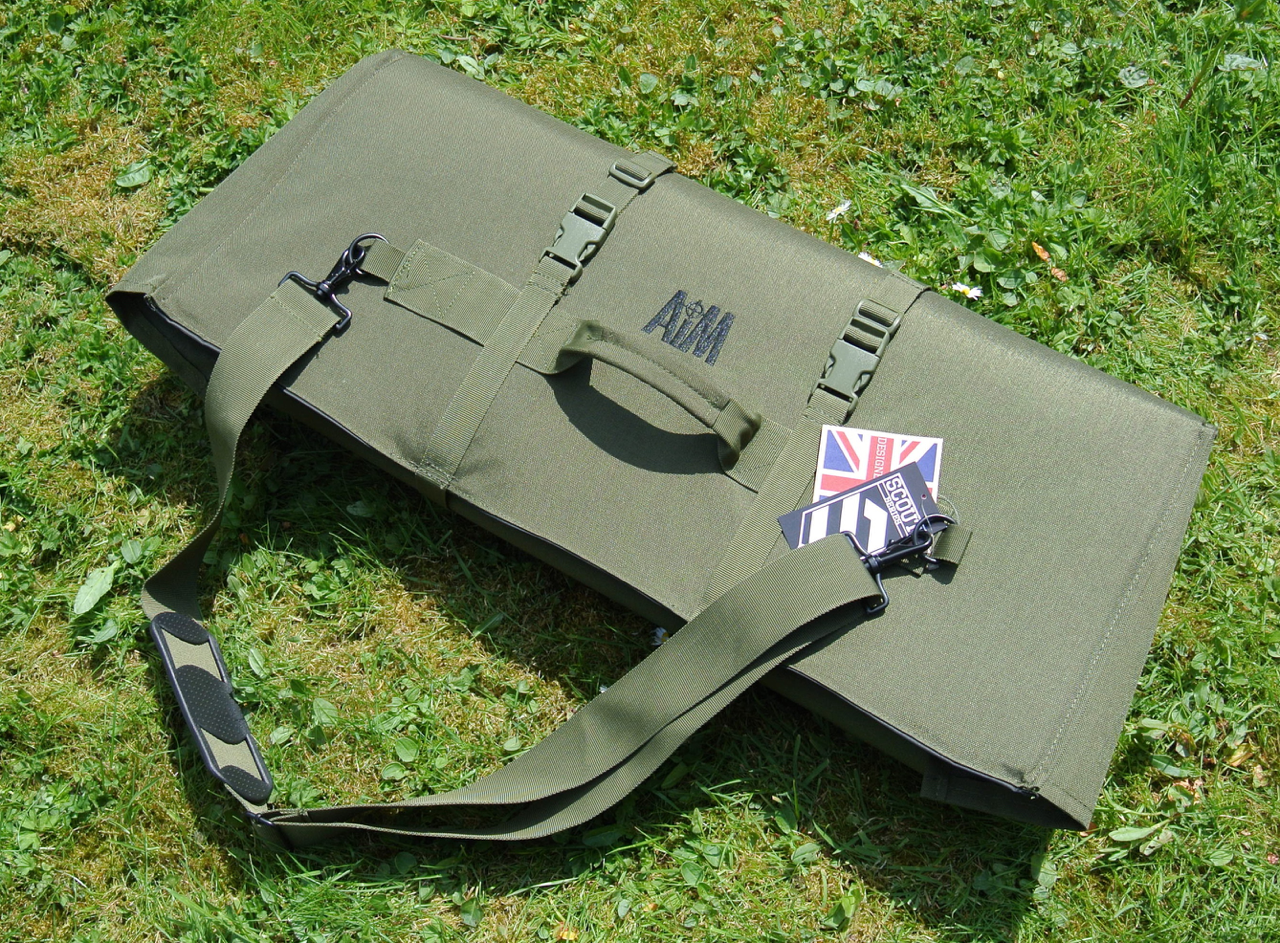 Like all the stuff John designs, it's hard to improve on it and the Scout is no exception.  If you love the existing AIM matt and drag-bag but feel the need to free up both hands, then take a look at the Scout – I liked it.