All custom gunsmiths are aware that there is something about our custom barrel work that doesn't readily lend itself to attributes of CNC machining. However, CNC machines have taken over in virtually every other aspect of precision engineering – from Formula 1 to the aerospace industry but yet, it doesn't lend itself to custom gunsmithing. Really?
You may remember a Target Shooter feature we ran last year on Victrix – an Italian arms manufacturer claiming to have mastered the art of custom gunsmithing using their extensive factory of CNC machinery. But, were those Victrix rifles any good? Well, I was impressed and, let's not forget that Stuart Anselm – himself a custom rifle builder – used an 'off the shelf' Victrix rifle to win the GBF Class League in 2016. And this got Stuart thinking – if Victrix can do it………………
Stuart's company, Osprey Rifles is based in the North West and is not too far away from another of our noted gunsmiths – Pete Walker of Walker Custom Rifles and Pete also had an involvement with the Victrix project – having visited the Victrix factory in Italy and returned impressed by what he saw.
Stuart and Pete have 30 years of custom gunsmithing experience between them and 20 years of top-flight national and international Benchrest and F Class competition, resulting in World, European and National titles and records. The guys couldn't be more passionate about accurate rifles and shooting so, always seeking a better way forward in the pursuit of accuracy and precision, they joined forces to create a new and exciting partnership, PGS Precision Engineering.
The 'G' in PGS? Ah, that would be Gary Costello of March Scopes UK and PBS International Freight Ltd. PBS can ship your freight to anywhere in the world – and that includes firearms. Gary is a current member of the GB F Class squad and a former F Class World Champion and has had many successes at national and international level. He is also European agent for the US-made Benchmark Barrels and he often gets requests for pre-chambered barrels from overseas customers so, from being one of Pete Walker's long-standing clients, Gary is now a business partner.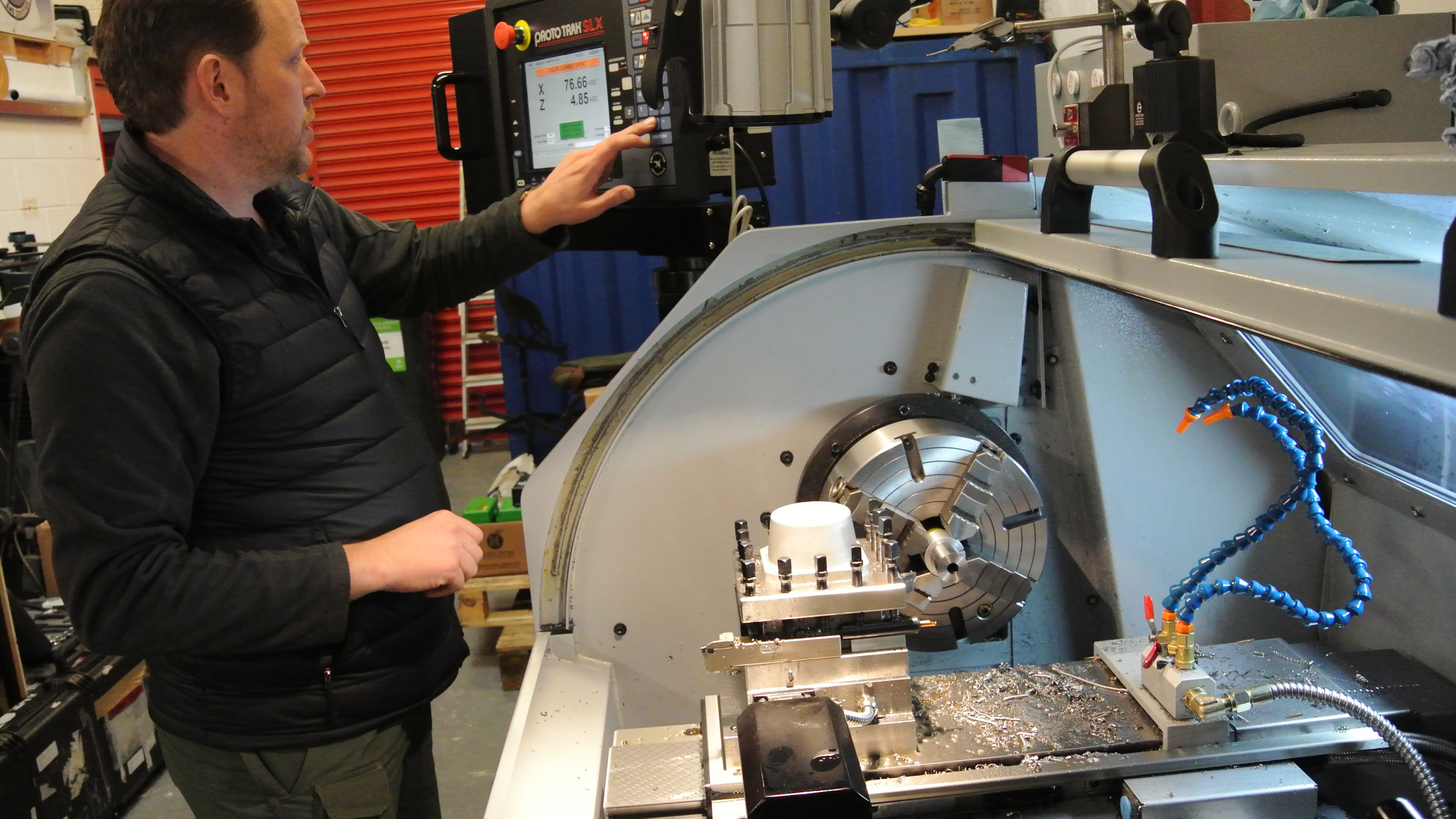 Stuart inputs the co-ordinates
With brand-new CNC machinery and a large barreling contract already completed, PGS are now able to offer shooters and the trade the best possible service in terms of turn-round times without sacrificing accuracy or quality. At the time of my visit, I was able to witness for myself, a CNC lathe carrying out work in a matter of minutes which would normally take me – and any other gunsmith – hours to complete. Not only that, the standard of finish to the chamber and threads etc. was second to none.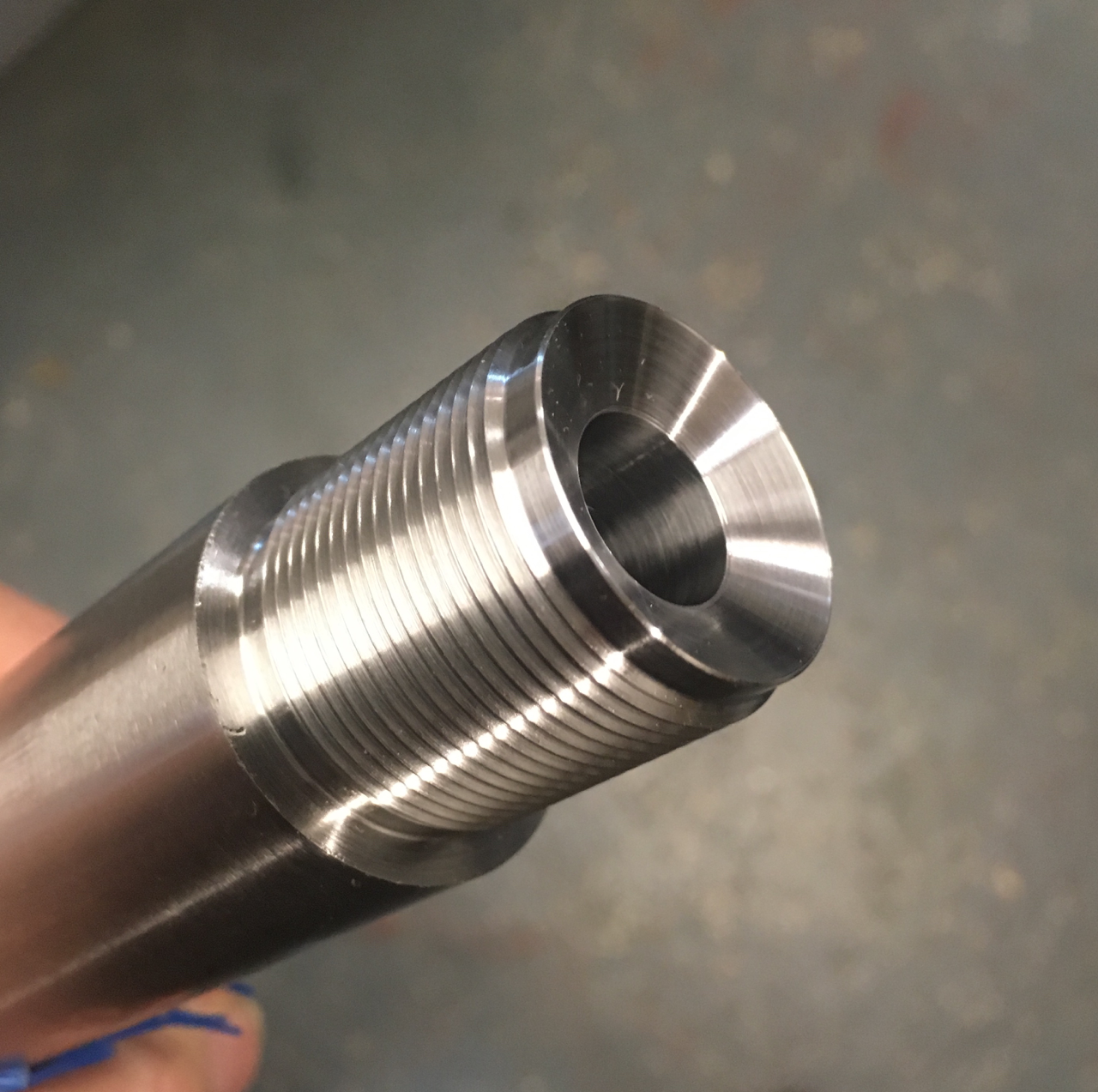 Look at that finish – and in just 15 minutes!
I've spent countless hours carefully chambering my barrels over the years and to witness a CNC machine at work is somewhat nerve-wracking. I stood in awe as the 308 chamber was cut – in minutes – to the exact headspace. A minute or two later and the tenon was turned and threaded – and this was for a rare RADO action from Germany for a Lithuanian customer, which the guys had never worked with before. Co-ordinates for more popular actions – like the BAT, Stolle, Barnard etc. – have already been programmed into the machine by Pete and Stuart.
Of course, all custom gunsmiths like to brag about the accuracy of their work – i.e. chamber run-out and I challenged Pete and Stuart to run a dti into the chamber with the lathe spinning – as you can see from the video – there isn't even a flicker on the needle. Awesome!
The world of precision engineering has changed drastically over the last decade or two. Thanks to CNC machines, new standards of accuracy are achievable and production times decimated. It was inevitable that it would eventually infiltrate the world of custom gunsmithing.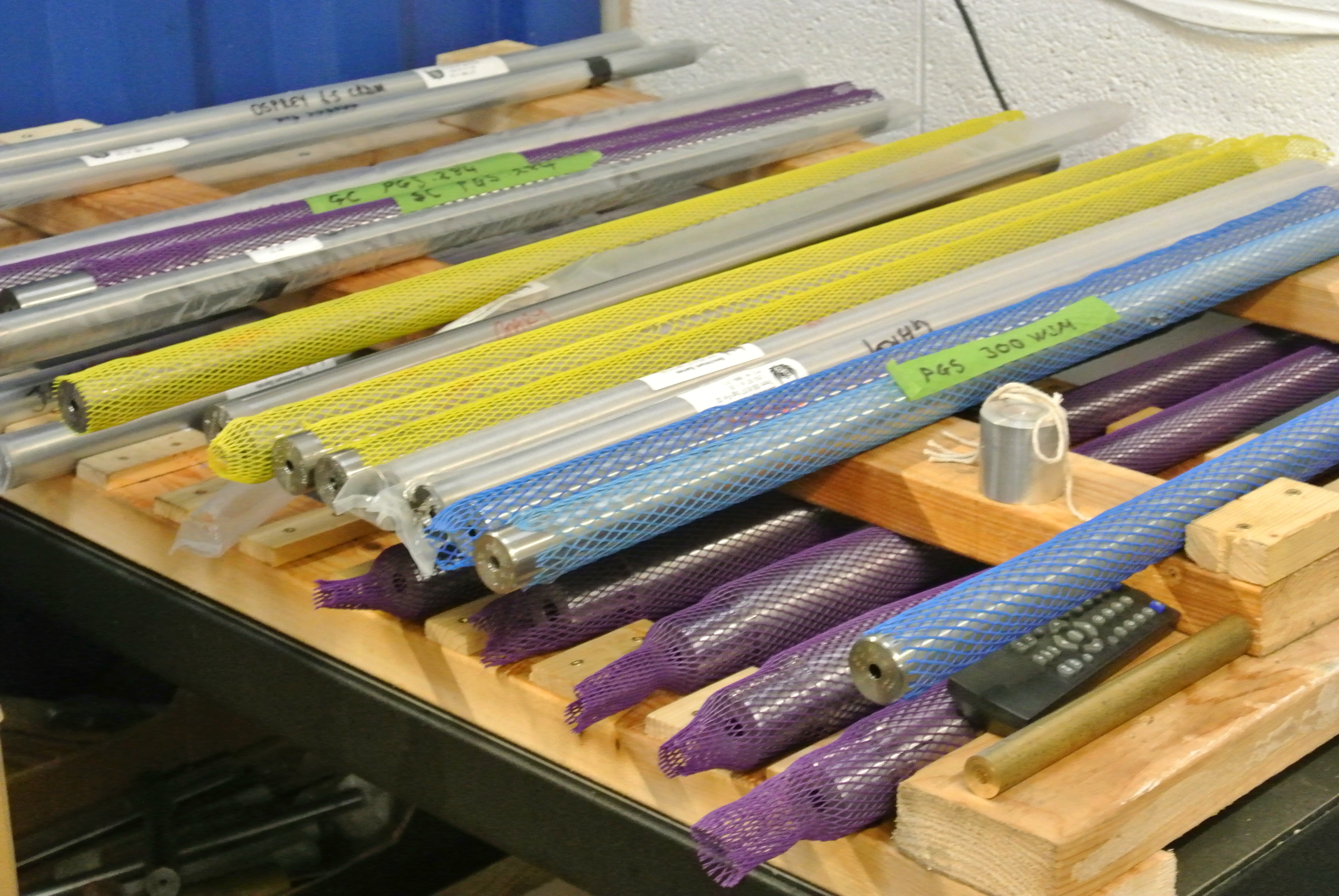 Customer barrels awaiting the CNC treatment
In addition to bespoke re-barreling, PGS can supply 'pre-fit' barrels for many actions and even offer a complete 'off the shelf' rifle using the Canadian Ultimatum Precision action, utilising a choice of stocks and chamberings and of course tweaked to the customer's individual taste and useage with triggers, brakes, rails etc – including the acclaimed Cerakoting process, which is carried out entirely on-site, again aiding turn-around times.
Contact PGS Precision Engineering on 01293 606901.