I still won't get to use my new Mini in competition for another week or so but, as things are a bit quiet at the moment, let's have a closer look at this latest offering from Seb Lambang.
No argument, the existing Seb NEO has taken the F Class and Benchrest world by storm and a glance along any firing line – be it F Open or Benchrest – and you'd think these rests were being given away for free, such is their popularity.
Benchresters love 'em and ex World Champion Mike Ratigan even has a version of the 100/200 yard rest named after him. Mike and Seb worked together to make the NEO even better – if you shoot short-range benchrest, this one's for you. If you don't, shoot the standard version. Similarly, amongst F Open shooters, virtually the only competitors not using a Seb NEO are those using the Max version!
But herein lies the problem – weight. In F Class (and Benchrest for that matter) set-up is everything and setting up on soft grassy firing-points can be a problem. Heavier is better – which is presumably why some still choose the 40lb Max – but how much is too much?
I love my Seb NEO for Benchrest competition and I did use it in F Class as well but eventually, a 22lb rest and a 20lb rifle plus a 10lb back-bag plus ammo…… Well, you get the picture! I now shoot off a Seb Joypod and yes, I probably give away a point or two but reader, something had to give.
Clearly, I'm not the only one for it wasn't me who suggested that Seb make a lighter rest! Of course, Seb is not the first one to offer a lighter rest but honestly, the ones I've seen are just too small/light to be really fit for purpose and didn't catch-on so, serious 'effers continue to lug their NEOs from point to point.
Enter the Mini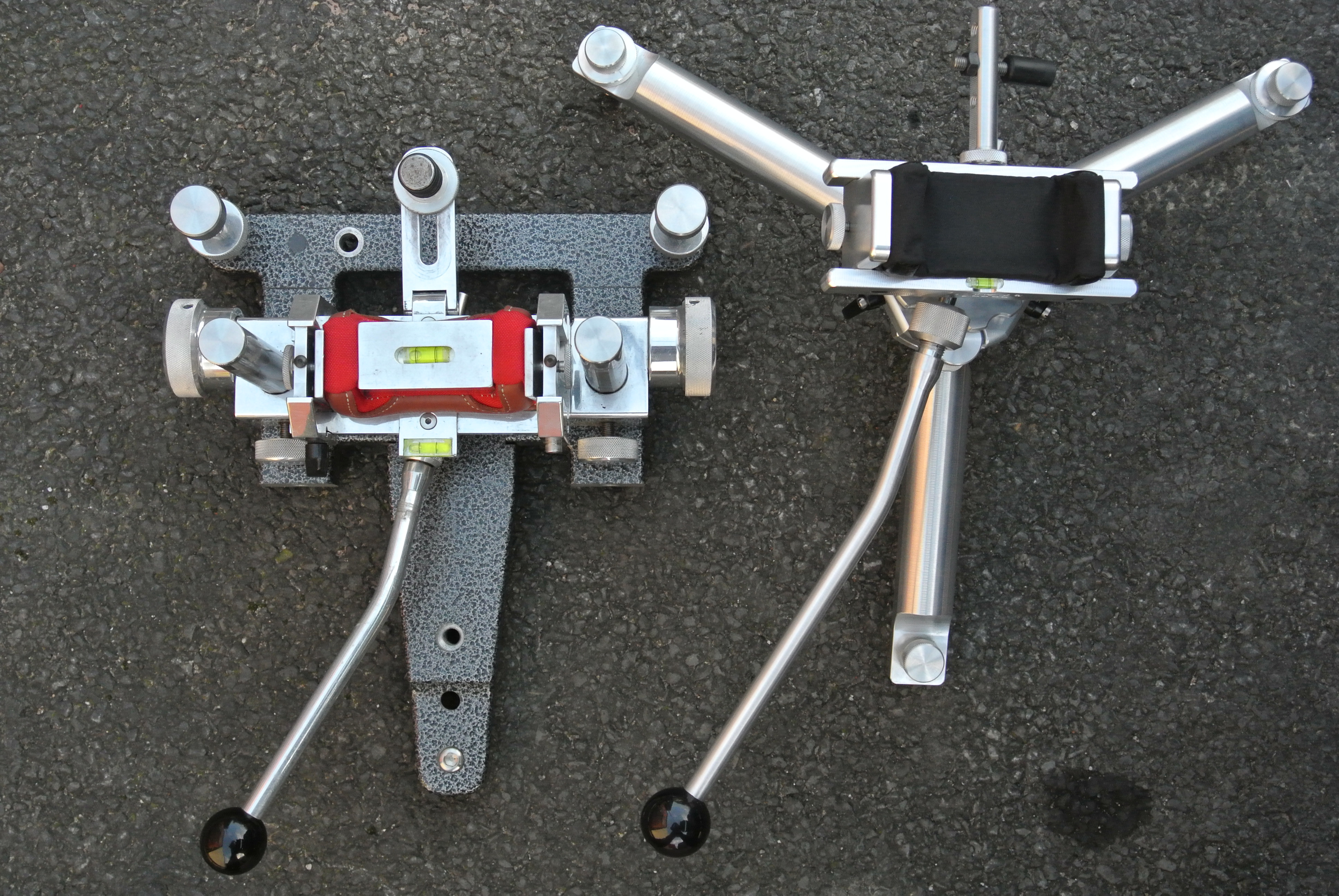 It's lighter but it's also bigger
Yes, having seen those previous attempts at a lighter rest, I was sceptical. But, on removing the Mini from its packing case, three things immediately struck me:
The beautiful workmanship we have come to expect from Seb.
The weight – it's not THAT light folks – but 10lb lighter than the NEO.
Lastly and probably most importantly, it's bigger!Yup – it's bigger – it has a bigger 'footprint' than the NEO. Lighter weight means less stability but Seb has cleverly 'recovered' this by providing a greater footprint. Clever that.
And there's more. You can buy just the top of the Mini if that suits. In other words, you can plonk the top on your existing tri-pod base (some fitting may be required dependent on make) or even provide your own base – if you had your own range for example, you could bolt it permanently to a bench-top.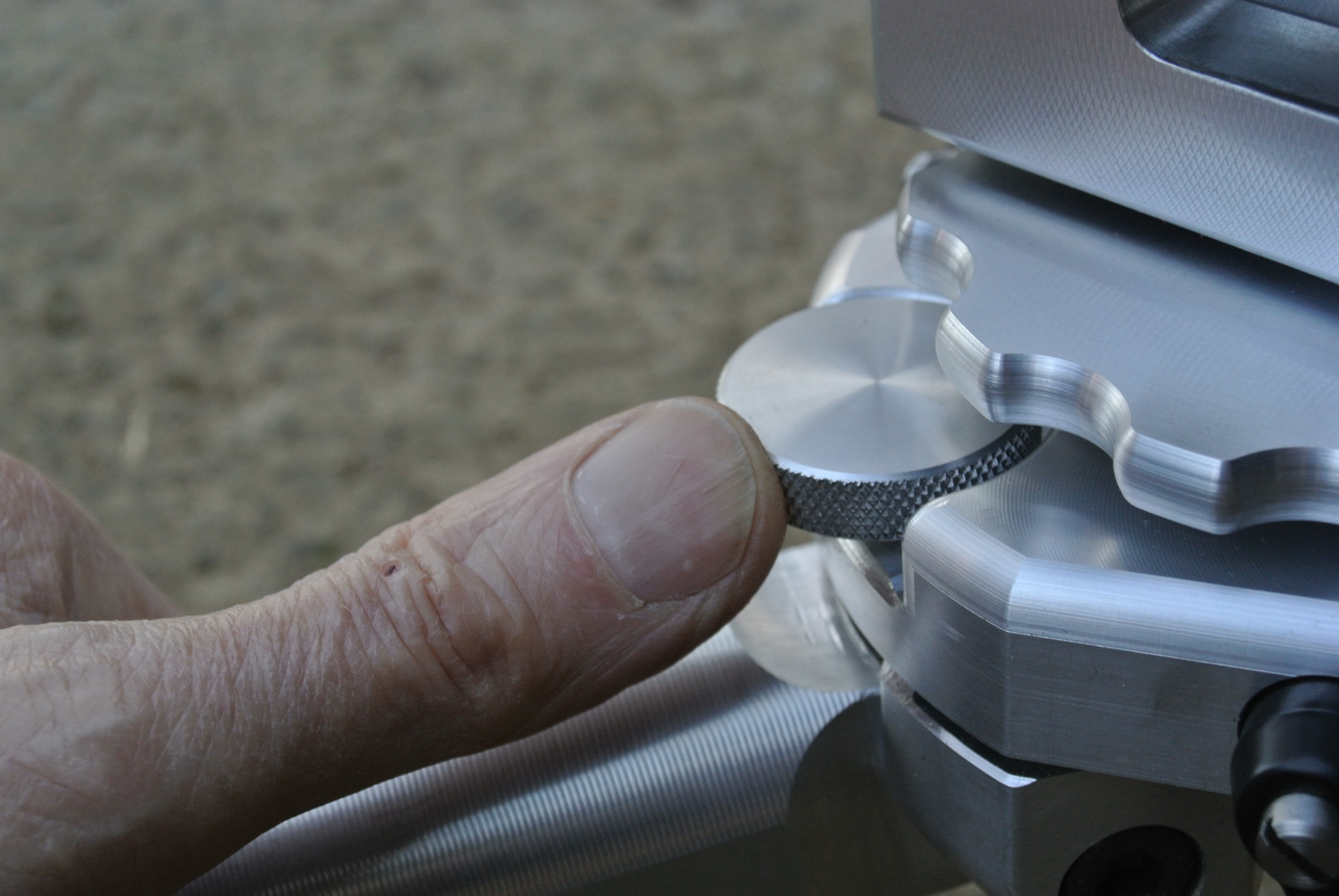 Thumbscrew adjusts the height of each leg
But let's look at our Mini in more detail. Each of the three legs has it's own 'angle' adjustment – enabling you to obtain a steady, level set-up on the most uneven of firing-points. The centre pedestal can be raised and lowered using a 'mariner' wheel and of course, there is the familiar joystick adjustment. The top is designed to take a standard three-inch front bag and mine came with Seb's own version, which is excellent.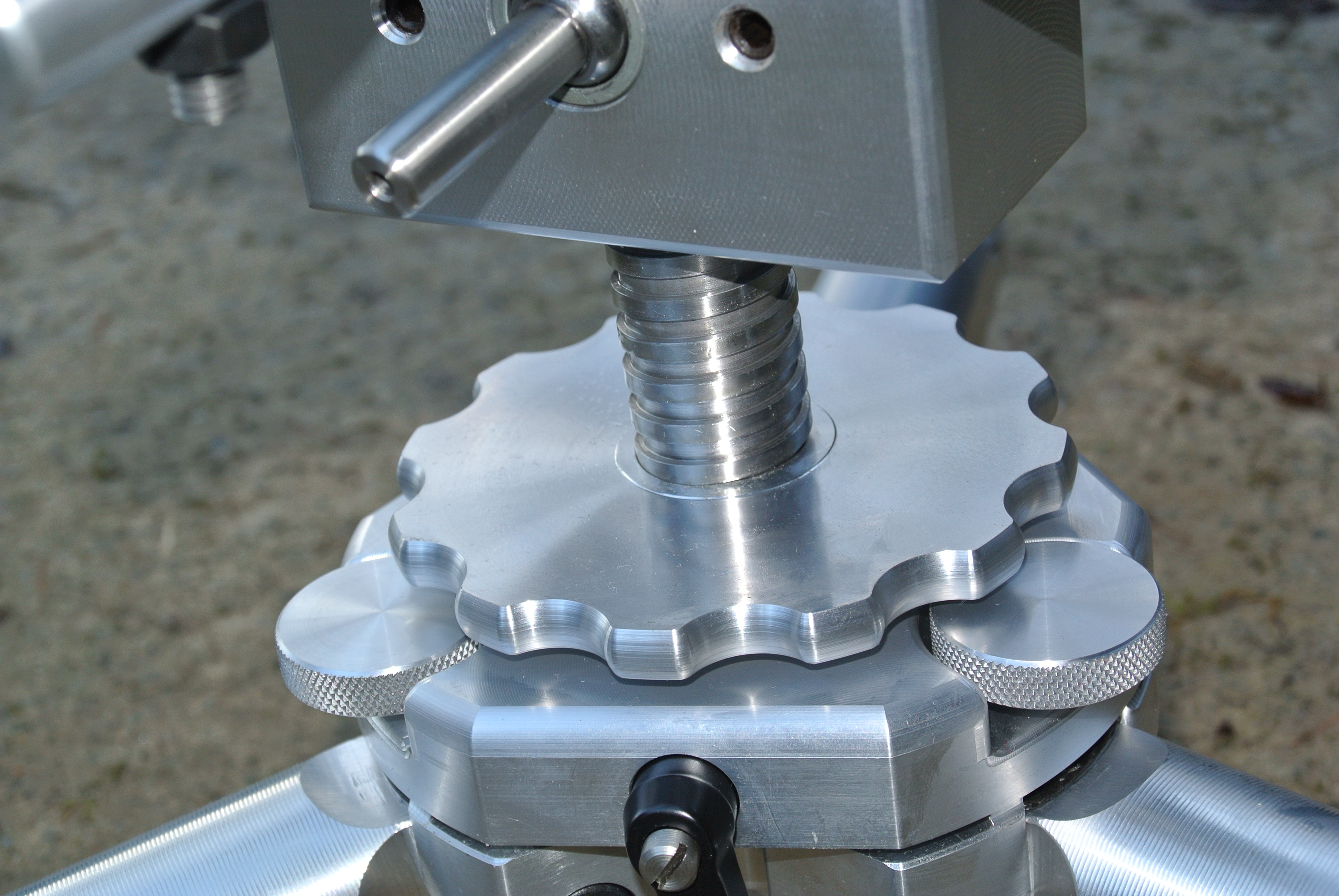 The mariner wheel offers about 40mm of vertical adjustment
The final feature we get with the Mini is one which I really missed when I upgraded from the Seb 'Original' co-axial rest to the NEO – the ability to swivel the head without moving the whole base. As we said previously, set-up is everything and it is essential that the fore-end of the rifle is absolutely square to the front bag. If not, the fore-end will be only in contact with the edges of the bag and, during the course of your shoot the bag will slacken – as the sand shifts – allowing lateral movement of the rifle.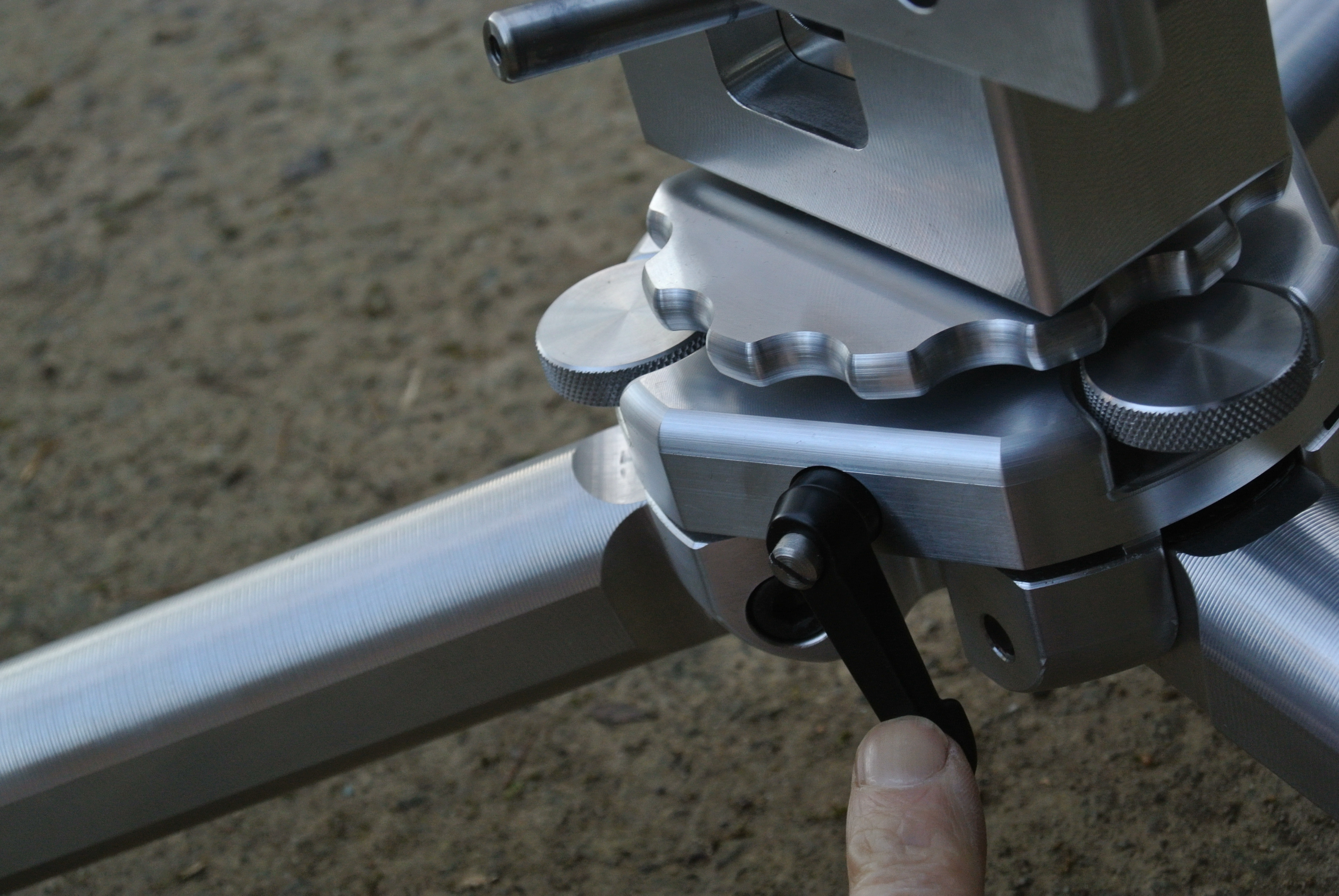 This lever locks the mariner & the swiveling head
How do you check if the bag and fore-end are at right-angles? Quite easily if you are sat at a bench but less so when prone. Only by getting out of the prone position and standing above the rest. Then, the rest must be picked-up and bodily moved to correct any mis-alignment. With the Original, the base could be slackened during set-up then clamped once on target. Wisely, this useful feature is back with the Mini. Great!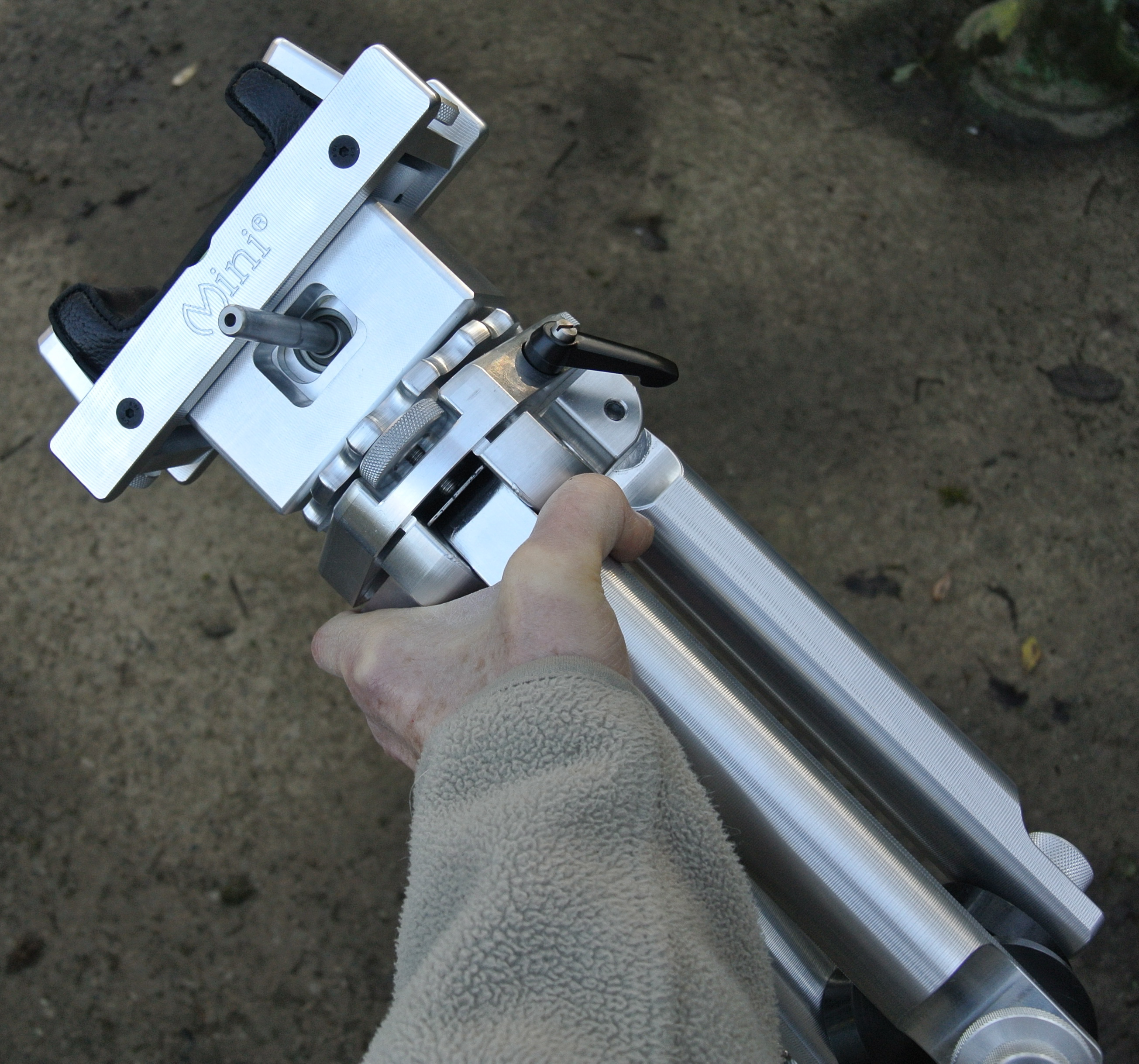 The Mini is highly portable when folded – I might make a strap and sling it over my shoulder
The screwed legs – or feet – are identical to the NEO, i.e. a 12mm thread with a hardened steel point. These are great for hammering into a concrete benchtop but, if you shoot off grass then those large 'spreader' points are essential – your exisiting ones for your NEO will screw straight onto the Mini's legs. As previously mentioned, each leg can be adjusted individually but with everything set at the lowest point, the front bag is seven inches off the ground. Using the leg adjustment and the mariner wheel, another five inches of elevation is available – more than the NEO actually.
Finally, we started this article talking about weight so, what does the Mini weigh? Well, at 12lbs, it will save you a whole 10lbs over a NEO and, to me at least, that's significant and it also means that the Mini is not too mini. Those legs by the way are really hefty – solid aluminium and if you wanted to you could save a fair bit by machining a deep slot in the underside but personally, I think Seb's got it just right.
Shooting the New Seb Mini
At last, a chance to shoot the Mini in competition – a 600 yard F Class shoot at Diggle Ranges. However, the mist is playing with us and we may not get chance to finish the detail.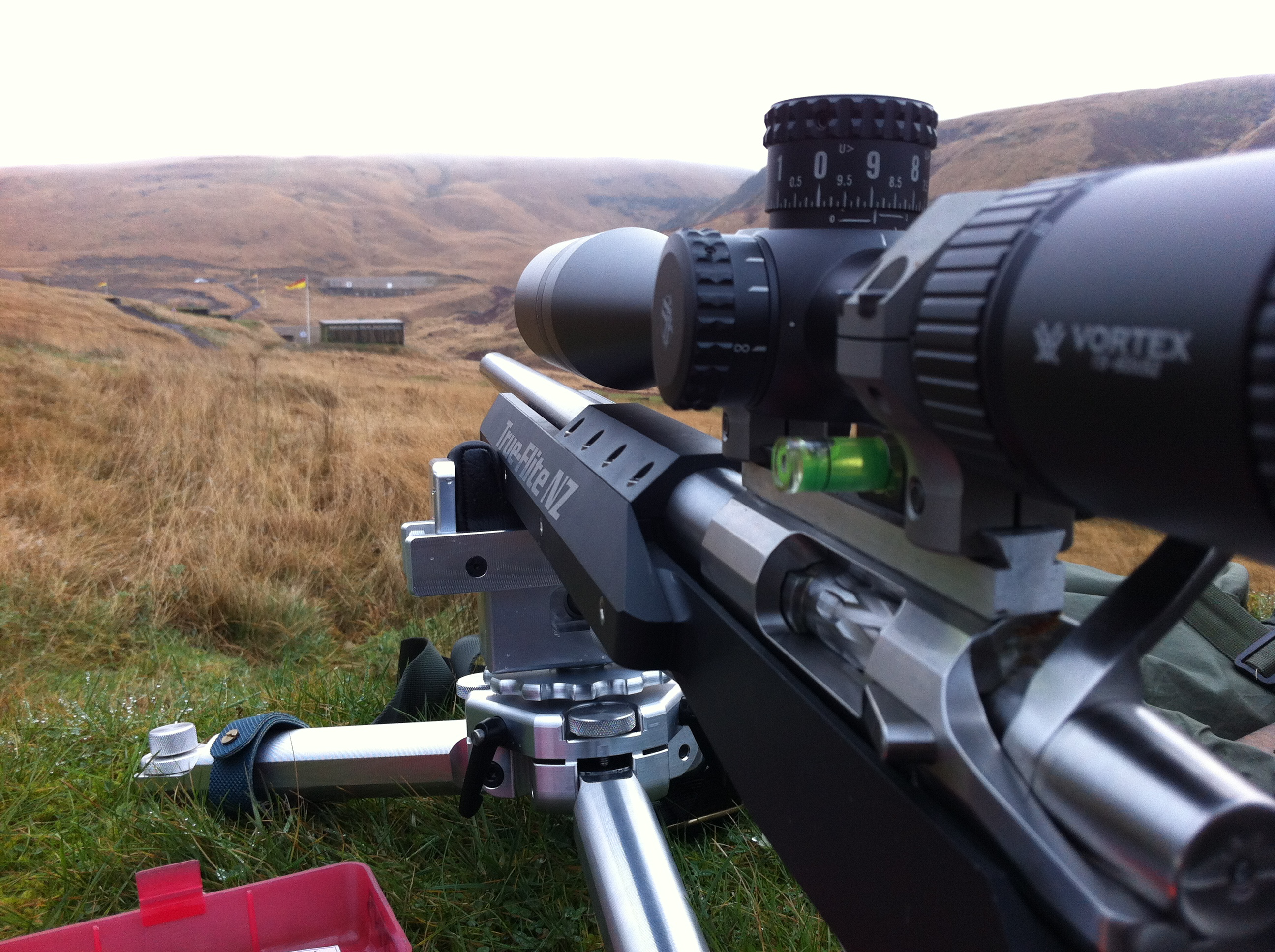 It was a typical winter's day at Diggle – cold, damp and misty but it was great to get behind the gun again after the Christmas break.
I've fixed a strap to my Mini so, by slinging it over my shoulder, I can carry rifle, mat and back-bag with ease – so that's a big 'plus' right off. Of course, I'd already stopped using the 22lb NEO and switched to a super-light Seb Joypod even though I shoot F Open. I've found the Joypod to be very stable though obviously it can't offer the 'tracking' of a NEO but it's very good.
Another advantage of the Joypod is the ease of setting up but the Mini was pretty quick as well. Drop it on the point, then level the bubble using the leg-adjuster thumb-screws. Because the screws are at the pivot point they move the legs very quickly – as opposed to screwing the feet to level a NEO. Wind up the mariner wheel to get on target, nip up the locking levers and the rest is perfectly aligned – thanks to the swiveling head.
The joystick offers plenty of movement at 600 yards so staying on target throughout the shoot was no problem and, more importantly, I could swing onto my competitors' targets as a final wind-check. I'm used to shooting off a squashy back-bag with the Joypod but I could see this option wouldn't work with the Mini and I ended up borrowing a bunny-ear back-bag (thanks John).
It was also my second shoot with the Vortex Golden Eagle and I must say, the difference in set-up really showed. The Eagle's centre dot was rock-steady on the V bull – just like benchrest! I don't think I'll be going back to the Joypod anytime soon………
I had the joystick set a little stiffer than I would for benchrest but not so stiff that it made it 'jerky' to get back on aim. I did however hold onto the joystick as I pulled the trigger.
When you do a range test like this, it's always great if you can post a decent result and I'm pleased to be able to report that I won Open Class – though only on count-back – luckily, my last shot was a V bull.
So, the Seb Mini lived up to expectations and ticked all the boxes – lighter to carry, easy to set up, plenty of adjustment, very stable. Thank you Seb – I would say you have a winner here!