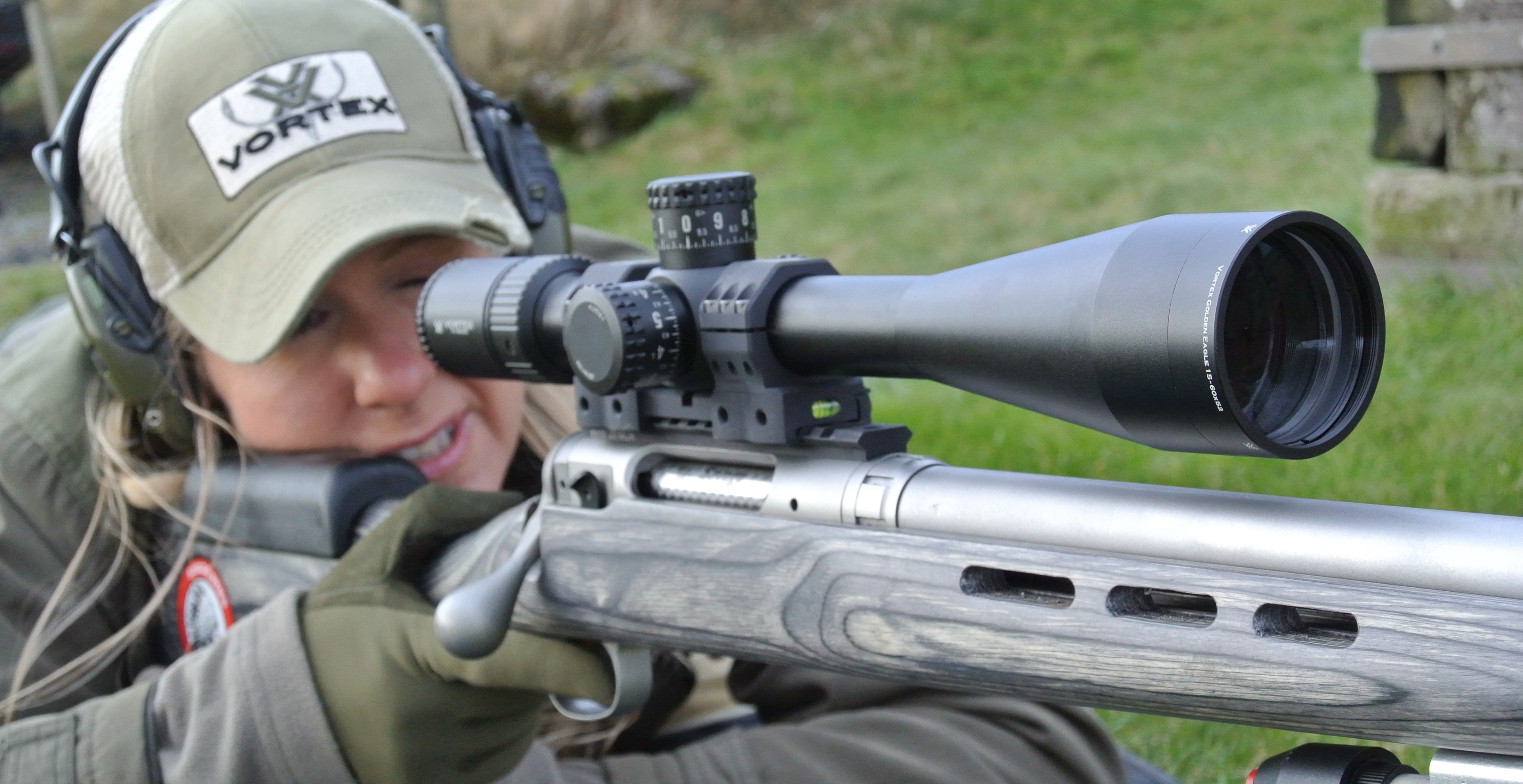 The Golden Eagle was introduced to the public at the Vegas Shot Show earlier in the year and, if you recall, Target Shooter managed to hi-jack the demo prototype for a day whilst it was en route to the IWA Show in Germany.
This scope is obviously aimed at the serious F Class shooter but, with a mere day to evaluate it, we did what we could – no chance to shoot it in a competition but we did the usual 'round the angles' and 'return to zero' checks and the Eagle performed impressively. Finally, we took it out to 1000 yards and pitched it against the 'industry standard' the 10 – 60 March. Optically, none of the shooters present could detect any difference.
OK, so what? Yes, there are several other scopes which have also stood up to scrutiny against the March – the 7-42 Leupold and the Nightforce 15-55 Competition for example. You may also want to include scopes like the competitively priced 10-50 Sightron (34mm tube model), the 12-50 Schmidt & Bender, the Khales 10-50 but, unfortunately, these scopes – and a few others – fall into the 'two-pound plus' heavy-weight bracket, which really precludes their use by the weight-conscious FTR shooter but fine for Open Class of course.
Not surprisingly, the stunning March 10-60 is the current choice of the serious FTR shooter – this hand-built scope weighing just 25oz from the Deon Optical Corporation of Japan is as near to perfection as any long-range competition shooter could wish. So, why are we getting so excited about the Vortex? One reason – the price!
With the exception of the Sightron, all of the aforementioned scopes will cost you two-grand plus. I can accept that figure in relation to the 'built without compromise' March but, I struggle to see how the likes of Leupold and Nightforce can justify this kind of price-hike. Sensibly, Vortex manages to offer a product which ticks all the boxes but comes in at around two-thirds of the others! Fantastic value for a top-quality Japanese/American scope, especially considering the dollar/pound exchange rate following Brexit.
I'm currently using a Nightforce 8-32 NXS for F Open but I'd been dithering over a 10-60 March and finally managed to convince myself that £2000 plus for a March was justifiable but, as soon as I'd had a chance to put the Golden Eagle through its paces way back in February, I needed to have a rethink. A quoted sub £1500 price was almost too good to be true and my order was quickly placed – via Osprey Rifles.
Late summer was the predicted delivery date but, in the end, we had to wait until autumn. Now, finally, they are here. Osprey Rifles took delivery of a large consignment and they sold like the proverbial hot cakes and Opsrey are to be commended for sticking to their February quoted price and absorbing the exchange-rate loss. We will have to see if future orders are held at this figure.
What's in the box?
So, let's have a close look at the Vortex. Here's what we get in the box.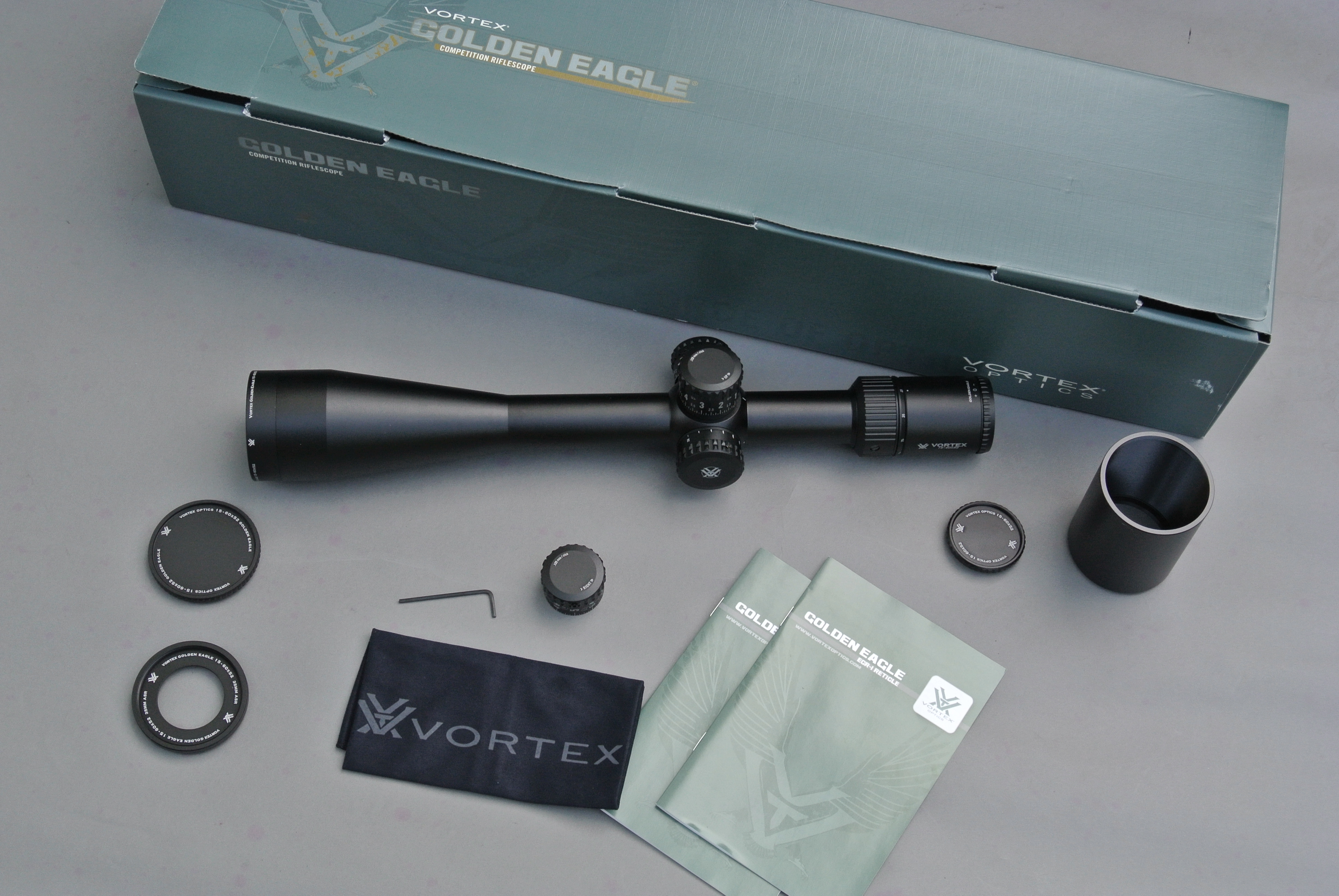  The first thing that pleased me was the inclusion of proper metal screw-on lens covers. For me, this is the very best type of cover.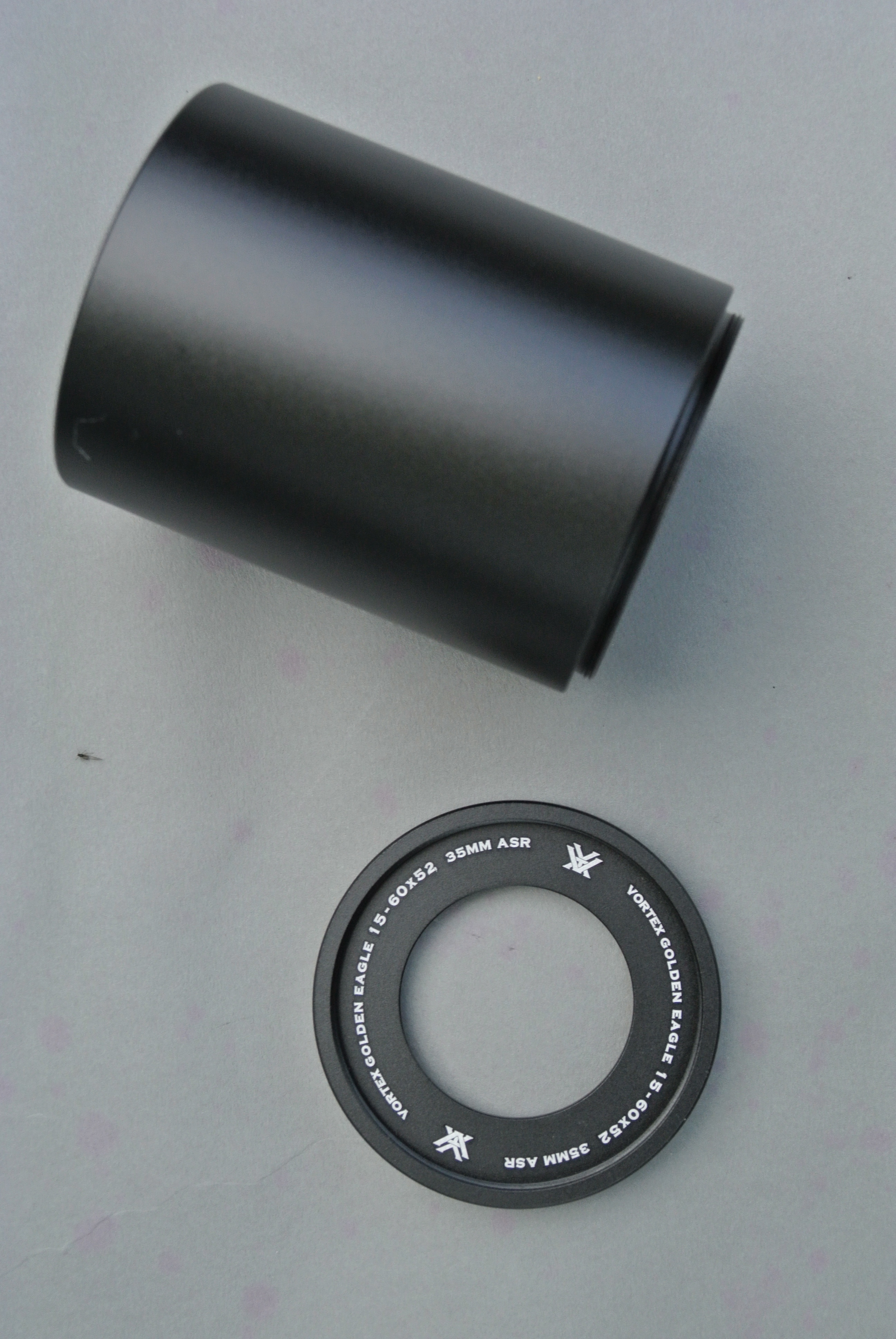  Another interesting item is the screw-on aperture reducer – which has the effect of increasing the depth of field – useful if you shoot in mirage conditions. Honestly, I've never tried one of these so I won't comment further at this stage.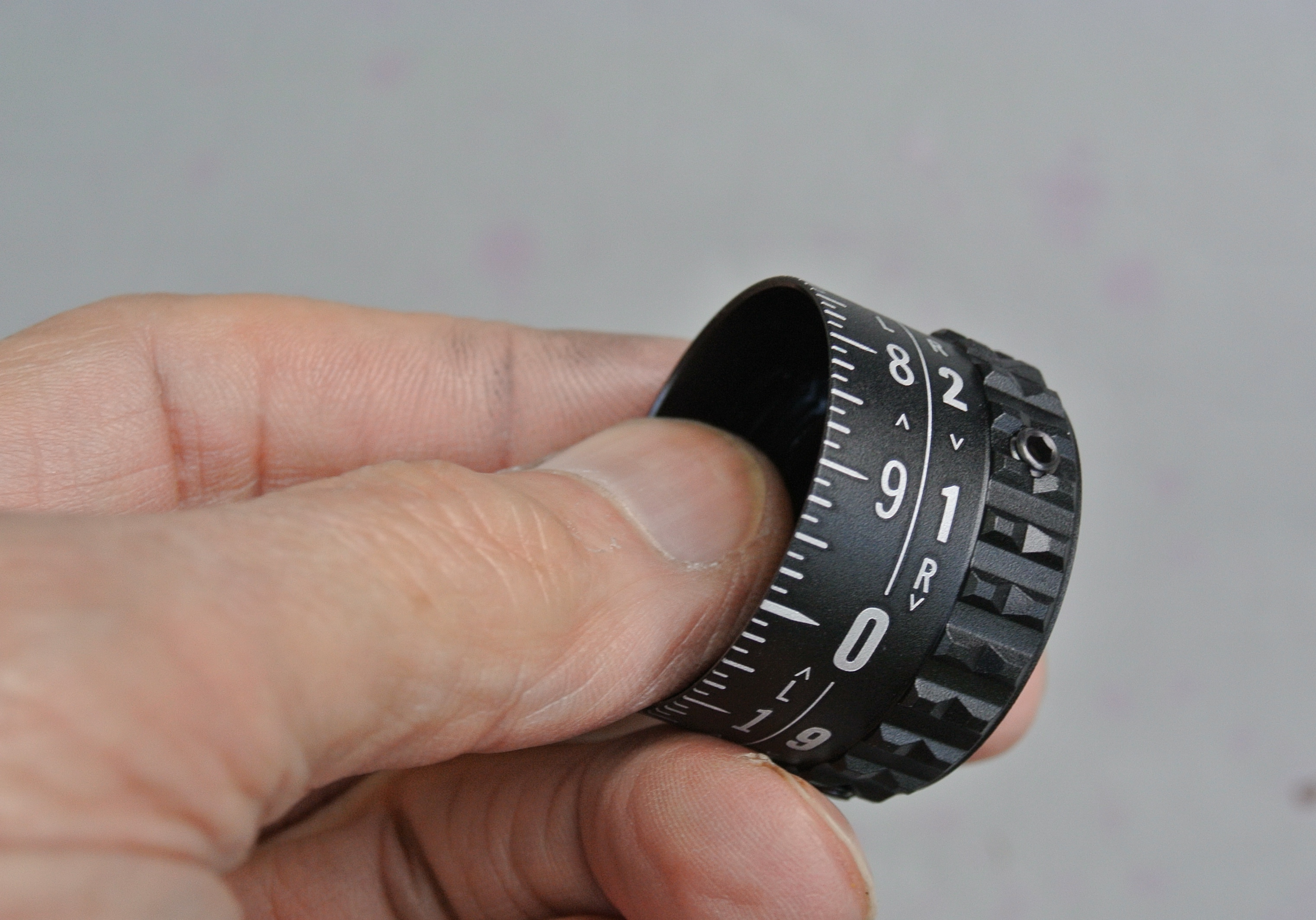  We also get an alternative windage knob – which counts in both directions if you know what I mean. If you are a serious F Class shooter – continually adding or subtracting windage MOA – you will appreciate this feature.
Of course, we also get a sun-shade – though where I shoot, these are referred to as rain-shades! Handily, you can use the aperture reducer with the sun-shade and the lens cap will screw on with the sun-shade in place.
Other bits and bobs include an Allen key for adjusting the turrets, lens cloth and two instruction booklets – one devoted to the ECR-1 reticle. This is the reticle to get if you are a competition shooter.
The ECR-1 Reticle
Before we go any further, let's have a look at this reticle. It's taken an awful long time to sort out scope reticles for the serious target shooter. When I started shooting, most scopes had the hunting-style duplex reticle or the equally useless (for the target shooter) mildot. Then I got my first benchrest rifle which had a scope with a simple, fine crosshair and I suddenly realised that this was all you needed for ultra-precise shooting. When Nightforce arrived, they bombarded us with a bewildering selection of unusual reticles which many shooters found un-necessarily confusing but, at least they were fine enough for precise aiming.
Now, we F Classers know what we want from a reticle. It must be fine enough to allow precise aiming on small targets at extreme ranges and, a few stadia lines don't go amiss but, beyond that, more lines just confuse things. Let's remember, with second focal plane scopes like the Golden Eagle, these stadia lines – or hash marks if you prefer – are only true at one magnification – which brings us to the ECR-1 booklet. Sure enough, the Golden Eagle's MOA hash marks are only true at 40x magnification – this is similar to the March 10-60. Maybe the manufacturer has decided that although we have 60x available, 40x will more likely be our chosen 'shooting' magnification.
I must admit, I prefer to aim-off rather than adjust for every shot when I'm shooting F Class so, to some extent, the MOA hash marks are useful, though the F Class target is usually equipped with half MOA rings anyway.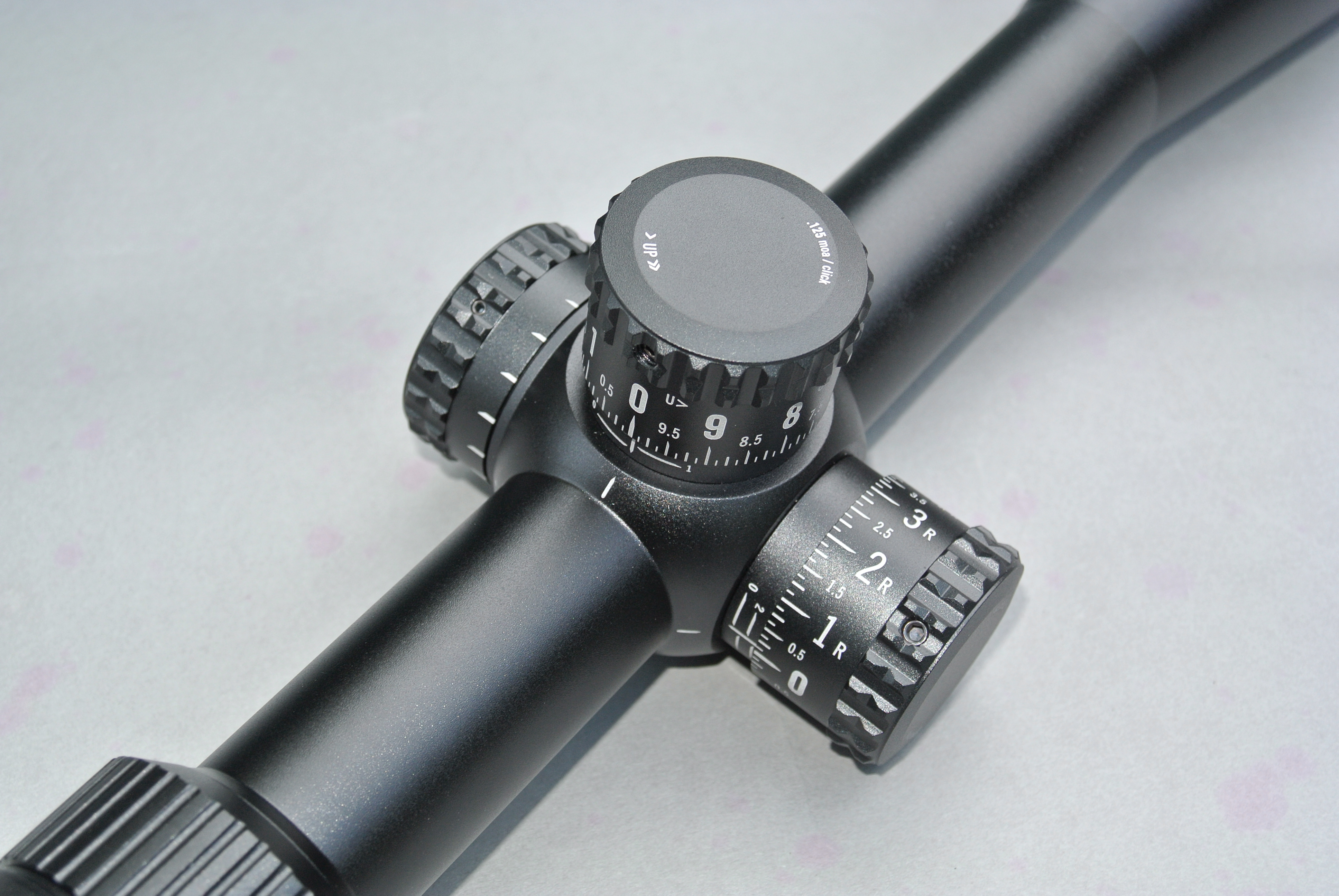 The Eagle's turrets move in positive 1/8 MOA clicks. Some shooters think that 1/8 MOA clicks are essential but, personally I'm happy with ¼ MOA. The main requirement is plenty of elevation adjustment – the manufacturer claims 55 MOA but of course half of this will 'disappear' in mounting and sure enough, in our February test we ended up with 22 MOA of elevation remaining after mounting so, if you intend to shoot out to 1000 yards, a 20 MOA tapered scope-rail would be a good idea.
Let's go and shoot
I've recently put together a new F Open gun chambered in 6.5-284. This was THE cartridge when F Class kicked-off a decade or so ago. Since then, the fashion has swung towards the 7mm – initially it was the all-conquering 7mmWSM but frighteningly short barrel-life brought about a change to the 284Win. Normally, this cartridge usually uses the Lapua 6.5-284 case necked-up to 7mm but now we can get an off the shelf 284Win case from Norma thanks to US F Class shooter Shiraz Balolia.
So why did I go for the 6.5-284? Good question. I no longer compete in the GBFCA League but thoroughly enjoy my 'club' F Class shoots and I had a theory that maybe with the new Berger bullets and powders that have come available in the last ten years, there was life in the old dog yet. Well reader, I tried 'em all and ended up with exactly what I shot back in the day – Vit N165 powder driving the Lapua 139gn Scenar at 3000fps!
So, the old dog shoots OK but ballistically it trails the 284 and I doubt that barrel life will be as good but at least I now have equal optics to anyone on the point and I'll be debuting it at our 1000 yard shoot this Sunday.
Did I notice a better picture over my 8-32 NXS? Well yes, it was nice to have that additional magnification and yes, it's sharp at 60 power. But, of course, I wanted to see the targets either side so I wound it down to 35x. Then I remembered the hash marks and upped it to 40x!
I can't say I ever used the hash marks but, overall, I liked the ECR-1 reticle and it was very easy to aim with using the tiny central 'floating' dot and crosshairs. And I did get caught out with the 1/8 MOA clicks when sighting-in – I was initially 'clicking' thinking they were quarter MOA……
The 'both ways' windage knob was great. At the end of the shoot, it was easy to know which way to turn it back to zero. So easy to turn it the wrong way especially if you don't do it right away.
Should you buy one?
Well, a high-magnification zoom scope seems to be an F Class essential, judging from the number of 10-60 March and 15-55 Nightforce scopes in evidence at any GB F Class League match.
If these three scopes were all in the same price-bracket, then the decision in choosing the Eagle would be more difficult but, when the Vortex is only two-thirds the cost (£1450) of the other two……… However, weight-wise, there's a small penalty – at a tad under 29 oz the Eagle is 3oz heavier than the March but, if you choose your rings carefully, you could pull some of that back.
Finally, Vortex offer probably the best 'no quibble' guarantee on the planet and, if you had any wavering doubts about buying a Golden Eagle, that should clinch it.
Contact Opsrey Rifles on www.ospreyrifles.com or e-mail Stuart on stuart@ospreyrifles.com