The UK's oldest F-class match, the Northern Championships predates the National League by several years, now fully incorporated into the League, it constitutes round five and marks the point in the season when you can start to drop your poorest score and focus on your four best scores to count.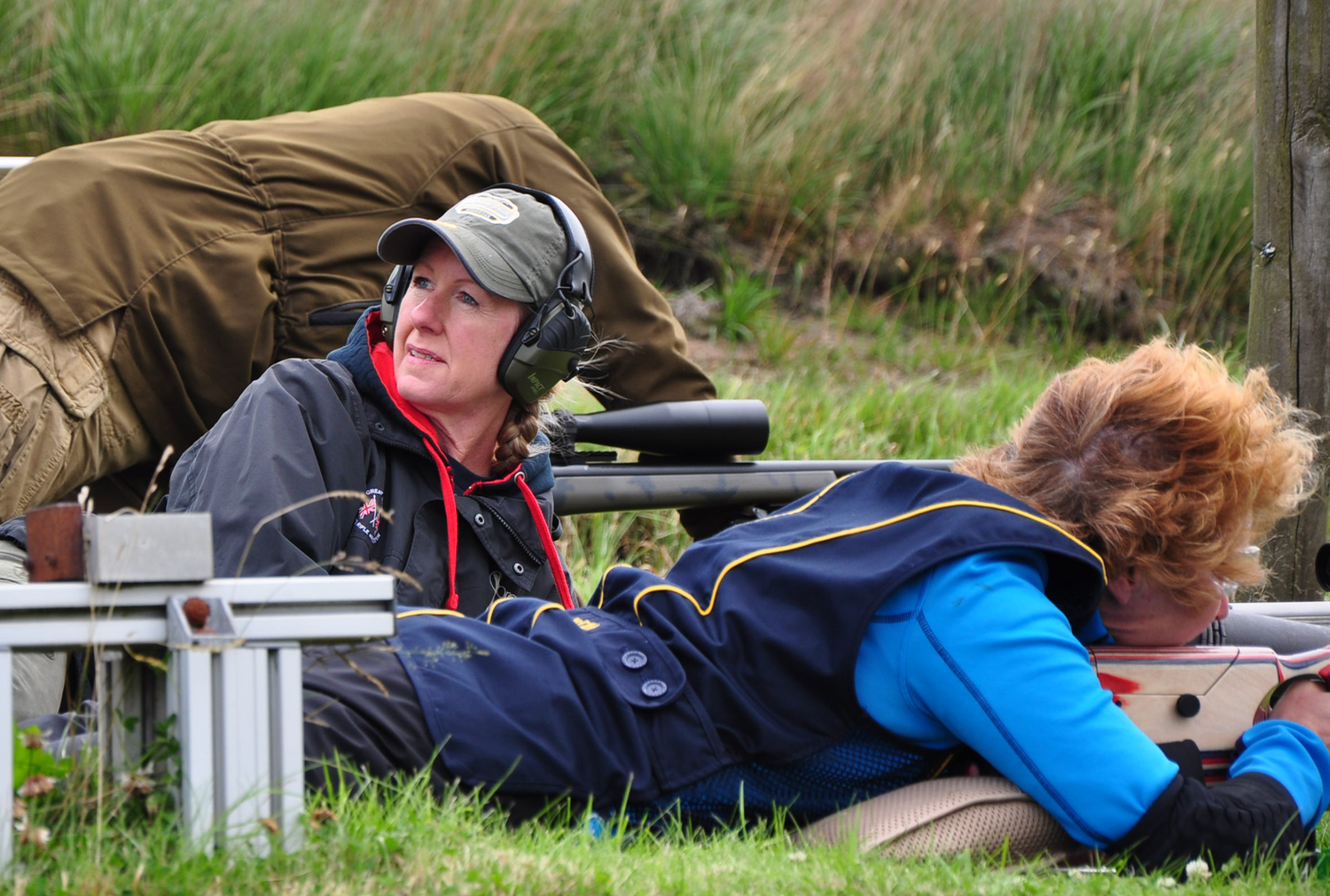 We had a good healthy entry of 71 shooters (1 dropped out), the mix was: 38% F/O and 62% F/TR, showing how F/TR continues to grow apace. We had six ladies shooting this time, the most ever. All, except Yvonne Wilcock, were shooting F/TR – Yvonne was using a Savage 6.5/284 in F/O. Our farthest-travelled competitor was Sue Le Cheminant all the way from Jersey.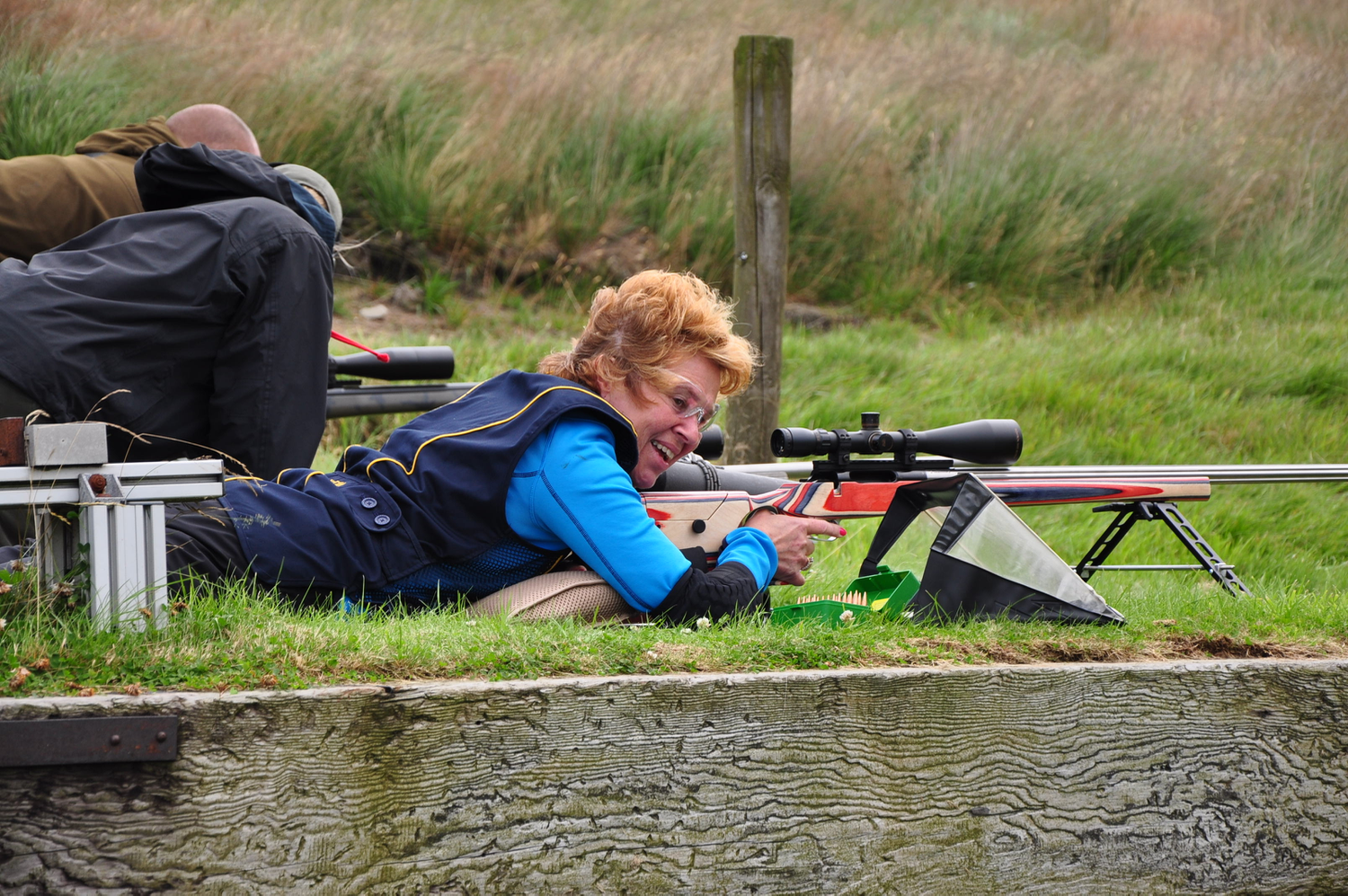 As always at Diggle, the weather was at the forefront of everyone's mind; what would it be like this time? Well, as it happens there was little to worry about; no rain and no mist to delay us, quite remarkably we had two consecutive dry days at Diggle. The wind on the other hand, well that was certainly up to Diggle's difficulty standards especially on the Sunday.
Saturday
Stage 1
Kick off was at 800yds on the new firing point, partly to give us more experience of 800yds, but also so as to keep the neighbours and their horses happy at that early hour.
F/TR got the better part of the deal on Saturday, as the morning wind conditions were pretty benign. The F/TR guys must really be congratulated for the effort they put into their load development; it was a pleasure to mark their targets – most shots landing right across the watermark. Paul Crosbie put all his experience to good use and established a new National League record score of 99.7, finally breaking Glen Jones' 8 year reign. Ian Chenery was just one point behind Paul, with even more V-bulls though at 98.11 which would also have broken Glen's record.
When the F/O guys got to play, the conditions were not quite ideal, needing about 2-3 minutes on average, but they nonetheless made good use of the opportunity for good scores. David Lloyd the F/O GB Captain, led by example to score 100.14 the only full-house, though Philip Shambrook & Martin Townsend were not far behind.
F Open
David Lloyd               100.14
Philip Shambrook   99.12
Martin Townsend    99.11
F T/R
Paul Crosbie 99.07
Ian Chenery  98.11
Matt Jarram  98.09
Stage 2
Moving back to 1,000yds, it was noticeable how quite a few shooters were confused by how many minutes of "come-up" they'd need – the sighters on many targets took a while to settle on the middle of the target. Spare a thought though for Sean Maher who found to his chagrin that his scope's windage turret was a full rotation out – he actually hit the neighbouring target!
Once again, the F/TR shooters made full use of the good conditions and amassed some fantastic scores; Alan Baldry and Stuart Anselm each scored 95.6. Alan was using a CST actioned rifle by Dolphin, while Stuart used a new Victrix, both guns and shooters were clearly on top form.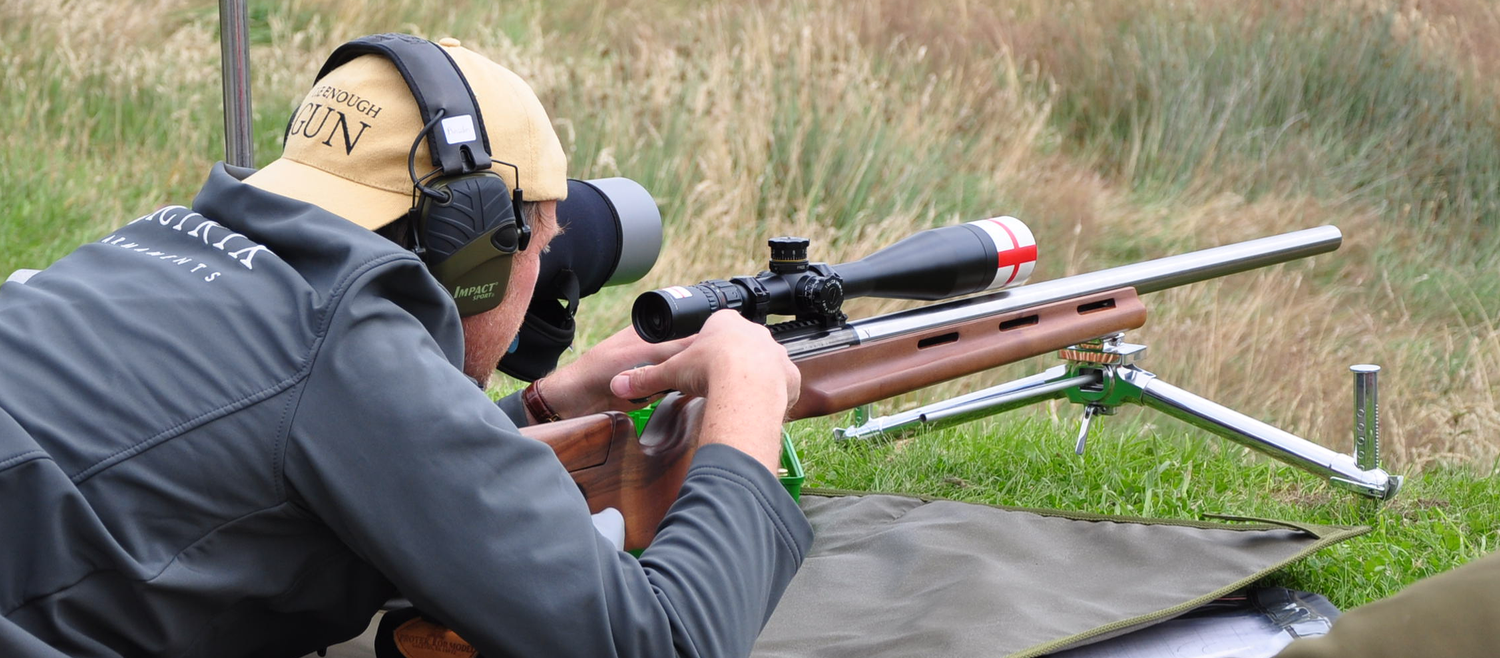 Conditions were not quite so good for the F/O guys, but then again, their ballistics ought to compensate for that, and so it seemed as Lance Vinall and Hugh Inglis both scored 95's, Lance taking it with one more V-bull.
F Open
Lance Vinall  93.09
Hugh Inglis   93.08
Dan Brough   92.06
F T/R
Alan Baldry               95.06
Stuart Anselm           95.06
David Rollafson       91.06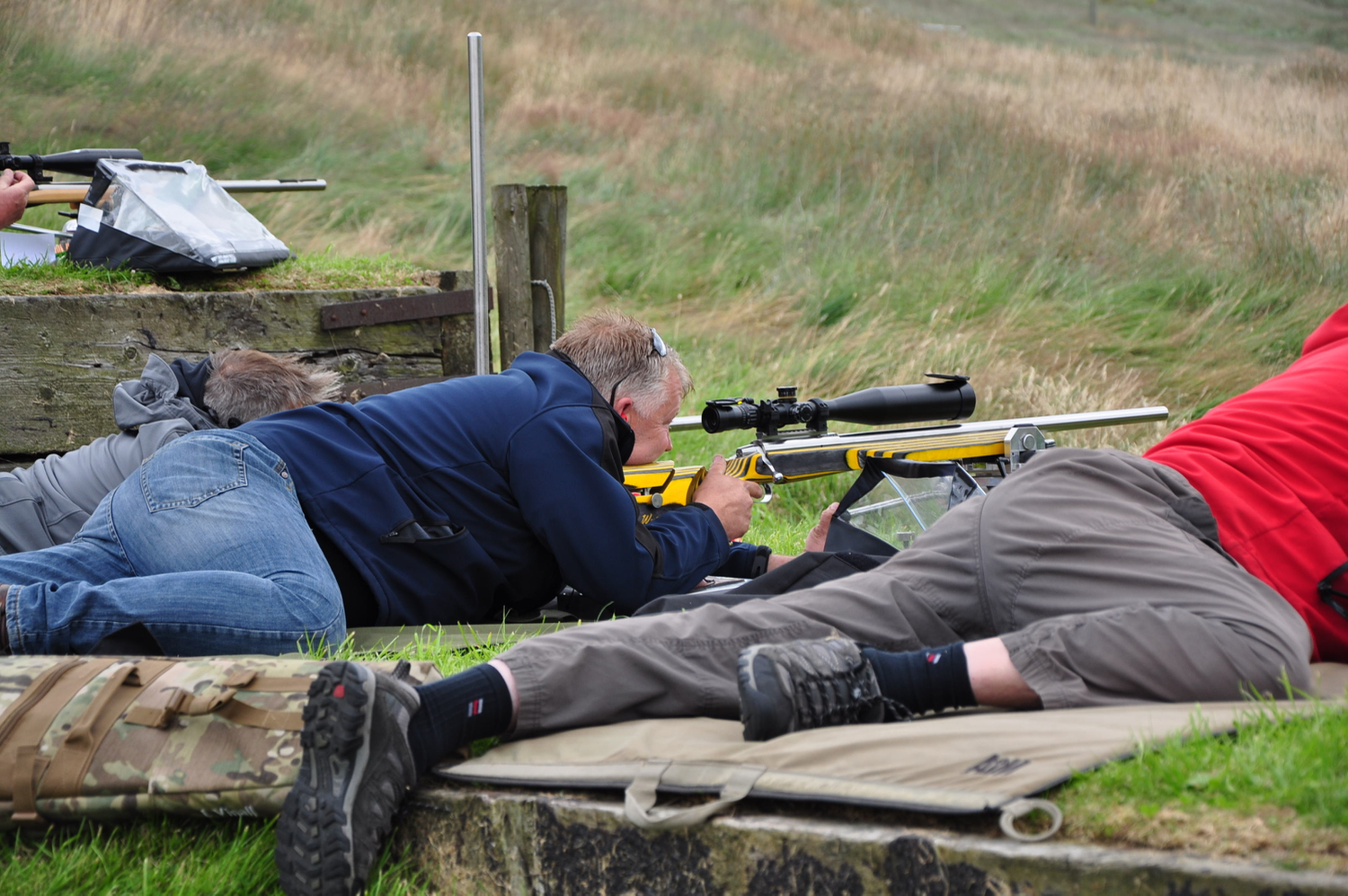 Saturday had been one of those days you simply recall as being a perfect day for F-class; shooting in shirt sleeves in warm weather in good wind conditions with an accurate rifle. Some shooters returned to their digs with a warm fuzzy feeling, only to notice it was actually sunburn…well, it made a change from getting soaked as we often do at Diggle.
Sunday
Stage 3
Sunday dawned bright and dry, but noticeably windier, the forecast had predicted a dry day, but with strong and blustery wind and it seemed the meteorologists were right. This was going to be more of a challenge for the wind-readers and was sure to churn up the names and rankings on the scoreboards.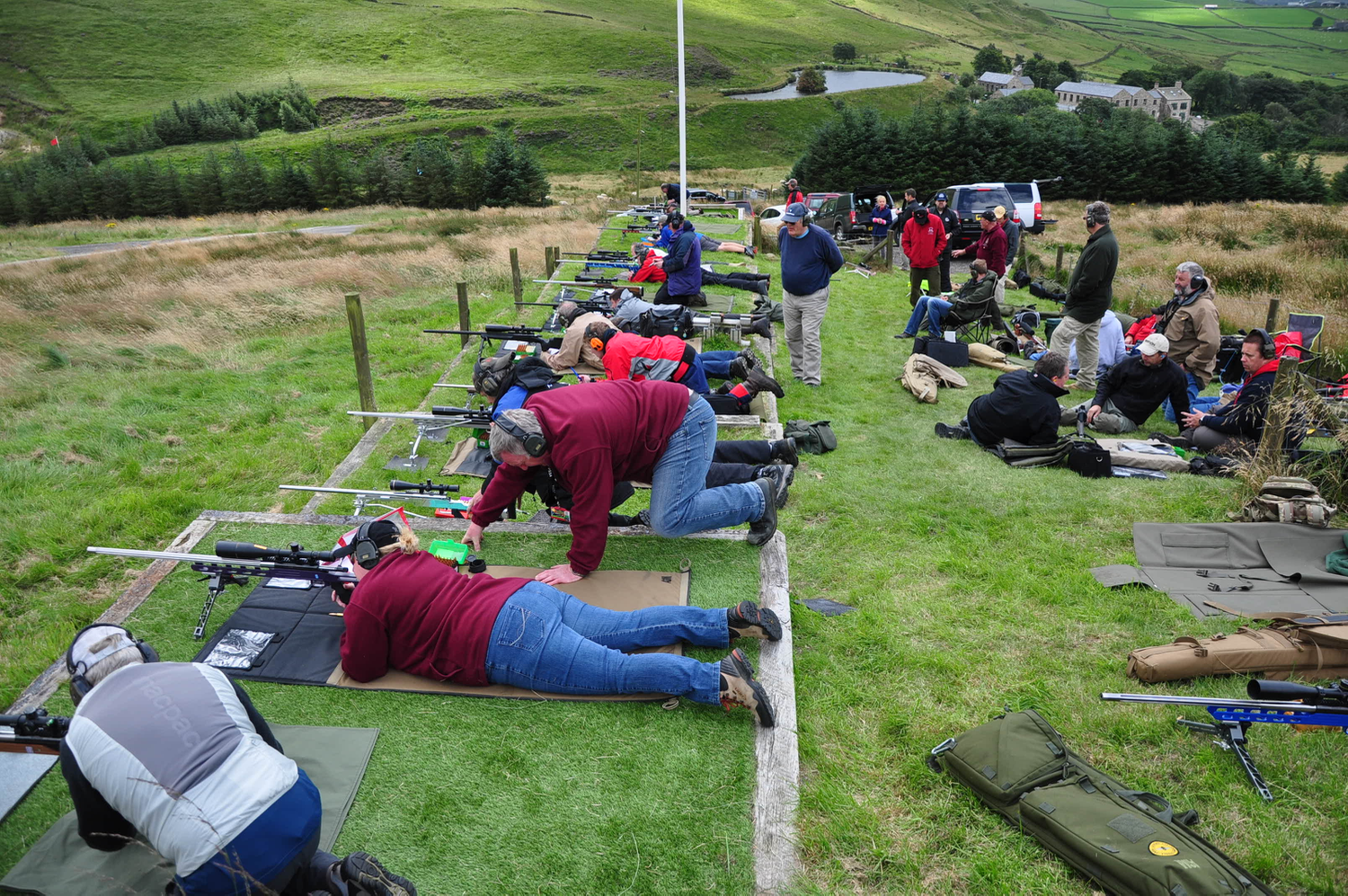 Once again, we started off at 800yds for a 2+15. 800yds is a good distance as the standard target is proportionately larger and gives the shooter a confidence boost – provided their rifle and ammo' is up to the job of course. The F/O guys got first go this time. The wind looked pretty dramatic, stretching and rippling the flags, this way and that. It looked like it was going to be very hard work.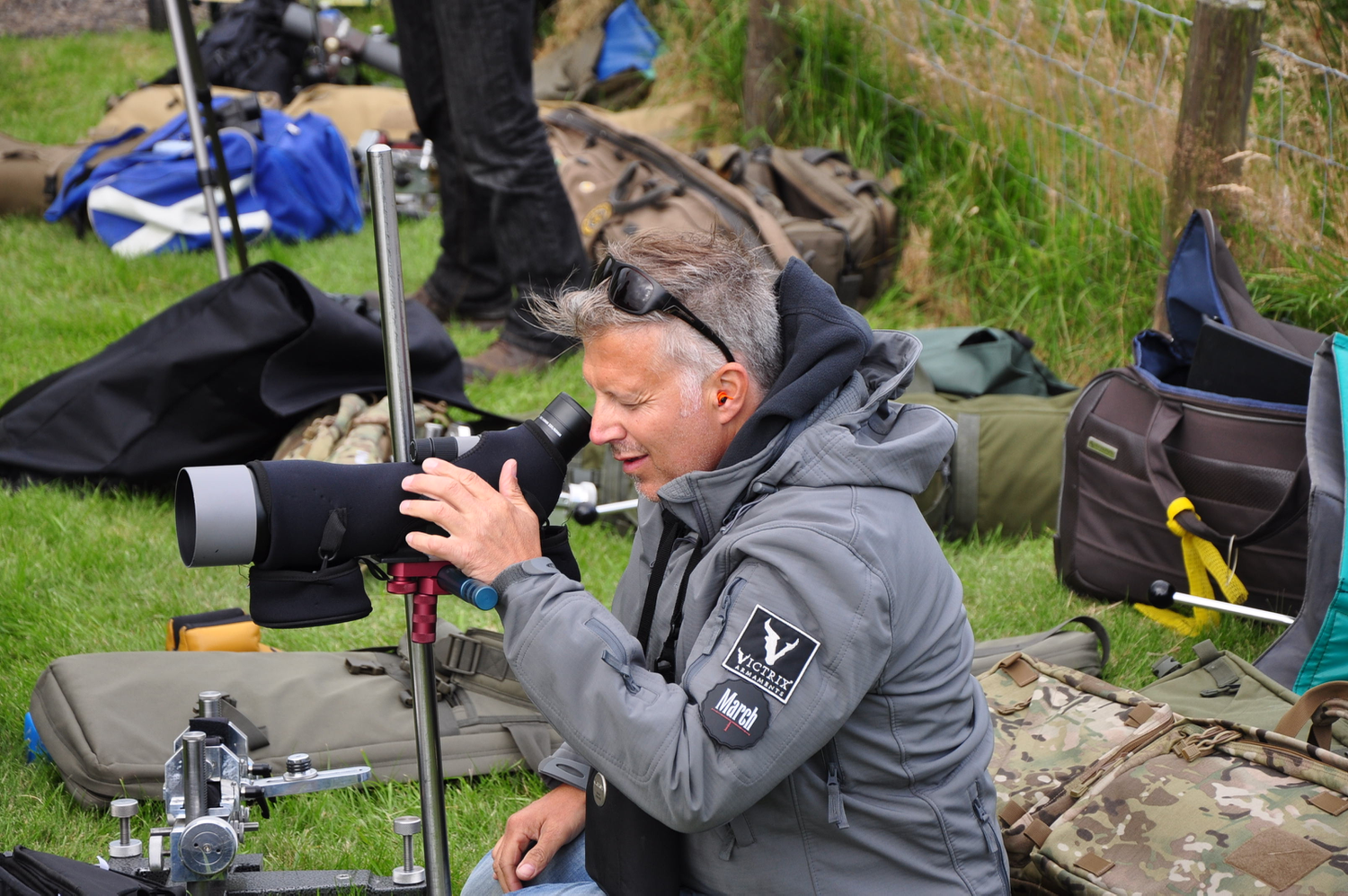 Paul Sandie made it look easy though, with a fine 74.8 – that was an excellent score given the rough conditions.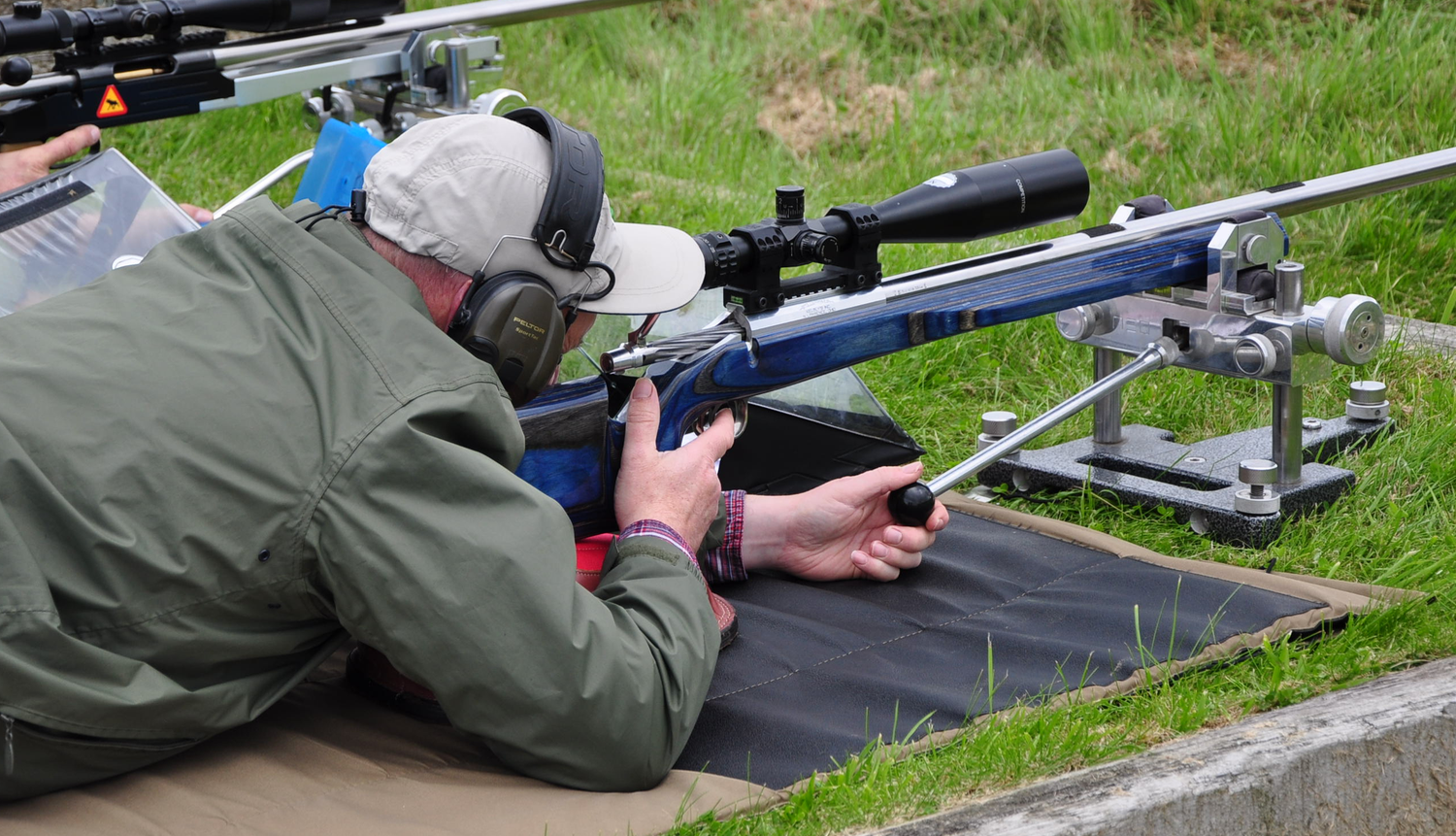 When the F/TR shooters got their turn, the wind was just as challenging for them, it was noticeable how their scores were somewhat depressed in relation to Saturday's scores. That said, Richard Jones, the 101 club Captain showed how to lead from the front and scored a creditable 71.3 for first place.
F Open
Paul Sandie  74.08
David Kent    74.07
Tony Marsh  73.04
F T/R
Richard Jones           71.03
Stuart Anselm           70.06
John Matthew           69.05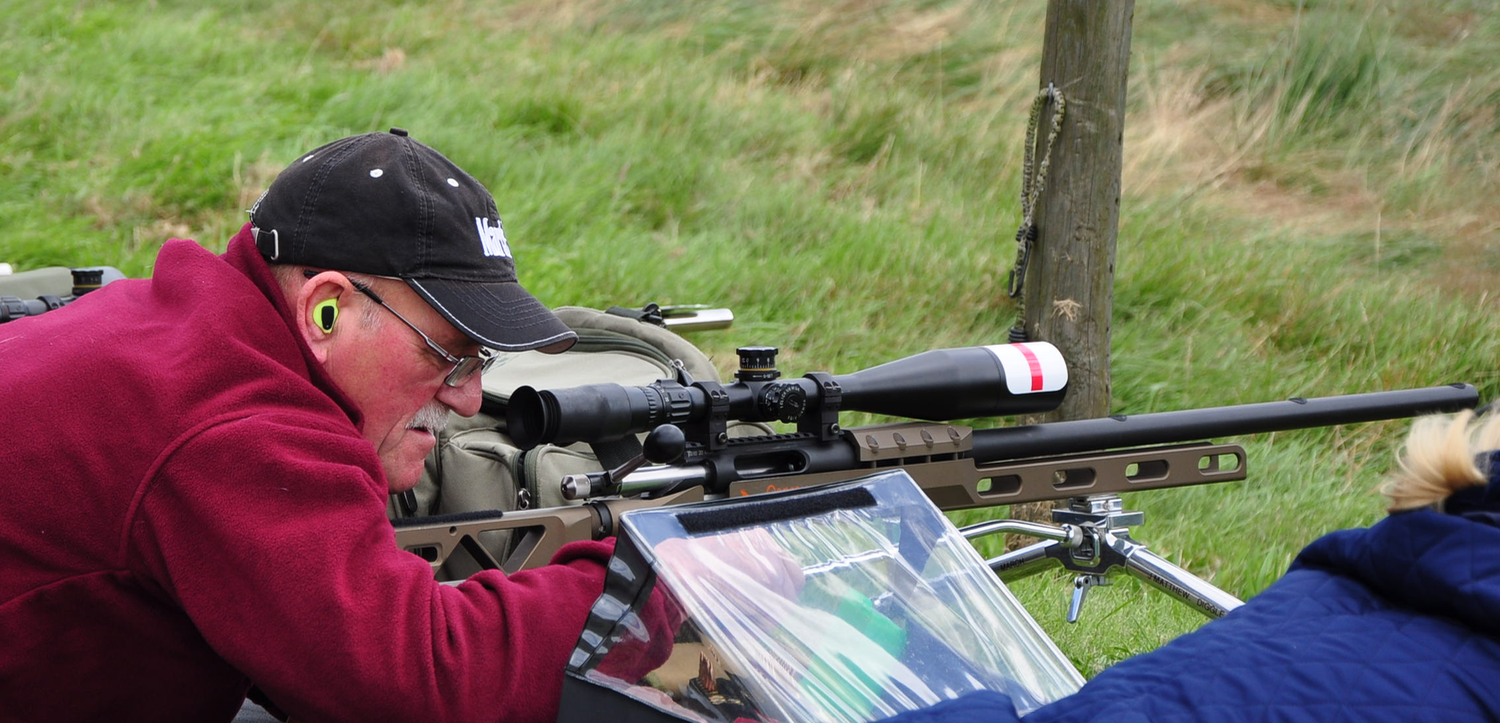 Stage 4
At 1,000yds again, this time for a 2+20 barrel warmer to finish the match. The wind was still as blustery as ever, the actual strength though was not as bad as expected, requiring only about 3-4 minutes on average, but it was the sudden pick-ups and drop-offs that really hurt, they were often not seen at all, until the bullet registered on the target either well up wind or down wind, it was very easy to lose a lot of points in a very short time.
Hugh Inglis seemed to have a very good grasp of the conditions though; he didn't lose many points at all in racking up an astounding score of 95.4 to take first place.
By the time the F/TR guys got their chance at 1,000yds the wind had abated just a bit, though it was still a considerable challenge as quick angle changes could occur with little apparent notice. That said, Simon Gambling was in top form and shot superbly to take first with 90.6
F Open
Hugh Inglis   95.04
Joe West        93.04
Paul Sandie  93.02
F T/R
Simon Gambling      90.06
Dean Wallace          90.02
Alan Baldry               90.01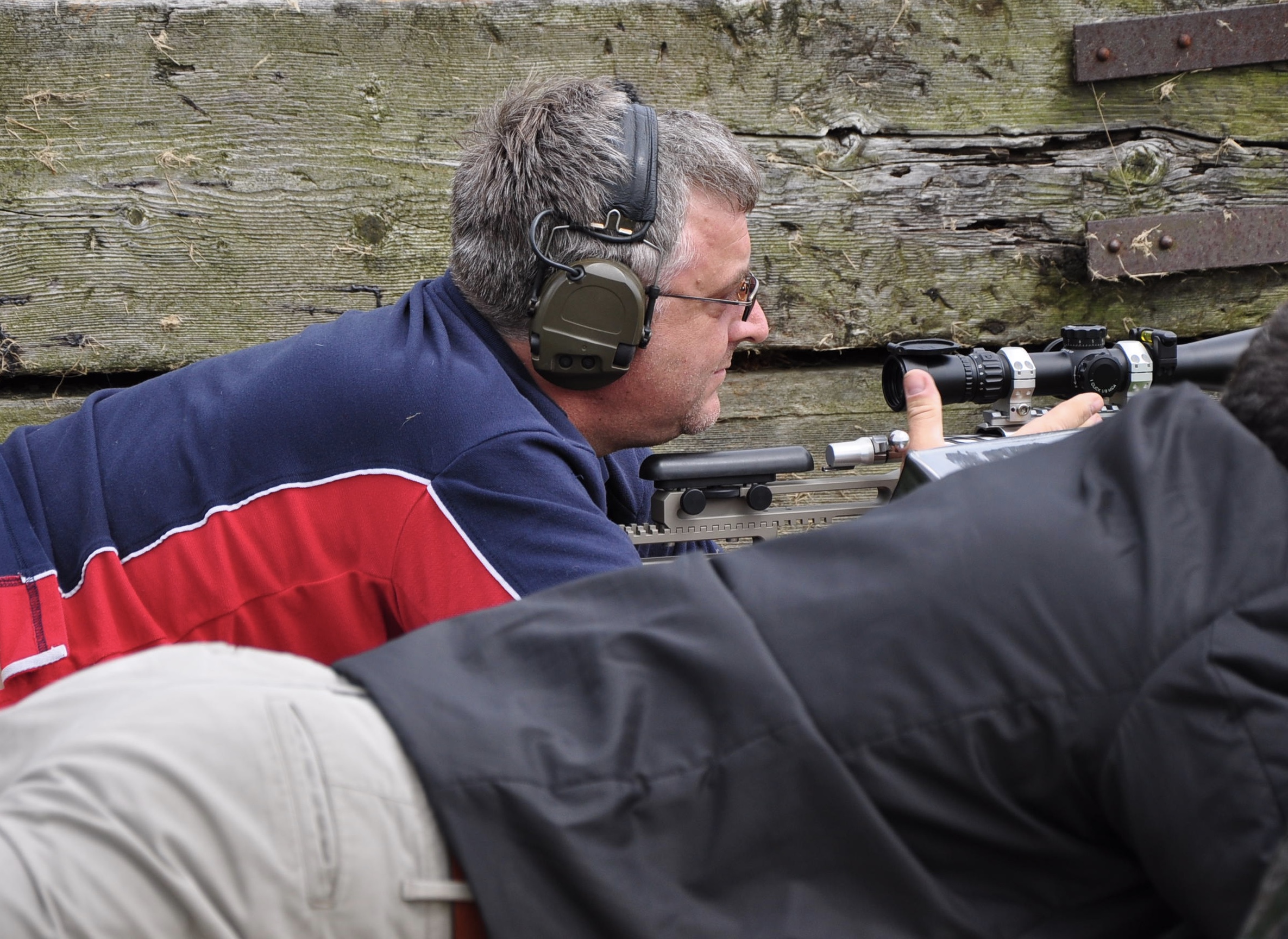 That concluded the Northern Championships, what an enjoyable match it had been; sunny & gentle on Saturday and then cold & blustery on Sunday, but mercifully dry on both days, what a rarity.
Adding to our enjoyment, it was "Yanks weekend" at Diggle, when thousands of folk get into the 1940's war-time spirit of the film and dress accordingly, the culmination was a fly-by of a Lancaster and two escorts (Spitfires or Hurricanes) it was hard to tell at a distance, the sight and sound of them was awe-inspiring!
While the stats were being compiled there was time for the usual post-mortems and chewing the fat – commiserating with those who had 'crashed and burned' and picking the brains of those who had prevailed.
The winners were as follows in F/TR; Alan Baldry had won his first National League match with a very steady, consistent performance all weekend with 350.17 Alan was never far from the top, winning a full set of stage medals; gold, silver and bronze.
In second, came Stuart Anselm with 348.28 – what an astonishing V-count, Stuart has been on fire all season with his new Victrix rifle and he is now leading the National League. In third place, came Ian Chenery, with 341.24 Ian is always a very strong contender in any match.
The F/O winners were; in first place taking the match title and silver salver was Paul Sandie with 354.24 Paul had been quietly and steadily shooting consistently well all weekend, taking two stage medals along the way. In second, by the tiniest margin of just one measly V-bull, came Hugh Inglis with 354.23, Hugh had the consolation of two stage medals as well. Third place went to David Kent, with 351.19 David had to fly off to Canada early next day to take part in the DCRA matches.
F Open
Paul Sandie  354.24
Hugh Inglis   354.23
David Kent    351.19
F T/R
Alan Baldry               350.17
Stuart Anselm           348.28
Ian Chenery              341.24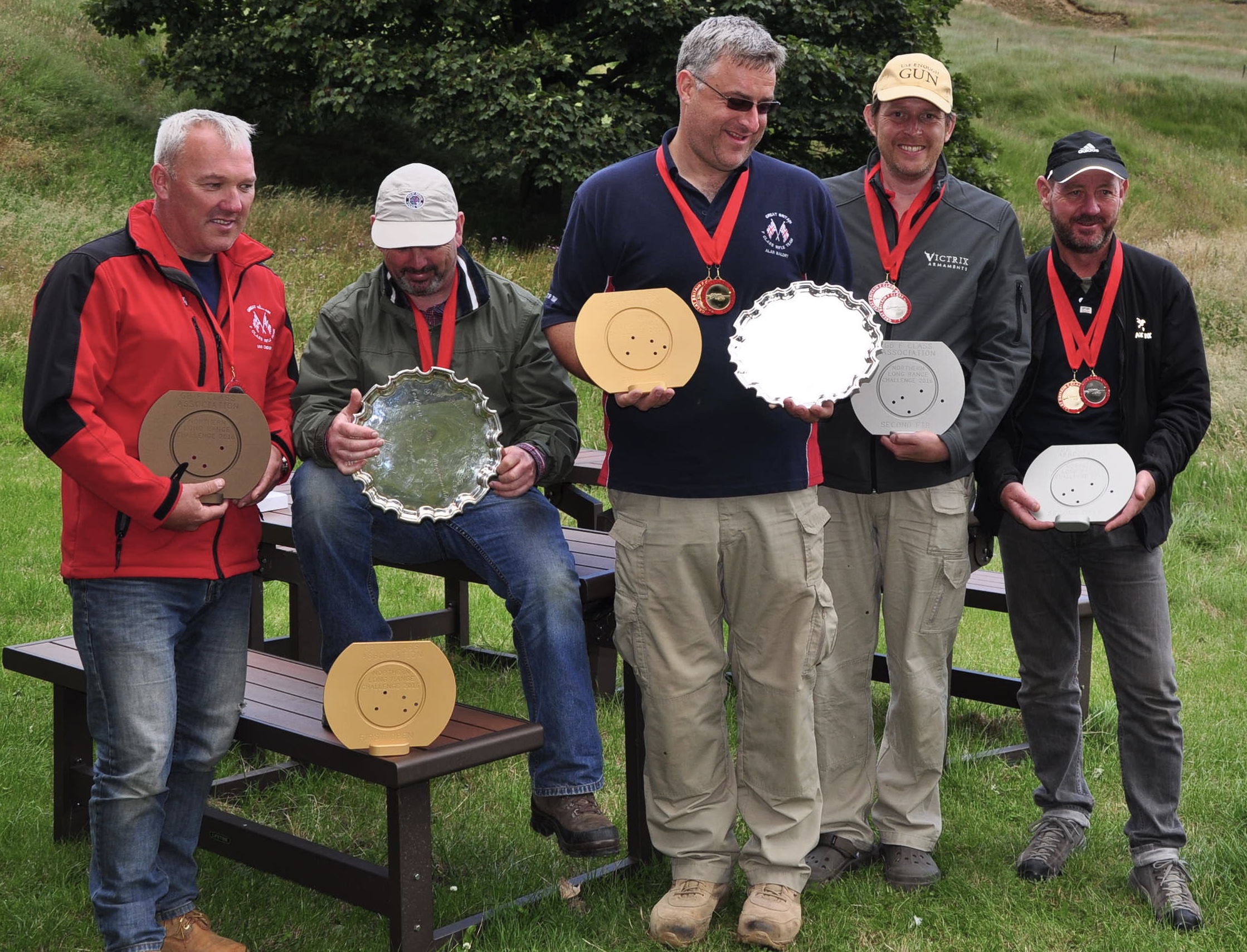 Thanks to everyone concerned with putting on such a great match; to our match organiser Les Holgate, the match statistician Stuart Anselm, the range officers; Vince Bottomley & Laurie Holland and finally, to Ian Dixon for building the targets.
Next month, the highlight of our year, the prestigious European Championships!
See you there.
Des Parr.