HD, AMG, FFP – what's this all about?  Well, basically this is a first focal plane scope using HD premium extra-low dispersion glass but – and this is where it gets interesting – the lenses are US made. In fact, the whole scope is made in the USA – and that's something of a 'first' for a scope from a major manufacturer.
Should we be excited about that? Does it matter where stuff is made? It does to me and, if you like high-end optics, I suspect it does to you.
The former East Germany was renowned for quality lens manufacture – and still is for that matter and I'm sure companies like Leica need no introduction. The same goes for Schmidt & Bender, Zeiss etc. And of course, the Japanese lead the world with their Nikon and Canon camera lenses, not to mention the fabulous March scopes.
Good glass is out there all right and, if you're a German or Japanese scope manufacturer then it's right there, on your doorstep so to speak – under your control. But, if you're not Japanese or German, where do you go? Well, maybe if you have a space programme that's the envy of the world it shouldn't be too hard to find some good glass on your own doorstep…….

Mounting & zeroing
So let's have a closer look at the Vortex Razor and get it mounted on a rifle. How do you go about mounting a new scope? Personally, I like to do it at home, rather than fiddling about on a cold firing-point with tiny screws and Allen keys. Then, when I get to the range, I can fine-tune the reticle for level and check eye-relief. Today, I'm using a device called the Segway Scope Leveler, a modestly-priced little gizmo that sits in the Pic rail grooves and allows you to line up the horizontal crosshair with horizontal lines on the Segway. Takes seconds to attach with the supplied elastic-band and allows the whole job to be done at home. When I checked on range, the reticle was spot-on.
First impressions – the Razor just looks right, if you know what I mean. Everything is proportionally correct – the grey numbers/markings don't 'shout' at you but nonetheless are clear and easy to see, toning nicely with the matt-black (not satin black) 30mm body-tube.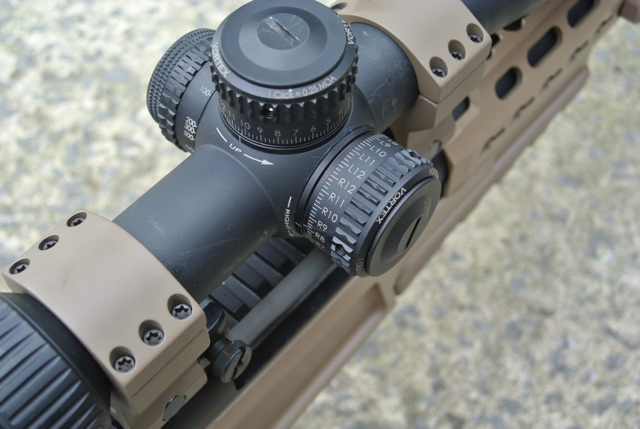 The turrets are wide and flat – easy to grip, with a useful 25 MOA per full turn in positive quarter MOA clicks. 25 MOA is really useful – most of my rifles will stay on a single turn of the turret – from 100 to 1000 yards so no chance of being a turn out and, the turrets are re-settable to zero, so you always know exactly where your 100 yard zero is – foolproof! Here's how we do it.
Remove the turret top-cover with a coin to reveal another matching circular MOA scale. Using the supplied Vortex L-Tec tool, turn the brass centre screw to adjust the bullet's point-of-impact. Then, when zeroed, loosen the three grub-screws located on the perimeter of the turret. The 0 MOA mark can now be aligned with the indicator line on the body-tube. Nip up the three turret-securing grub screws and you're done. Now, you can always go back to your zero.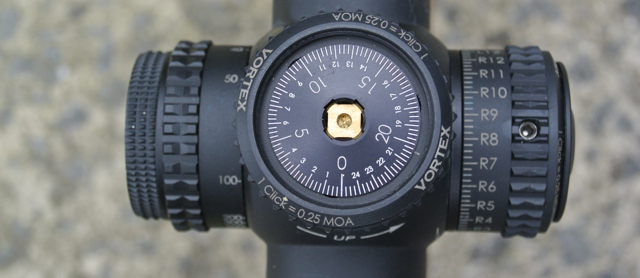 For on-range adjustment, the turrets must be 'lifted' to release them – a useful precaution, preventing accidental adjustment. The scope also incorporates the illuminated-reticle dial within the side-focus knob – very neat as it also contains the battery – much preferred to the unsightly lump stuck on the ocular of some scopes.
FFP & range-finding reticles
Yes, this is a first focal plane (FFP) scope. I don't have any FFP scopes. Reason? The FFP is a range-finding reticle and therefore not needed as I only shoot on formalised ranges – I always know the distance I'm shooting at. However, wind-values and hold-overs stay true with FFP scopes even though you may vary the magnification so, if you shoot in the field, I can certainly see the advantages of FFP.
The other reason I don't like FFP scopes is the magnifying reticle – which increases in thickness as you wind-up the magnification. I do shoot regularly at extreme ranges so most of my scopes stay on full power and a thick reticle can easily block out the aiming point at 1000 yards! However, Vortex have addressed this and, even on max. magnification, the reticle is very fine – which means it's very, very fine on the minimum setting but still visible and useable.
The crosshair is a little 'fussy' for a target shooter, with hash-marks at quarter MOA intervals but, because this is a FFP scope, at least the hash-marks are always true. With second focal plane scopes employing this kind of reticle, the hash-marks are only true at one specified magnification – which is often not max. magnification. This means that hash marks on an FFP scope are a very useful feature when shooting in the field at unknown distances.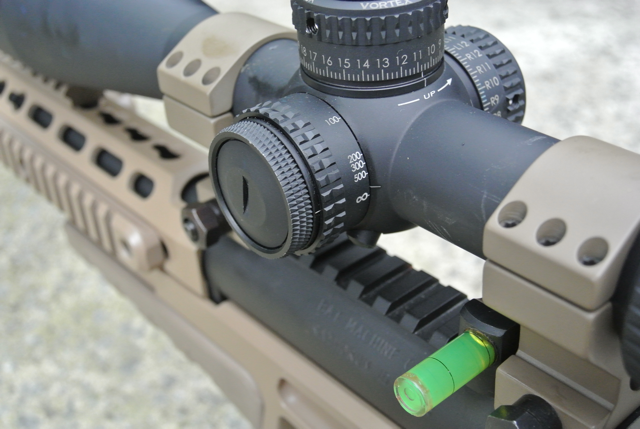 Elevation & Windage
One of the most important issues with any scope is the range of elevation adjustment. A lot of us use our scopes out to 1000 yards or more but still need to return to a 100 yard zero for ammo testing etc. This is not always easy to achieve but the tapered scope-rail is a great invention and has done away with the 'shimming' we used to have to do 'in the old days'. In addition, Vortex claim a massive 96 MOA of internal adjustment but, of course, we lose approximately half of this when we mount it on the rifle.
Nonetheless, 48 MOA is adequate for most calibres at most ranges – for example, a 308Win with 24 inch barrel may need around 38 MOA from 100 to 1000 yards. But does the Razor actually have 48MOA? Let's find out. How do we do it?
With our rifle now zeroed at 100 yards, we fire a shot at the base of a target then wind-on elevation until the reticle stops moving. Fire another shot and measure the distance – in inches – between the two shot-holes and divide the result by 1.047in. to give our true MOA range. I was able to wind-on almost two turns of the turret and the distance between the two shot-holes measured exactly 50 inches. Divide 50 by 1.047 and guess what – 47.75MOA – an outstandingly accurate result and more elevation than you could ever want.
Windage is claimed to be 65 MOA – or 32 MOA in either direction – but I didn't bother to check. Half that amount would be adequate. Again, it's 25 MOA per turn of the turret and you can zero the turret in the same way as the elevation turret, taking advantage of the L and R markings so you don't turn the wrong way!
Let's try the McQueen Competition
The Vortex is temporarily replacing the Leupold Mk4 8-25 on my BAT-actioned 6.5×47 tactical rig that I use mainly for McQueen and other tactical shoots. One of the problems I experience with the Leupold is the very critical eye-relief and often, during the rush of a McQueen comp., the eyepiece will 'black-out' as I swing onto the target! Of course, it's not the scope's fault, it's all mine – having to reload, swing the crosshair onto the target, aim and fire in the 3-second exposure-time but failing to get my eye-relief exactly aligned. It will be interesting to see if the Vortex will help me eliminate this problem.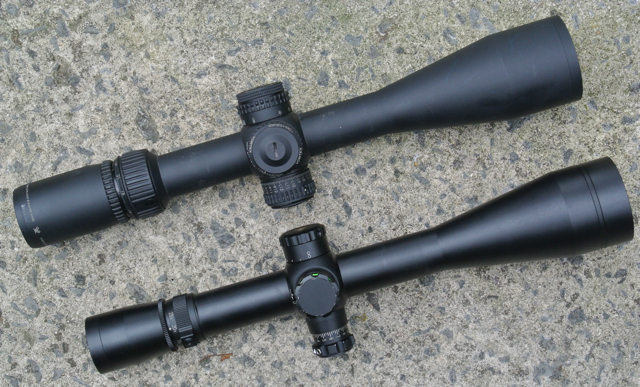 But, before we enter the McQueen, how does the Vortex compare optically with the Leupold? Testing lenses without scientific equipment is at best an opinion – especially when modern glass is so good. All I could do was to compare it with the Leupold and honestly, I couldn't say either was better than the other with both scopes offering a very crisp, contrasty image – as you would expect.
Overall, I must admit, I did prefer the Razor to my Mk4. but then again, it's twice the price. The Mk4 eye-relief issue didn't trouble me with the Razor and the field of view offered me a little more magnification on the McQueen 'wall'. Normally, I use the Leupold at 12x magnification (for 200 yds) and 18x (for the 300 yard stage) but I could see the whole wall on 14 power and 21 power – useful when aiming at a four-inch circle. However, the Razor's 'busy' reticle is at best a distraction – particularly on the lower mag. when snap-shooting. Only that tiny little cross in the centre really matters……….. Eye-relief was certainly less critical than the Leupold and I had no 'black-out' issues with the Razor.
In conclusion
This is a great scope and so it should be for the price – $3399 on the Vortex USA website but expect to pay a little under £2000 in the UK. The exchange rate is not good at the moment so it's a matter of shopping around. 
Who are the Razor's main competitors? Well obviously Schmidt & Bender, though their 5-25 is a good bit heavier (by around 10 oz.) and bulkier – if that's an issue (but check out their ultra-short 5-20). March also have their 2.5-25 Tactical, which I had the pleasure of using recently when testing the Victrix Stubby and it's a very similar package to the Razor. Like the Razor, the March is also much neater and lighter than the 5-25 Schmidt.
However, the Vortex 'no quibble' guarantee is as good as it gets and Vortex will repair/replace your scope no matter how it was damaged. If you're a professional user who is 'hard' on equipment, that guarantee could be the decider. For American shooters, I'm sure the 'Made in USA' will also carry some clout. 
Specification
| | |
| --- | --- |
| Magnification | 6-24 |
| Objective Lens Diameter | 50 mm |
| Eye Relief | 3.6 inches |
| Field of View | 20.4-5.1 feet/100 yards |
| Body Tube | 30 mm |
| Turret Style | L-Tec |
| Adjustment Graduation | 1/4 MOA |
| Travel per Rotation | 25 MOA |
| Max Elevation Adjustment | 96 MOA |
| Max Windage Adjustment | 65 MOA |
| Parallax Setting | 25 to Infinity |
| Length | 15.2 inches |
| Weight | 28.8 oz |
Finally, thanks to Osprey Rifles for the loan of the Razor. Check out Osprey on www.ospreyrifles.com for the full range of Vortex optics.