If you're a Target Shooter regular, then you'll recall our initial report on the launch of the Italian-made Victrix rifles. If you didn't see it, then you can find it elsewhere in Target Shooter.
Following their spectacular debut at the German IWA Show (Europe's Shot Show), we now have two Victrix rifles for review via the distributor, March Scopes UK.
But, what is Victrix all about? Why are we making Victrix rifles sound so special?
If you are a serious competition shooter – be it at National or International level – or even a keen club shooter, then you don't need me to tell you that you will not be competitive without the proper equipment.
Most of us start our competitive shooting career with maybe a factory rifle or a secondhand custom gun. If we enjoy it, then the factory rifle gets a new barrel – which makes us a little more competitive, without laying out too much money.
Eventually, it becomes clear that if we are to progress, we must have 'the proper equipment'. Initially, it's often difficult to accept that we need to pay a substantial amount for a rifle but, there's nothing more confidence-sapping than knowing that you are being held back by inferior equipment.
If you have recently started shooting FTR – the route many shooters choose to start their foray into F Class – you are maybe shooting a heavy-barrel sporter or even an old Target Rifle fitted with scope and bi-pod. You can be quite competitive with the latter but most factory sporting rifles will be somewhat limited by their 24 – 26 inch barrel – fine out to 600 yards but beyond – difficult.
The cheapest way to be competitive is via the factory Savage FTR route. This rifle, at under £2000, pretty well has all you need and, if you get a good one, you can be competitive. But, the barrel won't last forever and that trigger and stock could be better – but yes, it'll certainly do for starters. However, two years down the road and I guarantee you'll be wanting to upgrade.
But, where do you go for a better rifle than the Savage? The custom rifle builder of course. Beware however, custom rifle builders who can offer you a competitive FTR rifle are few. The requirements for an FTR rifle are special – there is a stringent weight-limit of just over 18lbs and the gunsmith must know where to go big and where to save weight.
I've built a few FTR rifles and my starting point is always the barrel. Without a long, heavy-profile barrel you will struggle to be competitive. But, a nice big barrel can soak up 8 of your 18 pounds weight limit. Add in your scope, a good bi-pod and it doesn't leave a lot for the stock, action, rail, rings and trigger. Forget fancy adjustable butt-plates and the like – these are a luxuries that we can't afford – at least not at the expense of a big barrel! If the action is the heart of a rifle, then the barrel is the lungs – you need speed with accuracy – period.
The Victrix Victoria Series – the FTR Rifle
With their FTR rifle, the Victrix designer started exactly where I would – with a whopping great barrel! The USA sourced Benchmark barrel is a tad over 32 inches long, with a straight taper from 1.25 inches at the breech to an inch at the muzzle. The barrel-blank incidentally, is the only component not made by Victrix.
The sturdy three-lug steel action is designed and made in-house. It's of similar proportion to the ubiquitous Remington 700 – 8 inches long and 1.35 inches in diameter. The bolt however is slightly heavier – most American custom action builders follow Remington with a bolt around 0.700 in. in diameter – or 18mm. Victrix beefs it up with a 20mm body.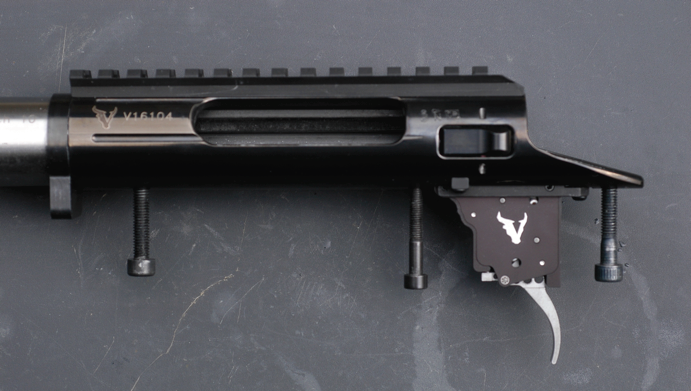 The Victrix employs some interesting ideas. The three-lug bolt has a short 60 degree lift and 105/105/150 degree lug-geometry. Vibration analysis verified that this arrangement provided a greater resistance to flexing in the locked/fired position, over the more traditional 120/120/120 configuration. This layout also aids the pick-up and feeding of rounds from a magazine when the action is used in a tactical rifle. Various other options are offered – many comp. shooters prefer a left loading-port rather than the more usual right-bolt, right-port of most factory actions.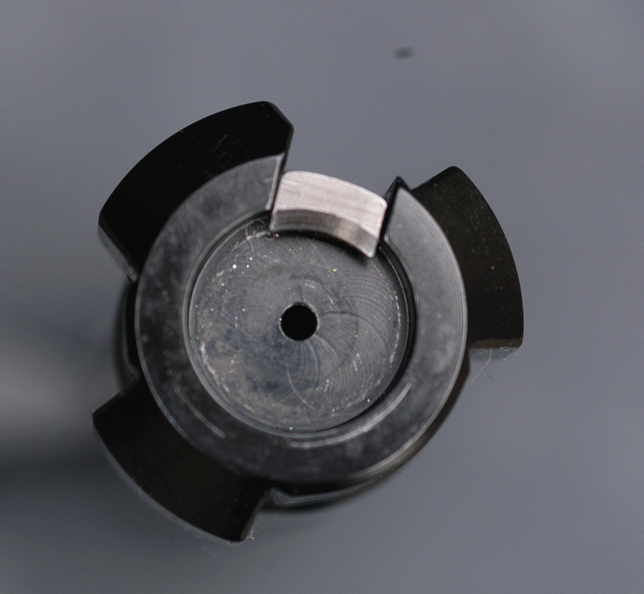 The Victrix action weighs around three-pounds, so our weight is building but Victrix pull it back with their beautiful walnut stock, which weighs under four-pounds and even sports an adjustable cheek-piece! Inletting and bedding using aluminium pillars and a Devcon-type metal-epoxy is properly done and the barrel is of course generously free-floated in the vented fore-end.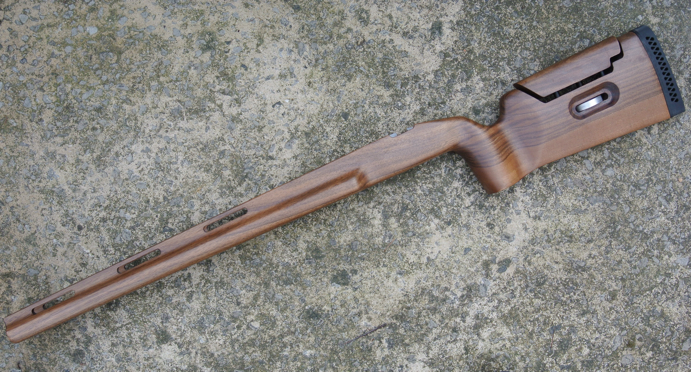 Bedding is often the area where a custom-build can go awry – no matter how precise the 'smithing – if the bedding isn't doing its job, the rifle will never deliver. Believe me, I've seen some 'iffy' custom builds….. Three socket-head screws hold the Victrix barrelled-action into the bedding and a massive, pinned recoil-lug completes the job.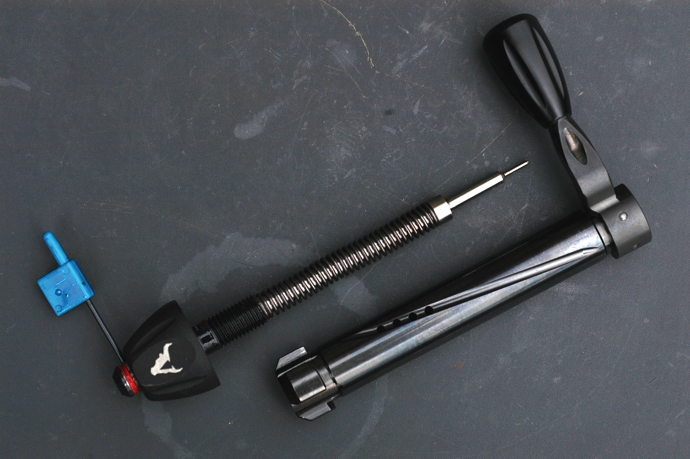 Another critical component often overlooked is the trigger. Yes, you can rework your Remmy trigger, you can buy a cheapo aftermarket replacement, you can even buy a Jewel. There is no substitute for a proper competition trigger and the Victrix trigger is currently making waves with the American benchrest shooting fraternity. The Jewel was once the holy grail of triggers but now, Victrix's Flavio Fare designed trigger is receiving acclaim. My benchguns have Jewel, Kelby or Bix n Andy and for what it's worth, I'd happily swap 'em all for Victrix triggers.
So, this is what the Victrix is all about – it is as much a custom rifle as you could ever buy. Many permutations are offered – in addition to walnut, wood-laminate, aluminium and carbon fibre stocks are available and, if you are choosing an F Open rifle, a full range of calibres/cartridges with a variety of freebores to suit your choice of bullet.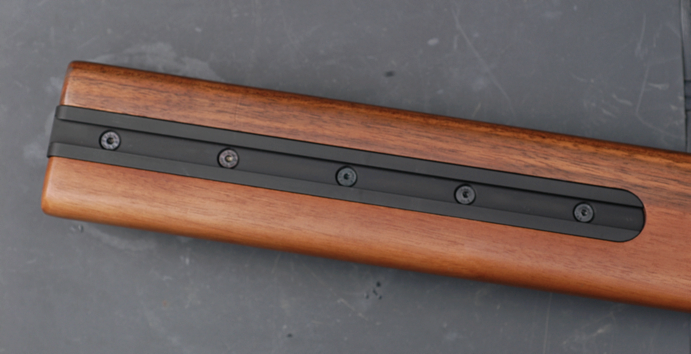 OK – so it's a top-level custom gun but, if I'm in the market for one, why should I choose Victrix over a rifle built by my favorite 'smith? The reason? Apart from being as good – if not better and maybe cheaper – YOU CAN HAVE IT NOW! How is this possible?
Victrix, are a well established Italian engineering company with an enormous multi-million euro factory crammed with the very latest in CNC machinery and a state-of-the-art measuring laboratory. They already have an impressive background in the firearms manufacturing industry, at both military and sporting level.
Whilst Victrix initially developed a range of tactical/military firearms – some of which will also be of interest to the sport shooter – they have now turned their attention to the F Class discipline. By working with those shooting at the highest level of F Class competition, Victrix have developed a range of 'off the shelf' rifles that are competition-ready – right out of the box. (Note: Victrix CEO Giuseppe Valtorta won a Gold Medal at last year's European F Class Championship!)
Depending on you choice of components, your 'smith will likely quote you a build-time of around a year for your chosen gun. He can't stock every barrel, action, stock, trigger etc. and obtaining those components is what inevitably holds up the build. Victrix make everything in-house – except for the Benchmark barrel-blank. What's more, you will find the Victrix to be very competitive on price compared to a custom rifle – not cheap, the best never is but certainly competitive.
Victrix 'Minevra' Tactical Rifles – the Stubby
Let's have a look at a Victrix tactical rifle now but firstly, you may be wondering about the name – Victrix. Well, it's the (Italian) female version of 'victor' – the winner, the conqueror. Minerva? Another female – this time the Roman goddess of – well, pretty much everything – art, war, commerce – you name it. But 'Stubby' clearly means the same in Italy as here!

The Stubby couldn't be further from the FTR rifle – except that they share the same three-lug action but the Stubby is of course a repeater – fed from an Accuracy International magazine, which is good as it has become the 'industry standard'.
Whereas the FTR is a right-bolt, left-port configuration, the Stubby is the more usual 'right-right' – for a mag. fed repeater but, it's your choice. The Stubby also uses the Flavio Fare designed trigger – this one is the tactical version – a little heavier but again breaking cleanly and predictably.
The tubular fore-end is very similar to the Accuracy International AX but alternatives are offered. This one suited me perfectly as it meant that I could slot my Phoenix 'above barrel' bi-pod on to the Stubby's top Pic rail. The barrel is just 15 inches long and, when the stock is folded, the overall length is close to our UK limit at 25.5 inches. You don't need a gun-bag – a decent rucksack will carry the Stubby.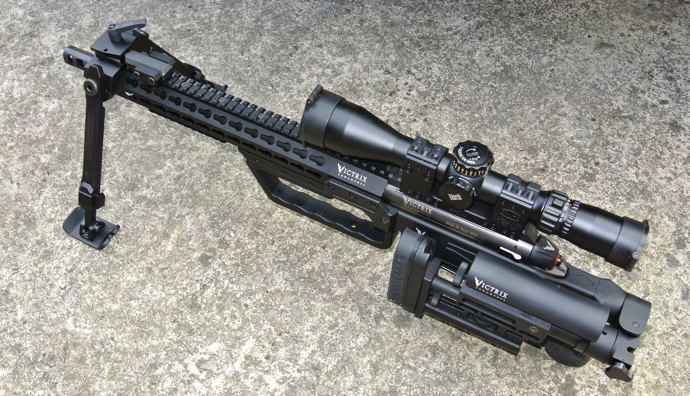 I first got to shoot the Stubby with factory ammo and cycling was impressive – never a mis-feed or failure to eject. The Victrix guys have certainly created a well-functioning action for their Minerva repeater range. The military-style brake, with its large lateral ports, won't get you any friends on the firing-point so it's best to make sure that the muzzle is well forward when you set up. Alternatively, there is a screw-on mod. that fits over the brake.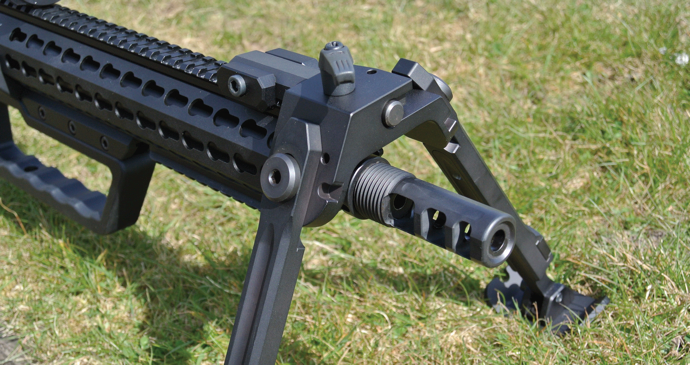 I had just one week with the two rifles – to develop a load and mount and zero March scopes on each one and shoot them in competition. Our reloading guru Laurie Holland is helping me out – with some once-fired RUAG brass and Berger's 175gn OTM Tactical bullets (which he recons will be ideal in the Stubby and "hopefully OK" in the FTR) plus Vihtavouri's N150 powder.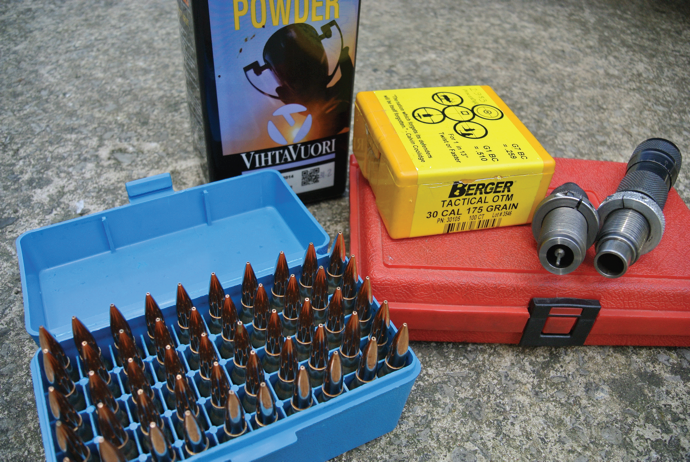 I took a stab at 46 grains and thankfully it shot amazingly well – producing a half MOA 5-shot group at 100 yards with the Stubby. It may have done even better with a little more load development but, time was against me so that would have to do and, fingers crossed, it will also perform satisfactorily in the FTR. In a couple of day's time, I have a 500 yard F Class comp. and a McQueen!
The McQueen Comp.
My scope is a 2.5 – 25 March Tactical with a FFP reticle. I'm not a particularly a fan of FFP reticles for range work. Why? Well, the FFP is really for range-finding and the reticle increases in size (thickness) as you wind-on the magnification. On a range, we always know the distance we are shooting at and, the other downside – the reticle can look ugly-thick at max. magnification. But, the March reticle stays acceptably fine even at max. power, allowing very precise aiming at any magnification. It's a really nice bit of kit and perfect for a tactical rig.
I've guessed on one and a half minutes over my 100 yard zero for the 200 yard McQueen shoot so, I need to make good use of my two sighters. My first cold-barrel sighter was about a half MOA right due to the wind and, after adjustment, my second shot impacted spot-on for windage but a little low – I clicked a quarter MOA up.
The McQueen is a great little 'stress-fire comp. with 10 exposures of three-seconds (at any of ten different 'windows') with an away time of 5 to 15 seconds of the fig.14 target. I never noticed the recoil, so the brake was doing its job and the single-stage trigger was perfect – breaking crisply and predictably with the rifle returning quickly to the target. Not the best group I'd ever shot (see pic) but, with all shots within the 5-ring (which is four-inches in diameter) it was a perfect 50 – one of only three shot that morning.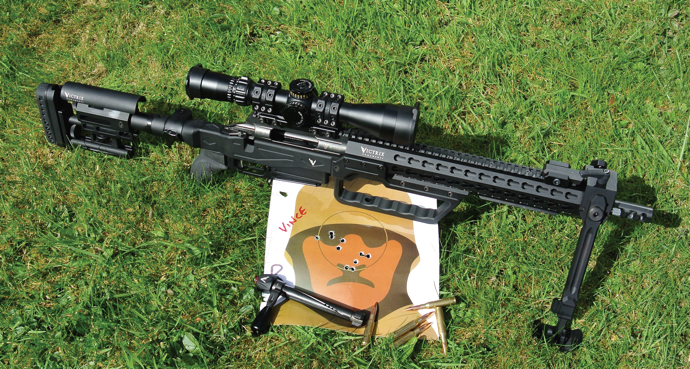 The 500 yard FTR Comp.
Now it was time to grab the Victrix FTR and head across to the 500 yard F Class comp. It's a year or two since I shot FTR and my current F Open gun is a little 6mm weighing 20lb. and sending a 105gn bullet downrange at 3250fps with virtually no recoil. With only a 100 yard zero, I was relying on my ballistic prog. for my come-ups on the 10-60 March and it took me a couple of shots to find the five-ring.
The FTR's Victrix trigger is very light but I'm well used to a two-ounce benchrest trigger on my own Open gun so I was more than happy. The rifle has a really solid feel and was recoiling nicely on the SEB Joypod and Laurie's 175gn OTM Tactical Bergers seemed to be doing the job.
I'd only dropped four points on my first nine shots so things were not going too badly but, we were shooting in threes and, as the shoot dragged on, the cold east wind increased and that five-inch diameter bull was proving to be a little elusive – to the extent where we were fighting to stay in the four-ring let alone the bull!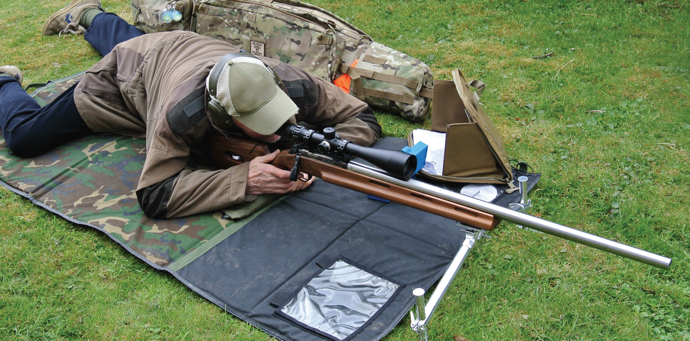 I ended up just two points adrift of the best FTR score on my relay so I suppose I can't be too disappointed but I'd hoped for better. Remember – the best rifle in the world won't make you a winner but it will allow you to win – if you do your bit. If I get chance to shoot the Victrix again, I'll do a bit more load development maybe using the 185gn Bergers next time.
Fancy a Victrix?
I'm in the fortunate position where I'm able to build my own rifles. If I had to rely on someone else to do it then I'd certainly be looking at the Victrix. As we said at the start of this article, there is perhaps only one 'off the shelf' rifle currently available which would be competitive in FTR competition. The next option is a custom build – if you are prepared to pay and wait! If you want it now – the Victrix is well worth a look.
We displayed the two Victrix rifles on the Target Shooter stand at the Northern Shooting Show at Harrogate in May and they created a lot of interest – particularly the Stubby. If you missed it, Stuart Anselm of Osprey Rifles www.ospreyrifles.com will have the FTR rifle for the rest of the season and Gary Costello will be campaigning the F Open version in the GBFCA League Shoots – the next one being 25/26th June at Bisley.
If you want to know more about owning a Victrix, check out the March UK website at www.marchscopes.co.uk or get in touch with Pete Walker of Walker Custom Rifles e-mail pete@walkerrifles.co.uk or Gary Costello at March Scopes UK gcostello@pbs-int.co.uk