When Nightforce introduced their 12-42 BR scope almost two decades ago, the world of long-range shooting changed. Up until then Leupold's 6.5-20 was the best variable we could get for long-range target shooting. Yes, of course, we had Leupold's excellent 36BR scope – used exclusively for short-range benchrest shooting but few appeared on long-range rifles. Internal adjustment with the one-inch tube just couldn't give us the 100 to 1000 yard elevation range and 20MOA scope-rails were scarce back then!
In the UK at least, there was little in the way of scoped long-range target shooting outside of Benchrest – and that strange discipline called Match Rifle.  F Class was just gaining a following in Canada and was yet to find its way over here.
The advent of F Class created a whole new market for powerful optics and Nightforce continued to dominate – first with their BR series and then the NXS range. The NXS didn't up the magnification but it did up the price and added the essential side-focus and better turrets. We quickly got used to paying well over a grand for a scope.
Then, along came March and the game changed again. Now, we had to get used to paying over two grand for a scope! Not only that, it seems 42 power wasn't enough and their 10-60 became 'the scope to have' for the serious F Class shooter. (Their even more incredible 8-80 followed soon after but hasn't had the same impact in the 'effer' market). More two-grand plus optics followed – from Nightforce (the 15-55) and Leupold (with their long awaited 7-42).
Although we have the superb 12-50 Schmidt & Bender, the impressive 10-50 Sightron (with 34mm tube) and those gargantuan IOR scopes, weight is often a consideration with a comp. gun so, we don't see many of them on the F Class firing-point. They may be great optically but they are just too heavy. The F Class competitor – particularly the FTR shooter – is looking for a scope and rings weighing under two-pounds!
So, now we have a new contender – the Vortex Golden Eagle. Vortex is a name that I've always been aware of and, although I've never had the opportunity to use one, I know that their Razor scope has a great reputation. However, with a max mag. range of 4.5-27, first focal plane reticle and tipping the scales at three pounds, they are unlikely to find their way onto a serious F Class gun.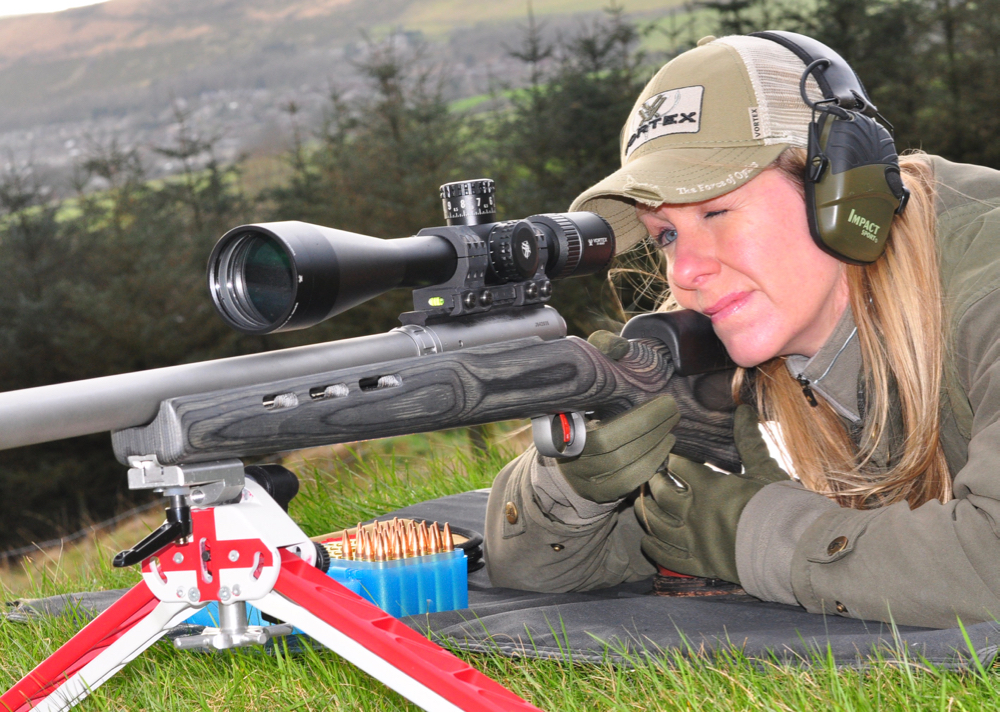 The Vortex spotting scope we reviewed recently was made in China. However, it was a good spotting scope for the money. But here, 'the money' isn't going to be used as an excuse for quality – or lack of it. F Class competitors have already demonstrated that they will pay for a good product. Yes, everyone wants to save money but compromising on quality is not an option for the serious competitor so, on taking the Golden Eagle out of its packaging, the first thing I wanted to know – origin! My eyes scanned the body tube for those three little words – and yes, there it was – MADE IN JAPAN!
Introduced at last month's USA Shot Show, it caused something of a stir – with a suggested dollar price below two grand, the Vortex promises to tick all the boxes. Could the Golden Eagle be the answer to the F Class shooter's prayer – for a high mag. scope that won't break the bank?
But, does it tick all the F Class boxes? Indeed, what are 'the boxes'?
Box 1 – Magnification                       Yes
A range of 15 – 60 power more than does it.
Box 2 – Weight                                      Yes
At 29 ounces – not the lightest but in the ball-park. (March 25oz. Leupold 26.5oz. Nightforce 28oz.)
Box 3 – Reticle                                       Yes
Second focal plane, a fine crosshair or an alternative with MOA hold-over lines (correct at 40x).
Box 4 – Focus                                          Yes
Side-focus, from infinity down to about 15 yards.
Box 5 – Turrets                                      Yes
Exposed target-turrets, 1/8 MOA clicks, with 10 MOA per turn. 55 MOA total elevation , 45 MOA windage.
Box 6 – Factory back-up                  Yes
Unlimited, unconditional, lifetime. It doesn't get any better!
Box 7 – Cost                                             Yes
At less than £1500 it undercuts the competition by a considerable margin.
So yes, it does tick all of the boxes but how does it perform? I've only got custody of the Golden Eagle for a day but I've got the best of the competition to compare it with – the superb March 10-60.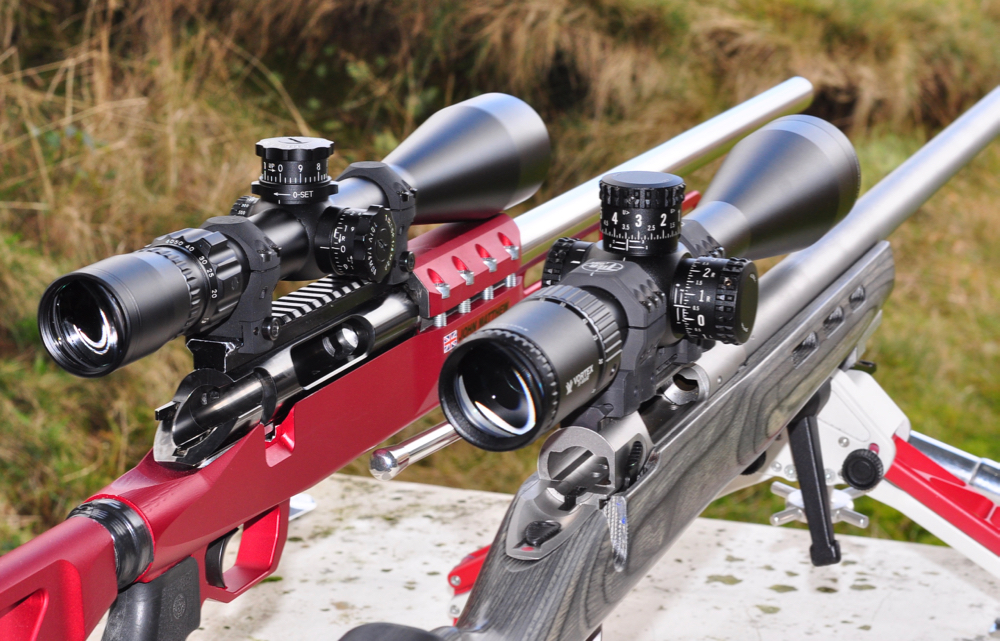 With only a day (it's on it's way to the IWA Show in Germany) we're limited in what we can check but here goes:
Accuracy of adjustment – does one MOA on the turret translate to one MOA on the target? The Golden Eagle is as good as it gets – I fired a shot on target then wound on 20 MOA of elevation and fired another. The shot-holes should be 21 (20 x 1.047) inches apart. They actually measure 21.5 inches. An excellent result. I don't think I've ever had a scope better this.
Amount of elevation adjustment – FTR shooters using the 308Win will need about 30 MOA in a scope to go from testing loads at 100 yards to 1000 yard competition. With the rifle zeroed at 100 yards, I'm winding up the elevation turret until the crosshair stops moving. I've wound-on just 22 MOA and that's it, so a 20MOA scope-rail is a 'must' if you're intending to shoot out to 1000 yards. The manufacturer claims 55 MOA total – which should give us about 25 MOA from 100 yards but in-built 'errors' in rifle and mounts could account for the odd minute or two 'lost'. These days, almost everyone uses a 20MOA scope rail anyway.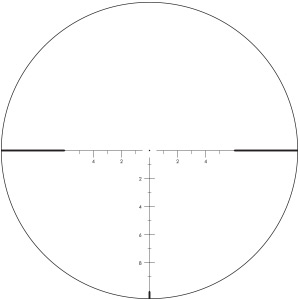 We also did a 'tracking' test – round the angles to check that the scope returned to the starting zero – it did, with the first and last shots over-lapping. No problem there.
The Golden Eagle's lenses are made from high-density, extra low-dispersion glass and image quality is perhaps the most difficult aspect to check but we'll do our best. I have the Golden Eagle sat alongside the 10-60 March, both mounted on FTR rifles sat on a concrete bench.  We're on Diggle's 1000 yard firing-point and it's a cold but clear sunny day. We are looking at a target which consists of several images – see pic.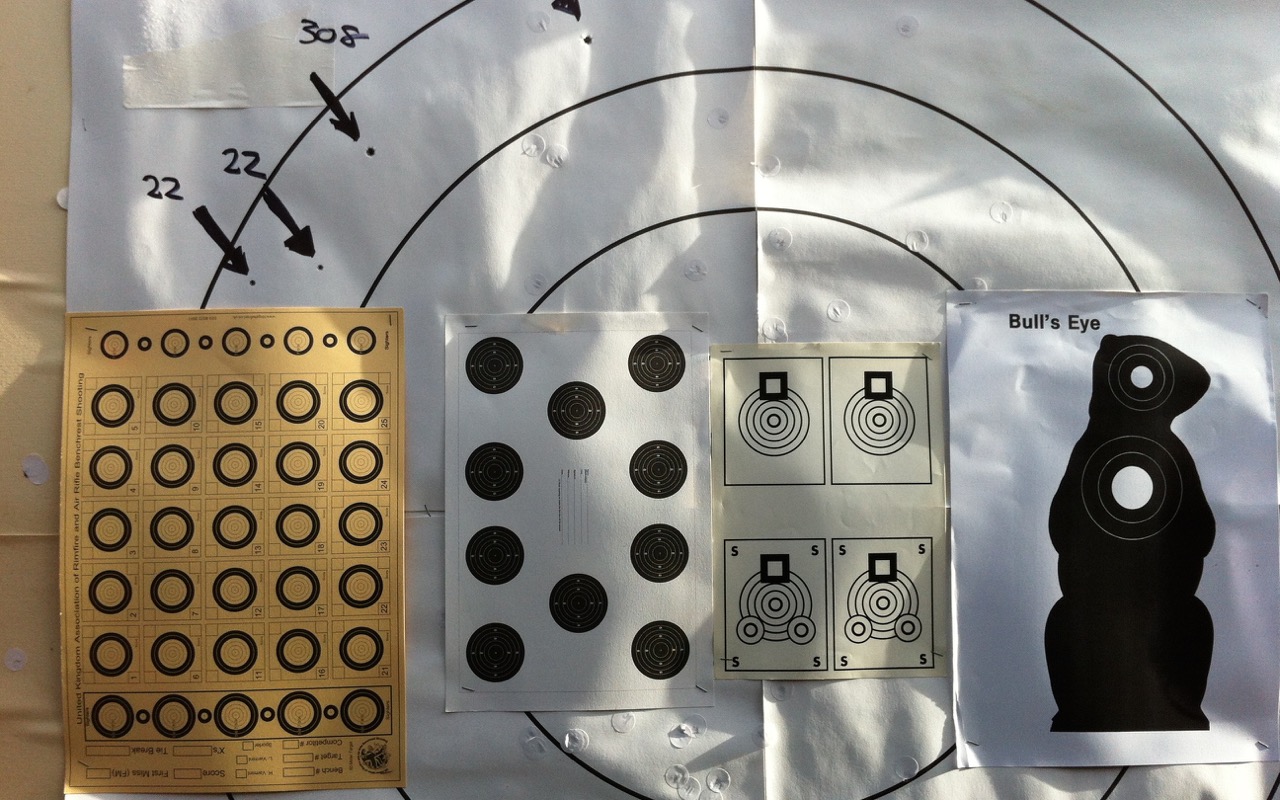 Firstly, we viewed the target on 40 power – the magnification which seems most popular with F Class shooters. Both scopes registered bright, crisp images – no difference between the two. I know the March will stay sharp at maximum magnification but will the Golden Eagle?  Yes! No loss of crispness in the image at 60x.
We tried to pick out the hard-to-see detail. Neither scope could resolve the 308 bullet holes – indicated top left with arrows – but both could just pick out the rings on the benchrest target (second from the right). Five of us were assessing the scopes and none could pick a winner. The Vortex has great optics and I doubt that any shooter would be disappointed with this scope – whatever the price!
So, before we hand the Golden Eagle back to its keeper, what else?
Well, all the controls work as they should. The zoom-ring and the side-focus have a nice stiff precise 'feel' and the reticle focus is 'European-style' utilising a rotating rubber-covered ring on the eye-piece.
The chunky target-turrets are perfect – similar to the Nightforce NXS and have a very precise feel. The deep, sharp knurling would be easy to operate in gloves or with cold wet hands and the markings are bold and easy to read without being overly obtrusive.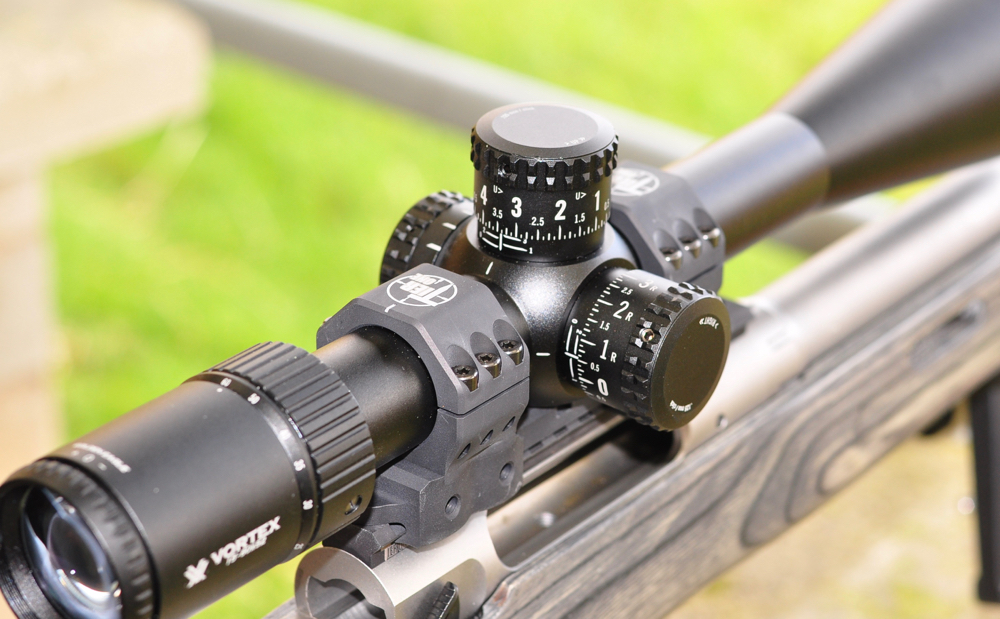 In conclusion, the Vortex deserves to line up alongside the competition – namely the March 10-60, the Nightforce 15-55 and the Leupold 7-42. The price is remarkable at under £1500 and if you are contemplating the purchase of a scope in this magnification range, the Vortex must be on your shopping list.
We thank Osprey Rifles www.ospreyrifles.com for assisting in this review and for the loan of their March scope, rifles and ammunition. Osprey are a Vortex agent and will have the Golden Eagle as soon as it becomes available and are taking orders now. (E-mail sales@ospreyrifles.com)
For a full specification and technical breakdown of the Golden Eagle and other products, visit the Vortex Optics website at www.vortexoptics.com