I'm sure the name 'Vortex' needs no introduction to serious shooters; their high-end rifle-scopes are legendary in the tactical world. However, I wasn't so familiar with the extensive range of optical accessories also offered by Vortex and I have a couple for review.
The first one is a spotting scope – which comes in three variants – the Razor, the Viper and the Diamondback. We have the mid-range Viper.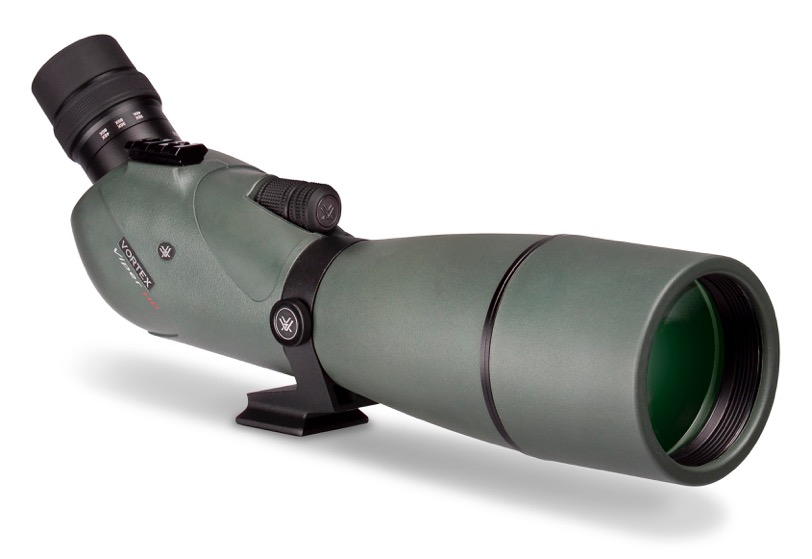 The difference? Well, it's all about the glass – the lenses. The Japanese have a reputation for lens manufacture that is second to none. Most professional photographers will swear by Nikon or Canon lenses, though admittedly German glass from the likes of Leica, Schmidt & Bender etc. has an equal reputation. Extra-low Dispersion (ED) glass was developed by Nikon to correct chromatic aberration – caused when different light wavelengths do not converge at the same point after passing through optical glass. We usually observe this as 'fringing' – a coloured 'shadow' (often green) which appears on the edge of high-contrast subjects.
Over the last few years, even the Chinese have, to some extent, mastered the art of lens manufacturer and there are some amazing scopes out there at rock-bottom prices. Though of course, when we look at a riflescope, we aren't just looking at the lenses.
The top of the range Vortex Razor spotting scope uses lenses ground from extra low-dispersion glass similar to that used by the high-end camera manufacturers and will be the choice of the professional user – and the circa £1250 price-tag reflects its quality. Our mid-range Viper also boasts ED glass but not the budget Diamondback – though both are made in China. I chose the Viper as the one of the three scopes that would probably appeal to most shooters.
However, as a target shooter, do we have any use for a spotting-scope when using a rifle with a powerful quality optic atop? All of my rifles have decent scopes but I still use my Kowa spotter quite often. It's useful when wind-coaching, or at benchrest team matches and I often use it when running the range – handy to spot intruders – human or animal, or maybe to keep an eye on the distant windflags when shooting F Class.
We had a 600 yard benchrest shoot last weekend so it presented an opportunity to try the Viper. I often take my Kowa spotter along – it's handy for helping new competitors who are struggling to get on target but it's also useful for keeping an eye on the opposition – I can just about see a 6mm bullet-hole on a white target with the Kowa – how would the Viper fare? Incidentally, the Kowa is now selling for just under £1000.
Firstly, if you are intending to use any spotting-scope, a good solid tripod is a must. A lot of cheap camera tripods are just too flimsy to support an optic weighing 4lbs (1.8kg). I'm using a heavy pro-video camera tripod and, when locked-up, the Viper was rock-steady.
The Viper actually comes in two versions – one with an 80mm objective and a smaller one with a 65mm lens. We have the 80mm. The eyepiece is variable – from 20-60 magnification and you can have a straight or angled eyepiece. Twist the eyepiece to adjust the eye-relief for spectacle wearers. If you intend to use the scope prone, go for the angled eyepiece – it'll save a lot of neck-strain and it won't be problem when used standing.
The focus adjustment is on the body – in the usual place for most spotting scopes but, one nice feature – the focus knob is in two parts – one allowing extra-fine adjustment. This is really useful when looking at demanding subjects like tiny bullet-holes in distant targets – it helps you to 'tease' the absolute best image out of the lenses.
A few other statistics? Closest focus is 22 feet and the maximum field of view at 1000 yards is 110 feet on the lowest magnification. Mounting is via the usual quarter Whitworth female thread and the scope can be rotated 180 degrees about its axis on the mount. The exterior finish is a dark green rubber coating – which feels nice and grippy to the touch and should be less prone to small knocks than paint.
The objective has a built-in sun/rain shade, which simply pulls out to give a useful three-inch overhang to shield the lens. It also has a short length of Pic rail just forward of the eyepiece. Reason? You could mount a cheap red-dot site to help locate your target – more useful to the hunter perhaps than the target shooter. The scope is of course waterproof and nitrogen-purged to prevent internal misting.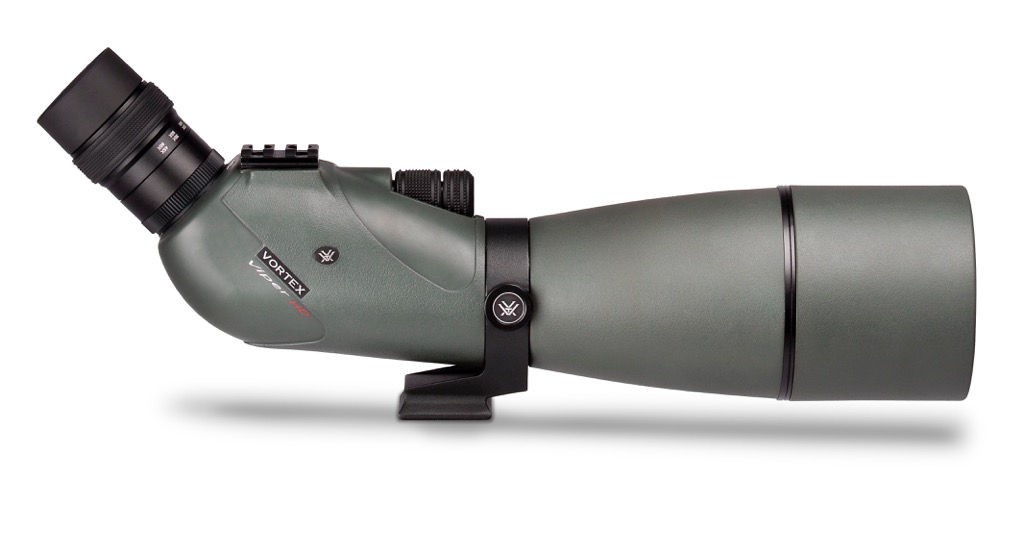 So, the burning question – could I see 6mm bullet-holes at 600 yards? I had a 35x fixed- power Leupold Benchrest scope on my own rifle. The image is pin-sharp and I can just about make out 6mm bullet-holes. With the extra magnification of the Viper's 60 power, it was much easier to pick out the shot-holes but the image was very slightly softer. Zoom down the magnification and the image is more like my Leupold – sharper but the image is smaller. I didn't detect any fringing.
So, this is a decent spotting scope with all the essential features and retailing at around £800 – which is not a bad price for ED glass. The top of the range Razor will set you back about £1250 or, go for the budget Diamondback at £400 – it's lighter and more compact than the Viper but with the same size objective so it could be a good buy – but of course, it doesn't have the ED lenses.
Now watch the video Vortex Viper HD Spotting Scope 
Vortex Optics – the Solo R/T
Now for something a little different from Vortex! From their extensive range of accessories what else is there that might interest the target shooter?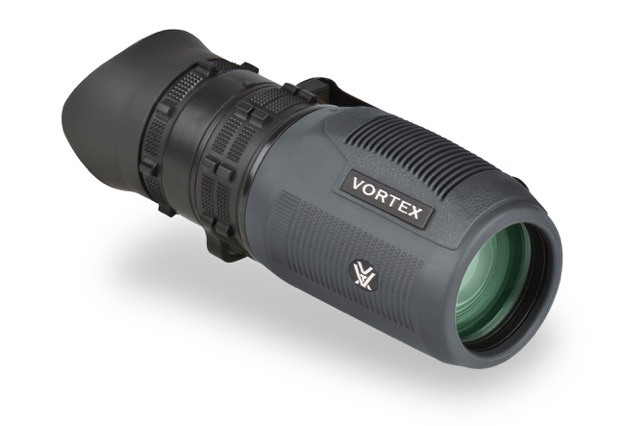 Well, in addition to some decent-looking scope-mounts and bubble levels, I've found little gem and it's called the Vortex 'Solo R/T'!   It's not a riflescope, or a spotting scope, it's a monocular – or half a binocular.
So what's so special? Well, as an F Class shooter – using and accurate, rested rifle fitted with the latest in target optics – all that remains between me and the V bull is………. the wind. Anything that will assist in attempting to read the wind is surely a good thing to have and, this is where the Vortex Solo R/T may just help.
This tiny monocular – weighing just over 10oz. and 5.4in. long with 8x magnification, gives us a very useful field of view of 130 yards at 1000 yards – enough to take in most of your competitors' targets and a good spread of wind flags! Yes, there's nothing new about compact spotting scopes but this one really is pocket-size and best of all, it has an inbuilt reticle – with hash-marks – making it great for estimating flag angles.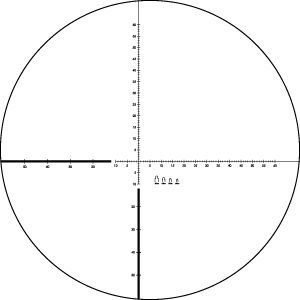 Technical stuff? To quote the Vortex blurb "The generous eye-relief and large exit-pupil deliver optical performance normally reserved for binoculars and the premium roof prisms and multi-coated optics deliver a bright, clear view. Completely waterproof and nitrogen purged, the Solo R/T features textured rubber armor………….."
The Solo R/T is in the Tactical section of the Vortex catalogue and shouldn't be confused with the similar Solo item in the Hunting catalogue – that one doesn't have a reticle. Look for the R/T suffix.
Fortunately, I had an 800 yard F Class shoot coming up – just the excuse to try the Solo R/T. Unfortunately, in its 'out of the box' state, it doesn't have any means of mounting itself to my spotting-scope stand. It does however have a 'belt clip' and removing this reveals two 4mm screw-holes and I soon knocked up a simple bracket to fix it to the universal ¼ Whitworth stud on my scope stand.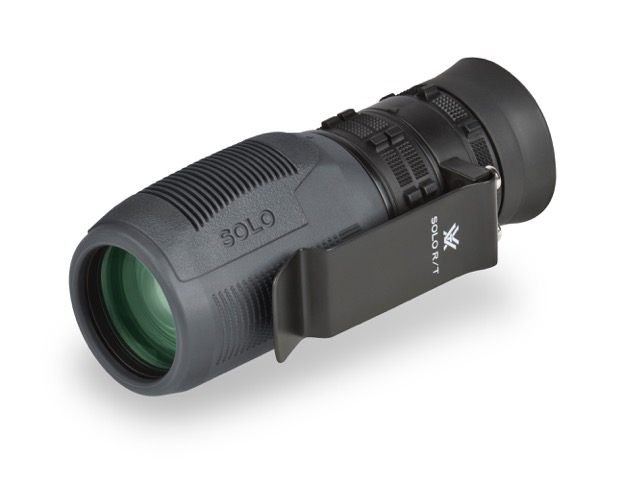 The eye-piece also comes with a rubber cup which can be shifted to your preferred left or right eye preference. Although I'm using it at 800 yards today, it will usefully focus down to about 5 yards – handy for having a sneak look at your competitors' windage knob – no, you wouldn't do that – would you………….?
Once set up – with the Solo R/T rigged to be as close to my riflescope as possible – I could see the whole target line-up, though the image was a bit too small to see the spotting discs – probably OK at 600 yards – but, more importantly, I had four wind-flags in view – and magnified 8x! The flags over 600 yards away look tiny to the naked eye but are now clearly visible with the Solo R/T.
Did it make me a better F Class shooter? Difficult to say but I'm sold on the principal. I much prefer to shoot without my specs – especially in the rain – but this means I struggle a bit to see the distant windflags; the Solo R/T brought it all into focus and magnified 8 times! So yes, I think I will be forking out £95 for one of my own.
Finally, Vortex offer just about the best warranty on the planet and will even replace accidentally damaged items. Often, when you're weighing up one product against another, a good guarantee like Vortex offer can swing it.
Thanks to Osprey Rifles www.ospreyrifles.com for the loan of the Viper spotting scope and the Solo R/T. Contact Osprey for the complete range of Vortex scopes and accessories.