The annual charity IPSC Shotgun match run by The Blue Team, which supports the Disabled Police Officers Association (DPOA), was once again held at the Dartford Ranges, home of HTRPC on July 11th. The UKPSA has long been a supporter of the DPOA and the Blue Team usually are the main organisers, mainly because they are serving or ex-police officers M'Lud.
This year however there was an extra meaning to the event, as we had lost one of our own, who was also a member of the Blue Team – Malcolm 'Madders' Dowding – to a brain tumour. So, half of all the monies raised would be donated to the hospice, which treated Malc so well in his last days.
The Dartford practical shotgun range is situated behind the clay range of Dartford Clay Shooting Club. The large club house, with its rather good breakfast facilities, was the first port of call and, after girding our loins with a full English, we joined the merry throng to sign in. ,And boy were there a lot of 'em – 75 competitors had signed up to shoot the match. You certainly needed a good supply of sun-block as the sun was doing it's best to show what a British summer should be like and, with a light breeze and occasional cloud we had the perfect shooting day.
To get to the shooting bays you had to pass the IPSC Acton Air stages that had been set up. Malcolm had been a big exponent of air soft practical shooting and this was a sideshow being run by members of his club, East Barnet Shooting Club, with guns and ammo provided, for a small donation naturally.
Then onto the stages, as a UKPSA level 1 match it's an open match so it was kept at a level where novice shooters would feel reasonably comfortable but still have enough to interest the more experienced practical shooter.
We had 8 stages of IPSC Shotgun, each with a madness theme and intended as fun. With a snooker stage thrown in for good measure – all you had to remember is to shoot a red steel before a coloured steel just like in snooker. Only with a lot more noise and no one whispering "Well, he's kissed the pink and potted the brown." So 6 reds and 6 colours and how easy is that to get wrong? 'Very' is the answer!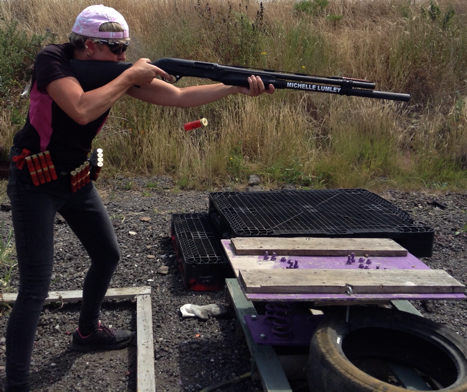 The stages were varied and ranged from the Madness of King George – where you started sitting on a throne, then, running forward to retrieve your gun, engaging targets either side before running back towards your throne, watching your muzzle direction of course, whilst reloading so as to engage targets either side of the range – to the Mad Hatter's tea Party where all your ammo is in cups and on a plate before loading one round and shooting one target at a time. This leading to assorted comments along the lines of "How did I miss that?" "How did I hit that no shoot?" together with "Are you sure I took that long?" and "He's quick for a young 'un".
Other stages had a Mad Max, Mad Scientist and Mad Magazine. Then to celebrate the group Madness there was the wobble-board stage. Now that was mad.
As ever, where would the DPOA match be without a raffle and this year was an exceptional one, even in an event that normally has exceptional raffles. There were four guns up as prizes, together with alcohol in assorted forms, a 5.11 range bag, stuffed toys, match shirts, Aimpoint shirts and even a David Beckham book. That is not forgetting the cupcakes on the day and match shirts sold prior to the event.
All in all a fantastic day of shooting with excellent company and all in a good cause as there was over £3,300.00 raised – split 50/50 for the two good causes.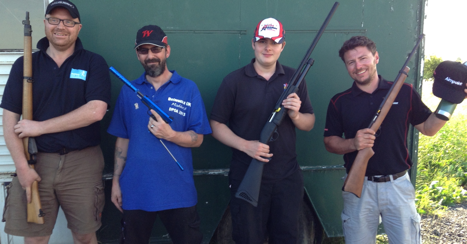 The range was very kindly donated free of charge by HTRPC, the 5.11 bag was donated by 5.11. Three of the guns were donated by the main sponsor Brownells UK and one of the guns was donated by The Tunnel Ranges. Cup cakes baked and donated by Carol Dyer. Special thanks to Chris Wakefield who sourced the match beer and put special 'Madders' labels on every one of them so that every competitor received a bottle. Plus of course, thanks to all the people involved in organising and running the match for no recompense apart from thanks by all the shooters who took part.
Big congrats to all the winners which really was everyone as it was such a good day.
Open – Sam Crane, Modified – Rupert Stanley, Standard Manual – Connor Kennealy and Standard – Josh Kenny.
This was a fitting epitaph to Malcolm 'Madders' Dowding, one of natures decent blokes.
Your practical shooting correspondent Gary Dyer.