"The Long Range Challenge: aiming at a CD over two-thirds of a mile away"
It was a record-setting and record-breaking weekend at the Long Range Challenge.
Conditions were not particularly conducive to achieving record scores, yet several were established, it is indicative of how standards keep driving higher and higher.
Stuart Anselm and your humble scribe prevailed to take the gold and the glory back north with us. Stuart was using one of the new Victrix rifles and it seems to have elevated his performance to a new, higher plane, I think we'll be seeing more of these Italian rifles on the firing points in future.
At our AGM the 1,200yds stage was re-instated into the Long Range Challenge, there were some reservations expressed, but in the end they proved groundless as the match was sold out within one week of entries going live online – all 78 places were snapped up. It was the first time a Bisley match had been put online, and it augers well for the future. Here are just some of the highlights from the match.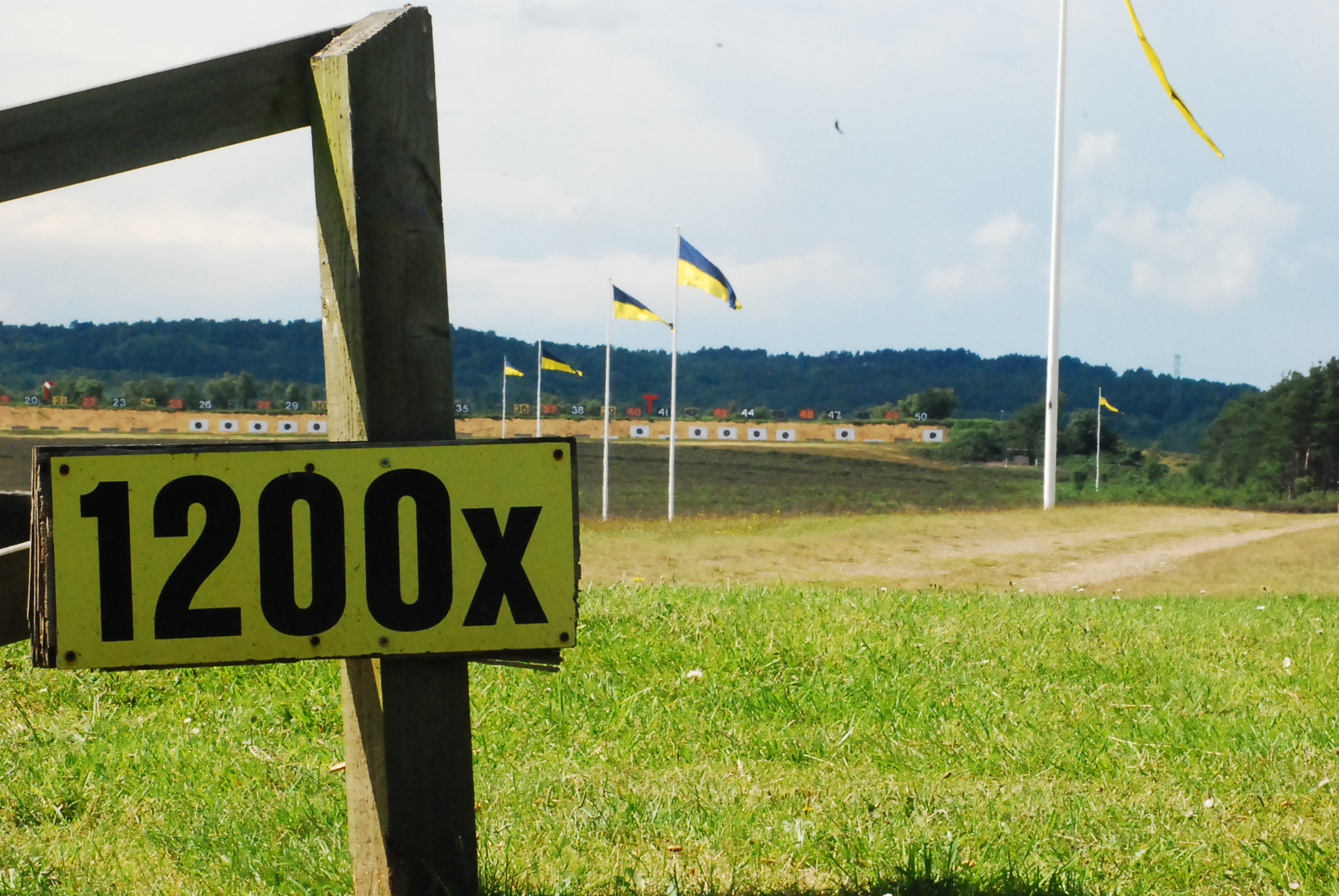 Stage 1
Saturday started off dry and bright, but with a tricky quartering wind which meandered its way down the range, that's always a difficult condition to deal with as the angle changes can occur so quickly, it pays off then to shoot fairly quickly, but in pair shooting there's little chance of that. If you can string-shoot however, then it offers a useful advantage and as it happened, Shaun Baker had that chance and he really made it count, Shaun set a new GBFCA 1,000yd record with a stunning 75.11. He was using the new Lapua 180gr Scenar, it shows that bullet is capable of amazing accuracy!
In F/TR Stuart set the pace with a 70.6, he was the only F/TR guy to break 70 which just indicates how tricky the first stage was.
F Open
1st   Shaun Baker          75.11 (New Record)
2nd  Darren Stewart     73.03
3rd Ian Boxall              73.02
F T/R
1st   Stuart Anselm       70.06
2nd  Paul Crosbie         69.05
3rd  Dean Wallace       68.04
Stage 2
Moving back to 1,100yds, the wind certainly did not get any easier, if anything the wind strength increased while it continued to squirrel its way down the range; that added to the difficulty of shooting at an unfamiliar distance. You can get an idea of the level of difficulty when you consider only one shooter managed to break 70 – that was Paul Sandie with 70.3. In F/TR the competitors put up a brave fight, but the scores indicated that it was a bruising and brutal encounter, with Simon Gambling the top man with just 62.01
F Open
1st Paul Sandie           70.03
2nd Steve Poultney      68.06
3rd Dan Brough           68.06
F T/R
1st  Simon Gambling   62.01
2nd  Stuart Anselm       61.01
3rd  Dean Wallace       60.04
Stage 3
We all knew that 1,200yds would be the distance at which the entire match could be won – or more likely, lost!
Seeing as the range had humbled many well-known shooters at 1,000yds and 1,100yds, we approached the ultimate distance with some trepidation.
Up until now, it had been dry and bright, but the forecast was rather troubling; showers were predicted and it seemed that just as message 1 would have been called, the heavens opened and the monsoon started. The match organiser Mik and range officers Jim and Steve wisely agreed to postpone the start of the match until the worst of the downpour had passed over, frankly it was the only sensible thing to do as the intense rain would have made things impossible and potentially dangerous.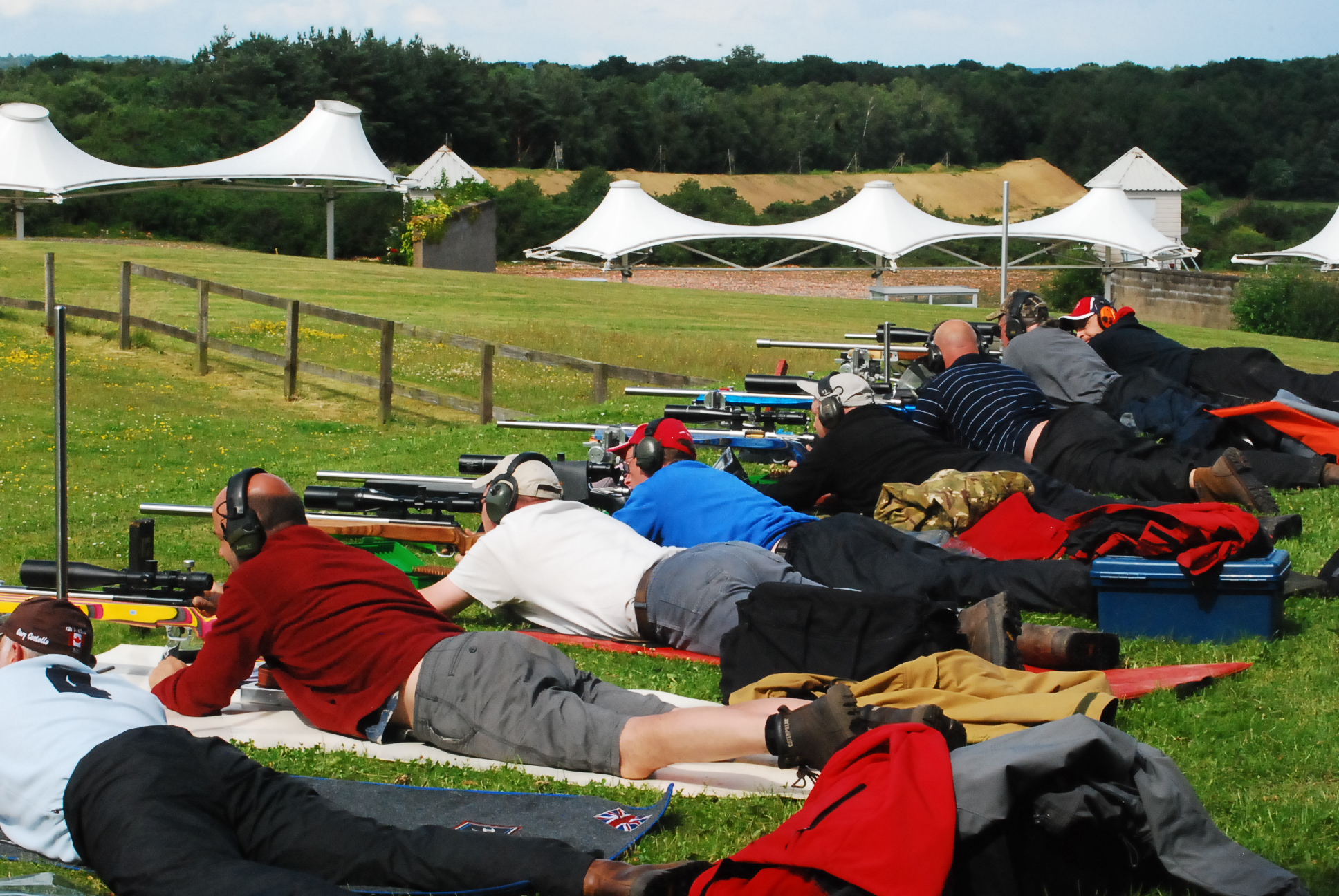 After a heavy downpour there is often a brief spell of fairly calm conditions, so it seemed now, but the added difficulty of shooting at a totally unfamiliar distance seemed to cancel out any benefit of a benign wind.
Your scribe set what might be a new record for 1,200yds with 92.04 – (subject to confirmation), while Stuart did the same in F/TR with an 88.04, using his beautiful new Victrix rifle, which seems to shoot as good as it looks.
F Open
1st  Des Parr                 92.04 (New Record)
2nd  Daniel Brough       91.03
3rd  Craig Titmus          90.04
F T/R
1st  Stuart Anselm       88.04 (New Record)
2nd  Tim Stewart           87.03
3rd  Elena Davis           85.02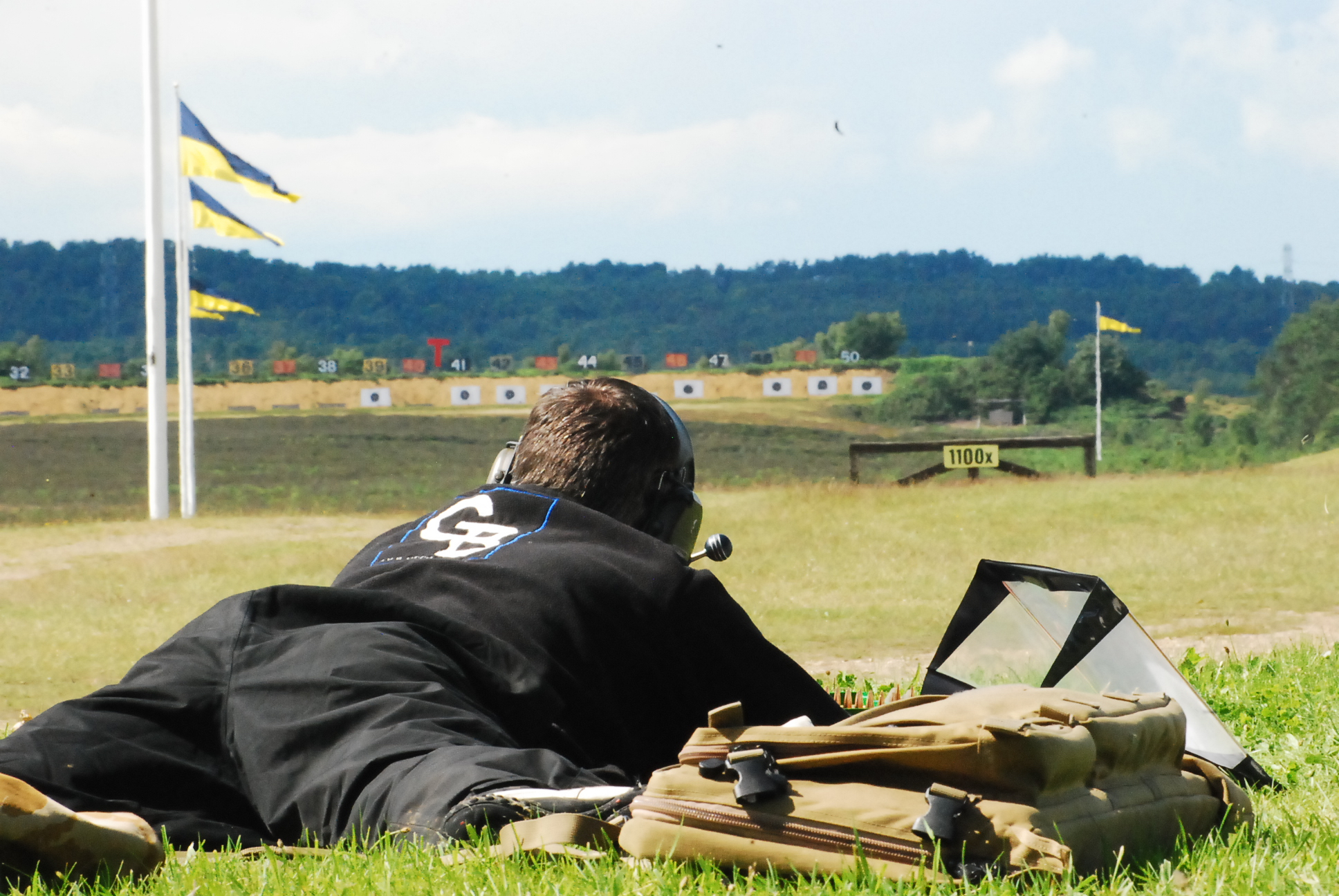 While the competitors were assembled at 1,200yds, the organiser, Mik Maksimovic announced there would be a weigh-in for all rifles. This is something we ought to do more often but never quite seemed to get round to. Watching the process take place was good entertainment, although 3 F/Open guys didn't find it funny – their rifles were overweight! We hope to do more weigh-ins in future, so beware!
We had one rather unusual entry – Andy Gent was preparing for the NRA's Hopton by getting in some early Match Rifle practice. He did this by using his 308 in the match rifle style – off his elbows and resting the forend on his palm, and achieved some respectable scores on the tight F-class target.
Saturday had been a challenging day to say the least, the tricky wind and the longer than usual ranges had really stretched everyone, it had shown us what our rifles, our ammo and ourselves were all capable of.
Stage 4
Sunday looked like being a rather different day, now the wind was coming across the range in a more familiar manner, instead of quartering and squirreling. It was a good deal more manageable – but no conditions can be called easy when shooting at 1,000yds, this time it was the pick-ups and let-offs that caused us consternation. The pick-ups and let-off were visible most of the time, but gauging the adjustments required was very tricky with most folk under-estimated the magnitude.
John Ambler made a very good impression to take gold with 72.06, while in F/TR Jim Marsden also won his first stage medal with a good 68.01, just four points ahead of his wife, Mary. It is uncanny how the pair of them often seem to achieve very similar scores – they must think the same way or have a telepathic bond!
F Open
1st  John Ambler          72.06
2nd  Liam Fenlon           70.04
3rd  Dmytro Hrymalyuk 70.03
F T/R
1st  Jim Marsden         68.01
2nd Simon Gambling   66.04
3rd  Mary Marsden      64.04
Stage 5
We simply stayed at 1,00yds for the next stage, this time a barrel-sizzling 2+20. Those extra 5 rounds can make all the difference – more exposure to wind changes, therefore more opportunities to fail – or if you're an optimist, more opportunities to excel and forge ahead.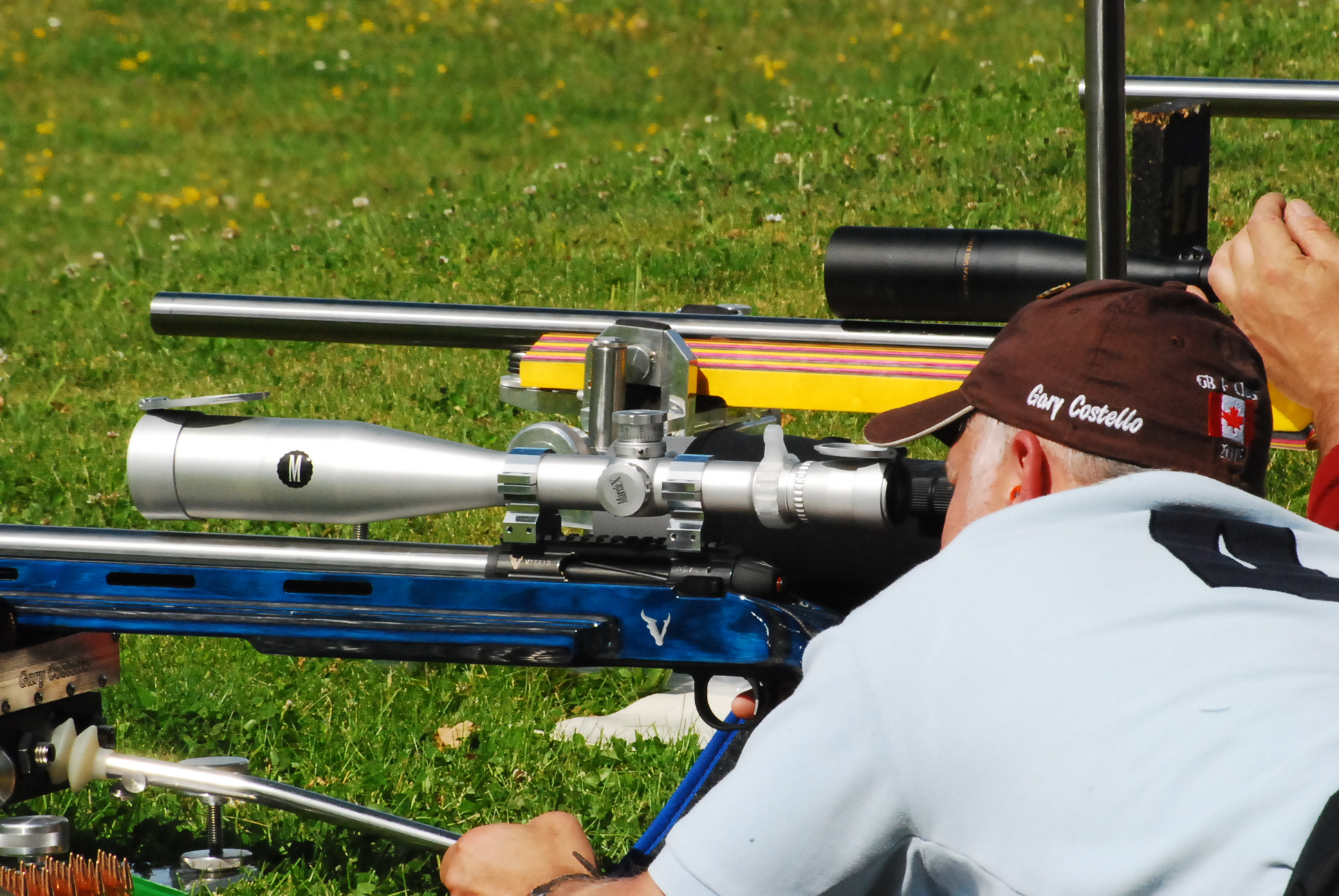 Gary Costello now featured on the podium taking gold with his new Victrix rifle, scoring a superb 97.04 he was joined by Stuart taking his 4th stage medal of the match with his new Victrix too, with 87.06; an excellent outcome for these new rifles.
F Open
1st  Gary Costello        97.04
2nd  Ian Boxall              95.06
3rd  Craig Titmus          94.04
F T/R
1st  Stuart Anselm       87.06
2nd  Simon Gambling   86.04
3rd  John Longhurst     85.06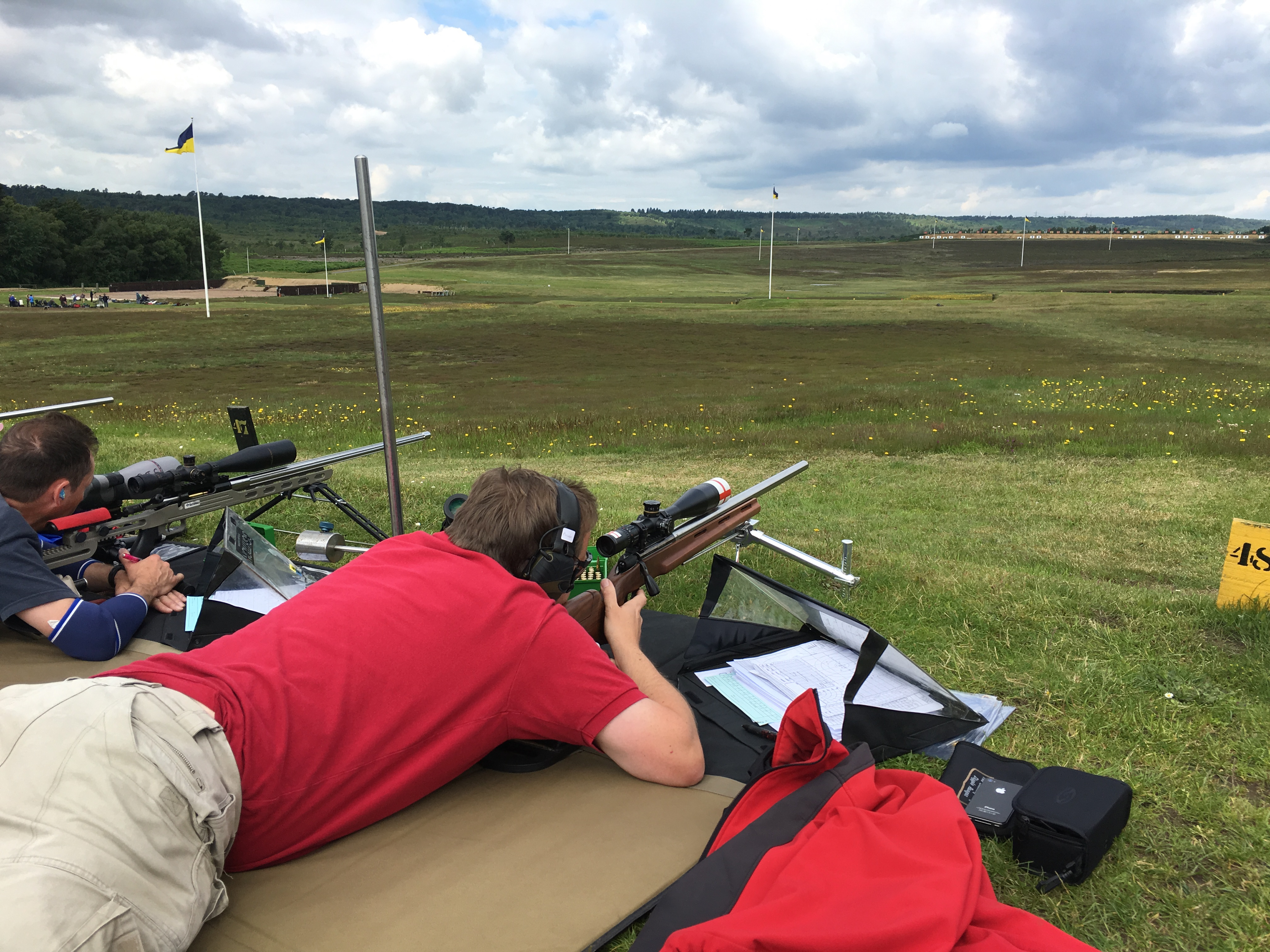 When all the scores had been tallied up, it made interesting reading; it was a two-horse race in F/TR. Stuart Anselm had won stage medals in four out of five stages; he had been on fire all weekend, shooting at a consistently high standard and that was enough to earn him the salver and title of Long Range Challenge Champion for his total of 365.19 Very closely behind Stuart came Simon Gambling on 365.11, Simon is having a very good season and he earned another 2 stage medals in this match. In third place with a creditable 347.12 came David Rollafson.
In F/Open yours truly prevailed with 392.18, the Bartlien gain-twist barrel has earned a reprieve. In second with 387.22 came Dan Brough, who had been competing with one of his own new GB Ltd barrels, it showed great promise and there will be a lot of interest in these new home-grown barrels. In third place came our GB Captain David Lloyd with 386.15 that nets him enough League points to put him in pole position.
F Open
1st  Des Parr                 392.18
2nd  Daniel Brough       387.22
3rd  David Lloyd           386.15
F T/R
1st  Stuart Anselm       365.19
2nd  Simon Gambling   365.11
3rd  David Rollafson   347.12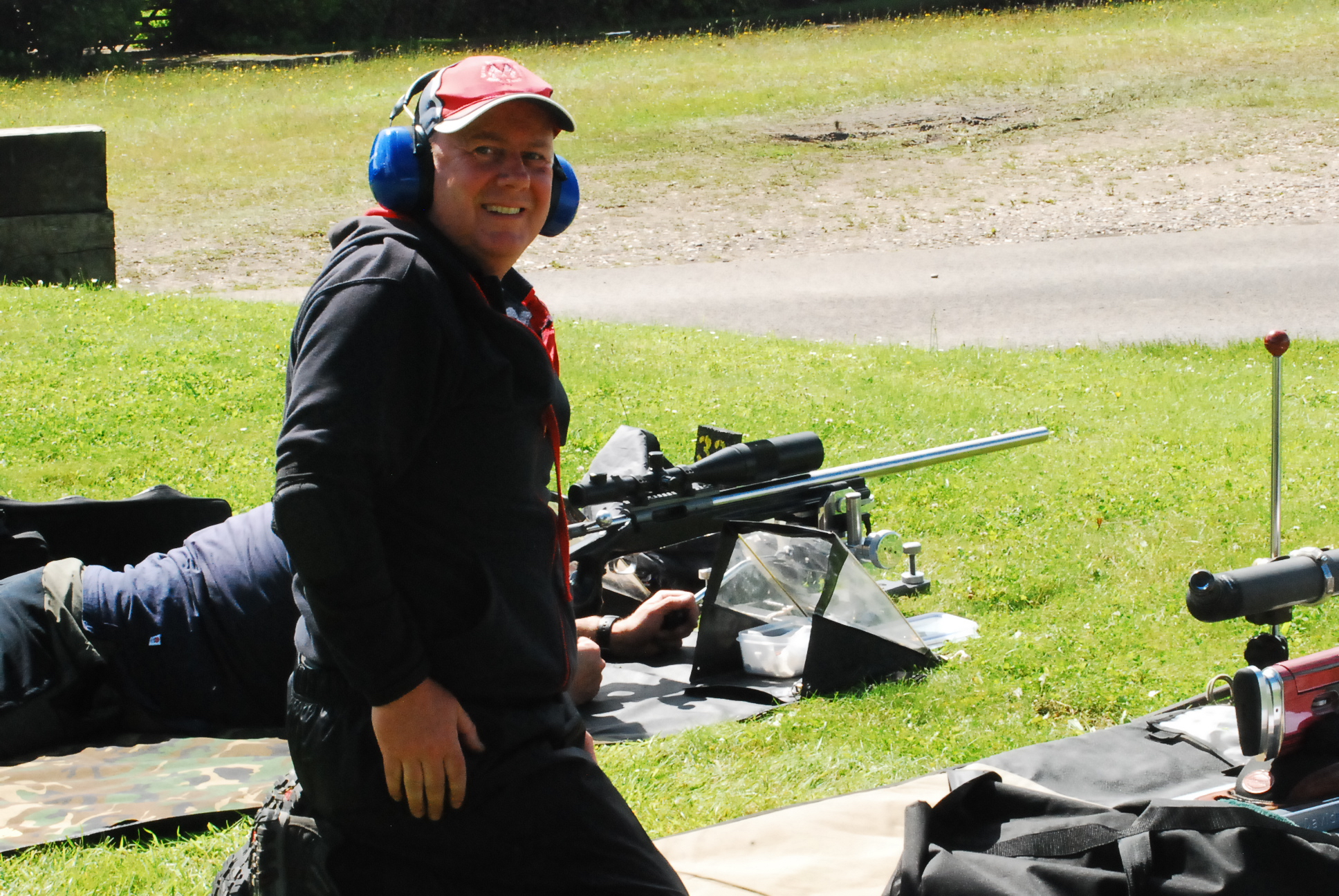 Thanks to all who helped put on such a good match, it was well run and organised by Mik & Tina and well officiated by the RO's Jim and Steve. Stuart was the match statistician. Online entries for the Northern Championships will come out shortly, so keep an eye on your email inbox and the GBFCA website. See you soon at Diggle
Des Parr